Tchotchkes. Knickknacks. Trinkets. No matter what you call them, I've always felt like there was a little bit of judgment baked into those words, hinting at a certain level of impracticality, unnecessity, or even tackiness.
There are other terms that elevate these personal treasures to a higher level of sophistication – collectibles, objets d'art, oddities, and my personal favorite – curiosities.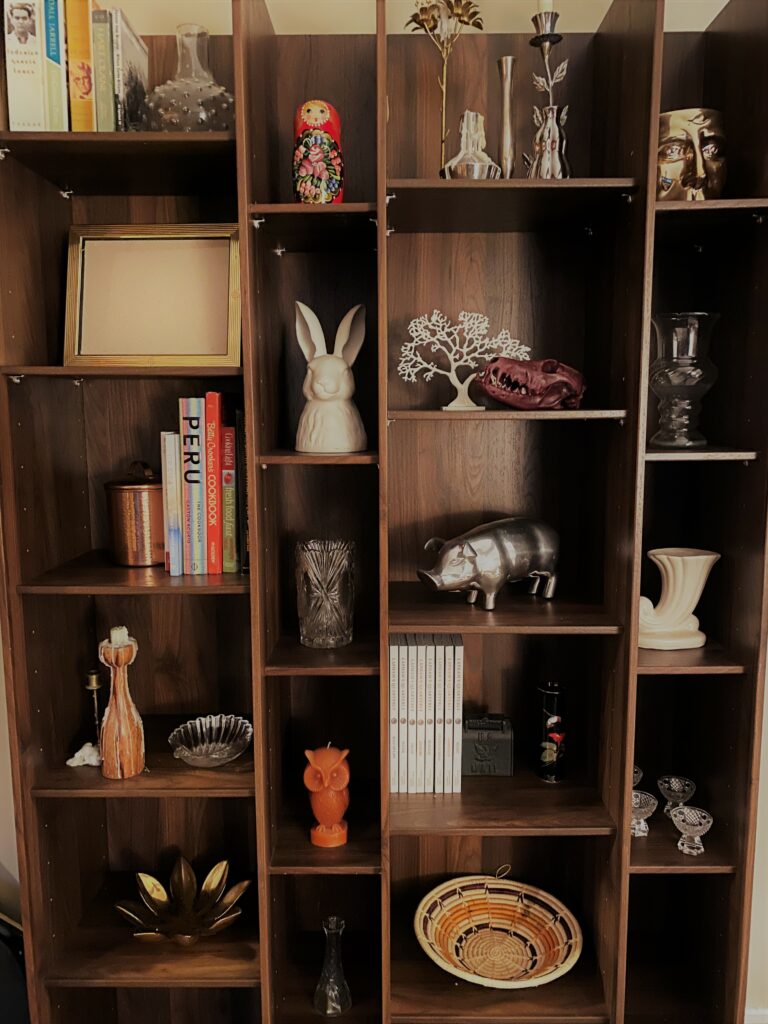 No matter what we call them, decorative objects have the potential to define the mood of a space and pack a punch of personality in virtually any room of any home. Collections can be displayed as their own focal point of a room in a maximalist home, but even a well-placed, uniquely shaped vase would be welcome in the most minimalist of spaces.
In this post, I'd like to celebrate some of my favorite finds across different spaces of my home, focusing on those that I've found at good ol' Goodwill.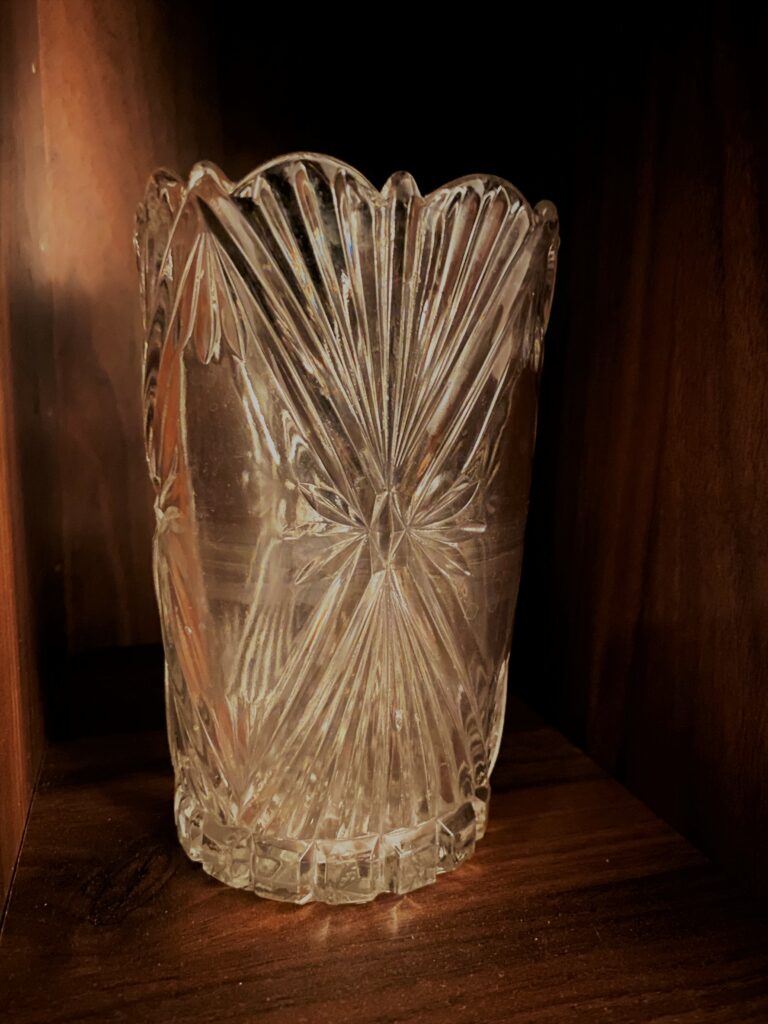 There are plenty of vases at any Goodwill, in every color, shape, and size you can imagine. My favorites are glass or crystal, with vintage or antique flair. They look great with flowers but are just as pretty to look at on a shelf when they're not in use. My tip: check the glassware, where these gems are often hidden among cups and wine glasses.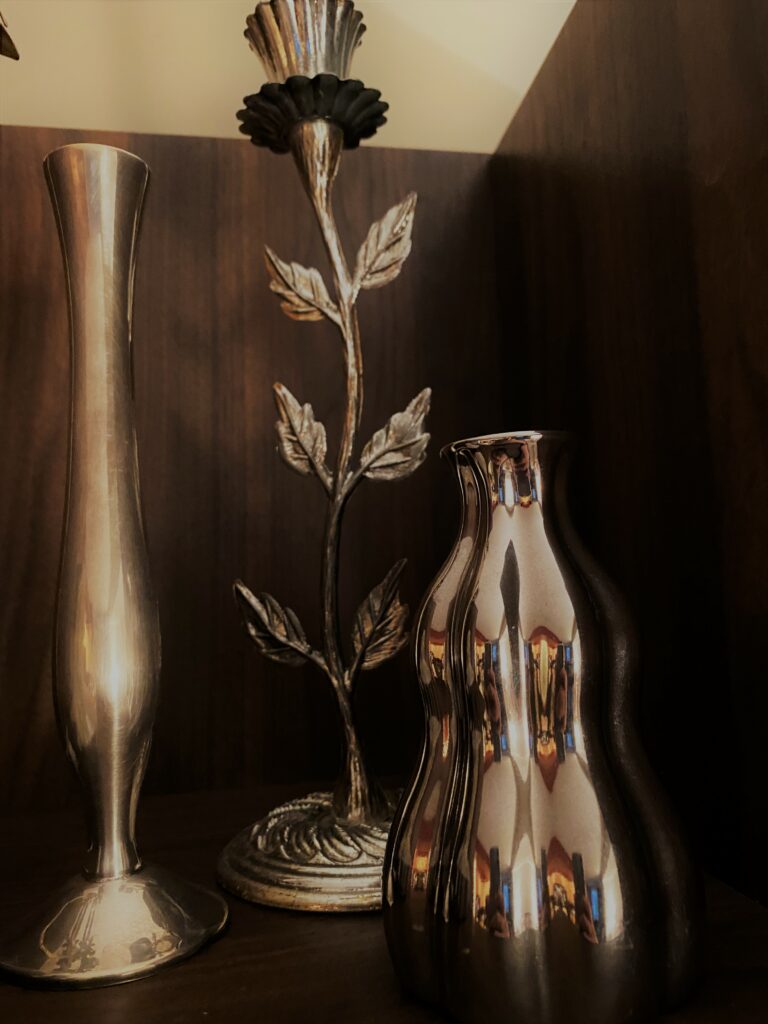 Speaking of vases, there also seems to be an abundance of smaller bud vases, the kind that fit one or two flowers at a time. I use these occasionally on a table setting, but I particularly like them arranged in groups of 3. My tip: group them by a unifying feature; in this case, the same metal finish.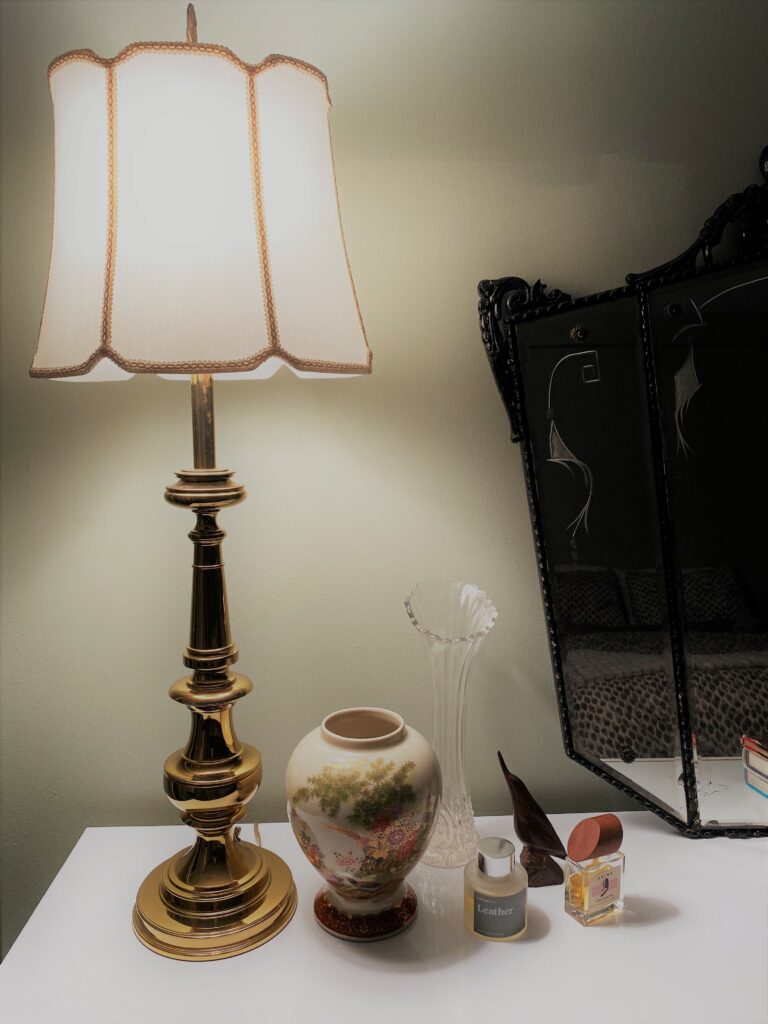 A lamp is much more of a practical item than a decorative object, but I couldn't pass up showing off this beauty I found at Goodwill two weeks ago. I actually found the lamp and the lampshade in two different stores, and I just adore the way they came together. My tip: don't be afraid to pick up a lamp without a shade or vice versa – you will definitely find its match sooner than you think.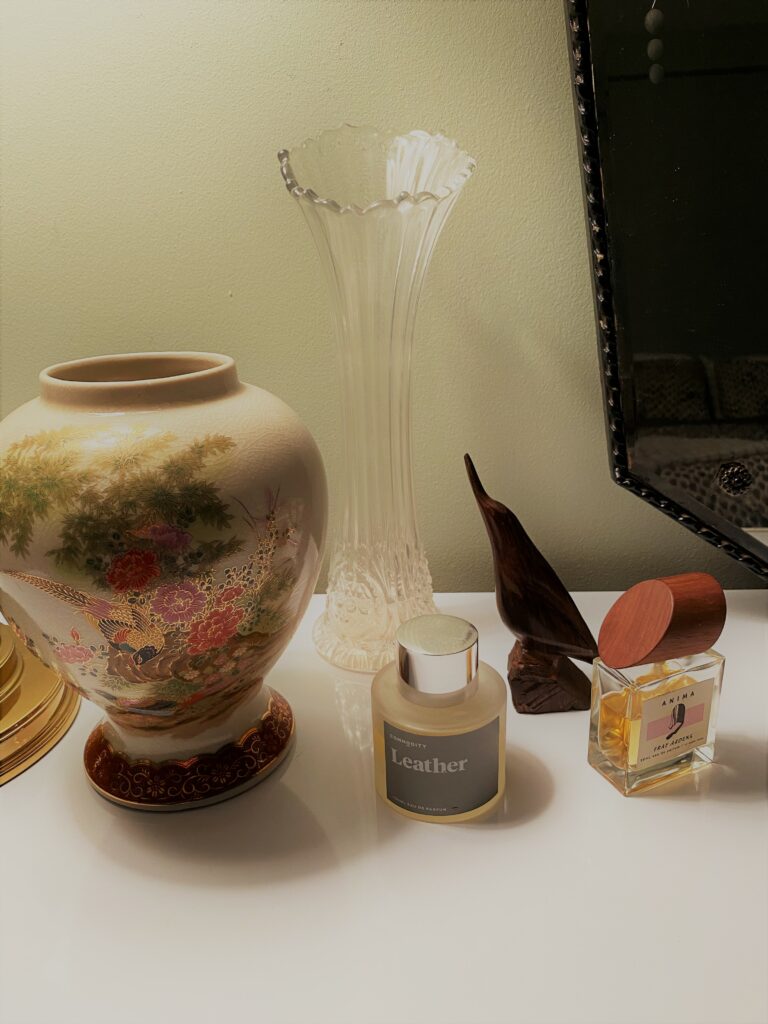 Below the lamp, I have arranged these objects, including an elegant long glass vase, a round porcelain vase with an Asian botanical motif, and a wood carving of a bird. I think they look very nice next to my partner's colognes on the dresser. My tip: mix different materials and textures for a modern, eclectic look.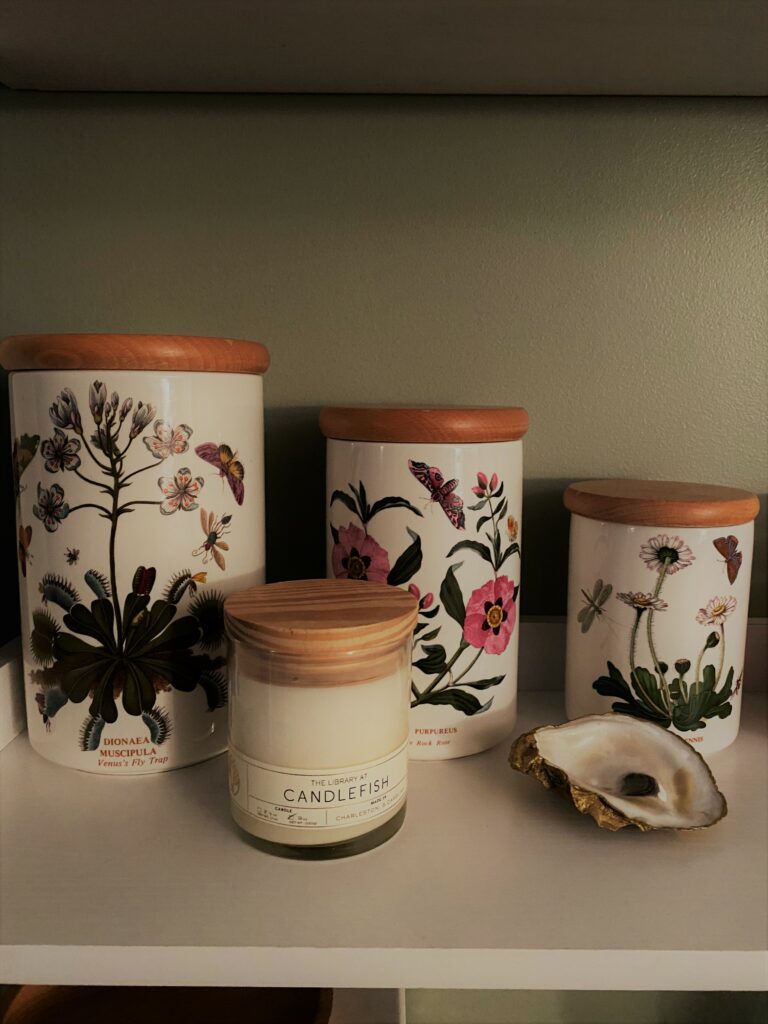 These vintage botanical canisters were found on shopgoodwill.com, another source of fun treasures. I keep them on a shelf in my bedroom, where they hide unsightly medication bottles. My tip: layer other objects, like this candle and oyster dish, among sets to keep them from looking too manicured.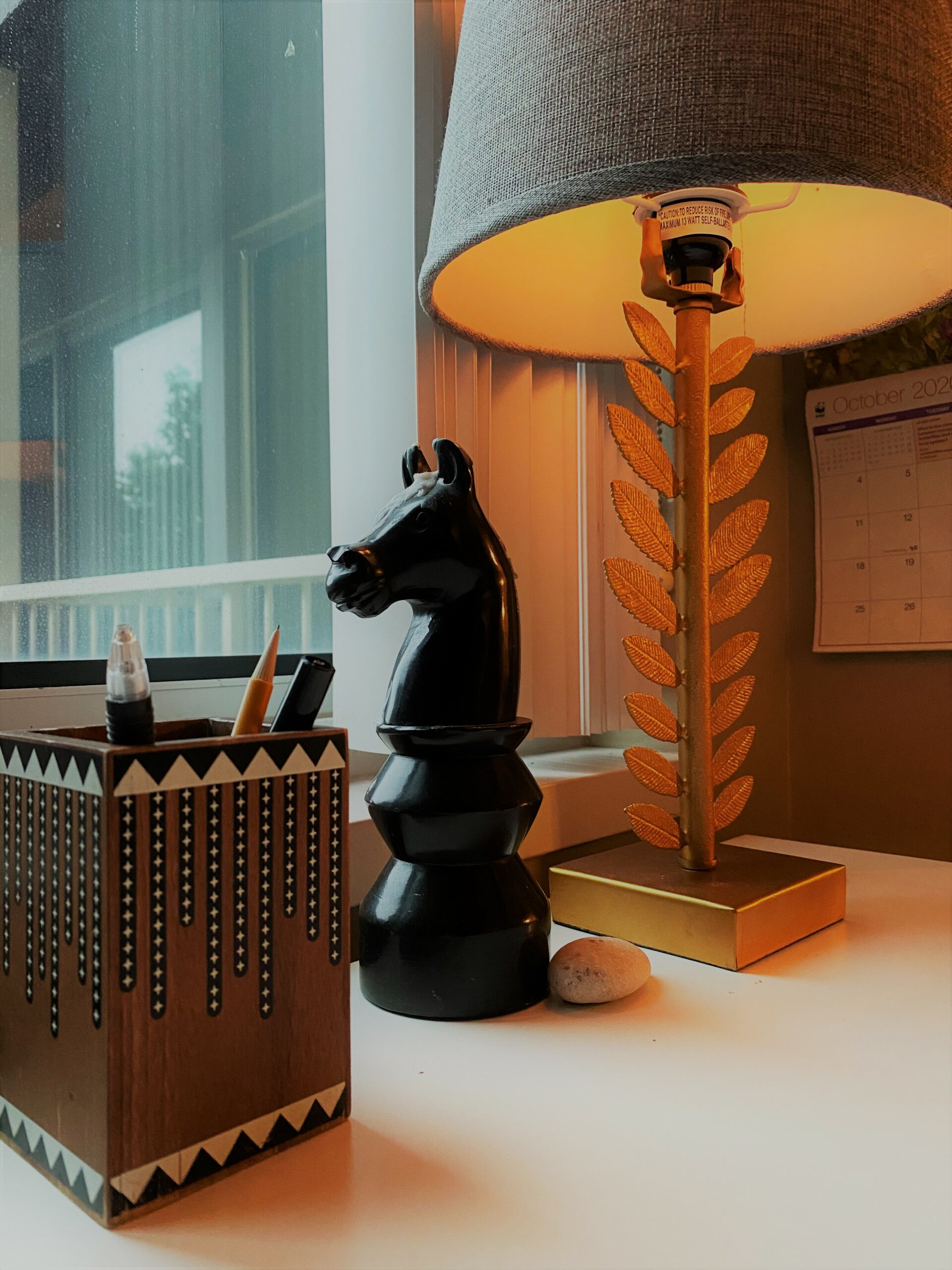 Last but not least, here are a couple of things I have sitting on the corner of my desk. One is pretty practical, as it holds some pens and pencils, but the other is purely decorative. It has a special meaning to me – since I work in strategy, the oversize knight chess piece reminds me of my line of work.
I hope you enjoyed a peek into my collection of curiosities! Now go out there and find your own at your closest Goodwill stores. They're waiting for you to discover them.
——–
About our fabulous guest blogger: