Fashionistas, I LOVE all of the Goodwills in Northern Virginia. But the Falls Church store on Annandale Rd sure has a solid place in my heart.
Every time I go to this location, I ALWAYS find at least a few items that strike my fancy. Of course my last visit to this location was no different.
On a rainy day, I headed over there to take advantage of the weekly Tuesday 50% off sale, and oh did I score well.
For under $5 an item, I found some pretty exciting items from all decades and brands. Even some from premium designers!
1.) 1970's Howard Hirsch Skirt
I snagged this 1970's Howard Hirsch gem for about $5 on the dot. This flowy accordion skirt is a rarity you would typically find in a vintage store selling for upwards of $50.
Since it was so inexpensive I don't mind taking it to get tailored to adjust the dress's length to my height.
2.) 1970s High-Waisted Pants
For under $5 I scored this pair of blue, vintage, 1970's, kid's high-waist long pants, which I'm totally wearing out dancing or to work (depending on the styling).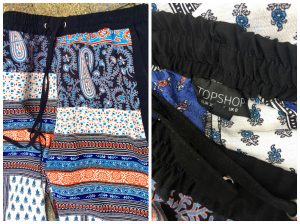 3.) Topshop Pants
I also took home this patterned pair of Topshop pants, which originally retails for about $60. I can't wait to rock these with a Peter Pan collared blouse or off-the-shoulder, ruffled, short sleeve blouse.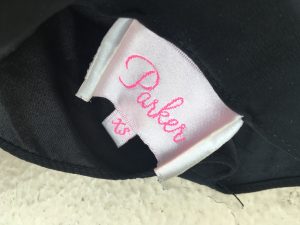 4.) Designer Silk Blouse by Parker

While looking at tops, I stumbled upon this classic, silk, black, Parker blouse for under $5. Parker is a brand that is sold at Neiman's, Cusp, and Norstrom and is considered a designer name sold along with brands like Theory and Rebecca Taylor.
It probably originally retails for around $100. I can't wait to wear it with some pink pants!
Finally, if you need some basics to wear alone or underneath a blouse, Goodwill has you covered in that department with…
5.) Intimates

This Falls Church location often carries brand new, with and without tags intimates, such as this Victoria's Secret staple and black, Madonna-style, Express tube top.
It's wild what great necessities you can find at Goodwill! Victoria Secret products alone can retail for upwards of $70 brand new! And scoring one for under $5? I can't complain there!

What under $5 items have you found at this location, fashionistas?