Fashionistas, there's nothing like finding a brand new, with tags, business casual work dress at Goodwill you KNOW will look fabulous when worn.
This LOFT dress is a true work fashion staple and will pair well with patterned or colorful pumps and a glitzy gem necklace.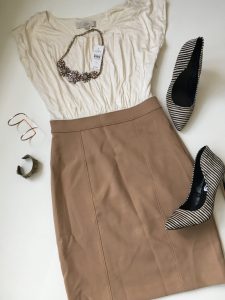 Today's #MyGoodwillFind ensemble is a two-tone, cream and tan, brand new with tags, LOFT dress originally priced at $79.50 in a size 0. This dress fits snug and hits the knee. It has micro model material at the top and a polyester blend for the skirt.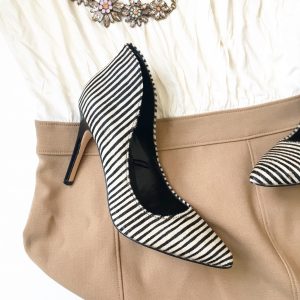 To bring this color-block business dress from cool to incredibly chic I'm pairing it with these zebra print pumps by Express; another Goodwill find I scored.
These like new, black and white, leather-upper heels are in a size 7.5 and originally sold for around $100. I love these stiletto heels because of their unique backing – hitting a little above the shin.
I opted to style this dress with these pumps because the shoes are still a little funky, by way of pattern, yet still a classic for work.
While the jewelry in today's look is not up for you to purchase, you can easily find necklaces and bracelets at Goodwill, just like these, for well under $10 an item. I personally always love styling dresses like today's with colorful bauble bib-style necklaces. These typically range up to $8 at DC Goodwill locations.
How would you style today's #MyGoodwillFind work staples, fashionistas?