You've dressed up for Thanksgiving, Friendsgiving, three and a half holiday parties, and yes, even a Santa-themed brunch. In the course of four weeks, you've worn the little black dress, that bedazzled clutch you've had since forever, and the sparkliest statement necklace in your possession – three times each.

Well, guess what, festive friends? It's not even Christmas yet. How exactly are you supposed to pull off more seasonal-yet-chic outfits before 2020?

The answer: THRIFT. THAT. FIT.

In my last post, I wrote about not purchasing any newly-made clothes or accessories for over a year. In that time, I learned a lot about styling what I already own and how to cleverly shop secondhand to zhuzh up an otherwise blah outfit.

My gift to you this holiday season is a list of five things that I can confidently say: 1) will play nicely with what's already in your closet, 2) come in a wide variety of styles, and 3) have a high chance of showing up in your local secondhand stores RIGHT NOW (or after you get off work, wink wink). Paired with closet staples, any of these items will easily freshen up your look for one last hurrah on New Year's Eve, or even Christmas dinner if you're reading this in time. Plus, these five items are flexible! They'll still give you freedom to play with other elements of your look (e.g., neckline, hemline, makeup, overall glitz level) to fit the exact mood and setting of your chosen celebration.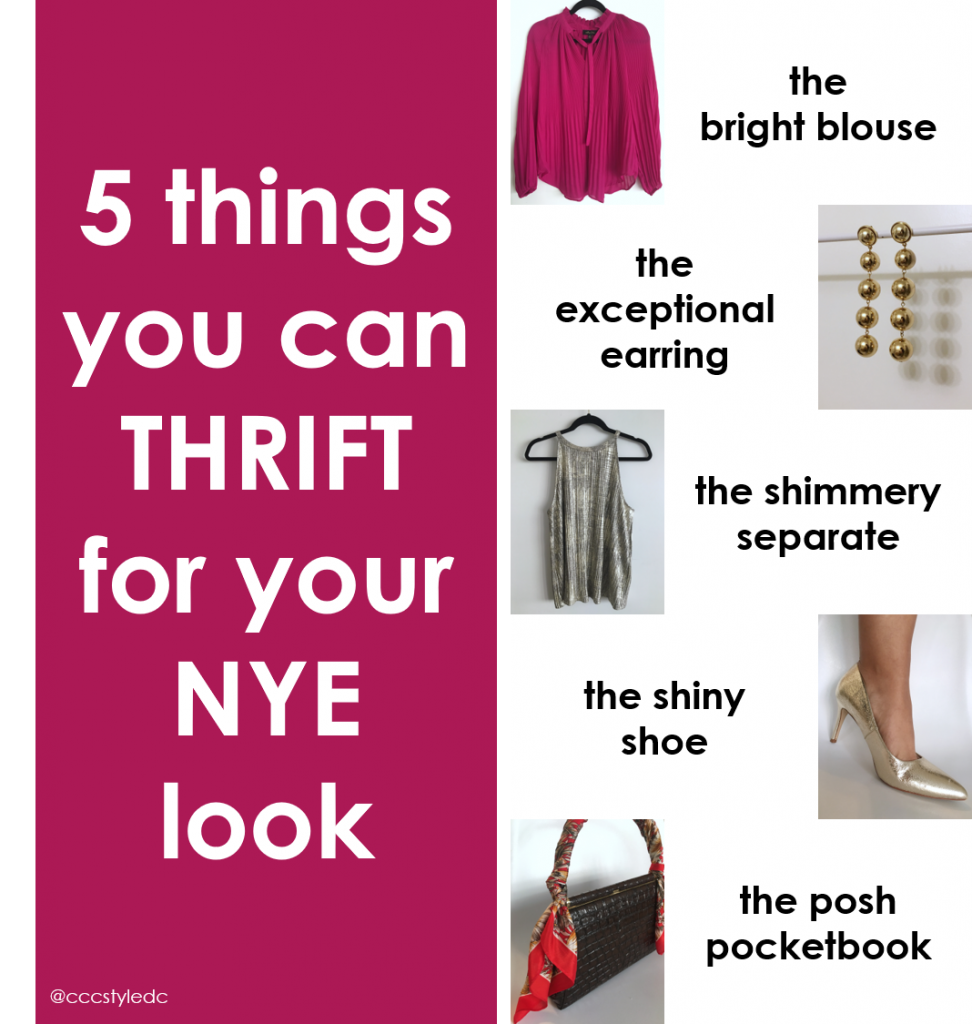 #1: The Bright Blouse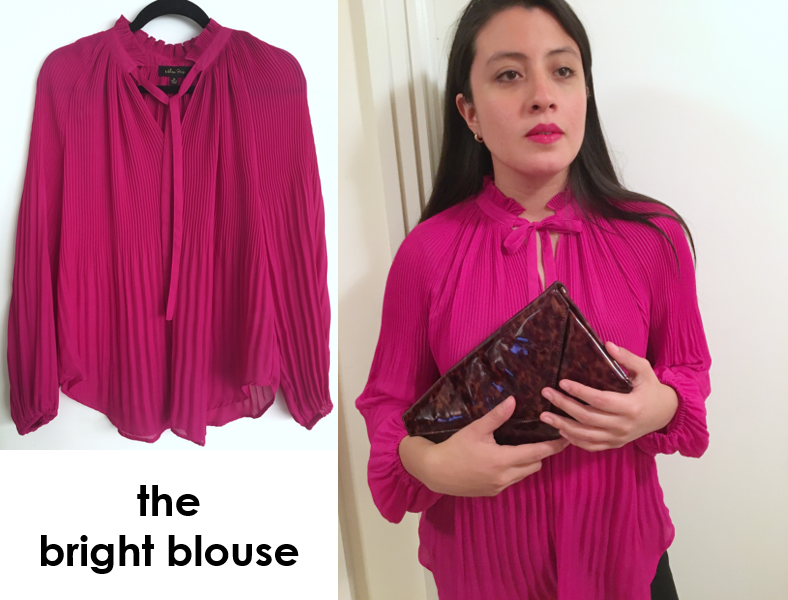 Statement jewelry, step aside! The bright blouse is here!
Find yourself a bright, saturated top in your favorite shade. Any silhouette and fabric will do, and textured features, like these pleats or flutter sleeves, take things up a notch. Pair it with a neutral bottom, like black tapered pants, and keep the shoes and jewelry relatively simple to let the top shine. Match your lipstick for an extra punch.

#2: The Exceptional Earring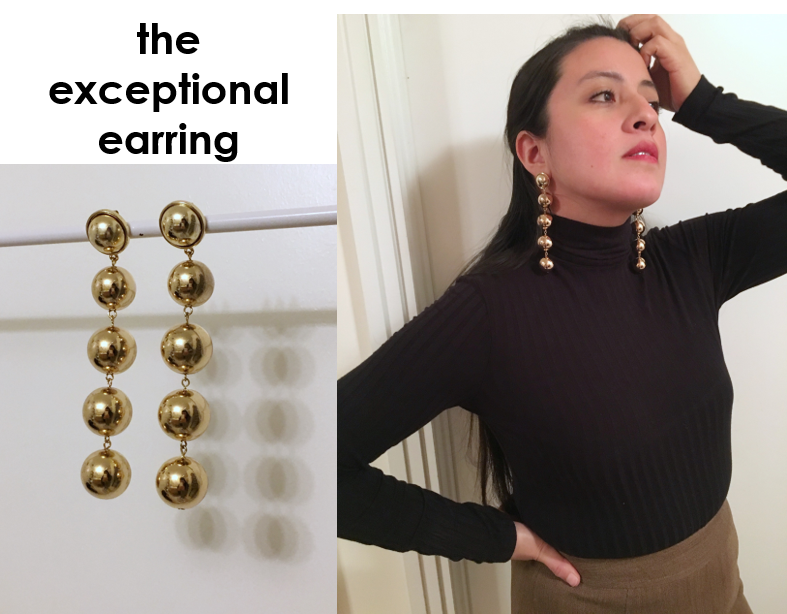 OK, I take back what I said about statement jewelry. It's still one of the most powerful tools in your holiday outfit arsenal. But this year, think outside the rhinestone-chandelier-earring box. Consider a pair of vintage studs, or go retro geometric. I paired my dangly drops with a high neck to provide some contrast, and pulled my hair back to let them figuratively and literally shine!
#3: The Shimmery Separate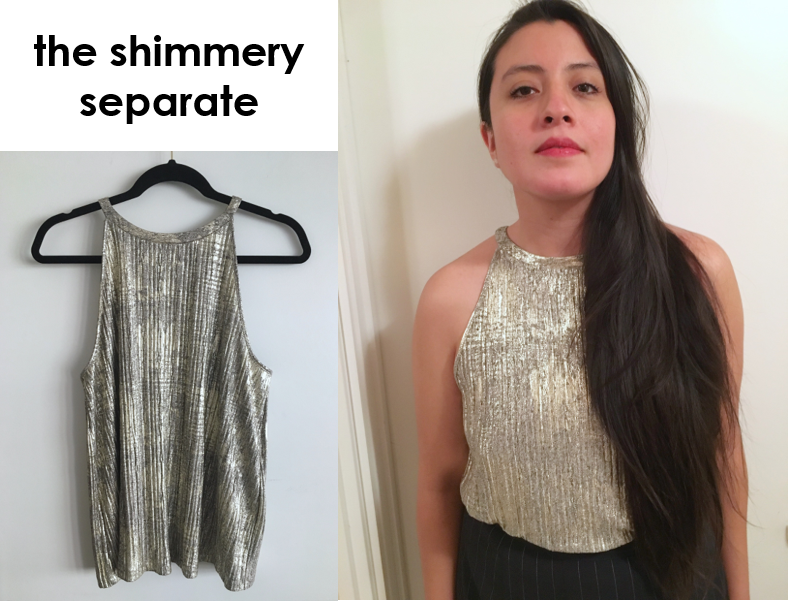 It can be a top, it can be a skirt, it can be pants! Just not both at the same time (save that for the Met Gala). Much like a colorful piece, neutrals are your friend here. Or, you can even experiment with mixing in some classic prints like stripes or polka dots. Smaller jewelry helps keep the look balanced.

#4: The Shiny Shoe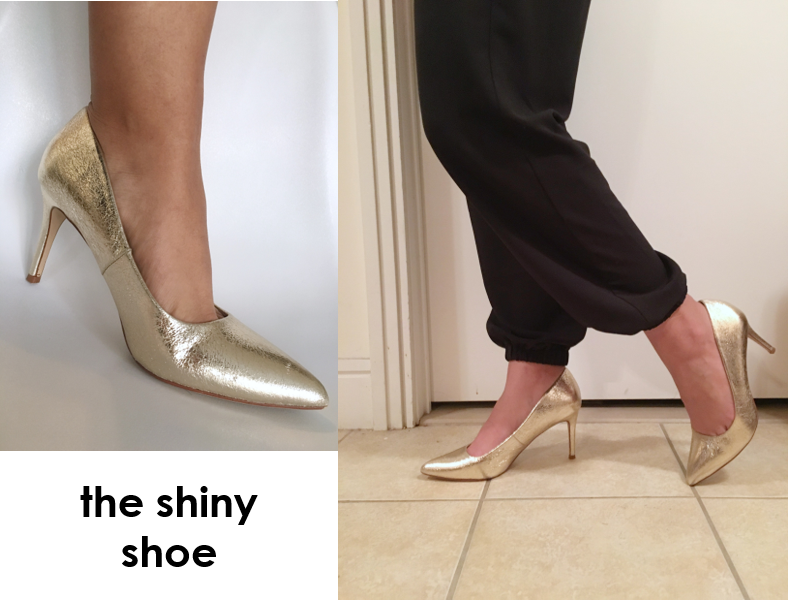 Sparkly shoes in December are not a groundbreaking fashion move, but consider the following this year: they do NOT have to be heels (I swear by a pair of silver loafers), there's no need to find a designer pair, and err on the side of shiny rather than sparkly (metallic goes farther rhinestone-studded). If you're not used to buying secondhand shoes, fear not: there's lots of good advice on YouTube on how to clean them easily at home and and check out Keisha's post for more tips.

#5: The Posh Pocketbook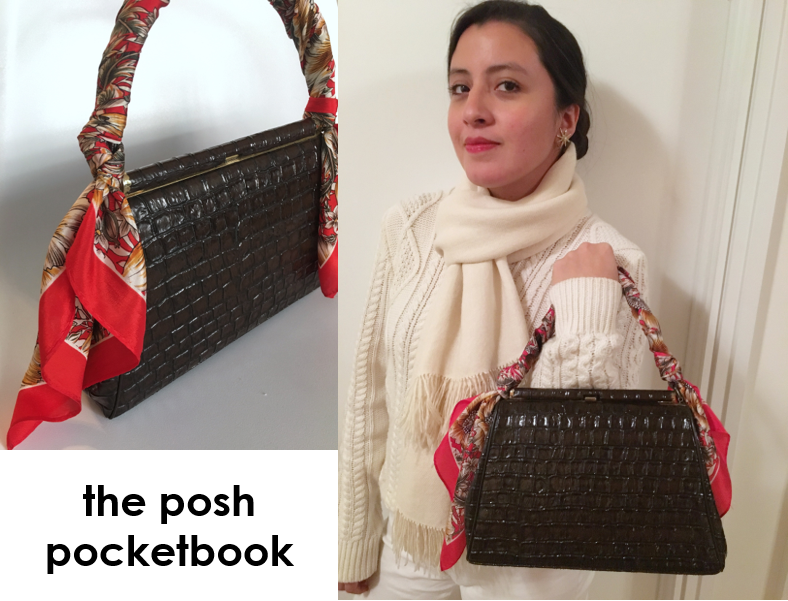 Whether 2020 finds you waking up on the couch or falling asleep in an Uber, you'll be happy you brought a chic bag to hold your essentials. A classic shape in a fun print can be dressed up for the season with a (you guessed it – thrifted!) scarf tied around the handle. For a more active night, a hands-free cross-body is highly recommended.

I hope this post inspired you to get out there and thrift one or more of these items.
Thanks for reading! If you liked this post, follow us here to get our posts in your feed so you don't miss my next piece.
And shoutout to my partner for kindly grinning through the entire process of taking these pictures in my tiny studio apartment.
About our fabulous guest blogger: