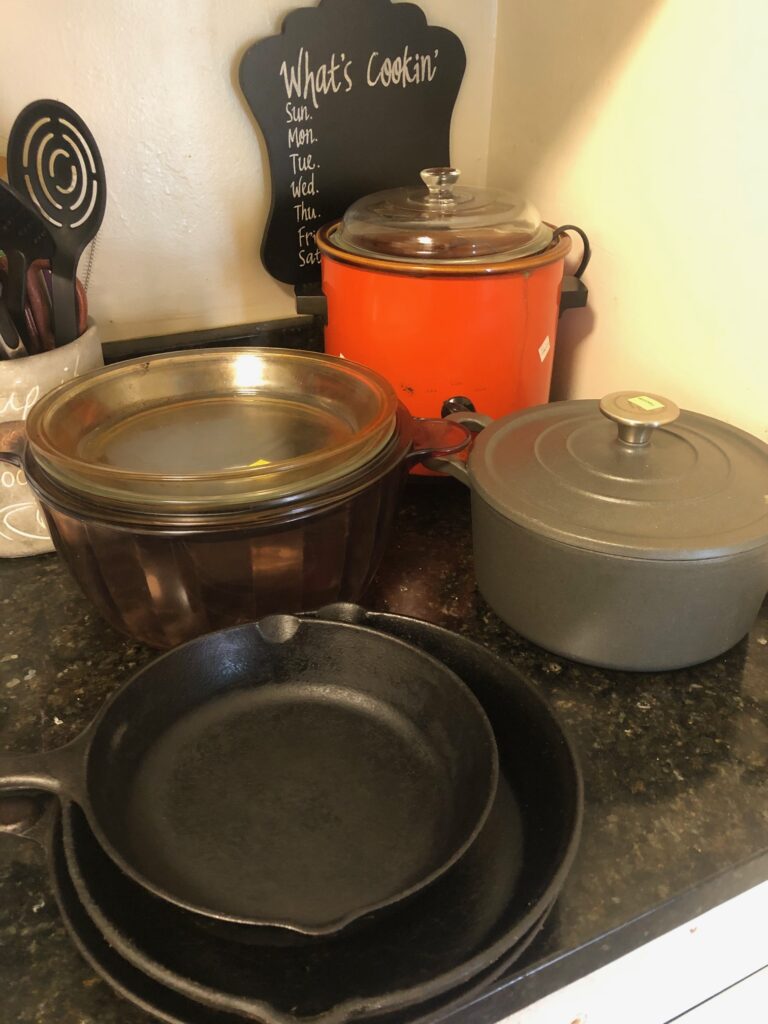 As much as I love to find thrifted clothing because of its uniqueness; I also love discovering vintage cookware. I believe that modern cookware isn't as sturdy as older items. Items such as Pyrex glassware, Corningware, Cast Iron Skillets, Dutch Ovens, and Crockpots are a few of my favorites to make delicious meals.
Pyrex and CorningWare
Two of my favorite brands of cookware are Pyrex and CorningWare. The coolest feature about these brands is that even though they are glass, they're tempered to take on hot temperatures on either the stovetop or in the oven. Pyrex baking pans are usually clear and can be used for baking.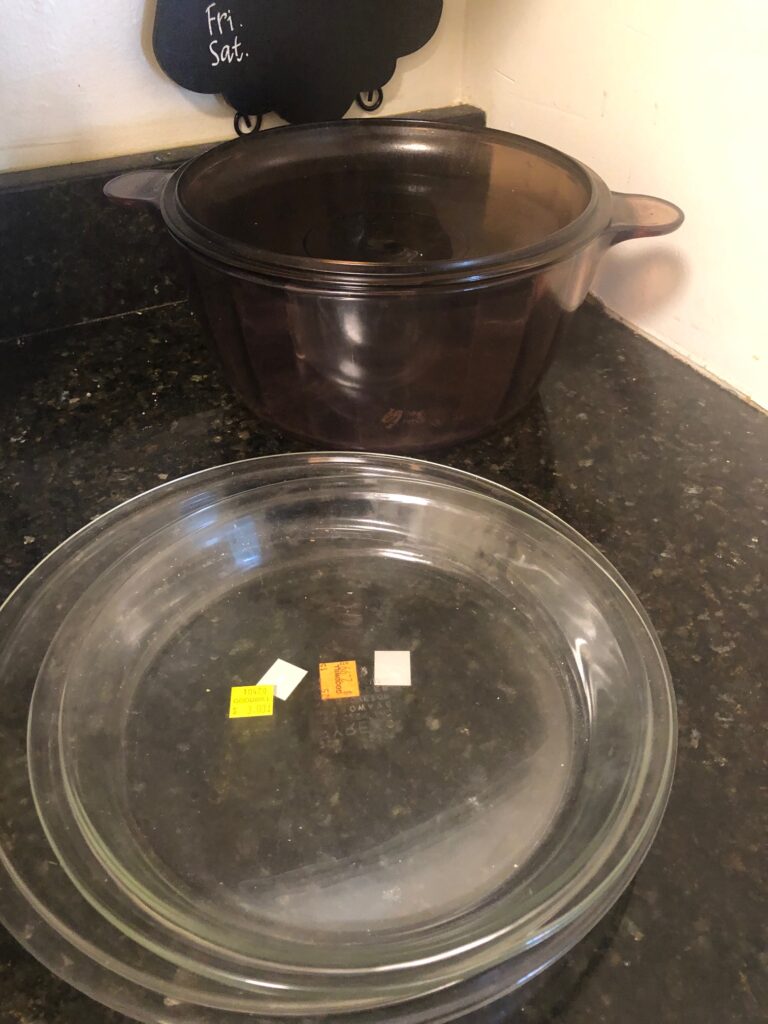 The other cool thing about Pyrex and CorningWare pieces is that some of the items have lids, meaning, they can be stored right in the refrigerator. CorningWare has a brown tint and can be used on the stovetop. I mostly use their items, but mostly sauces and soups and stews. 
Cast Iron Skillets
My favorite cookware is cast iron skillets. They are super durable, can be used on the stovetop, and can be transferred to the oven. I have found old and abused cast iron skillets at Goodwill that just need a little TLC to bring them back to life. Cast iron is so hard to find, that if you do come across one, bring it home and cherish it forever.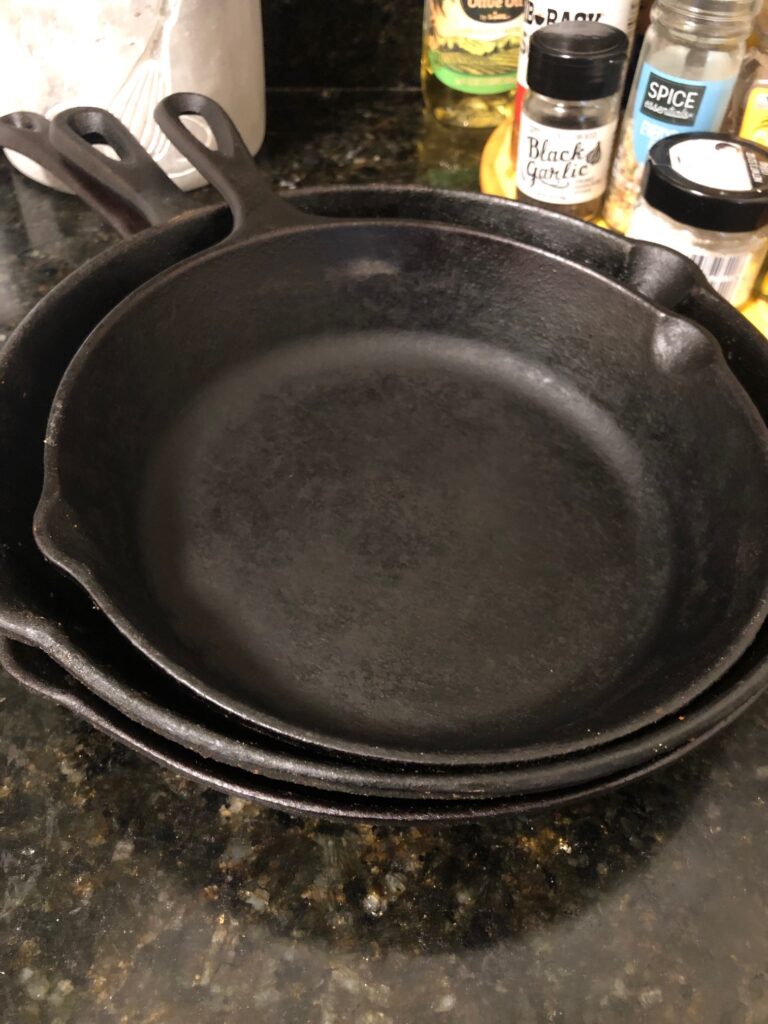 Dutch Ovens
Dutch ovens are similar to cast iron skillets, as they are super durable that can go from stovetop to oven. A dutch oven is usually a heavy coated pot with a lid.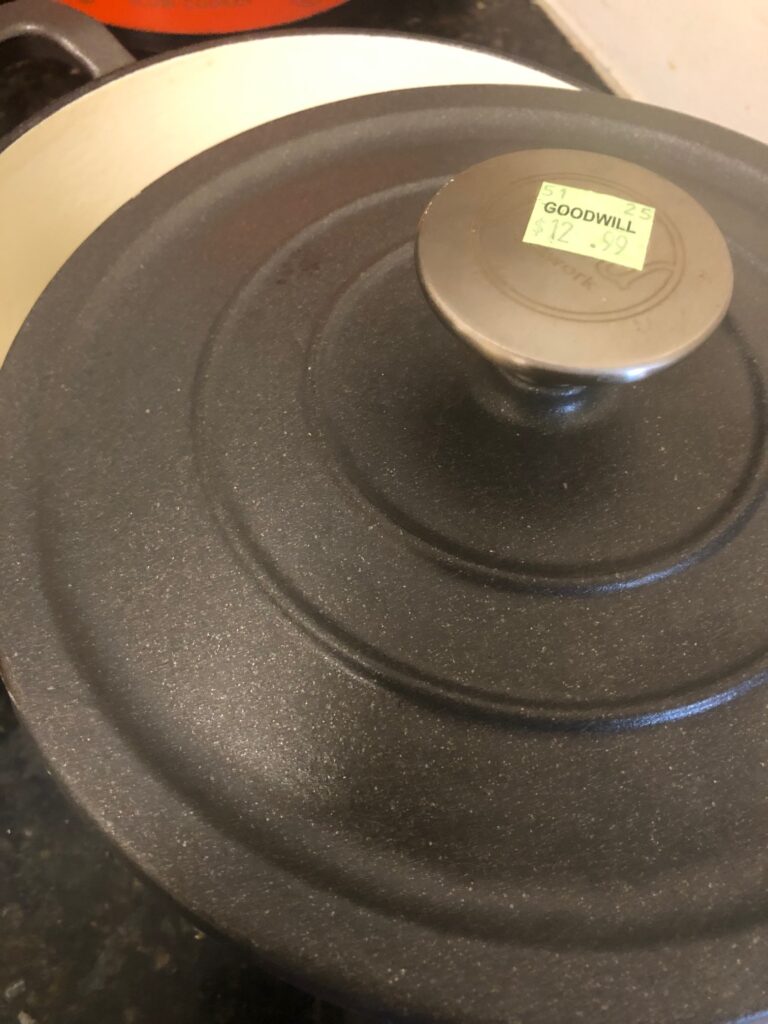 I have used a dutch oven as a regular pot for stewing, boiling, and sauteing. A few months ago, I found a brand new eight-cup pot at the Bowie location, which stays on my stovetop because it is used just about every day. 

Crock-Pots
Each household should have a Crock-Pot. It can be used for literally anything from baking to Sunday night dinner. During the cold months, each Sunday is marked as #slowcookersunday because dinner should be warm and comforting. In the past few months, I began cooking fresh dog food for my Shih Tzu using a vintage crockpot my mom thrifted at her local Goodwill. It was a steal at $4! 

Some items are made to last over time, including vintage cookware. Finding a quality piece at a discounted price makes the find even better. Next time you are browsing the Goodwill shelves; check out the cookware section!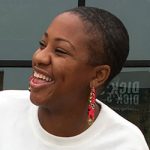 Amber Mixson
Fashion/Lifestyle Blogger
Amber is a 
fashion-blogging
 foodie and Instagram influencer with a passion for thrift store shopping. Her blog Eat N Style details her flair for cooking up not only tasty treats but inspired outfits as well. She has a passion for her community and is proud to serve others with her gifts. Follow her on Instagram (@eatnstyleblog) for more stylish tips and culinary adventures.