With the warm weather here to stay for a bit, and Mother Nature's beauty blooming everywhere, we all are wanting to be outside as much as possible. This project transforms my disaster deck into an outdoor oasis with many treasures found at Goodwill. And for next to nothing, you too can give a Spring refresh to your outdoor space.
Transform your living quarters by creating a place that makes you feel relaxed and rejuvenated. In just a few hours and a couple of dollars, you can give your space the makeover it deserves so you can enjoy being outside for lovely days and magical evenings—something YOU deserve!
Supplies:
· Furniture items like chairs, tables, benches, end tables
· Spray paints on three or four of your favorite colors
· Outdoor rug
· Accessories like candle holders, plates, serving platters
· Plants, both flowering and house plants
1. Clear out to create a canvas
Who isn't always on the move these days, even when we are staying at home to work and keep our kids focused on school? Busier than ever, we all need a space to which to get out—even just a step or two away—where we can decompress and disconnect. For me, I have a deck attached to the side of my house that had become a dumping ground for everything. If I needed a place to stash something, I would open the door and tuck it around the corner.
So first off, remove everything from the space you want to transform so you can see what you are working with and what needs to be done. It truly can be hard to see the forest through the trees—or in this case, the possibilities through all the stuff.
2. Consider what colors are your inspiration
Where to begin when choosing colors?
Look for a piece that provides inspiration and ideas. I had a great shower curtain with lots of my favorite colors…lime green, bright teal, and royal blue, along with a robust red and sunny orange. It was going to be repurposed as a tablecloth for the deck's bistro table so I built the color pallet based on that piece.
Do you have a piece of outdoor art? A vase to be used? A colorful pillow? Pick up tones from those pieces so your final look looks well-coordinated and cohesive.
3. Create a foundation on which to build
Does your porch or deck floor need some brightening up?
Once everything was out of the way, I could see that the deck experienced a rough winter (just like the rest of us!), so I did the necessary prep work and rolled on a fresh layer of bright green exterior paint. No cost for this step since I had some remaining from the previous porch painting.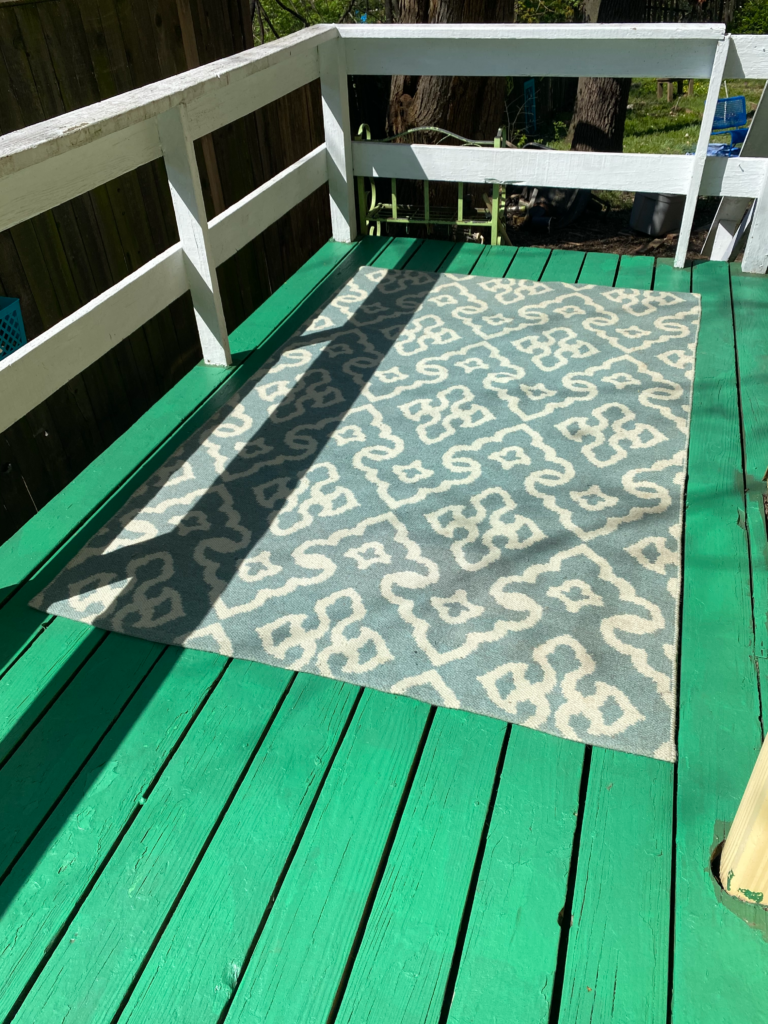 When dry, I placed a rug to help define the space and make it feel more like an outdoor room. Goodwill has lots of great rug options at really great prices. The rug here was an outdoor one; however, given Goodwill's very inexpensive costs, you could use an indoor one, as long as it is flat and the pile is very short so it doesn't absorb much moisture.
4. Connect mismatched pieces with paint
Random, mismatched pieces become immediately connected when you paint them the same colors. Many of the furniture pieces in my deck makeover came from Goodwill. Some had been painted before in my colors, so they just needed a good refresh. New ones were added and painted to feel like they were all part of the same masterpiece!
Use a wire brush to remove peeling or chipped paint, scrub then wash them off to ensure a clean surface to add paint.
Place on a drop cloth and spray away, adding several light coats.
Let dry well.
5. Position pieces for people
Since you will be having folks over to enjoy your transformed outdoor space, place your items to allow for easy conversation. I put the bistro set in one corner so that a guest and I can look out over the backyard when enjoying a morning cuppa joe or evening cocktail.
Three chairs now face each other so that people can easily talk with each other; small end tables were placed nearby so that guests may set their drinks down without having to get up.
6. Accessories add elegance, personality
Once the furniture pieces were positioned in spots that felt and looked right, it was time to take the overall look to the next level and add some pizzaz!
Some great accessories were picked up from Goodwill and found in the Housewares and Glasswares sections. Plates, pitchers, vases, and other items were lovingly placed around so that each deck section had colors, textures, and objects of visual interest, like a cheerful bright green ceramic apple and an art glass bird.
7. Add Mother Nature
Pick up flowering plants at your local hardware store to make your outdoor place feel like a mini-garden space. Given all the sun on my deck, flowers that love the light were selected. I then added them to clay pots, a brass container, and a flowered vase.
Several house plants were moved outdoors to add more green and to honor Mother Nature's talents.
8. Add some light & extend an invite
Place tea lights and candles around the space, then light them to add a beautiful ambiance. Invite family and friends over, safely and socially distanced, of course, to celebrate and to enjoy your wonderful transformation!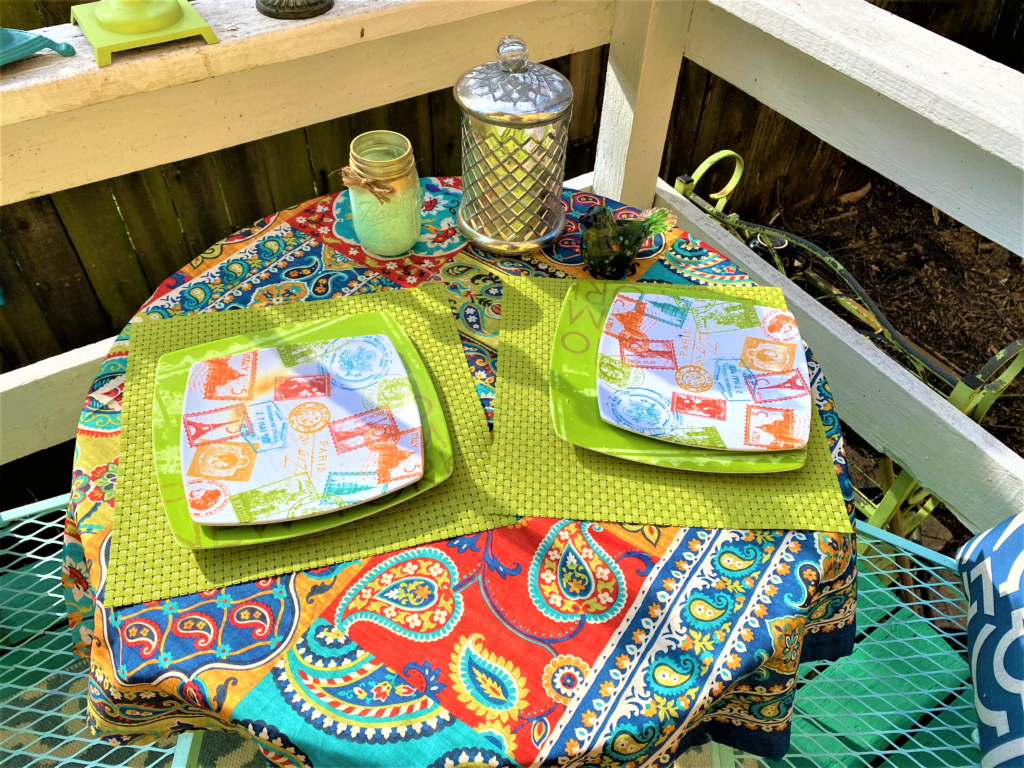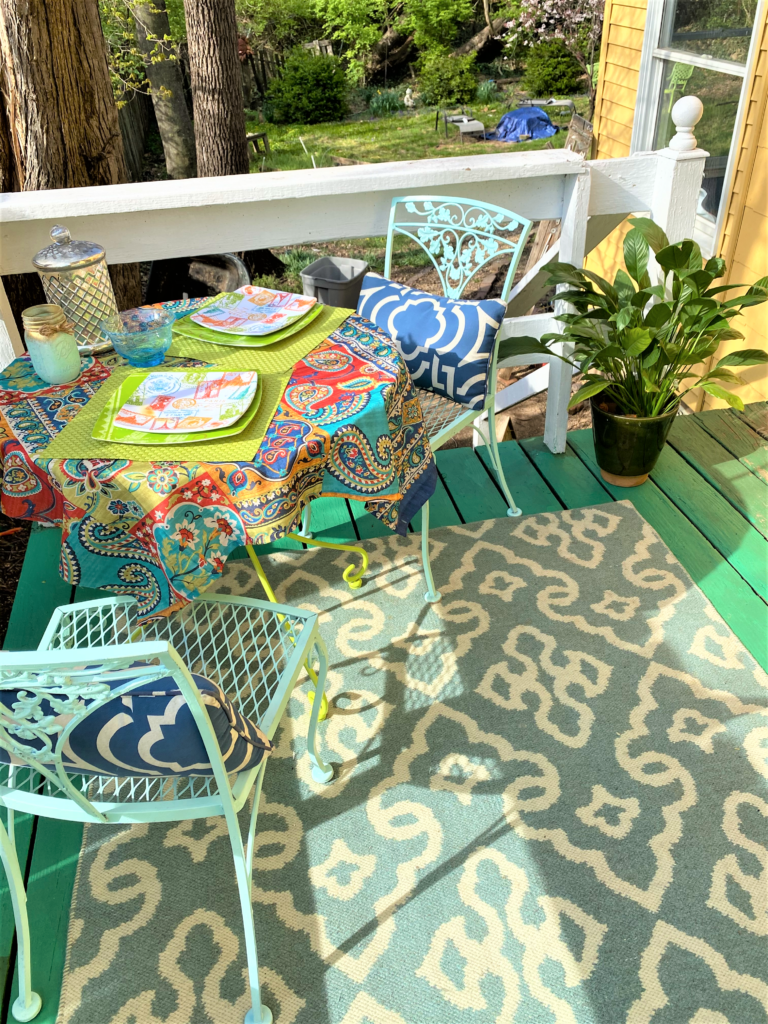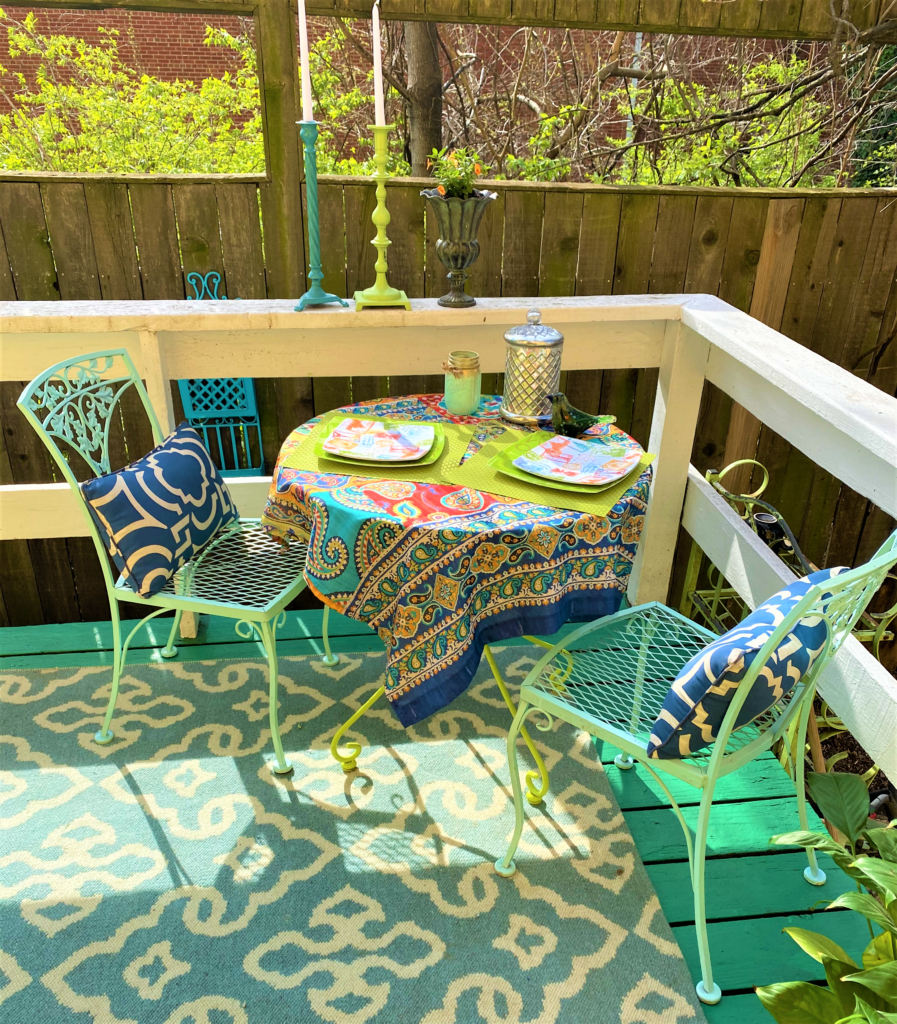 Your outdoor space will make you so happy that you will not want to go inside unless you absolutely have to!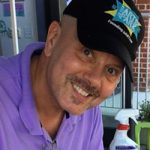 Tim Kime
Artist, Motivational Speaker, Life Coach
Tim Kime is an artist, life coach, connector. He is President of Kime Leadership Associates offering executive coaching, meeting facilitating and motivational speaking. He is also Chief Creative Force of Transformation Junkies which upcycles furniture and other household items into functional works of art. He combined his two passions—unleashing the potential in people and transforming items with the launch of the Art of Possibilities Workshops. These workshops are part upcycling, part dreaming, part goal setting.