Colder temperatures, shorter days, frosty mornings—it's enough to make you want to run for cover with a mug of hot chocolate and a good book. But just because the days are shorter doesn't mean your wardrobe has to shine any less. Go ahead and add these seven winter essentials to your wardrobe—your closet will thank you.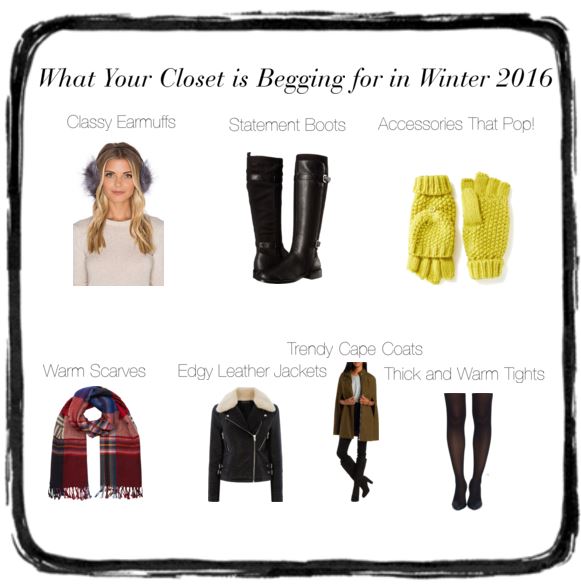 Classy Earmuffs
Sophisticated and functional, earmuffs are a whimsical topper to any outfit. These aren't the pink sparkly earmuffs you had as a kid—today's earmuffs come in a variety of styles, ranging from textured sweater fabric in neutral colors, to trendy plaid, to fun and furry. To pull off the look, embrace the earmuffs—don't try to hide them. Pull your hair back or work them into an up-do to really show them off.

Statement Boot Must-Haves
Boots are functional, but they are also the perfect way to finish an outfit and complete an ensemble. Because boots are so important and put up with tough wear and tear during winter, invest in a few quality pairs that will last you for years. Classic options are 
brown riding boots
 or black heeled booties; they can be worn with jeans, leggings, skirts, and dresses for chic (and warm) feet.
Colorful Accent Accessories
Just because it's winter doesn't mean your wardrobe has to be drab. Spice things up with 
colorful clothing items
 and accessories, like a bright handbag, a textured hat, or a colorful gloves or mittens. The biggest color trend for 2016 is pastels, such as a light pink coat or a baby blue scarf. Pair these items with your current winter staples to stay on trend.
Chic and Warm Scarves
If your winter wardrobe is feeling a little sparse, scarves are a great, inexpensive way to stretch your clothing even further. A basic black sweater can have two completely different looks when worn with different scarves, such as a thick infinity style and a 
loose patterned knit scarf.
 Get scarves in an assortment of colors, patterns, styles, and materials and learn to tie them different ways to stay warm and watch your wardrobe grow.
Edgy Leather Jackets
A 
leather jacket
 is a timeless piece that mixes sophistication with edgy style. It's the perfect jacket for a mild winter day and can be worn in a variety of ways. Throw it over leggings and an oversized sweater when running errands, create a chic all-black outfit with skinny jeans and a trendy top, or wear it with a skirt and scarf for a layered winter look. Leather jackets can be worn year round, so invest in a quality, neutral jacket to maximize its use.
Trendy Cape Coats
On the more trendy side of coats is the 
cape coat
. These trendy pieces are feminine and chic. Opt for a neutral, basic cape coat like a plain black or gray with a subtle pattern, or go all out with a bold color or pattern. Either way, let the cape coat be the star of your outfit and wear slimmer, basic items underneath, like leather leggings, a pencil skirt and tights, or skinny jeans.
Thick and Warm Tights
If you're dressing up in the winter, there's no better accessory than tights. Available in a huge selection of colors and patterns, scarves can transform any winter outfit. A growing trend for winter 2016 is to pair tights with skirts and booties. Be sure to look for 
thicker tights
 to keep things classy and to keep your legs warm. A well-stocked wardrobe will have tights in basic solid colors like black, gray, navy, and eggplant, but also a few fun, patterned pairs, like polka dots or herringbone print.
Jennifer Monahan is a freelance writer and a  mom of 2 fantastic kids out of Jackson Hole Wyoming. When she's not working around the house and cleaning up after her husband, she likes to keep up and write about the newest fashion trends. You can follow her on twitter

 @Jenmonahan76