Dear readers, today's My Goodwill Find is definitely something to write home about. It's comfy, cozy, warm and absolutely perfect for the imminent cold weather.
The maker of this lovely large corduroy blazer is by a brand called Tulle. It's usually sold in small boutiques and stores like Anthropologie. I have many items in my own closet by this label and based on what I've seen, their items are more boho and a bit on the hippie side.
In boutiques, I've seen blazers like this retail for upwards of $200…so they're not usually affordable. Based on experience, they're incredibly well made and withstand a good period of time.
As you can see, today's find is more of a blazer, than a coat. It hits right at the hip and would look FABULOUS with a pair of jeans and boots. It's big buttons (all of which are still in tact) give off a bit of a vintage Jackie O. feel, which is always a plus. 😉 You know me and my love of vintage!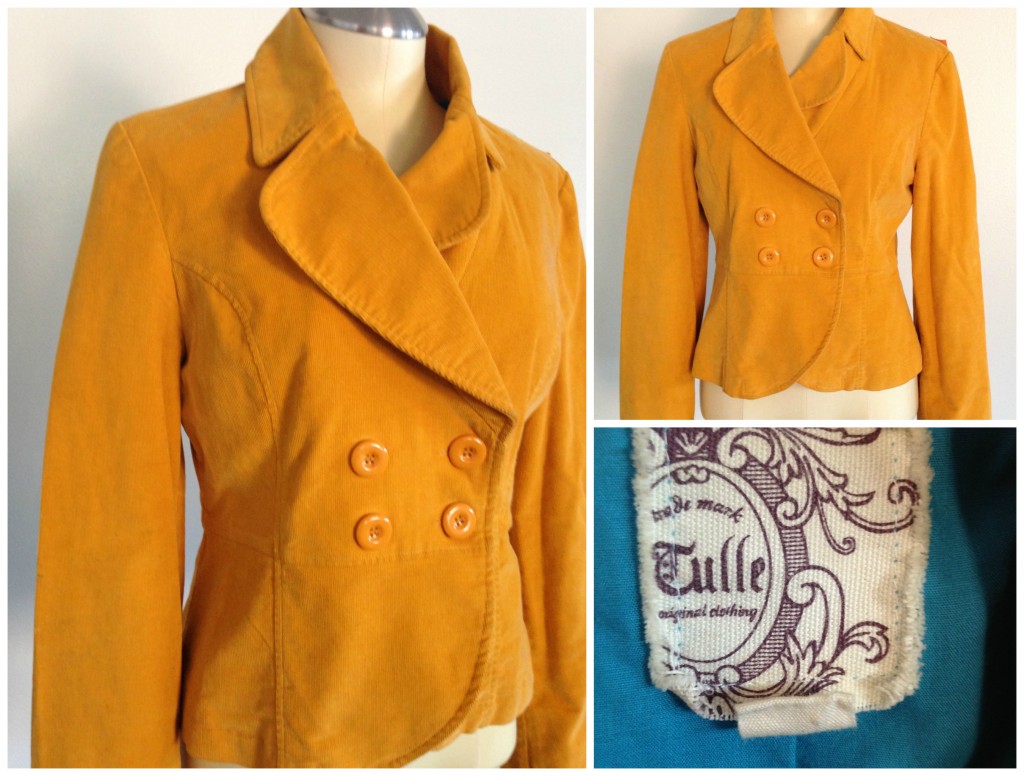 In terms of boots, this jacket would look great with both boots of all shapes and sizes. Heeled booties, ankle boots and knee-highs would all work perfectly. Especially with skinny jeans. Although black boots could work with this blazer, I'm envisioning warmer colors like browns, plums and greens. Colors that are more earthy and fall-esque.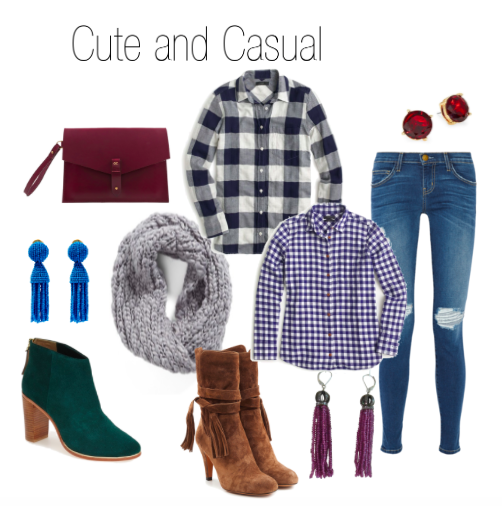 Any earring or purse should also follow suit, colors-wise. Warmer rich deep fall colors would complement this coat, emanating a seasonal vibe. Depending on the top you wear with the coat, dangly and/or studs will make you look like a boss! In my collage, you'll see that I included a lot of tassel earrings. These have been all the rage as of late and I kind of like them. They remind me of something vintage or Greek for some odd reason. Regardless, I think they're super fun!
Now, let's talk tops. The only thing that comes to mind for me with this jacket are patterned button-up tops, especially plaid and flannel. When I think of anything corduroy (like the jacket), I instantly think of all things warm..such as flannel. Just like with the boots and accessories, I envision plaid in colors like navy blues, greens, and dark cranberries. These will give off a comforting and approachable feeling.
To put a period on this look, let's throw in an infinity grey or navy blue sweater scarf in there. Why not just go all out with embracing cooler temperatures! You never want to jeopardize your health just to look a little cute.
How would your rock this blazer, fashionistas? I don't wear mustard yellow often so I'd love to get some pointers!