My mom was recently in town, and I took the opportunity to have her help me upcycle some Goodwill finds. Growing up, my mom was the queen of sewing us creative outfits. Do you remember that scene from The Sound of Music when the kids are dressed in curtains? My childhood! Anyways, she taught me how to be frugal and how to use a sewing machine.  First on the upcycle list was this adorable tank top that I found for 50% off thanks to the Goodwill Color of the Week sale! It's not my size, but the fabric is SO SOFT and such a gorgeous color!  I knew it could be transformed into a stunning summer romper for my baby girl.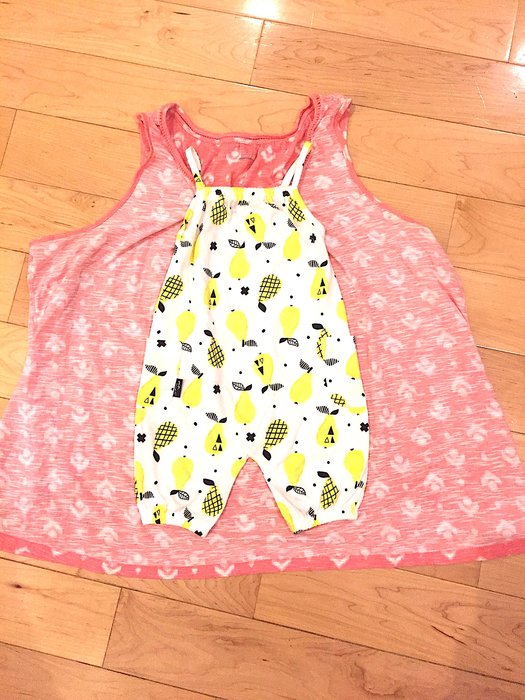 When upcycling fabric, I like to have a piece of clothing to use as a guide.  Start by turning the fabric inside out on the piece you want to upcycle. Next, pin the "guide" clothing to the inside out fabric.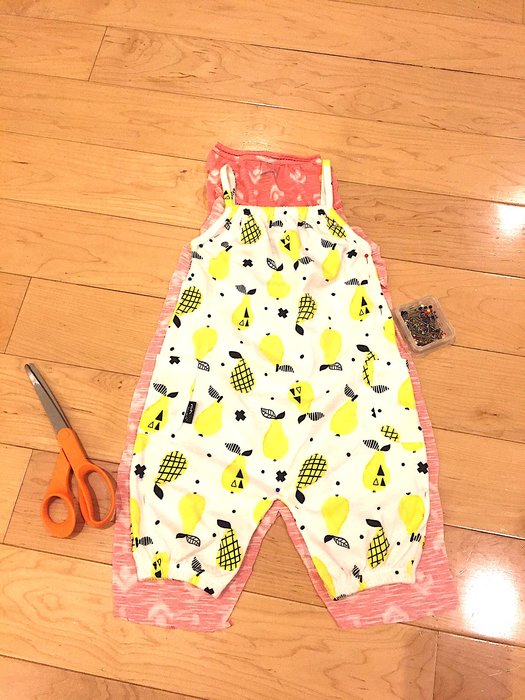 To allow for a half inch seam, I cut about a half inch larger around my guide. Afterwards, I unpinned the guide and sewed the two sides together anywhere that was sewn on the original outfit that I wanted to duplicate.  This particular outfit had elastic at the bottom of each leg, which was completely optional.  I cut two small pieces of elastic that I had on hand (more about that below in the UPCYCLE TIP) and turned up the bottom of each leg about 1 inch to make a casing for the elastic.  I added the elastic inside and sewed around the top.
UPCYCLE TIP: When choosing what to donate from my own closet to Goodwill, I never donate pieces that are overly worn or stained.  Instead, I take them apart for their pieces (elastic, buttons, trim, etc) and toss the rest (or use the fabric as kitchen rags or stuffing for pillows/ crafts.  It's an easy way to build your craft supplies and keep items out of landfills!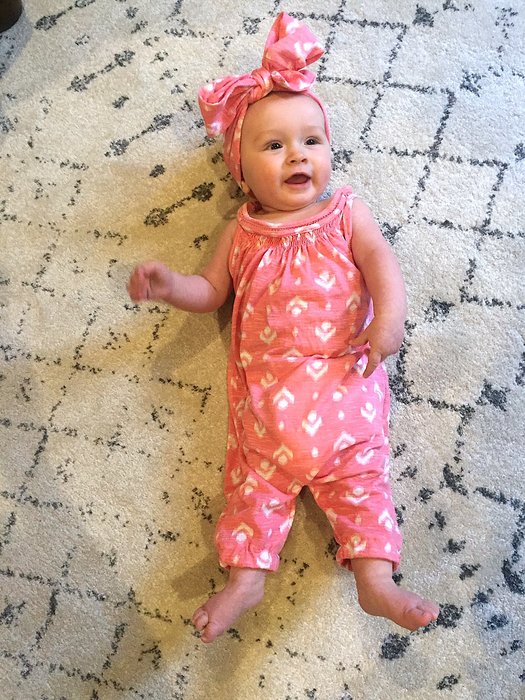 With the leftover fabric, I made a giant bow by cutting it into wide strips and sewing each strip together to create an extra long strip.  Then, I just tied it into a bow on my daughter's head.  DONE!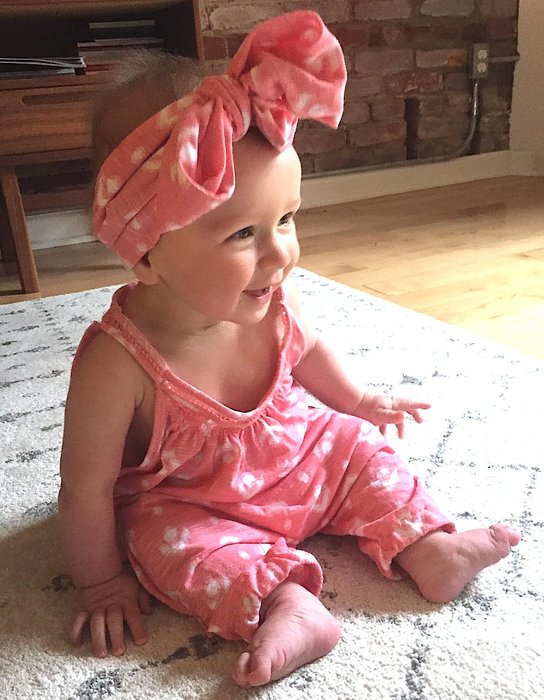 How cute is this little upcycle?!  I plan on making a few more for summer since they're a little oversized and can be grown into.
Have you ever upcycled a piece of clothing before? What did you make? Share in the comments section! 
Ariel is an avid "thrifter" and budget decorator, as well as a teacher and expectant mom (any day now)!  After being a military spouse for 9 years (and moving 7 times in the first 7 years), her focus is on making a house (or in this case, her small city apartment) into a stylish home on a budget.  She also has a penchant for Chesterfield sofas, Campaign dressers, and bar carts of all types.