2015 was a year of great fashion trends….and some blunders as well. While I'm pretty accepting of most trends, there are some that just need to cease existence in 2016. Before I get to the negatives, I loved peplum and lace this year. I was also ALL ABOUT the comeback of *most* 90's throwbacks.
My apologies if you disagree with some of these picks below, so don't hesitate to leave your thoughts in the comments! I'd love to start a dialogue.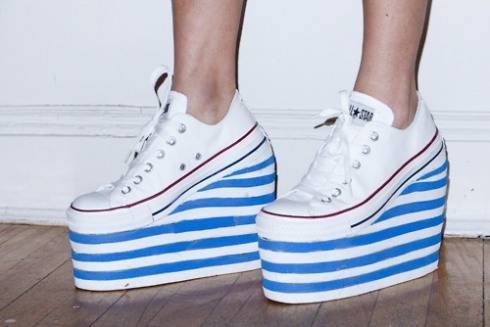 Image from StuffPoint
Platform Converse
Converse shoes were invented to be worn as a more comfortable and versatile shoe meant to be worn for all different occasions. They come in all different colors, shapes and sizes…but all of them are easy to walk in. I think they should absolutely stay this way.
However, this Converse platform shoe trend is not only weird and clunky looking, but also incredibly uncomfortable and impractical.
I actually tried a pair of these on as a joke and literally fell on my face. I looked like a small lady with big foam boulders on my feet!

Kim Kardashian's Ugly Lace Robin Hood VMA Dress
I simply cannot get this ugly dress out of my mind. It was so unflattering when Miss. Kim wore it, and I'm sure it would not look so hot on anyone else.
The brown puke color is just horrid and the lace in the front is totally not working. It looks like the laces on a shoe!
This dress and ones like it should never make this comeback.
Goth Platforms
Again with the platforms this year!
I've never been a fan of goth style for it's not very appropriate for the office and it doesn't look cute on the dance floor.
In 2015, I've seen lots of teens and adults wearing these black platform goth Hot Topic shoes that are also unflattering, like the Converse mentioned above; they make people's feet look super big and masculine while making a woman look like she has smaller and shorter legs. At least on me, it does!
Every time I picture these shoes, I also always imagine them as being super dirty. Yuck!
Health Goth
This year there was this trend where men and women would fuse workout clothing and goth style. The person was neither goth OR sporty…in fact I think people just jumped on board with this trend because it looked cool.
One day while at the hair salon, I saw a girl rocking this trend and couldn't ever imagine wearing this type of look at my age. She was around 30 with heavily tanned skin, a short Adidas dress, a hoodie, bleached blonde hair and SUPER heavy eyeliner. It honestly didn't make sense to me.
The fusing of one fringe culture (goth) and super popular activewear (while is more conformist) is an interesting concept, but it's really rubbed me the wrong way. Have you seen this before?
Are there any trends you absolutely hated this year, fashionistas? In general, I think this year was a pretty good one for fashion!