We're ending the year with one of my favorite #MyGoodwillFinds to date! This item was found at our Rockville location on a rack with items waiting to be put on the floor.
I'm always a sucker for black lace, so when this gem caught my eye, I knew I had to pick it up!
And when I picked it up, I was pleasantly surprised to see this is by one of my favorite contemporary premium brands called Elizabeth & James. This brand is the brainchild of the Olsen twins and is one of their more luxurious lines sold at places like Bloomgindale's and Nordstrom among other big names.
I looked this top up on Google and was SO ecstatic to see it retails for upwards of $500! Check it out here. 
It's a size medium black lace top that's sure to look great with any fancy or casual outfit. It has beautiful wide and chic boho bell sleeves, with a zipper on the side. It has a slip-type top underneath, so you do not have to wear a cami with this gem.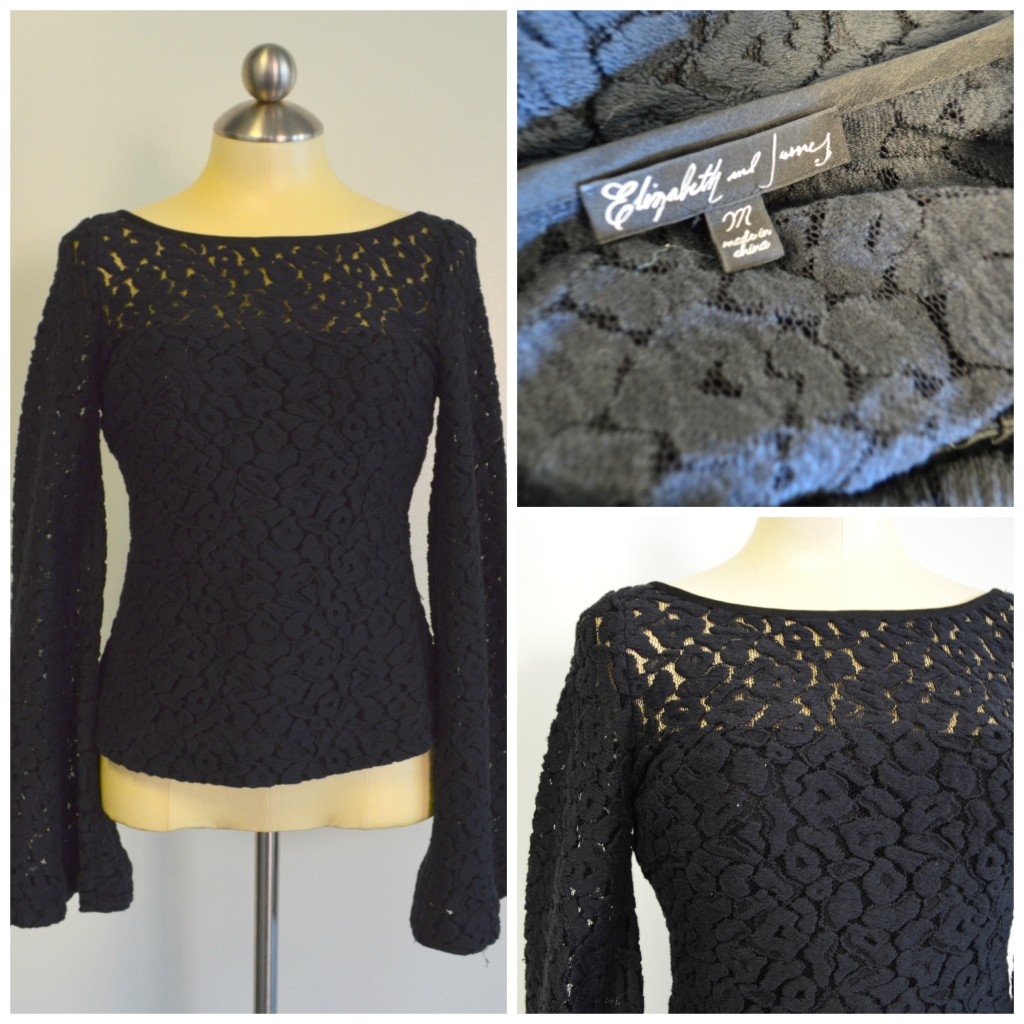 I can't even begin to tell you about the many ways I'd rock this top so I'll just keep it to two.
First, I'd wear it in a more casual look with a cute pair of skinny jeans (you can find them at Goodwill for under $5 with various Customer discounts!). I'd also rock a cute pair of  neutral colored wedge booties to add a small feminine and sophisticated element to a look.
Along with that I'd rock a really cute bib necklace that showcases a pop of color. I'm thinking deep reds, especially for a more casual office look. But if you want to go bolder with a neon, that works too! If you wear a bib necklace that's bold, don't forget to keep it subtle with the earrings, fashionistas!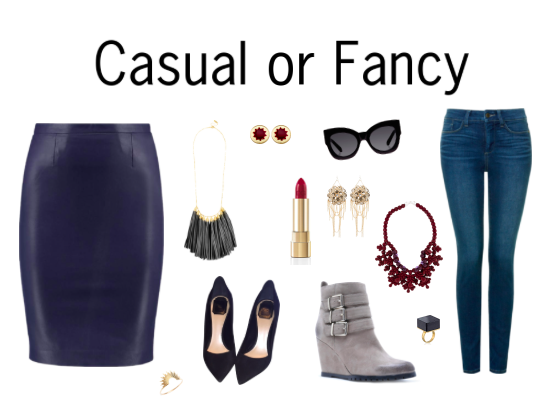 Image by Polyvore.
Next, I'd also rock this top in a more fancy date look.
This top would look fabulous tucked into a high waisted  tighter fitting skirt. It'd be SO flattering especially with the bell sleeve — the slimness of the outfit would accentuate the shape of the billowing bells.
The skirt could be of any color, but blue is in my mind today. Perhaps a deep blue skirt with a type of shiny sheen – almost like leather!
Along with a skirt, you do need to wear tights especially on a cold night; but that will surely not detract from the look, I promise!
Same jewelry would go for this look like the casual one above. Heck, I encourage you to experiment with the type of necklace this time. Maybe a long one with a statement pendant as opposed to a bib style? It's your call!
How would you rock today's beautiful and funky My Goodwill Find? How would you embrace the bell sleeves?