Can you guess all of the items in this photo that I thrifted from Goodwill?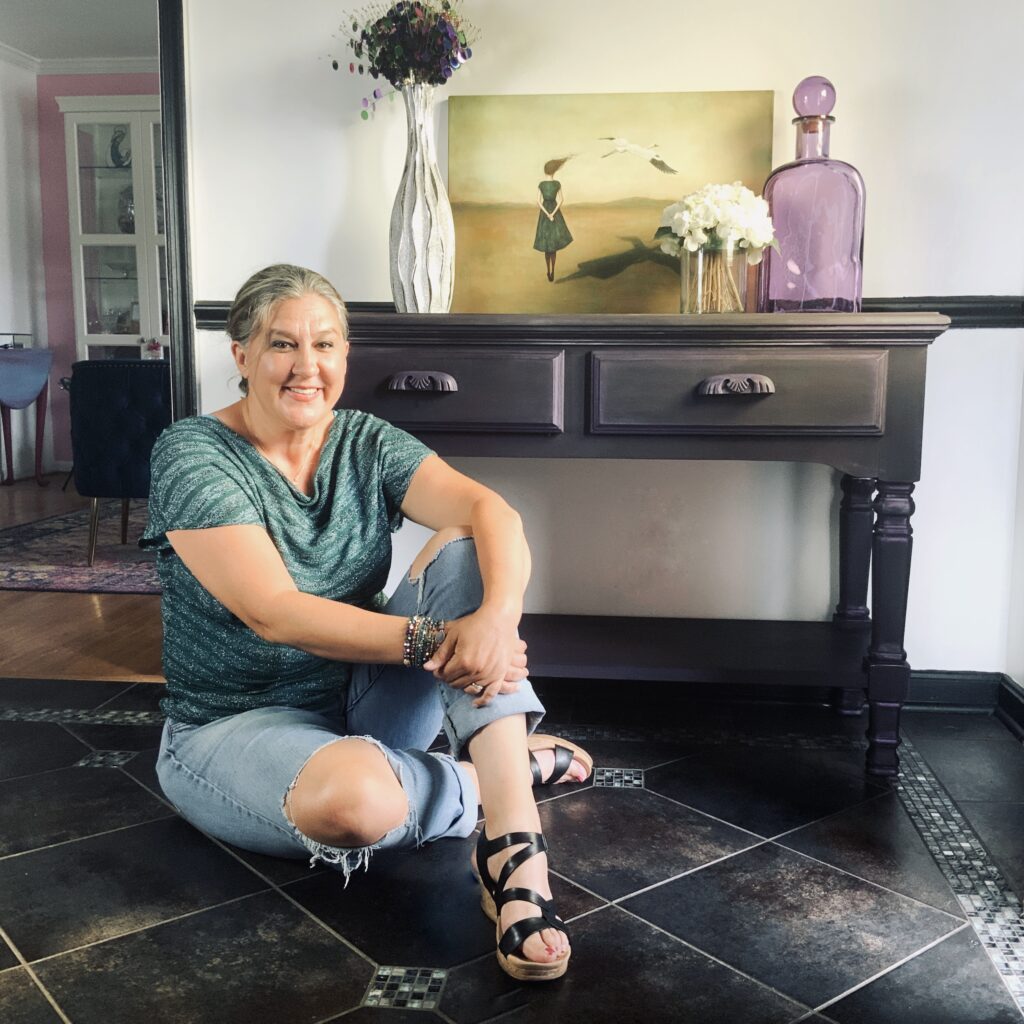 If you guessed ALL of them, you would be … close. Very close!
Let's start with my outfit. I purchased the sparkly sweater for $4.99 from the Annandale, Va. store last year. I love it! I wear it over a tank top in the summer, sometimes pulling the shoulder down for an 80's Flashdance vibe. In the winter, I layer it over a long-sleeve shirt for a completely different look.
I take a similar approach to home decorating, choosing furniture and décor items that I can mix and match throughout my home to change up the look when I feel like it. Curating a home you love to live in is a lot like curating a wardrobe you love to wear.
By shopping at Goodwill, you are doing it in a more affordable and sustainable way. That is great for your wallet and the environment. And did you know that 91 cents of every dollar spent at Goodwill helps fund free job-training programs? So you are impacting our community in a great way too!
When you walk out the door wearing a fabulous outfit, don't you just feel good all day? I want that same feeling in my home. I want my space to be comfortable, beautiful and simply feel good for my family and me.
This photo was taken in the entryway to my home. I've been working on making the space more functional so clutter doesn't pile up here. And more beautiful since this is the first thing you see when you walk in the front door.
I found the table a few years ago at the Fairfax, VA Goodwill store. Here's what it looked like when I found it.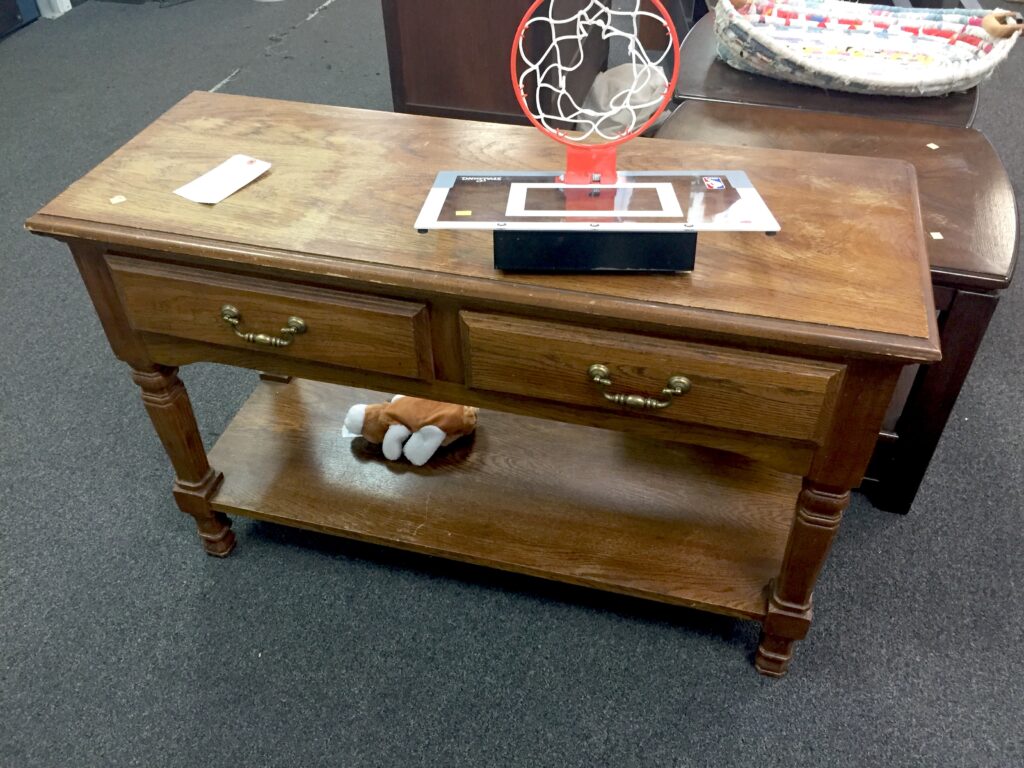 It was outdated, scratched and the finish had worn away over the years. But the table was sturdy and I liked the shape. The cosmetic issues can be easily fixed with a little DIY. It is like finding a great pair of pants, but the zipper is broken and needs to be replaced. Or maybe you need to take it to a tailor to have it altered to fit your body perfectly.
That's kind of what I do with furniture! I alter it to fit my home perfectly.
I sanded the tabletop, re-stained it and painted the base a nice on-trend gray color. But then I realized nice gray furniture might be the trend, but it isn't really my style. (That happens with clothing sometimes too. Some trends I just can't get into!) So I painted the table again – purple this time because, well, because I like purple!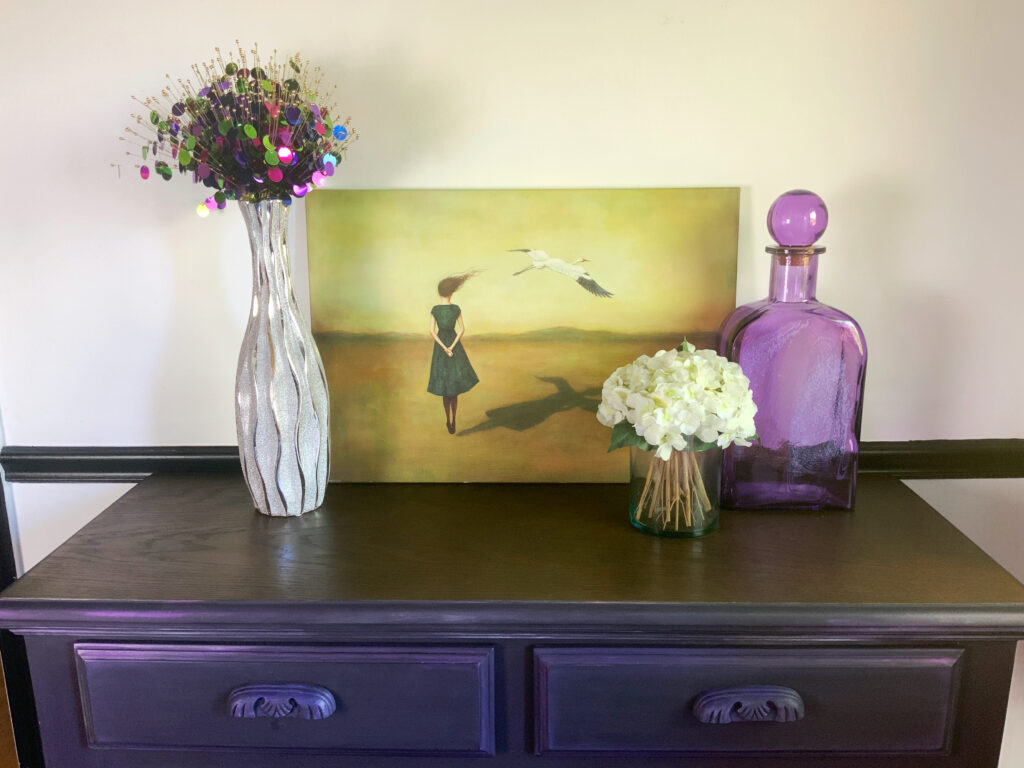 I styled the table with several items that also came from Goodwill, including the artwork, the flowers and the big purple bottle. They were all purchased at different times from different Goodwill locations, but they all go together perfectly here.
Somebody told me once that you shouldn't buy art because you like how it looks. Instead, you should buy art because you like how it makes you feel. I think that was really good advice so I'm passing it along to you.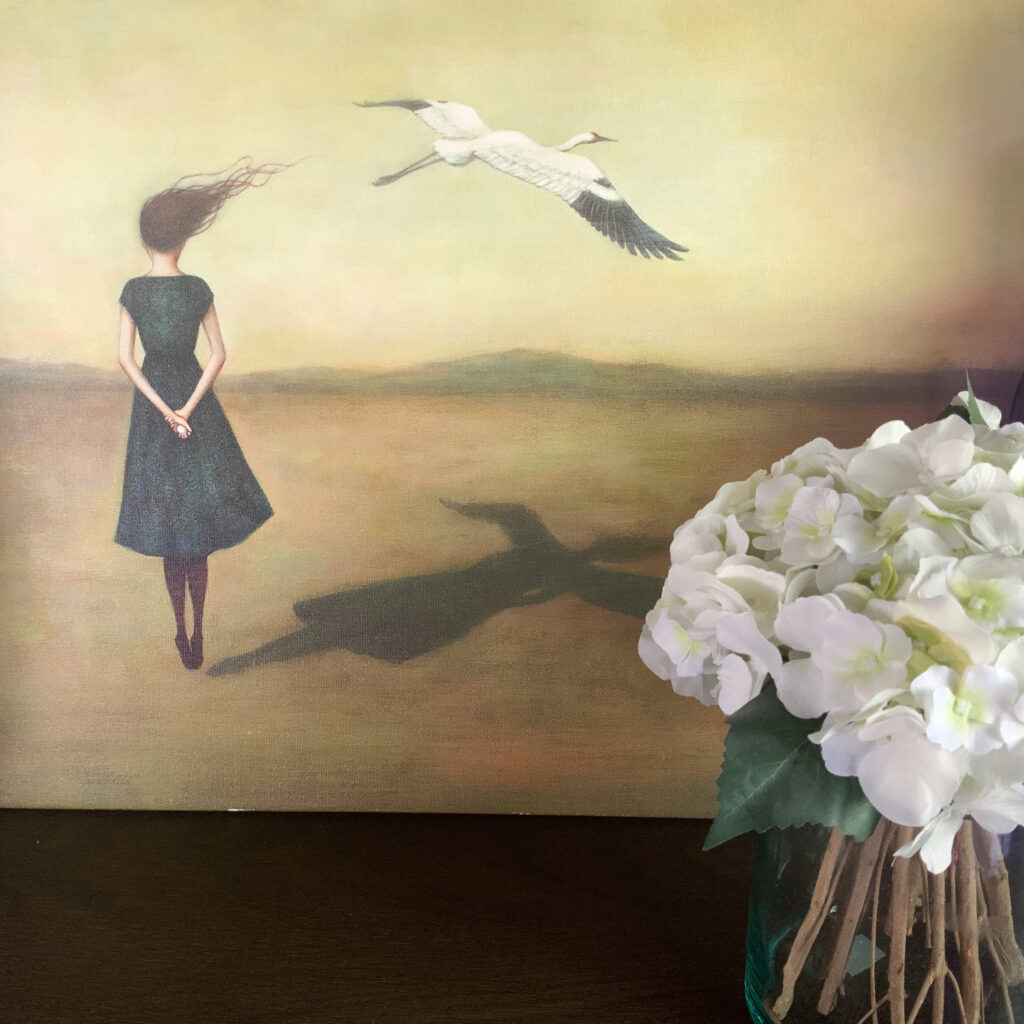 I love this canvas print by artist Duy Huynh that I found at the Annandale, Va. Goodwill store. I can imagine myself standing on my tippy-toes, hair blowing in the wind as my shadow and the bird merge into angel wings. This image makes me happy! So I purchased the canvas even though I didn't know where I was going to put it when I got home. It's kind of like buying a beautiful dress, then being invited to a party to wear it to!
The artwork works for me in this space because I like how the golden tones of the background contrast with the purple table and bottle. Yellow and purple are considered complementary colors because they sit opposite each other on the color wheel. When considering color pallets in your home (or outfit!), throwing in a splash of a complementary color adds visual interest to the overall look.
The vase with white hydrangeas also came from Goodwill. Hydrangeas are one of my favorite flowers. I like having a little bit of summer in my house all year long. This vase has been all around my house, most recently atop a stack of books in my living room.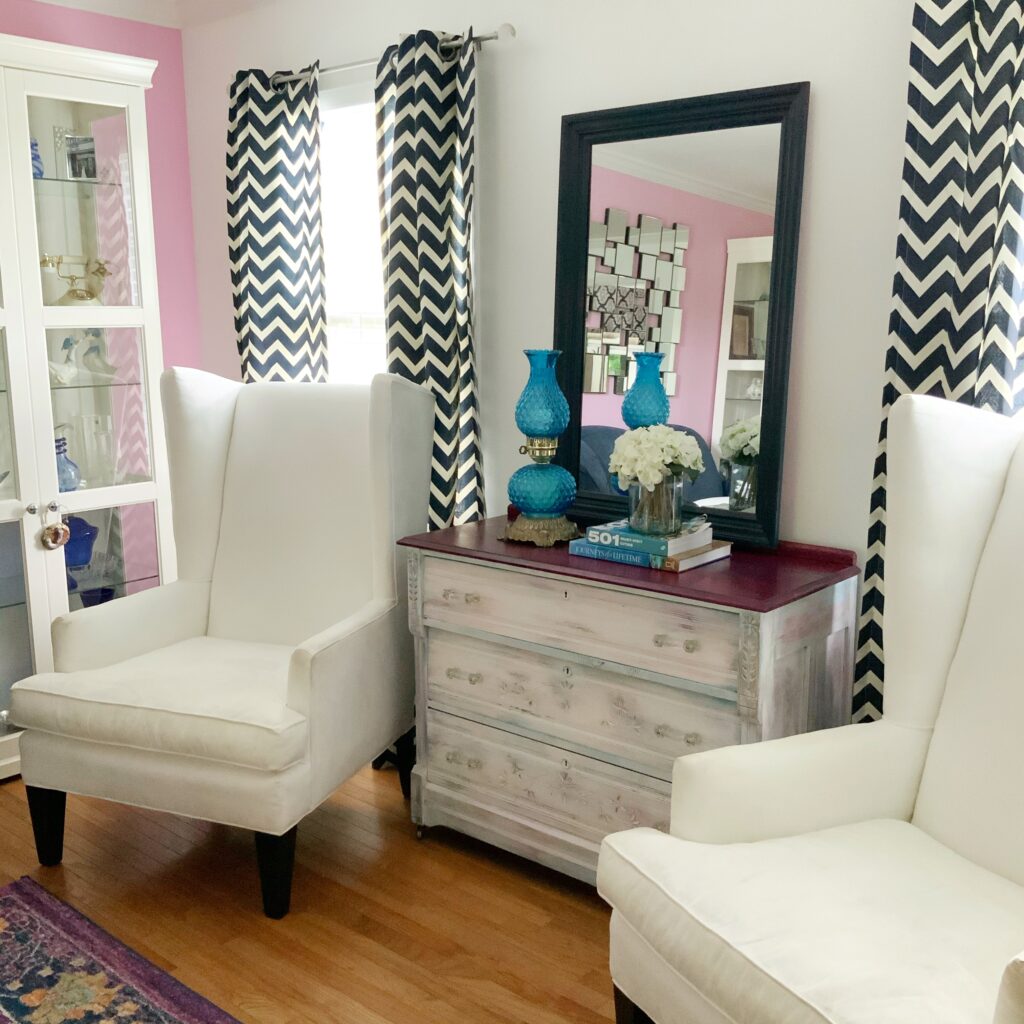 But I realized the flowers would also look great here. It's like a necklace you love or a pair of earrings that can be used to accessorize several different outfits. Décor items are the accessories for your home.
The big purple bottle is the latest addition to this setting. I purchased it for $9.99 on a recent trip to the Centreville, VA store. I bought it because, well, again, because it's purple! I knew exactly where I was going to put this and I think it looks right at home here on the purple table.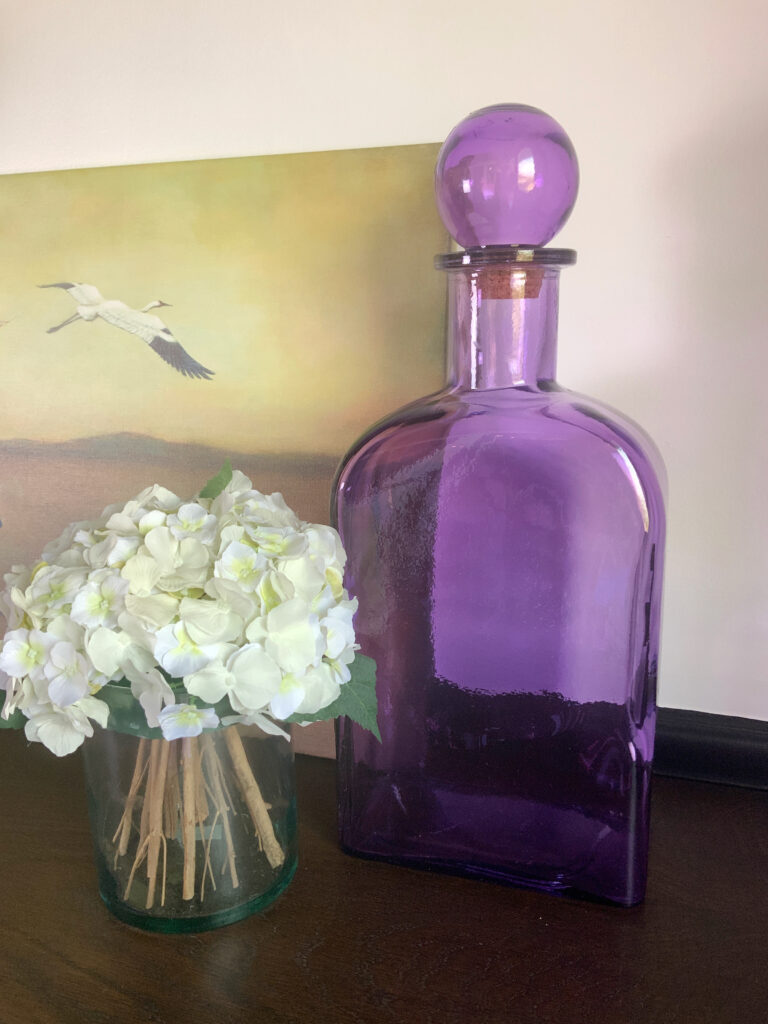 Finally, the silver vase and decorations were not purchased at Goodwill. But they are part of my commitment to sustainable home decorating. The sparkly thingies were intended to be tucked into the branches of a Christmas tree, which is how I used them for many years. However, the stems are now unraveling and have been taped back together too many times to look nice on my tree.
Instead of throwing them away, I used the opaque vase to hide the raggedy parts and let the sparkly parts continue to shine.
That's sustainable decorating too!