Forget that old-fashioned advice, "Don't wear white after Labor Day."  White tones look great at any time, on any project, and in any setting.  Four items went from "garage sale Granny" to "sharp, chic, and sophisticated" using a crisp, bright white hue.
Supplies needed:
White spray paint, glossy finish
Silver art paint, silver spray paint
Brushes
Painter's tape
White fake fur fabric
Scissors
Staple gun, staples
Screwdriver
Pliers
Damp cloth
1. Find timeless treasures at Goodwill
You never know what treasures you'll discover when you shop at Goodwill. As I was hunting for an item to transform for this blog, I came across a charming, square-shaped little stool. With its curved legs, carved center piece and solid construction, it was undoubtedly from a long-ago era. On its underside, there was a molded iron piece that held it all together.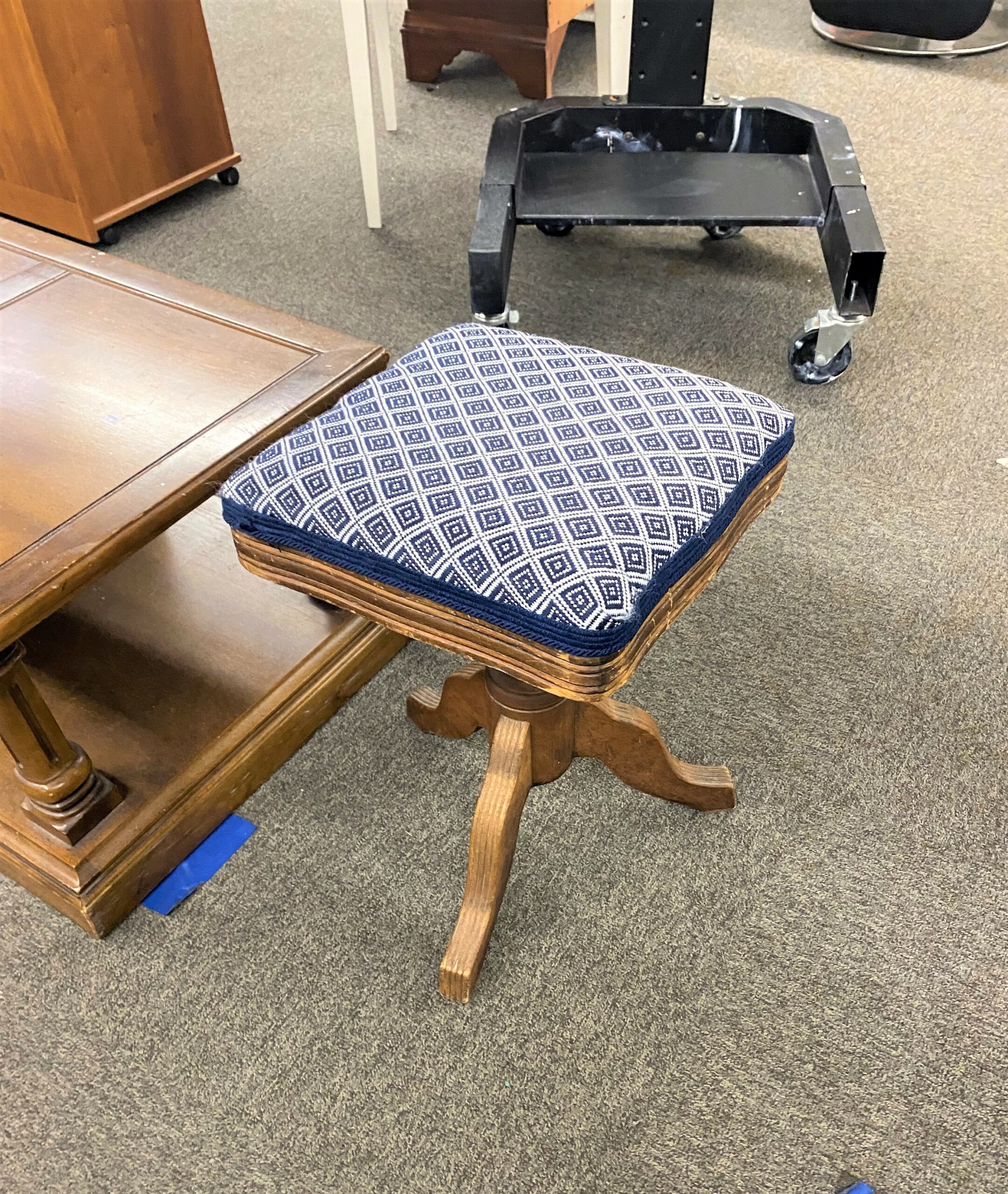 This find inspired me to look for other items made many moons ago to see how I could bring them up-to-date and feeling fresh. A silver-plated pitcher, small cabinet and tall candelabra, all antiques from a similar period in time, were also purchased. They could have been pieces my beloved late grandmothers would have owned and treasured.
2. Begin the beautifying
The stool's old, dated fabric was removed. 
To protect its foam padding from paint, paper towels were held in place with painter's tape.
The little cabinet's door was removed, keeping the handles, hinges and screws together so they would not be misplaced. 
Paper had been glued on its front and was carefully scraped off.
All items were wiped clean from decades of dust and dirt with a damp cloth.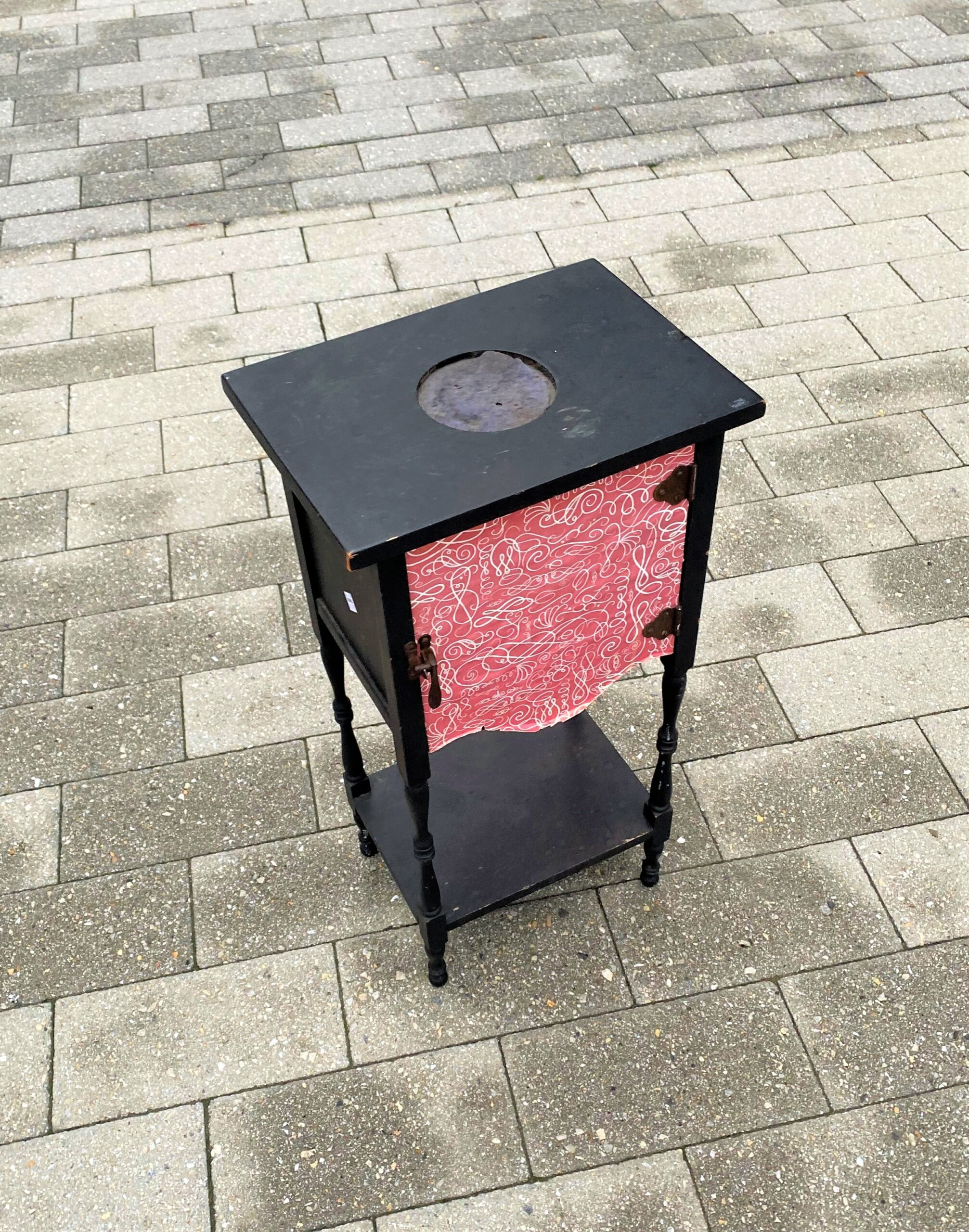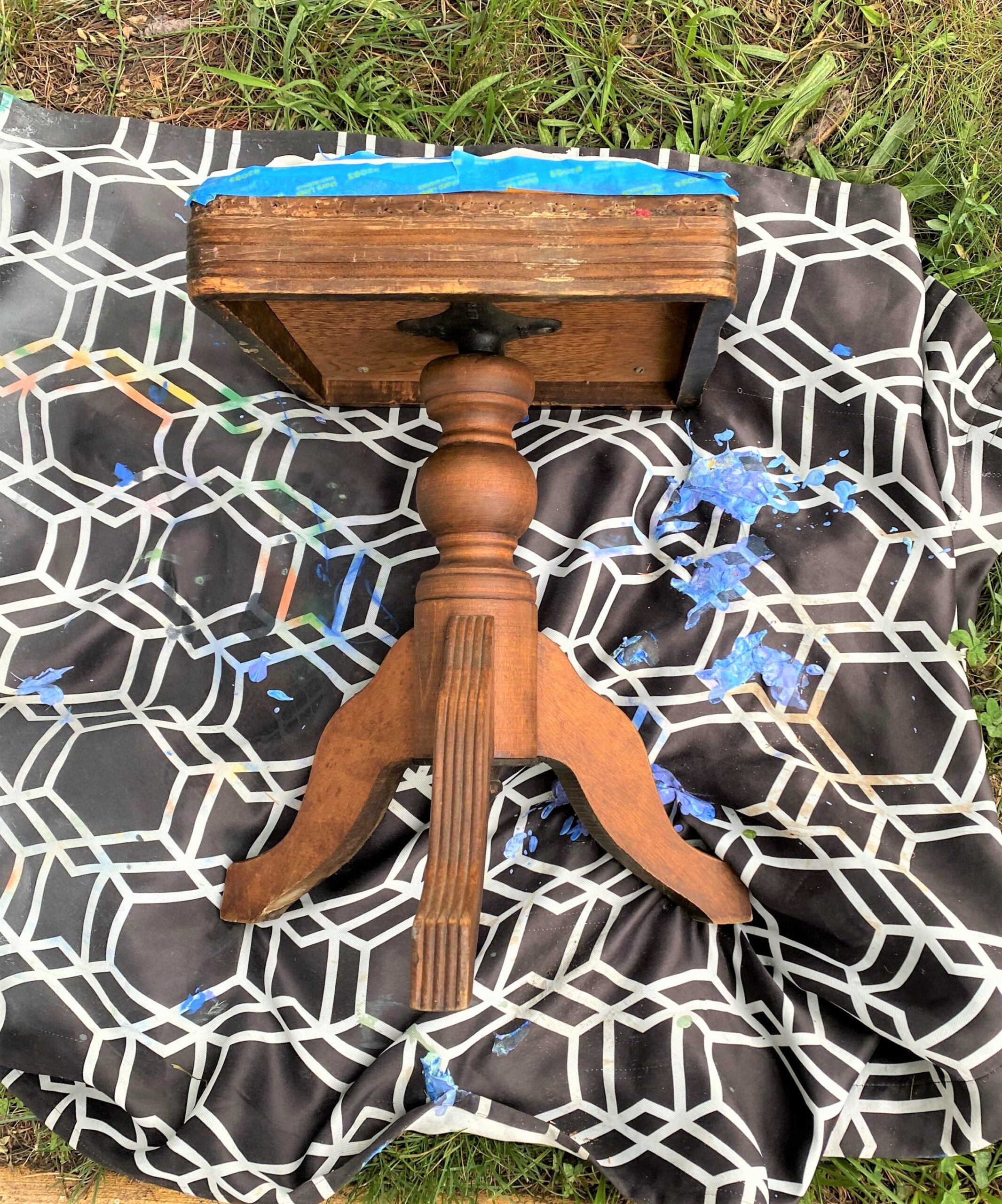 3. Spray away the decades
Place your pieces on a drop cloth outside. 
Use a bright white spray paint in a glossy finish to take your pieces from yesteryear to cool and contemporary.  
Lay the items on their sides and spray on a couple of light layers. 
Let dry then turn them over and add more light layers. 
The cabinet and stool were flipped upside down to ensure all edges, sides and parts were covered well.  Remember to use a gentle touch when spray painting and think lots of light layers.  This will ensure you avoid drips and puddles of paint. 
Let your items dry well before the next steps.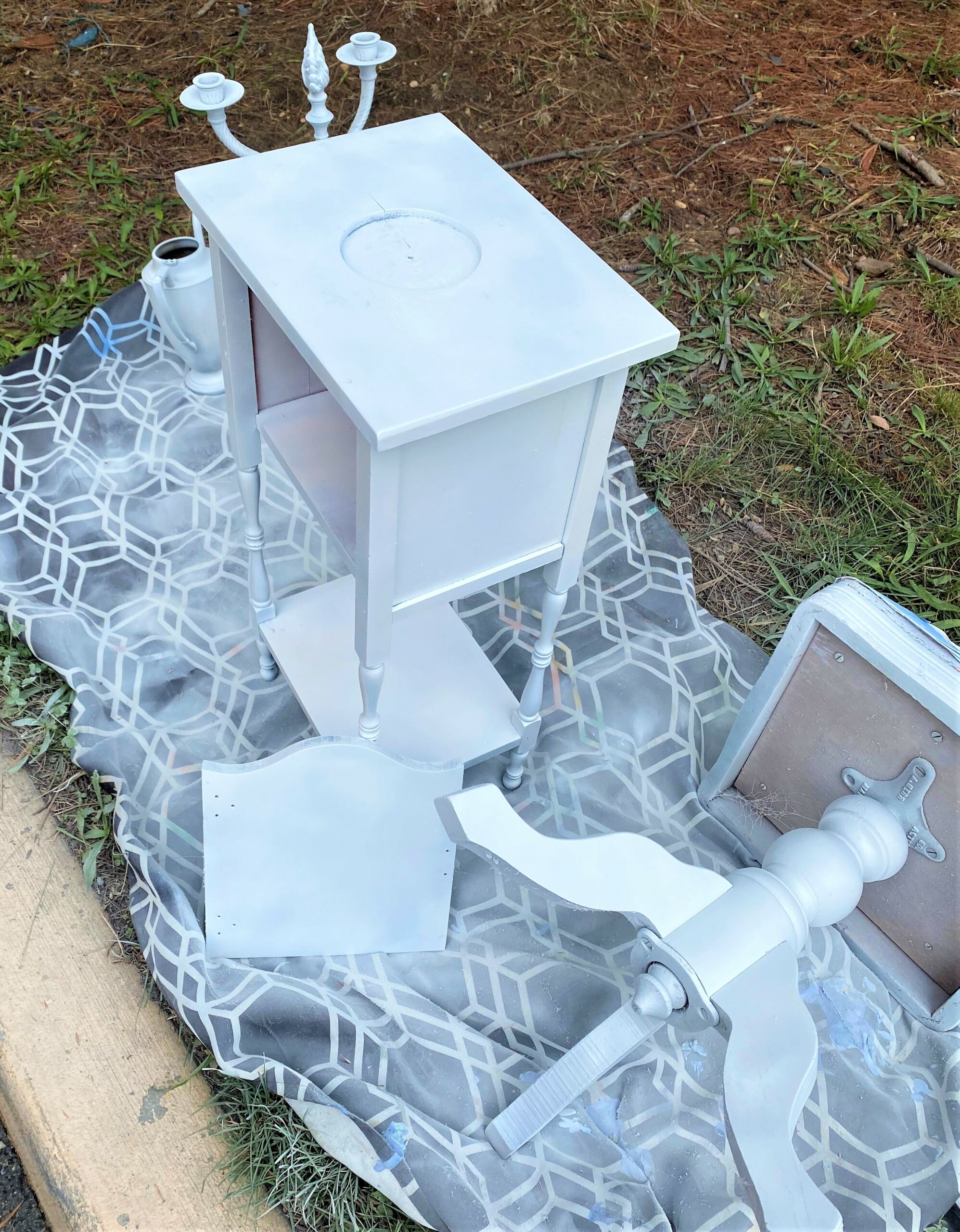 4. Keep building the transformation
Stool
Staying with the white theme and look, a piece of white fake fur fabric was cut from a thrift store desk chair. The fabric was cut to size and stapled in place with a staple gun. (So fun!)
Cabinet
All of its original hardware and screws were given a sparkling, updated look with silver spray paint.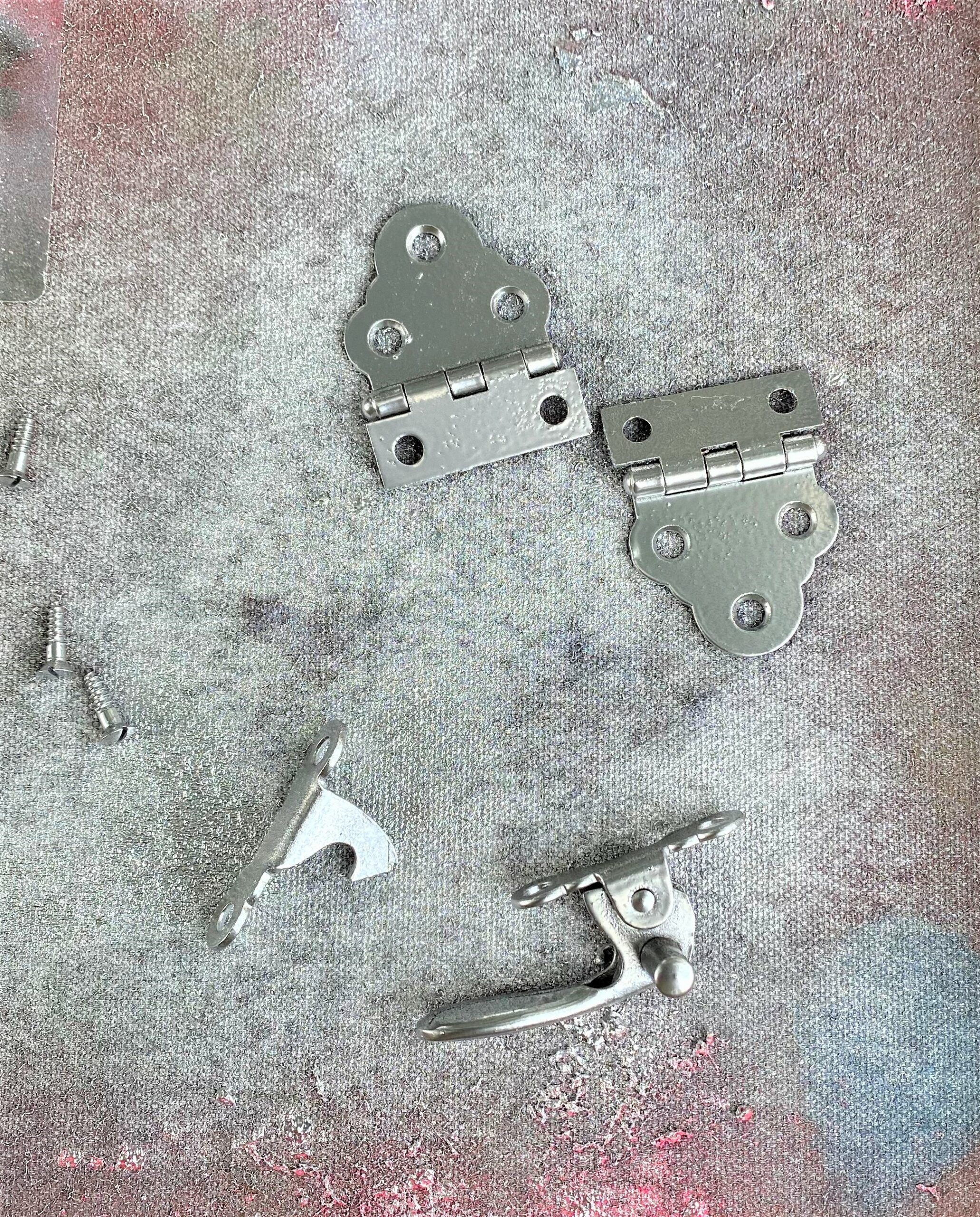 The top of the cabinet had a round section cut out for some reason; this was part of its original design—I am very curious as to why. Any ideas? To mask this, a frameless mirror with a beveled edge was placed on top and secured with epoxy glue. (Some bling!)
Pitcher
To bring out some of its original silver tones, a sanding block was used to "distress" it. Along the edges and places that might get worn out when used over time, the white paint was gently removed to reveal the metal below. This helped give the piece some added visual interest. (Very charming!)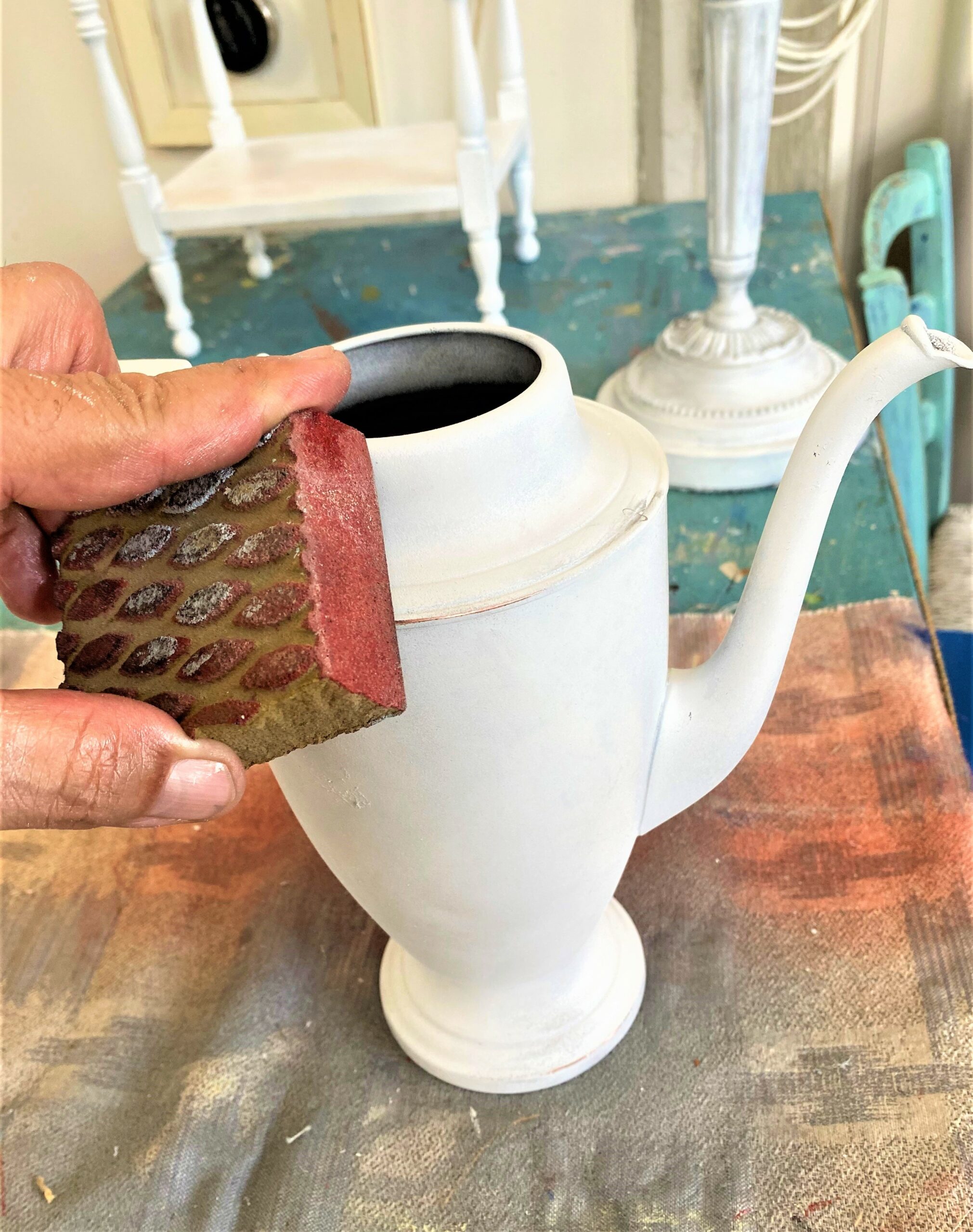 Candelabra
You likely have heard of white-washing when you brush on white paint and wipe it away to show the color below. Well, this piece got the silver-washing treatment when silver paint was brushed on and removed with a soft, damp cloth to leave silver in nooks and crannies. This helped to called attention to details and gave additional depth to it. (Total elegance!)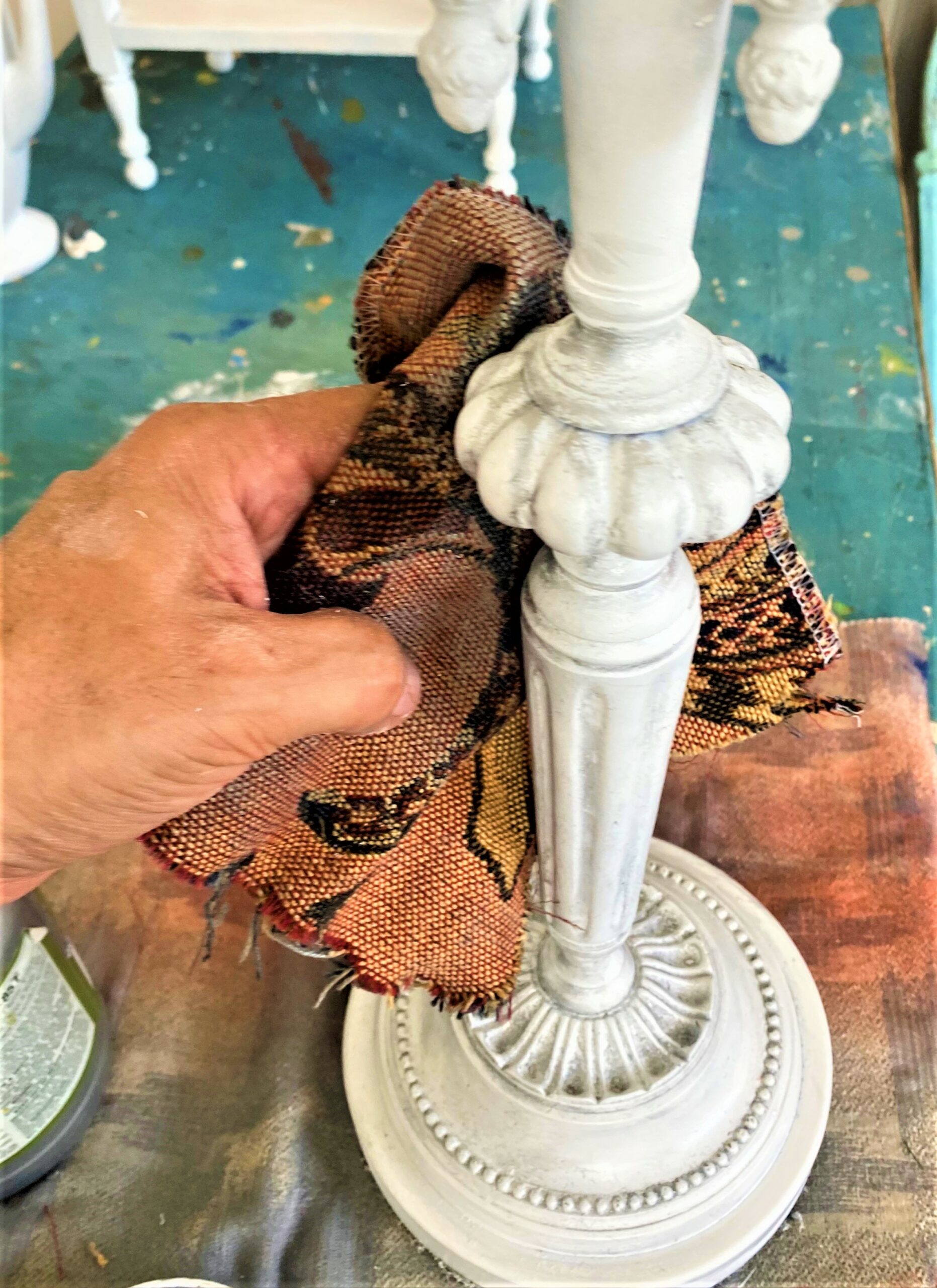 5. Place and pretty it up
The furry-topped stool will be popular with kids of all ages and, given its solid construction, is sturdy enough to hold them, too. 
Place it in your child's bedroom for a spot for them to put on their shoes.  Position it next to the couch for extra seating or a place to rest your feet.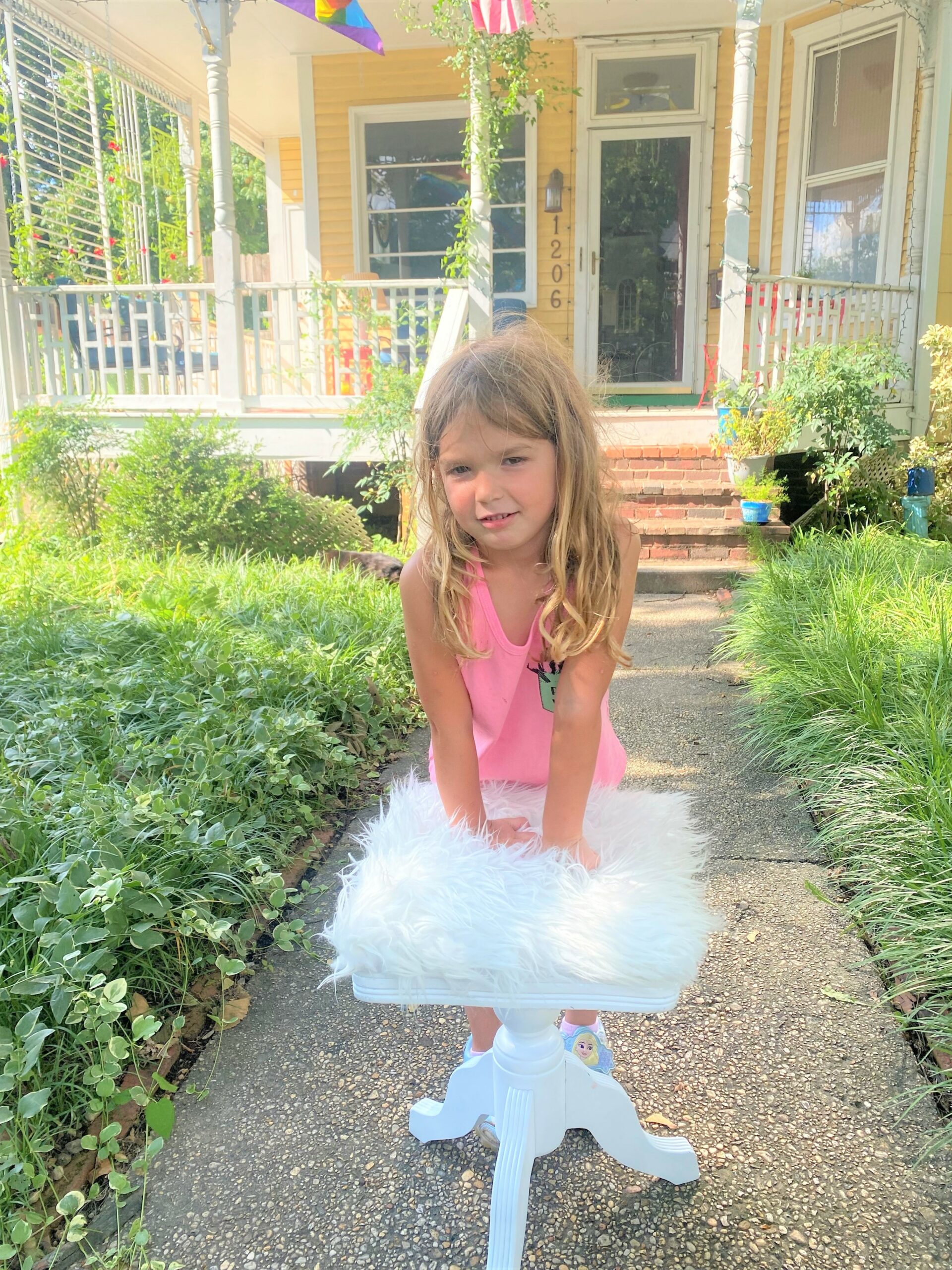 The cabinet, which its mirror top, is perfect for your powder room. Store toilet paper rolls inside; add a tissue box on top. Place it in a hallway with a small lamp on it, to help light the way with a little whimsy.
Add white flowers to the pitcher to create a timeless look that is cohesive and connected.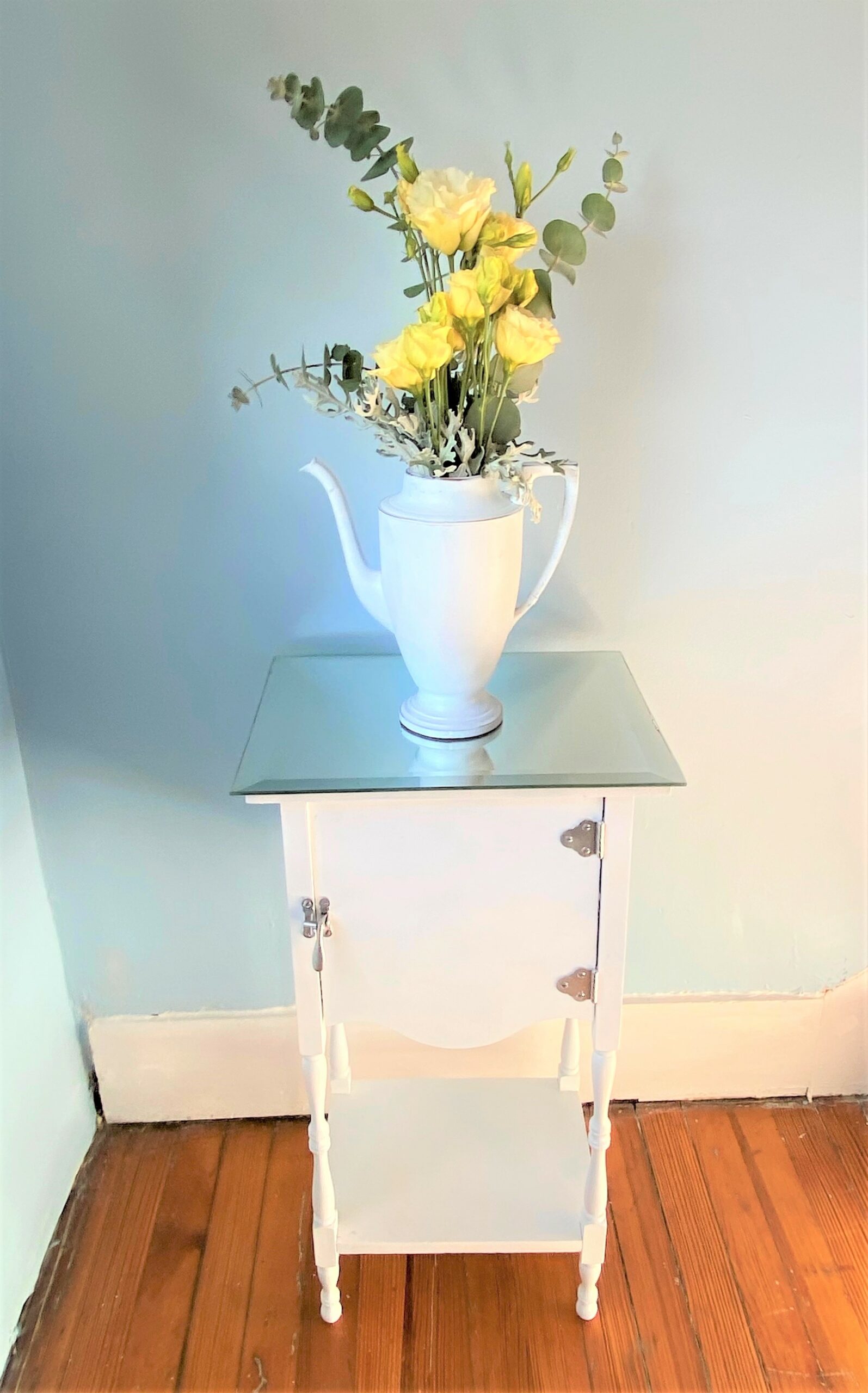 Put tall, white candles on the candelabra to make a totally sophisticated statement wherever it sits.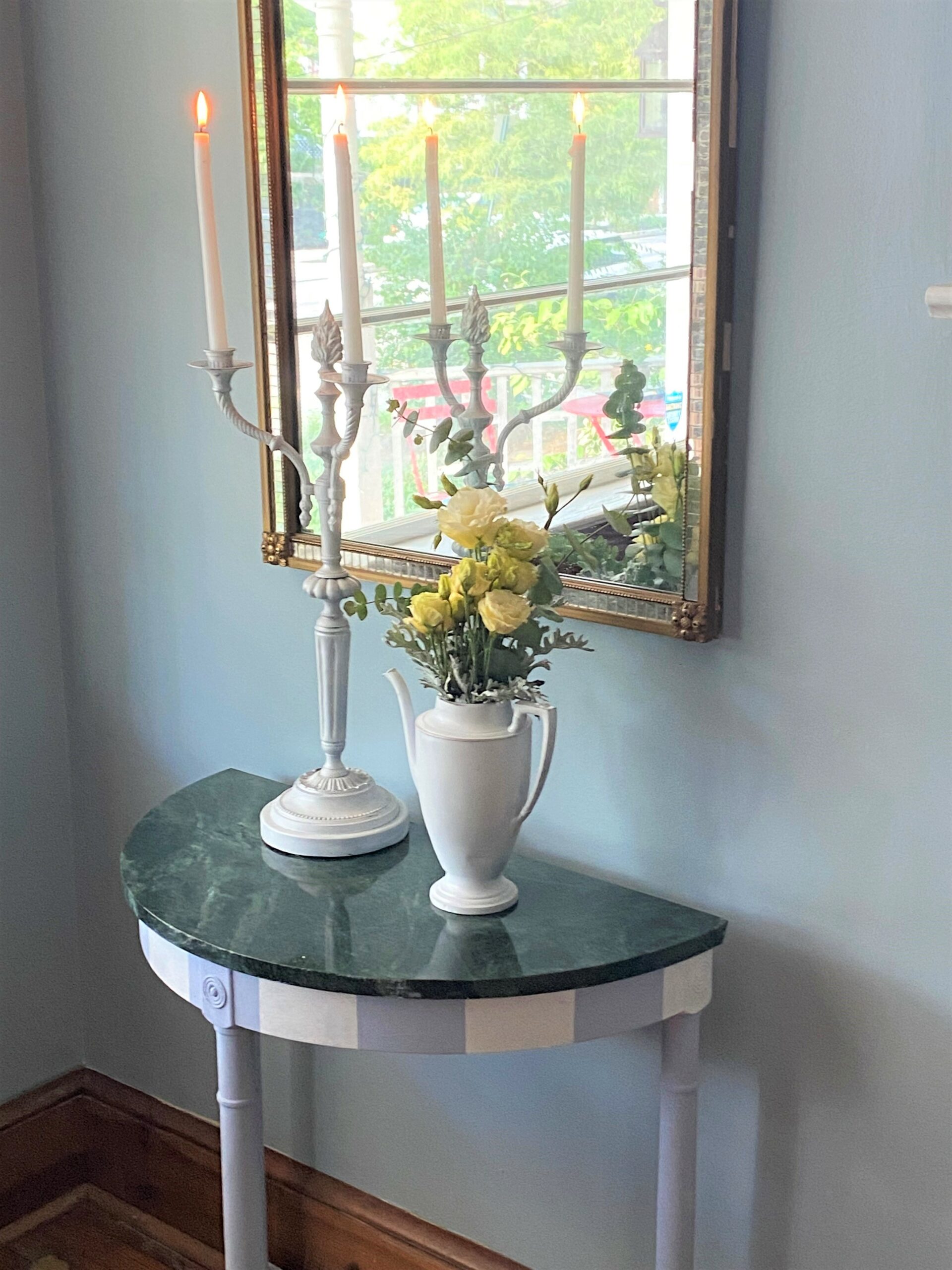 Please share with us the ways that you, too, use bright white tones to make your DIY projects look fresh, vibrant and chic. We always love to see how you take our ideas and make them your own!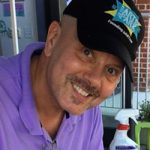 Tim Kime
Artist, Motivational Speaker, Life Coach
Tim Kime is an artist, life coach, connector. He is President of Kime Leadership Associates offering executive coaching, meeting facilitating and motivational speaking. He is also Chief Creative Force of Transformation Junkies which upcycles furniture and other household items into functional works of art. He combined his two passions—unleashing the potential in people and transforming items with the launch of the Art of Possibilities Workshops. These workshops are part upcycling, part dreaming, part goal setting.