A JUST AND JUBILANT JULY 2022, my fellow gifted thrifters and thrifty gifters! Second month of Summer, Tamuz of 5782, Ice Cream Month – which is also every month (especially at my house)! Month of NonBinary Day! I'm a nonbinary trans person, so don't forget to thrift me a gift. Not a lot of shopping days left.
Nu, the world is still on fire – including the weather, and in a special way here in the DMV. Whew! But there's still a lot of beauty to see, hope to find, and work to be done. And thrifting is a vital part of all of that.
And since it is Summer – and how much more so since I'm obsessed with the seashore – we are going to look at some beautiful silver shore-themed jewelry. Thirteen pieces of it! A baker's dozen. Fisherperson's dozen? Something like that. And ALL thirteen of these items were spotted on Goodwill of Greater Washington's Shop Goodwill site! DC Goodwill has so many good seashore themed jewelry and other items, online and off. I also have an impressive collection of links to their gold, sea glass, and seashell jewels on SGW. To say nothing of all the other shore-themed treasures there, and elsewhere!
The first stop on our tour is a bracelet. Did you know that the inhabitants of Saint Croix are called Crucians? I didn't, before this. It makes me somewhat homesick for the Boston Harbor Islands of my former home. And at the same time, more appreciative of the Chesapeake Bay Islands of my current state. Islands in the stream, that is what we are. And yet, at the same time, no one is an island. Hmm!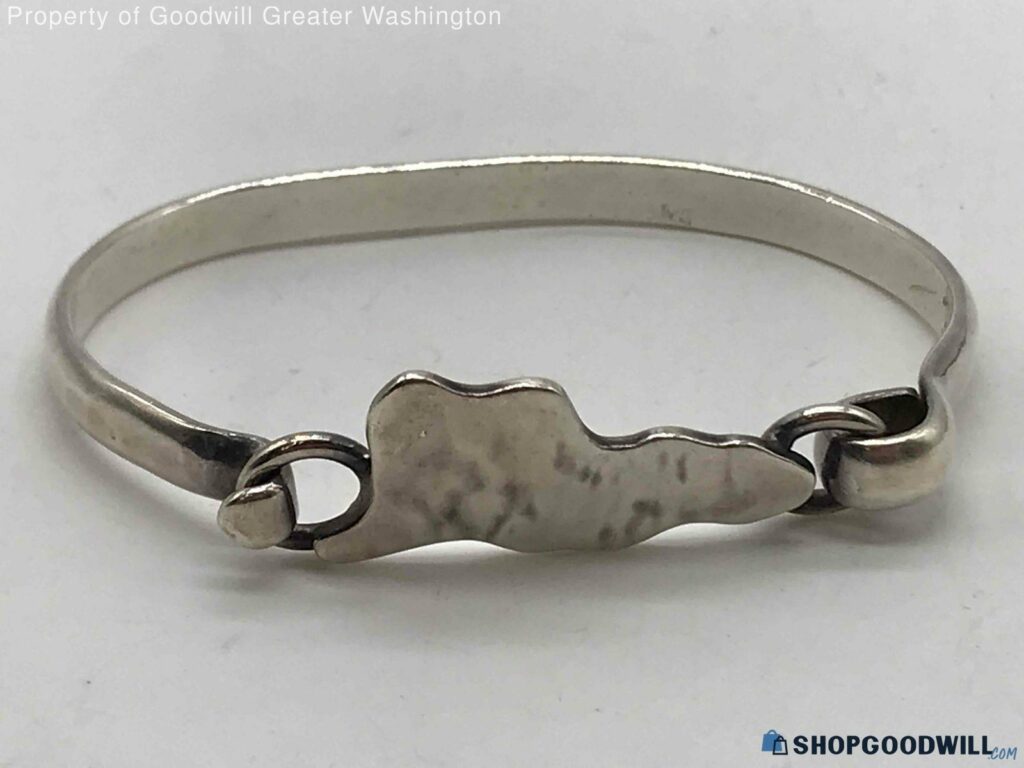 https://shopgoodwill.com/item/139685748 – .925 Silver Crucian Island Hammered Hook Bangle Bracelet 16.2g*
I was so pleased to see THREE seahorse items! I love seahorses. Partly because they're one of the symbols of the transgender community (especially because some of our men and nonbinary people also bear live young). I have some lovely seahorse jewelry from Shop Goodwill myself. The bidding is of course quite competitive, but it can be done – and by done, I mean won.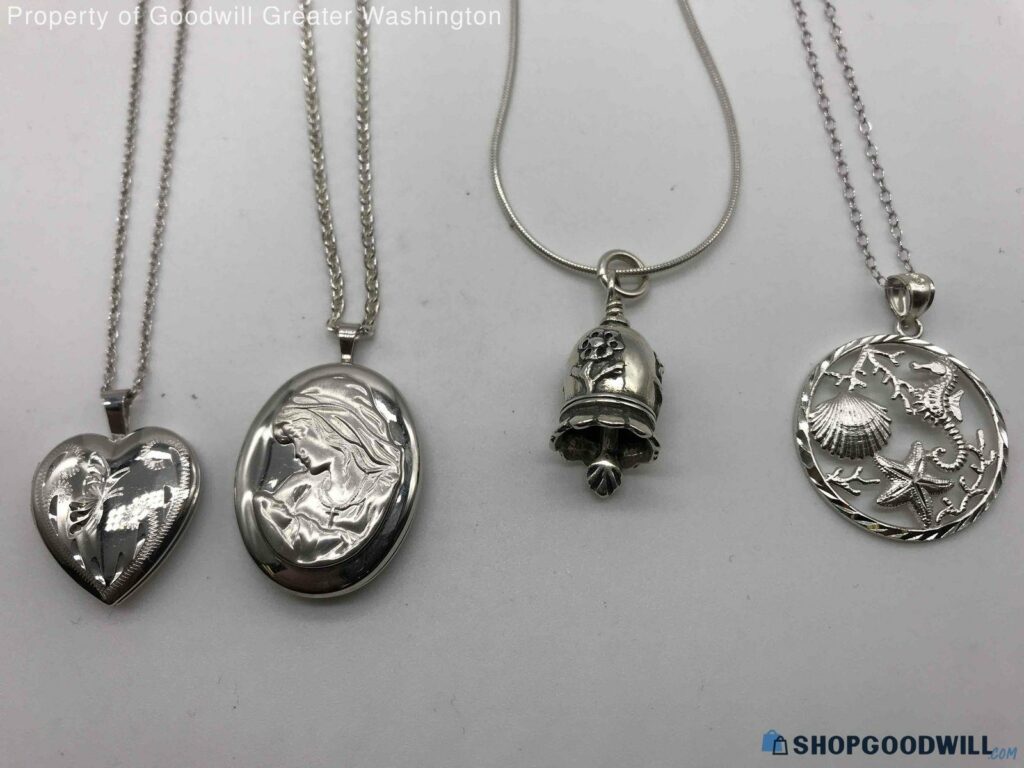 https://shopgoodwill.com/item/146696545 – .925 Silver Photo Locket Artisan Pendant Necklace Lot 24.2g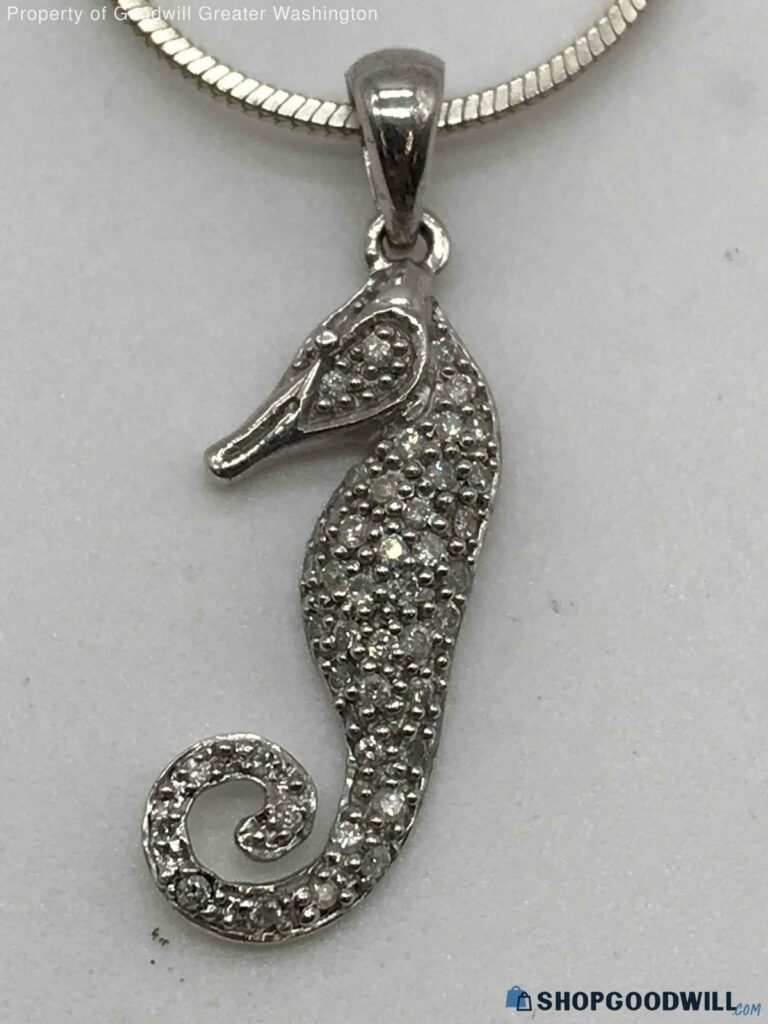 https://shopgoodwill.com/item/146988698 – .925 Silver 0.8mm Pave Diamond Seahorse Pendant 20″ Necklace 5.6g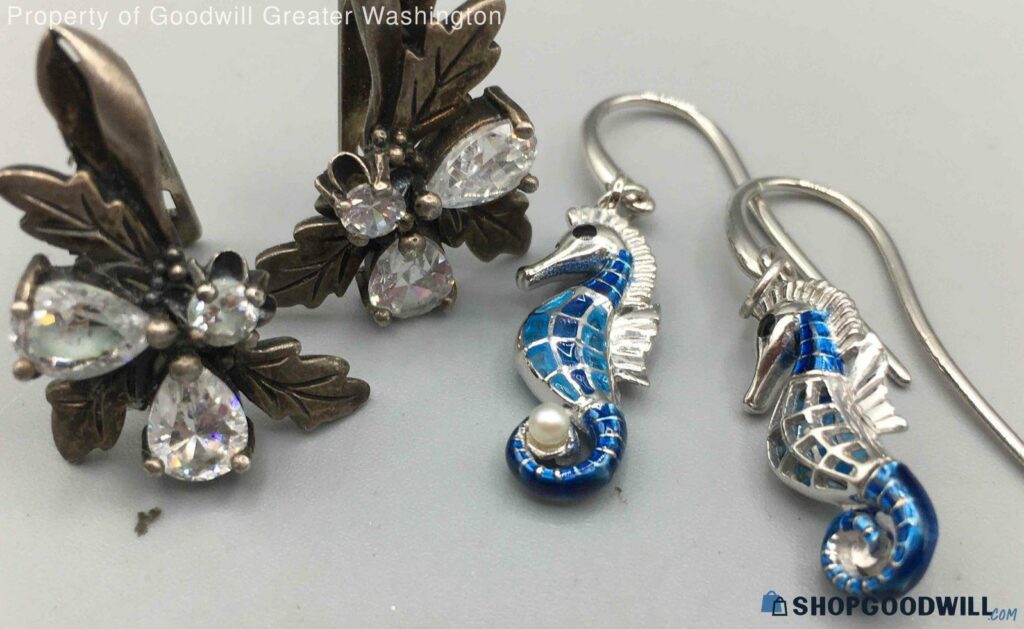 https://shopgoodwill.com/item/147560409 – .925 Silver Blue Sea Horse Diamond Cut Leaf Stud Post Dangle Earring Lot 21g
What DC and Maryland seashore-themed blog post could be complete without a crab? I love and identify with crabs, especially as I'm a Cancer, and a pretty typical one. Too, I love opals. You can pretend the sparkles here are Old Bay, if you want to.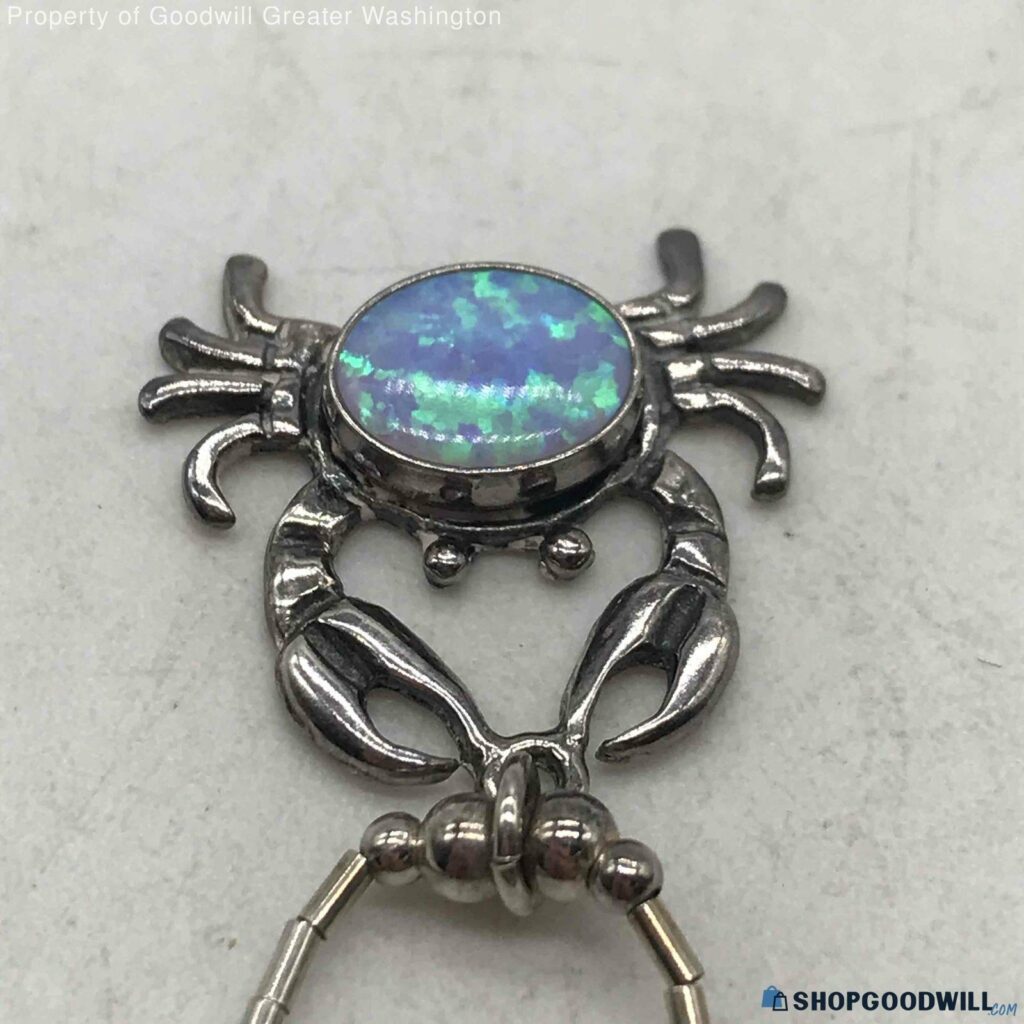 https://shopgoodwill.com/item/142893935 – .925 Silver MOP Opal Abalone Sugilite Native Tribal Jewelry Lot 19.7g
Another Maryland symbol, the turtle. Go Terps!! I don't know much about sportsball, but I have enjoyed the WNBA and college women's basketball games I've been to with my sporty spouse. And my late mother in law loved turtles. We almost got her one as a pet. We would get one for ourselves if we had more time and energy. And we could thrift one – from our (Montgomery) county shelter.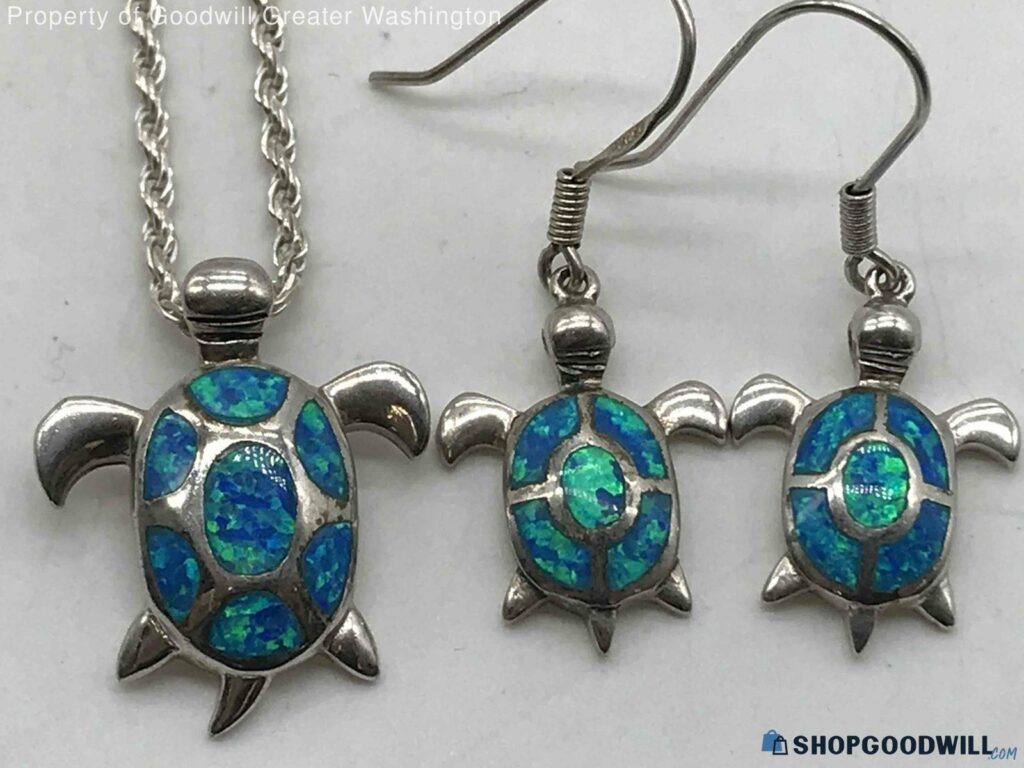 https://shopgoodwill.com/item/140898542 – .925 Silver Opal Sea Turtle 20″ Necklace Drop Earrings 15.7g
https://shopgoodwill.com/item/146317192 – .925 Silver Faux Stone Sand Dollar Starfish Sea Turtle Link Bracelet Lot 41.7g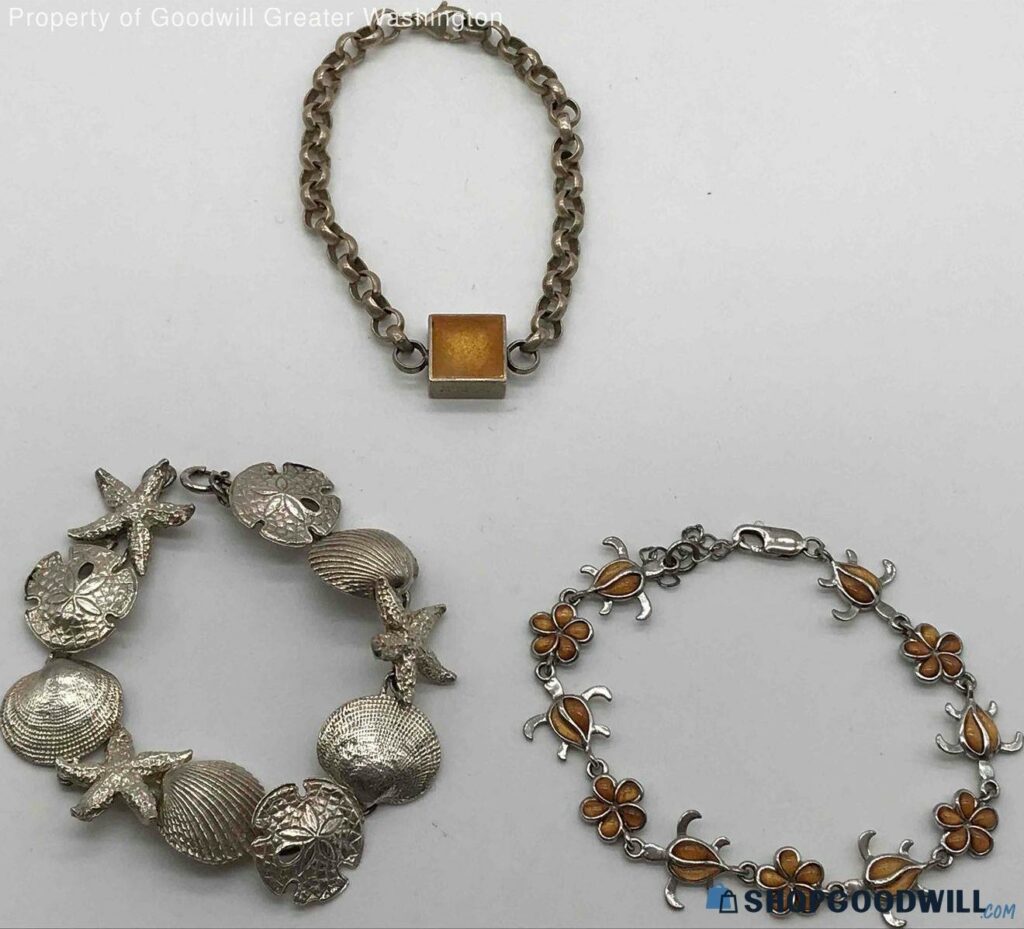 https://shopgoodwill.com/item/147550027 – .925 Silver Sea Turtle Sand Dollar Heart Link Bracelet Lot 34.9g
Now, this brings back memories. I have one of these, given to me by my late honorary Aunt Jean, when I was a child; she was my family's landlady back in the Boston area, and helped raise me until we moved to the next town. Too, fish remain an important Christian symbol. (Though partly because they were thought to, like God, never close their eyes or sleep, which it turns out they do.)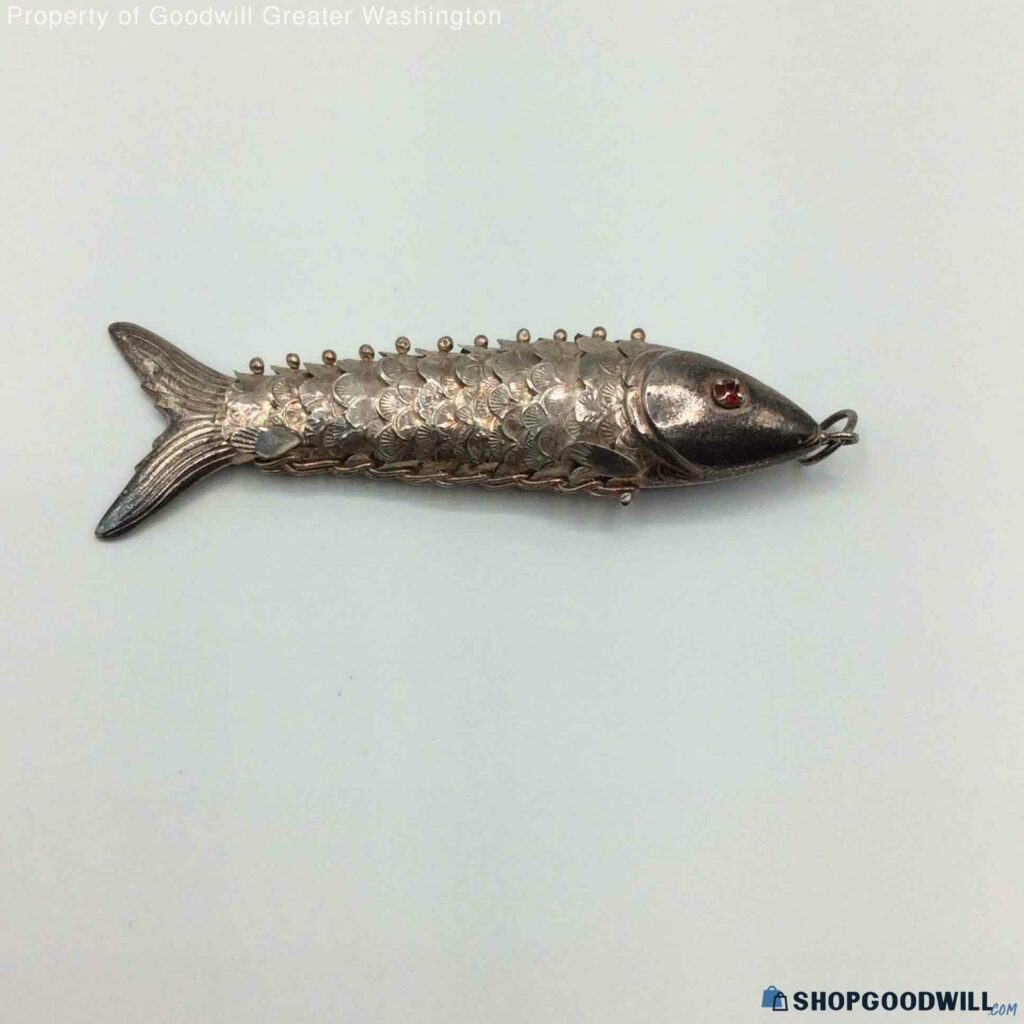 https://shopgoodwill.com/item/141269830 – .925 Silver Coral Glass Jewelry Lot 38.1g (jointed fish)
Seashells and sand dollars and starfish and sailing ships, oh my! Oh, how I love seashells, et al. And sand dollars always remind me of my spouse – they're her favorite shell-like creature, and she has some thrifted sand dollar jewelry. Too, there's another turtle here.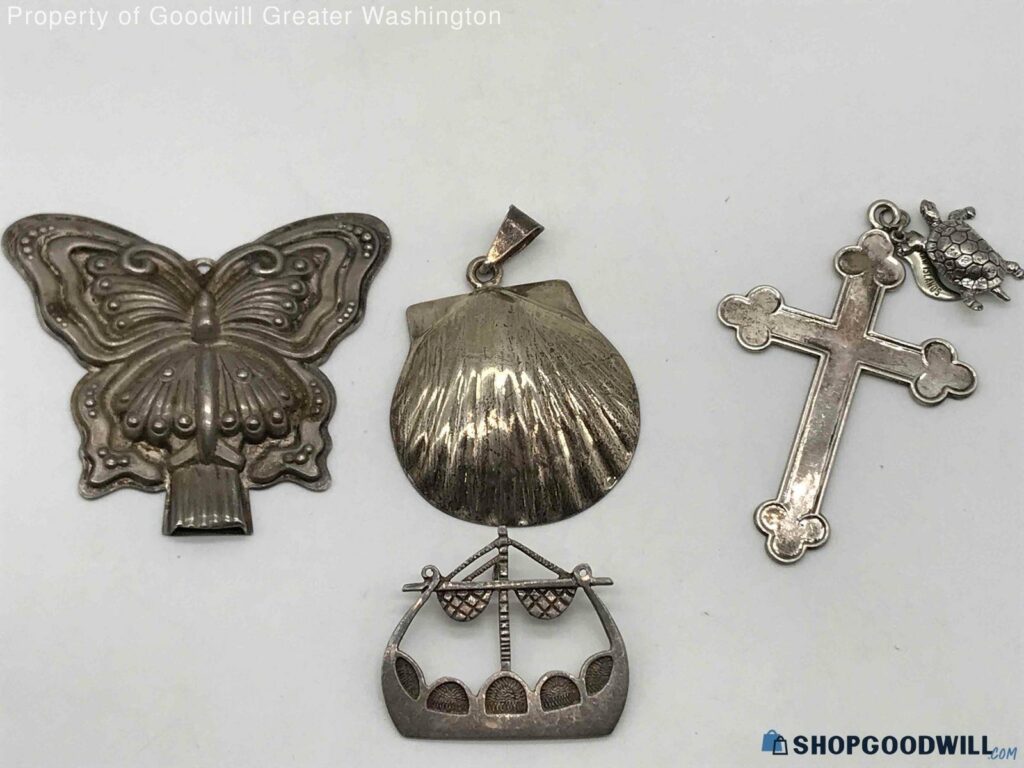 https://shopgoodwill.com/item/141484485 – .925 Sterling Silver Oversized Seashell Butterfly Cross Pendant Lot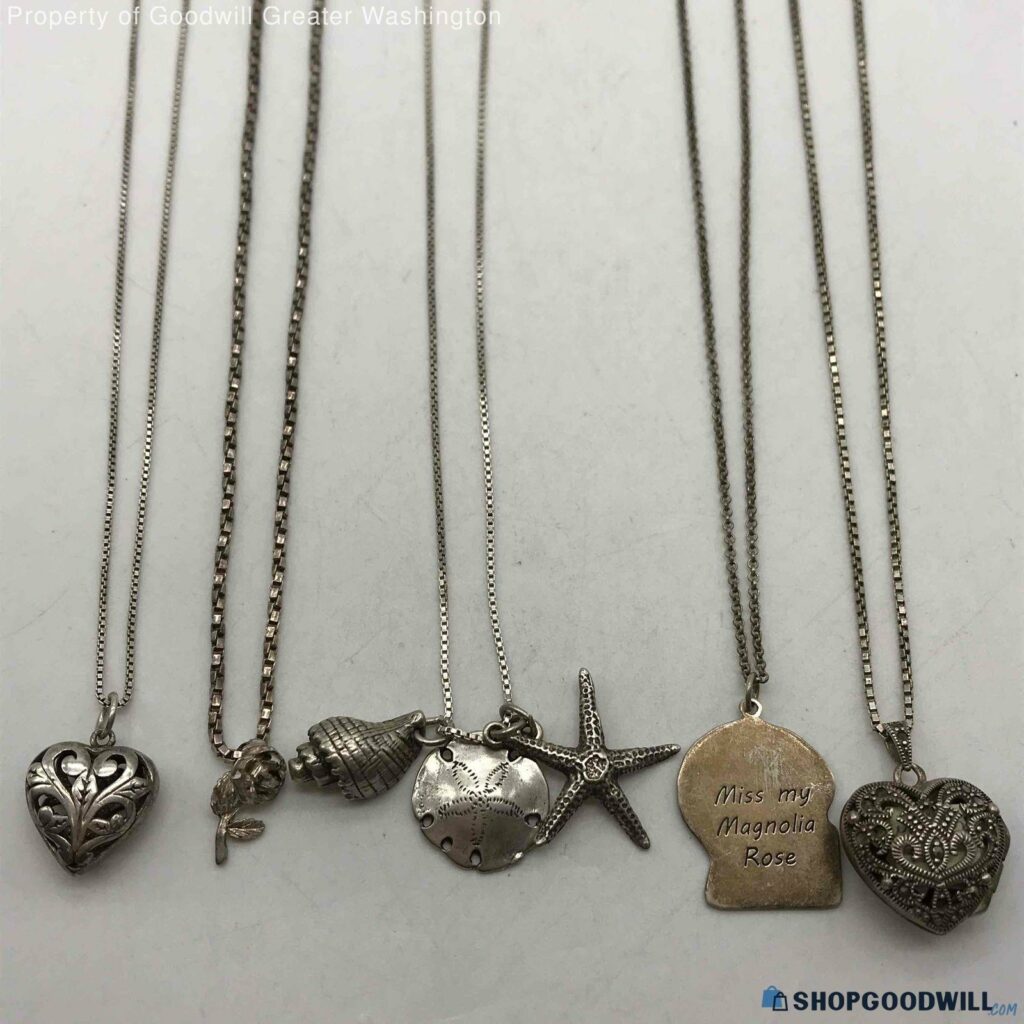 https://shopgoodwill.com/item/142527898 – .925 Silver Heart Flower Seashell Starfish Pendant Necklace Lot 35.9g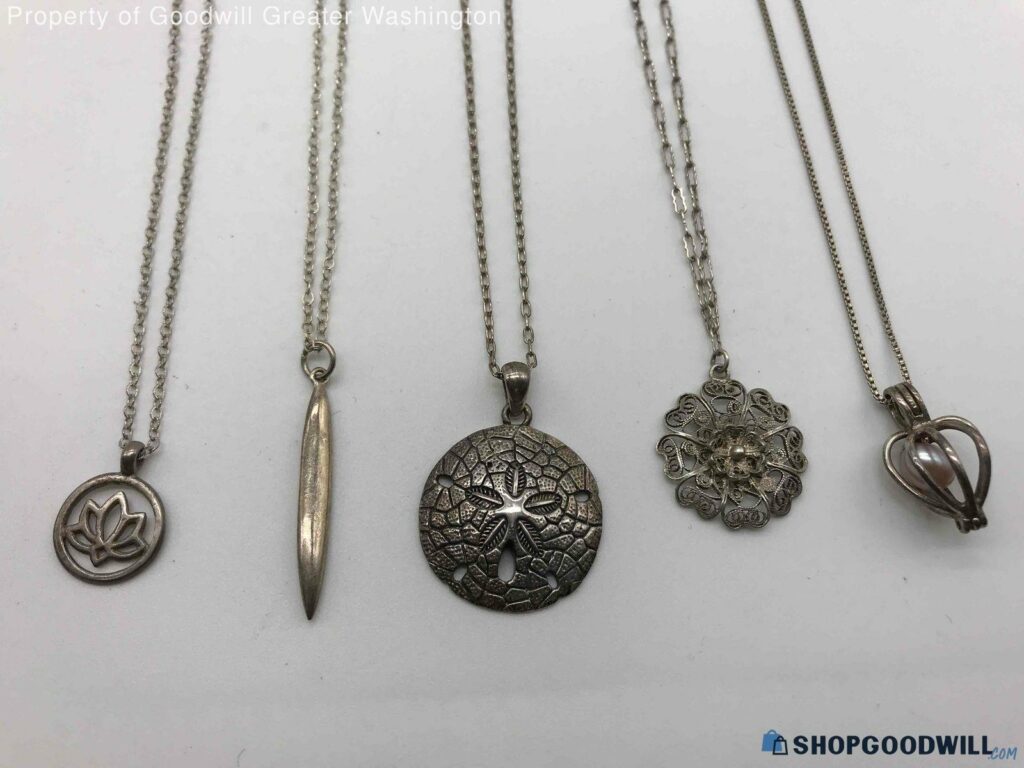 https://shopgoodwill.com/item/146752416 – .925 Silver Cultured Pearl Sand Dollar Lotus Pendant Necklace Lot 23.1g
As much as I love silver, let's add a little color, shall we? In the form of some enjoyable enamel. 2022 is a better time than ever to remember what Louisa May Alcott wrote in Little Women. "I am not afraid of storms, for I am learning how to sail my ship." Too, I have heard that there is new research about her possibly being a transgender person. Maybe even a trans man. Might she have been Lou Alcott? Stay tuned. And the anchor is an old symbol of Christian charity (which is why you'll see them on necklaces with three charms, the other two being a cross for faith and a heart for hope).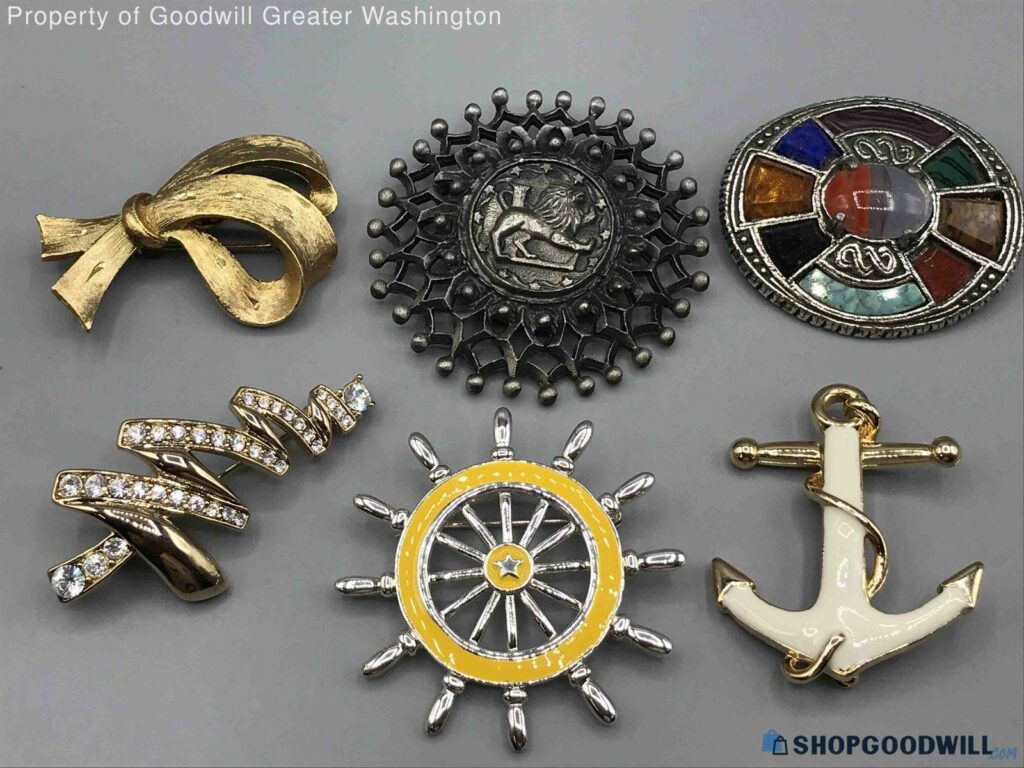 https://shopgoodwill.com/item/145454774 – Mix Metal Faux Stone Artist JJ Danecraft Miracle Monet Brooch Pin Jewelry Lot I hope this helps en-shore that the rest of your July is just a little bit better! Meet me back here this time next month, when we'll be celebrating Lighthouse Day (August 7th). In the meantime, don't forget to eat some ice cream – or check out the cool ice cream themed items at DC Goodwill, online and off.
About our fabulous guest blogger: