This past Saturday morning, around 15 local DC Goodwill Fashionistas and I hit one of my all-time favorite DC Goodwill location: Gaithersburg, MD. I actually venture to this store every Saturday morning because it's the closest one to where I live. And I never leave empty handed.
This Meetup was especially important to me because when I was driving to the store I really thought about how much shopping at Goodwill supports the community. Purchasing fashionable items at Goodwill isn't just shopping – 91 cents out of every dollar spent goes towards mission fulfillment. This includes providing job training, education, and career opportunities for those in need in the DC community.
I can honestly say this Meetup was an excellent one to start the year. I could not have had a better time kicking off 2017 with both new and familiar faces; all united over finding great fashions and supporting a good local cause.
The Meetup started strong with shoppers arriving right at 9 AM ready to shop for fun finds. The weather was a bit dreary, which made shopping at Goodwill the perfect and dry morning activity.
I saw many familiar faces at this event including Meg, Marikia, and Neasy. It's always so fun shopping with them and other frequent Meetup attendees – they're smart, goofy, fashionable, and generally love having a fun time. They always put a smile on my face at every Meetup.
I don't have any pictures of them but Mycroft and Julia, two other frequent Meetup attendees, came out on Saturday too! Mycroft especially has a talent for finding unique, hand-crafted jewelry and housewares. Stay tuned for a feature on these finds soon. 😉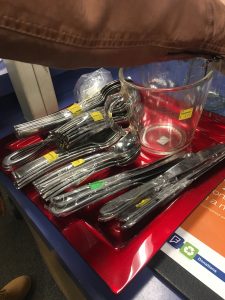 We also had some new attendees come that found out about the event through our Goodwill Rewards Club. In fact, one new fashionista friend took home these gorgeous mason jars and silverware. As you can see, the whole set was together which can be hard to spot while Goodwill shopping.
On top of that these almost new mason jars will be great to use for homemade dressings and sauces (this fashionista actually gave that tip!)
And then Meg, as always, found some fab fashions that we took some pictures of in the store! She brought home a snazzy LOFT top, a vintage-like silk scarf, graphic blue shoes, and this brand new pair of what-would-be $50 Madden shoes. If these shoes had been in my size you know they'd have gone home with me! 🙂
Of course I took home a few gems myself. Not only did I find some classic, yellow, melamine cups and bowls, a vintage, glittery, blue dress, and a frame, but was able to pick up some new jewelry and outerwear as well!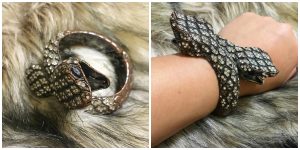 Meg saw this snake bracelet in the jewelry case priced for $2.50! You know it came home with me.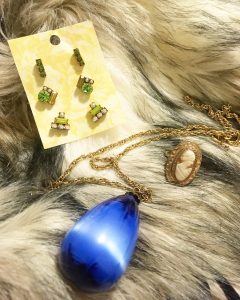 I spotted some other vintage jewelry and NWT earrings in the case too. Check out that cameo ring!
Then, this blue and orange Esley blazer and LOFT fur vest found their way into my shopping cart as well. Together they cost me $10. Can you believe that? At full retail, they would have totaled at least $200! Gotta love Goodwill. Plus, check out the detailing on that blazer. The orange sleeve lining and zippers have me swooning.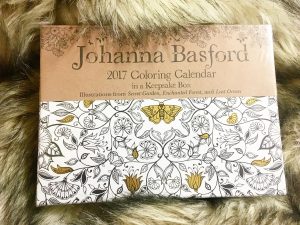 Last but not least, I didn't have a 2017 calendar yet… but I do now thanks to this Meetup! The price on the box indicated that it originally sold for $17 but I took this home for a $1.50. I can't wait to start coloring!
Overall, I had an amazing time at our Meetup. It's always such a pleasure to meet like-minded individuals who love style and shopping with smarts. There's honestly nothing better than shopping and meeting new people all while contributing to a great cause and providing job opportunities in the community. It is unparalleled.
Come to our next Meetup if you couldn't do to this one! I promise you won't be disappointed. Stay tuned for more details or just sign-up for our Meetup group! <3