On one of my typical visits to the Gaithersburg Goodwill location I headed straight to the skirts section when I arrived. I was in search of some much-needed business casual staples to rock this new year.
My eyes are always drawn to animal print because it has edge but is still appropriate for most social settings. So when I saw this beauty poking out of the rounder I knew I had to throw it in my cart!
Unfortunately, it was too big on me. However, I was still very excited about this gem. Why? Because when I looked at the tag I was delighted to see it was by one of my favorite designers: Yoana Baraschi!
Yoana is a Romanian high-end fashion designer who specializes in contemporary, edgy fashions with an ounce of Audrey Hepburn flair. I have many dresses of hers in my closet; each of them originally retailing between $200-$300.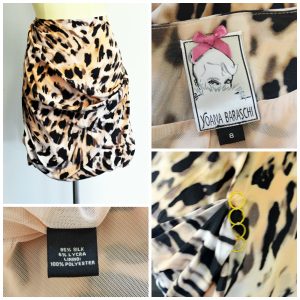 Lucky for you, fashionistas, you have the opportunity to add this treasure to your closet! Everyone needs at least one Yoana beauty in their wardrobe.
Today's #MyGoodwillFind is a silky, black and brown, animal print skirt embellished with gold rings in a size 8. It features ruching on the side and hits right above the knee. At original price, this probably was sold for almost $200 at Bloomingdale's or Nordstrom.
If I ever find this skirt at Goodwill again in my size I know exactly how I'd style it – and it would be so sassy!With this fierce animal print I'd wear a color palette of black, cream, and pink to evoke a punky, rock-chick-in-the-office kind of look. As you might already know readers, in a former life I was a punk girl; who wore lots of studs and neon colors.
Although I would never wear that fashion today, I often like to use some of those styling aspects in my adult life. And this is an outfit I would definitely utilize them in.
Taking cues from pin-up fashion I'd wear a form fitting or loose black blouse with the skirt since it has black elements in the pattern. I might also wear a black or cream, flowy silk blouse to echo the drapes and ruche detailing of the skirt.
To make this look wearable for the winter, I'd layer up with a tailored black blazer and black regular or fleece-lined tights.
Although flats are not something I'd typically wear during the winter, especially on the wet, snow-covered sidewalks, I'd wear them with this piece. In case I need more comfort for my walk to the metro I'd also wear over-top hosiery.
Otherwise, black, heeled boots it is! 🙂
For a needed pop of color amidst an otherwise muted look, a pink or red lip will be the cherry on top of this pin-up office ensemble.
How would you style this leopard designer My Goodwill Find, fashionistas? Are you feeling my pin-up inspiration?