This is the first time I've picked out a piece for a guy, fashionistas! I haven't attempted men's styling too many times before so bear with me. I'd love to hear your styling thoughts, tips, and tricks as well.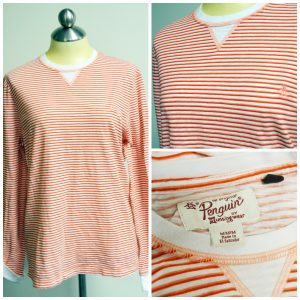 Today's #mygoodwillfind is a cotton striped orange and cream men's Penguin long sleeve top in a size medium.
Penguin by Munsing Wear has been around for quite a while and is known for their dapper and stylish clothing. Typically, their line is sold at places like Nordstrom and Bloomingdale's, so their items can be more on the expensive side. At a department store, this gem probably sold for about $60.
Like I said, I'm not used to assembling outfits for men from scratch. However, I do know a couple of things – especially about what I like.
With this pullover I'd keep it on the casual, trendy, and hip side. It would look great with straight-legged informal pants, classic tennis shoes, and a snazzy coat.
Each item in this look is form-fitting. It has clean lines and tailoring that flatter the body without being too boxy.
Looking at the color scheme, I'd opt for more muted tones since the orange stripes are bright and eye-catching. A pair of navy, black, or dark brown pants will contrast nicely against the warm tones of the shirt.
For shoes, I always love a guy in Nikes. They're iconic, timeless, and unique. They give anyone who wears them an added touch of hipness. I'd like to see a pair of neutral, classically shaped, Nike sneakers worn alongside my ideal trousers and shirt.
Finally, for outerwear, a sturdy brown or black coat is a must-have in anyone's closet no matter who it is. This very staple piece can be easily thrown over this shirt, while still looking dapper and effortless.
How would you wear or style this striped Penguin pullover, readers? What do you think of my attempt at a look?