You won't rake us over the coals with this DIY project. Turn an old rake into a Fall-themed wreath/front door décor, perfect this time of year. Or go way out there and turn it into wall art as a "fashionista femme." Either way, you will "fall" for this fun upcycled project that will "leaf" you smiling!
Age level:   Kids of all ages with minimal supervision
Time requirement:  One hour each, not including paint drying time
Cost: $5 to $10 each
$0 for old rake
$5 for spray paint with lots more for other upcycled adventures
$1 for plastic sunglasses
$1 for silk flowers, leaves
$1 for glue sticks
Idea 1: Front Door Décor/Wreath
With the dropping temperatures and changing leaves, one tool that says Autumn clearly is a rake. And what to do when they no longer are up to the task? Give them a new job as a front door wreath! Rakes are universal and when reused like this, are an inviting addition to any front door.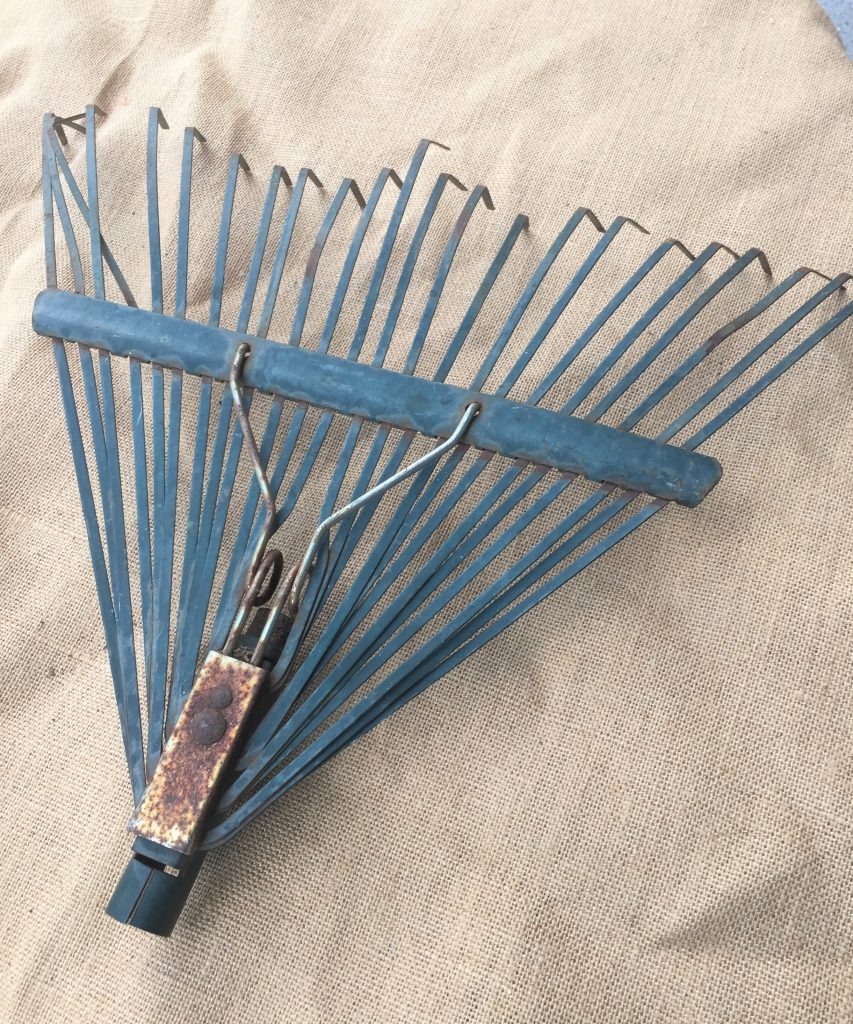 1.      Start with spray paint
For a vibrant pop of color, select a can a spray paint in a fall-related color.  Oranges, yellows and reds are perfect options; you could go with a fun bright green, too. 
After you remove the rake from the handle, you might need to wash it before painting to ensure a clean surface. 
When dry, place outside on a drop cloth. 
Apply a couple of layers of paint then let dry. 
Turn the rake over and hit it with a coat of paint, too, so that it is well covered from every angle.
2.      Add embellishments
Honestly, you could hang just the freshly and brightly painted rake on your front door and folks would swoon over it!  Let's take it to the next level and add items and colors that continue with our festive, seasonal look.  A bold yellow purse strap was used as a strip of color by cutting it and glue gunning it in place.  (You could do the same with ribbon or even an old belt!) 
To add some shimmer, the part with the gold clip of the strap kept and was used.  It, too, was secured in place using a hot glue gun.   A sheaf of wheat was used to add visual interest as well as a festive feel. 
This was glued into place, too.  To top it off, silk leaves in orange and red that had glitter on them (and picked up at the local dollar store) were added, too. 
While I had many silk flowers, leaves and other fall-themed items that could have been used, I loved the way the wheat look as it was placed on the rake so that was all it needed.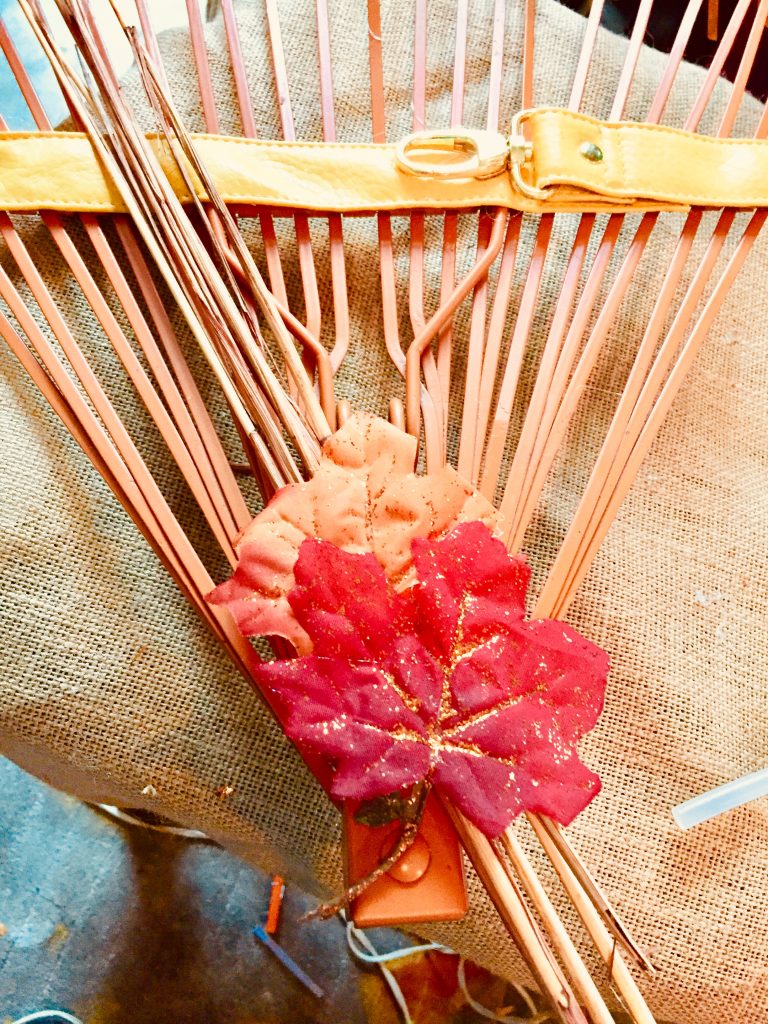 3.      Use wire to hang in place
Tie a long piece of dark floral wire to the back of your rake then loop it around the nail or hook (or door knocker) on your front door. 
This simply and elegant transformation will welcome trick or treaters for Halloween and will be ready, too, to greet family and friends for Thanksgiving, too!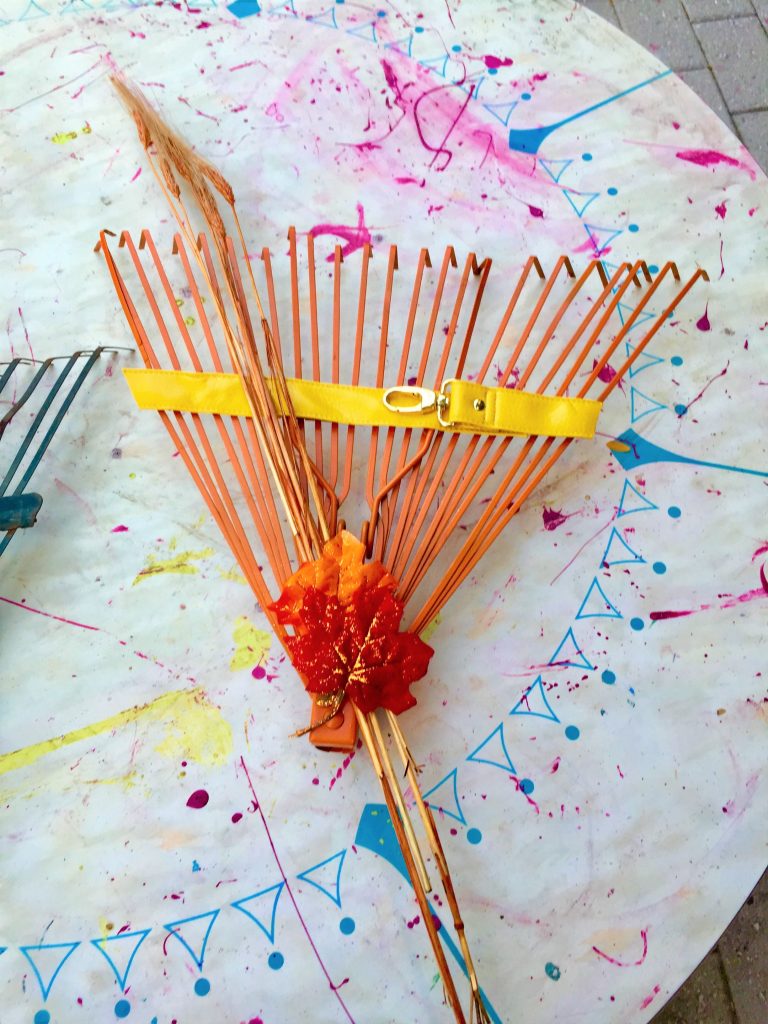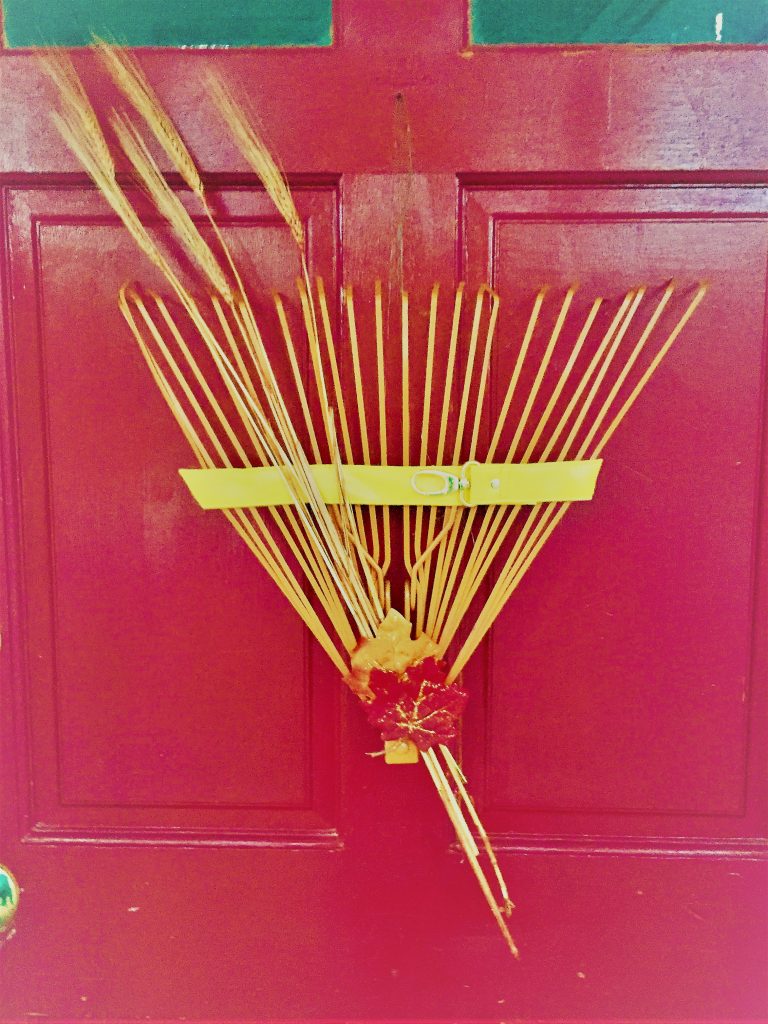 Idea 2: Fancy lady wall art
The shape of the rake looks like a woman's head and hair, so consider turning it into a piece of art for your fashion forward friend!
1.      Create eyes and lips
While you could paint your rake, too, for this piece, consider its weathered look as part of its/her natural beauty.   Place the rake end (again removing the handle if there is one) so that the curve ends face down and the parts that hold it together face up.  This part will make up your lady's nose.  
Find a piece of red paper, ideally clipped from a magazine or other item.  Draw the shape of a mouth with lips then cut it out. 
With your glue gun, adhere the lips into place on the part that previously held the handle.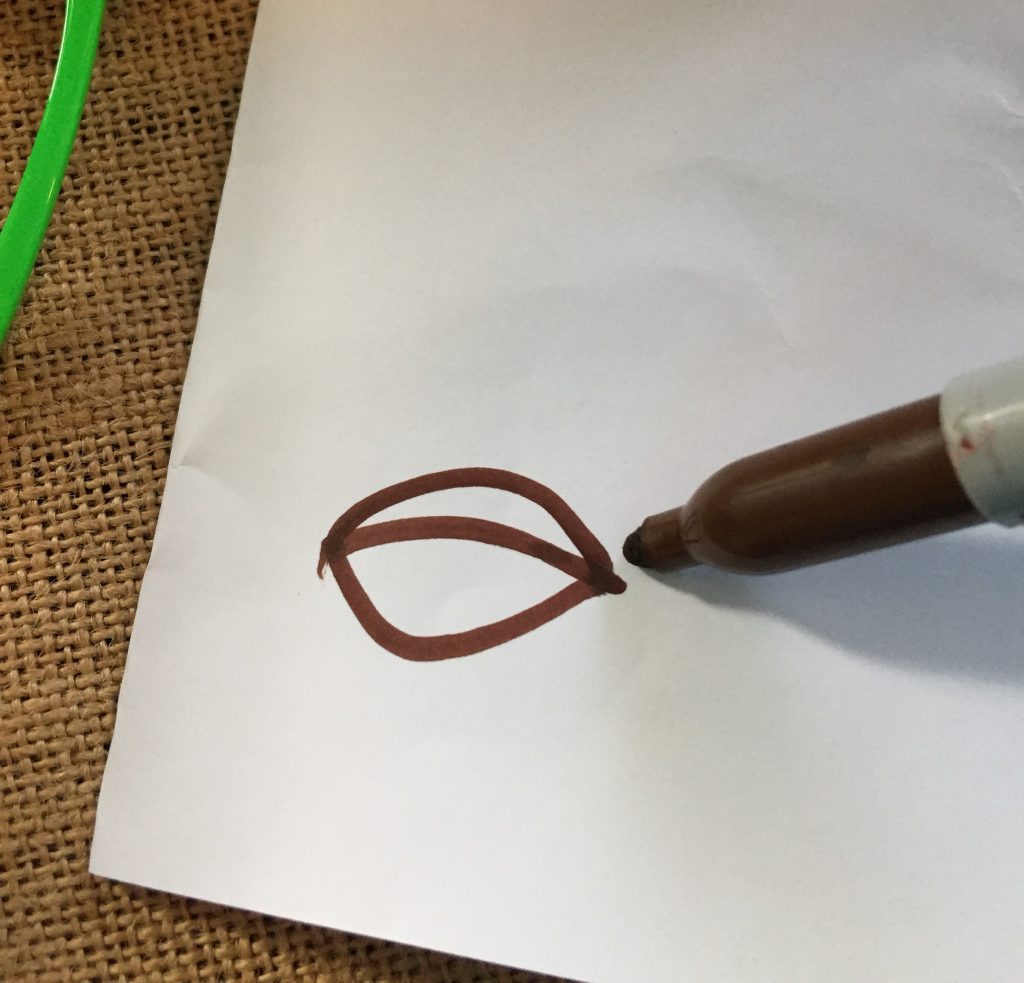 With another piece of paper, draw eyes, color in the pupils and add eye shadow using different colored markers. 
Cut them, out, too.  Place your glasses frame (also picked up at a dollar store) in position so you will know where the eyes will go. 
Remove the glasses frame, then adhere the cut out eyes with the glue gun, too.  You might want to use your marker to add more "eye shadow" to the rake by your eyes.   Also, consider painting on pink craft paint to the area where the cheeks would be on a face to add additional color and visual interest.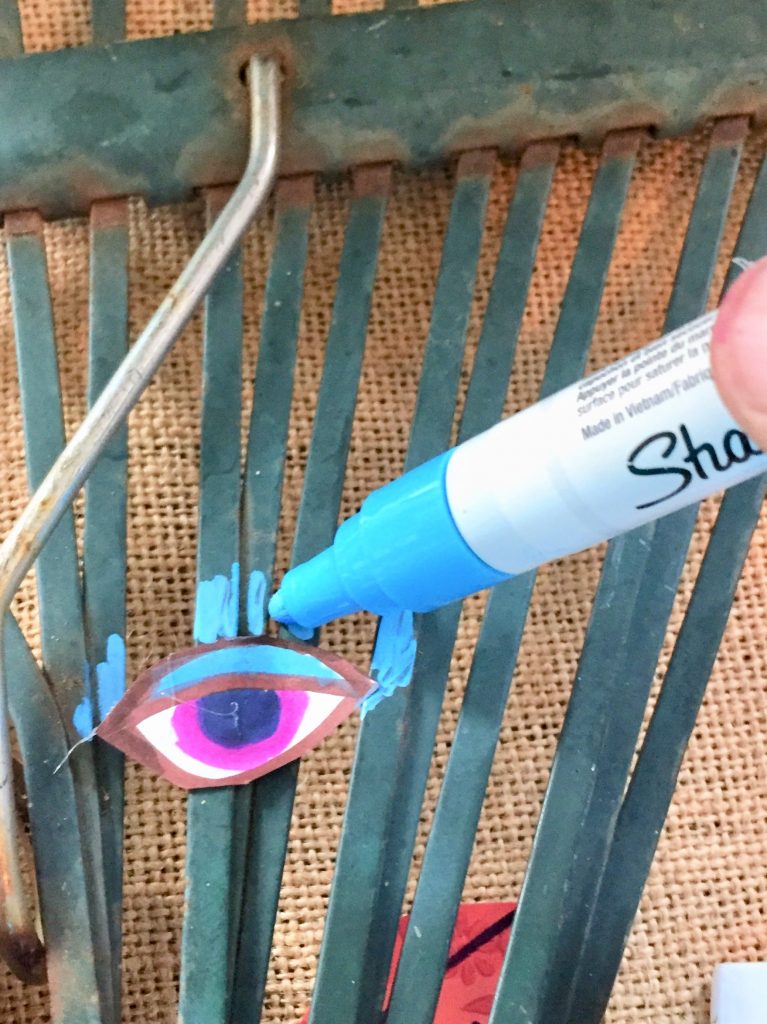 2.      Glue on glasses
Once your eye cut outs and any additional eye "make up" is drawn in, use your handy dandy glue gun to add the front part of the plastic glasses. 
After these were added, I didn't like the white so brushed on some gold paint which made them look more expensive.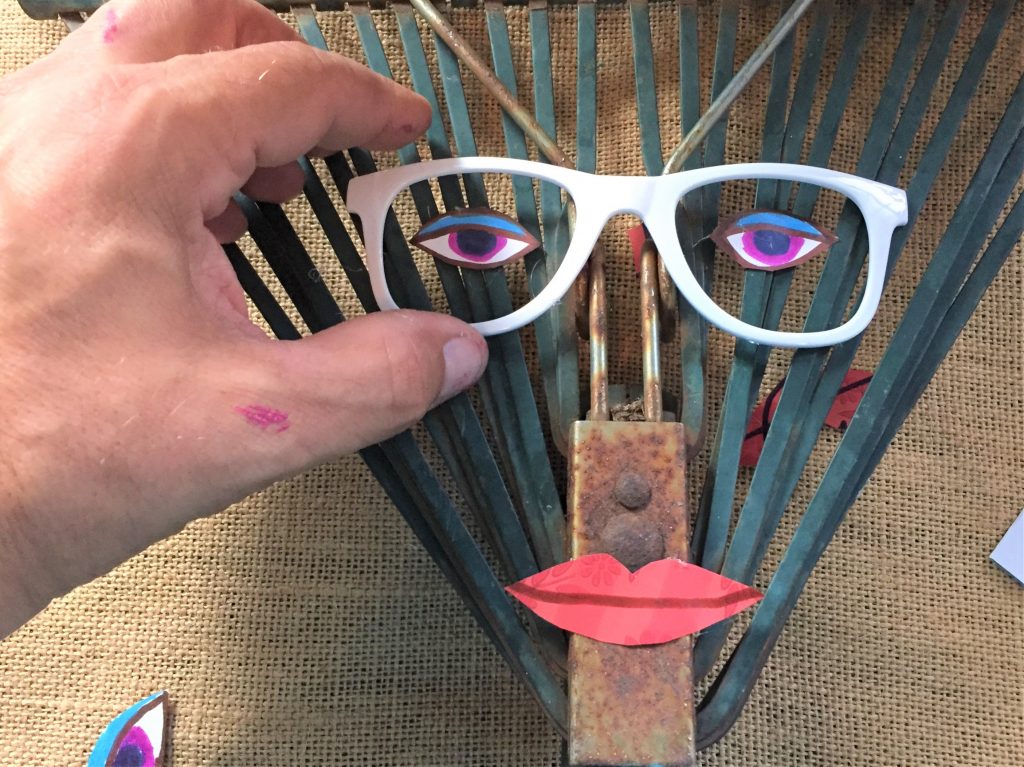 3.      Fasten on fashion
Now is time to dress up your rake face to make her a fashion plate (or should I say fashion rake?).  Look for what you have on hand to give your piece of art some style. 
The purse strap was cut and glued around the handle to create a colorful collar with the clip as a piece of jewelry.  An old chandelier crystal was secured in place as an earring. 
Several small silk flower hair clips, also picked up at the dollar store, were glued on too.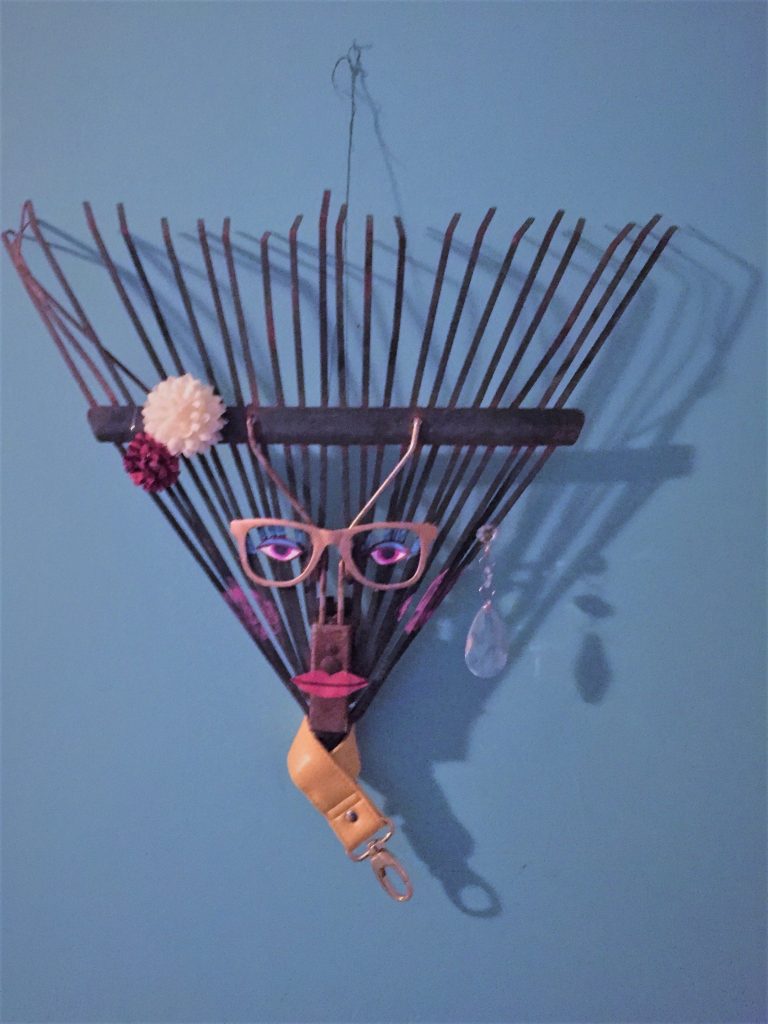 4.      Add a hook and hang her up!
As with the rake wreath, dark floral wire was tied around the rake then over a nail, so your attention focuses on this pretty face looking at you! This piece of art could be displayed on your front door, too, or she could strut her stuff in any room on the house. She is certain to attract lots of smiles and finger snaps, too!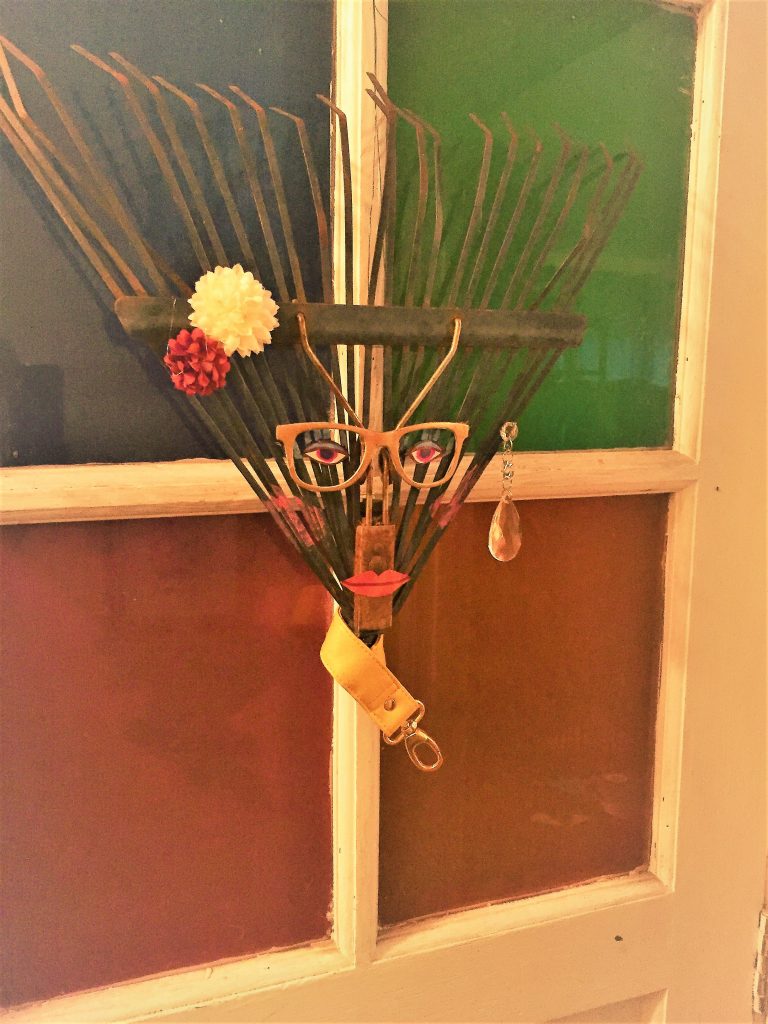 We want you to rake in the compliments with this unique DIY project.  Show us how you transformed an old rake into something fun for your home and, pretty please, send us your photos!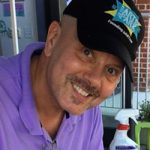 Tim Kime
Tim Kime is an artist, life coach, connector. He is President of Kime Leadership Associates offering executive coaching, meeting facilitating and motivational speaking. He is also Chief Creative Force of Transformation Junkies which upcycles furniture and other household items into functional works of art. He combined his two passions—unleashing the potential in people and transforming items with the launch of the Art of Possibilities Workshops. These workshops are part upcycling, part dreaming, part goal setting.