Every fashionable lady needs some faux leather in her wardrobe…..why not let it be a faux leather skirt? It's easy to wear, easy to take care of, and easy to score! You can spot a lot of them at your local Goodwill. In fact, I spotted today's My Goodwill Find very recently!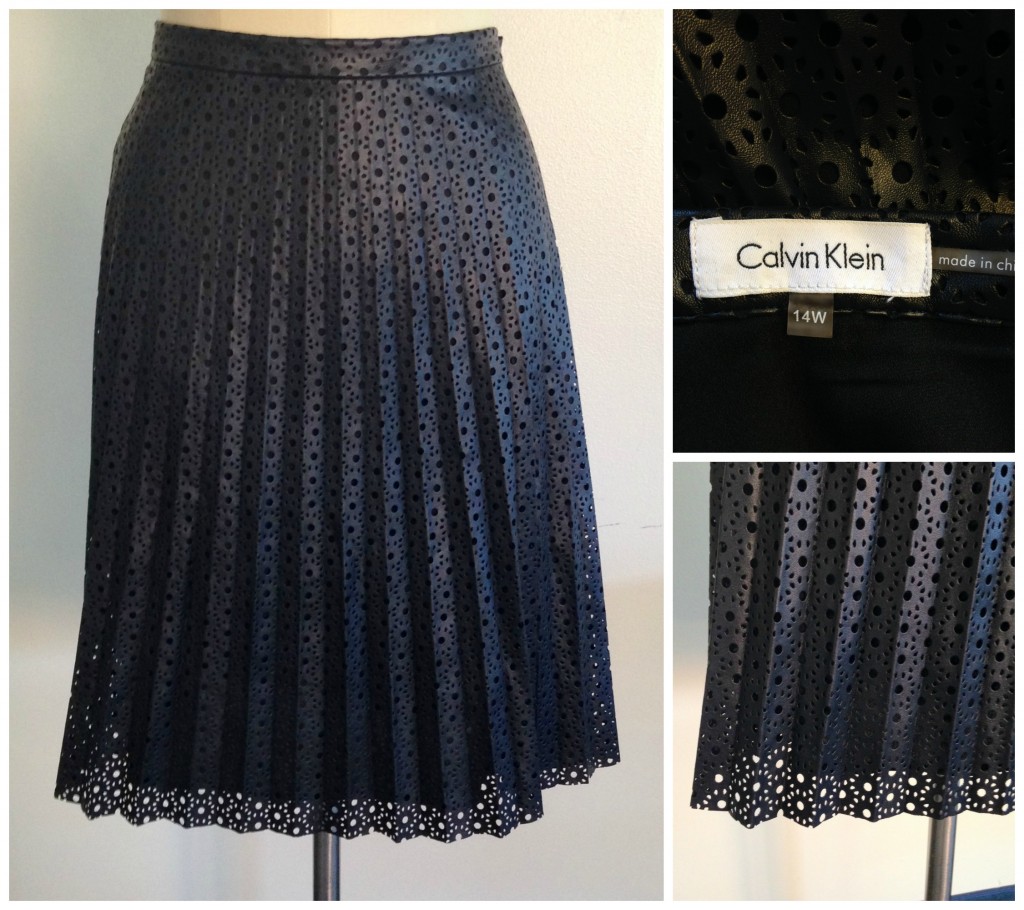 Today's beautiful Calvin Klein faux leather pleated skirt with eyelet cutouts is absolutely dynamite! It's a size 14W and is in near perfect condition, originally retailing for over $100. This gem hits just above the knee and is undoubtedly work appropriate. In fact, you could wear it to work, and then head straight out for the evening with a simple jacket, shoes and accessories switcheroo.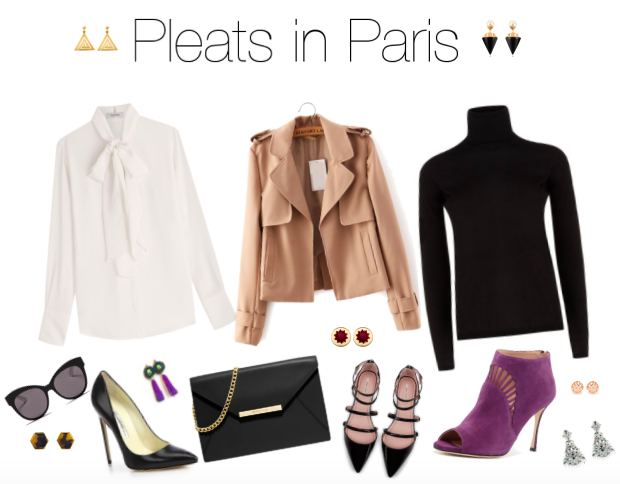 Image by Polyvore.
I'm imaging this skirt looking fabulous in a French-inspired classic Parisian look, consisting of clean lines, solid colors, and classic cuts.
In terms of tops, a gorgeous blowy blouse, either button up or bowed would look incredibly elegant. The blouse should be a bit loose and flowy though, to give some femininity and airiness to the ensemble. The blouse could be of any color, but I'm particularly drawn to wearing a white or cream one. You can never go wrong with this palette! With a flowy blouse, throw on a tan trench to provide your look some warmth. Trenches remind me of classy New York women on-the-go. I've seen many at Goodwill for as low as $8!
In contrast, I also think a black turtle neck would look fabulous. The all-black look might elongate the body, and give off a clean vibe. To me, all-black outfits are so easy to put together, but look like you put in a lot of effort. With this blouse, a black or colored jacket will do you wonders. You might think it's too dark and Gothic, but I'm dreaming of a black jacket…but with a colored lip or shoe to bring some dimension to the ensemble.
Speaking of shoes, a classic black heel, from patent leather to matte, is a classic choice. These heels will make your legs look incredible under this modern skirt. If heels hurt your feet, a nice flat will add comfort and pizzazz. Maybe a strappy black flat or a pointed toe one? There are so many options!
For jewels and hems, a beautiful simple or oversized stud or dangly artistic earring will add glitz without being too showy. With a top that has a party on the neck, a stud or dangly decoration is always appropriate. But be careful not to wear a necklace with the recommended tops and earrings above — there might be too much going on and there wouldn't be single a focal point. The eye would just keep bouncing around, and an item that you wanted to highlight might get lost.
Fashionistas, you know I love a good par of sunnies, and I'm all for wearing them with this skirt. A nice rounded or cat-eye colorful, tortoise shell, or black pair of glasses will look a bit French and very classy.
Finally for purses, the options are endless! If you're going out on the town, a black or colorful clutch (with a hidden strap) will be useful and practical. These are not too bulky in size, all while looking chic and  expensive.
Fashionistas, how would you wear today's pleated pick? Are you thinking the streets of Paris, like I am?