Vince Camuto is one of my favorite brands, fashionistas. His clothing, accessories and shoes come in all shapes, sizes and styles. His brand caters to everyone of any style and age. That's what makes his pieces so classic!
Although the actual designer Vince Camuto passed away not too long ago, his legacy lives on and his design team continues to pump out amazing work. Cheers to Vince!
Today's #MyGoodwillFind is a brand new with tags size large abstract printed top, that originally retailed for almost $50. The pattern on this piece is quite unique for it resembles zebra print, but has a texture within that pattern. It's like a painting!
The fabric of this top is soft and a tiny bit stretchy, meaning it's super comfortable…and super perfect for layering!
At first glance, this might be a summer top. Wear it with a pair of white pants, and you're all set. However, I see this item as a transition piece that can be worn in cooler weather by some simple layering.
That's honestly one thing I love about shopping for tanks in the winter. The Goodwill racks are stocked with them and I can just throw a cardigan or jacket over them to make them winter-wearable.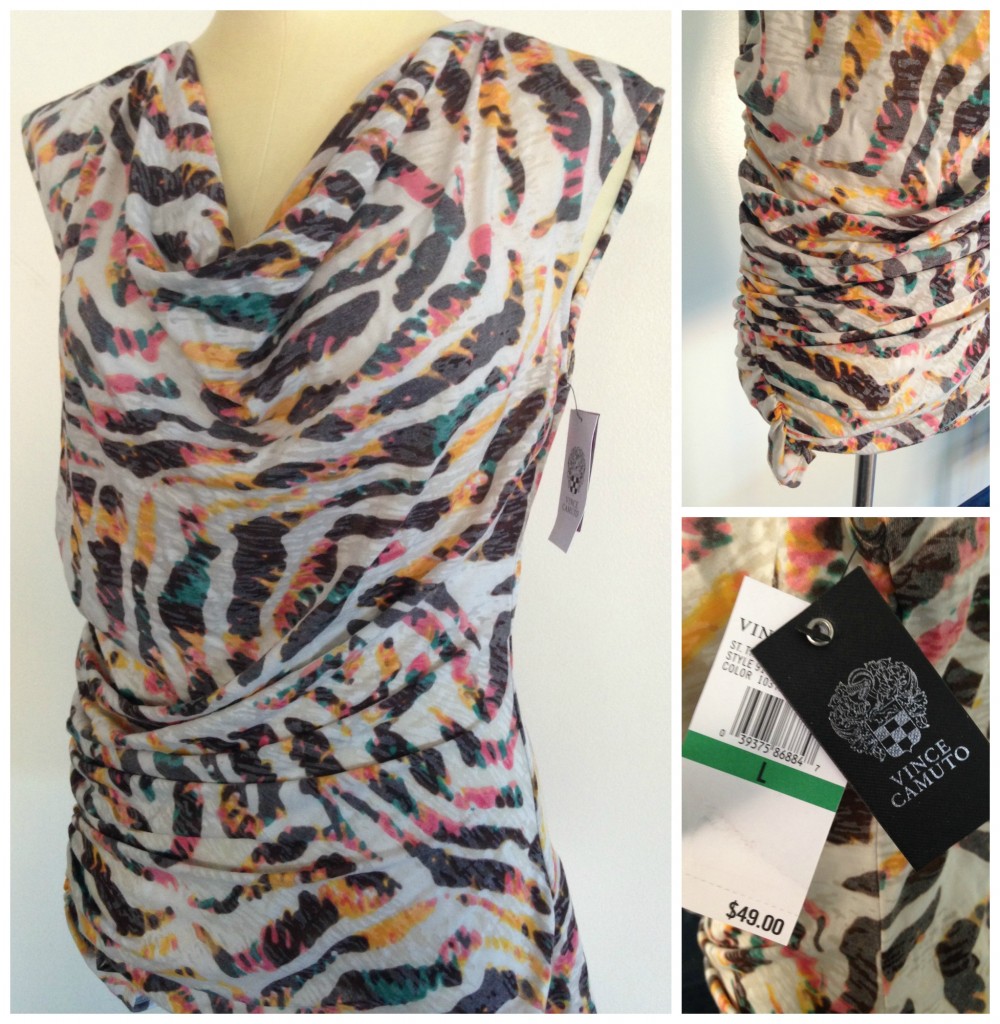 I'm struggling a bit figuring our what to wear with this gem. The color palette is not really my style but I would like to bring more items like this into my wardrobe.
Either way, with this blouse I'd layer with an open cardigan or a blazer. The top is incredibly workplace appropriate, so a blazer or cardigan will further bring it into that realm. Whatever keeps you warm!
In terms of bottoms, a nice pair of straight legged slacks or skinny jeans will keep you comfy and snazzy. A skirt might pair well with this top as well. Perhaps something that's a bit feminine that flares out? A classic pencil skirt is a safe option as well.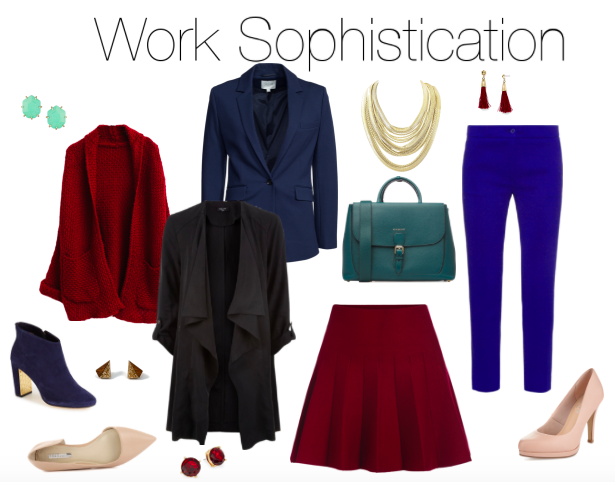 Image by Polyvore.
Regardless of the type of clothing item worn, I can't get three colors out of my head: deep reds, bright or navy blues, and nudes/creams. I have an inkling that these three types of color will always work with this top, no matter what. Especially because blue as well as cream show up in the top. But in terms of red, I just have a feeling that the color is a good choice.  After all, there is a bit of pink in the top so there's a loose tie in there.
What do you think of wearing black with this top, fashionistas? The gem is more on the brown/neutral side, so black might be too harsh. However, why not try it out with a cardigan or blazer? You never know unless you experiment.
For any style of work shoe, nude footwear is calling my name — especially if you go with a colorful outfit. Nude and cream shoes are versatile and match most anything. They're a type of shoe that every fashionista needs in her closet.
And finally, for gems I thinking of a fun playful blue or cranberry necklace or dangly hassle earrings…but certainly not wearing both pieces of jewelry together. Like I always say, I wild necklace AND earrings might be over the top. Pick one or the other the shine.
Because I'm not 100% sure what to rock with this top, I'd love to hear your thoughts! What color palette are you thinking would go with this cute top?