My gal pal Megan and I took a ride out to the recently renovated Glebe Road, Arlington, VA Goodwill store and it did not disappoint! This store has always been a favorite of mine because it's loaded with fantastic brands. I've spotted Kate Spade, Tory Burch, and I even scored an authentic men's Louis Vuitton tie here. On our weekend adventure, Megan found the most perfect Lilly blouse that I just had to share with you all!
If you're familiar with Lilly Pulitzer, you know their iconic shift dresses and bold silk blouses are not cheap. So, when Megan stumbled upon a like-new top, we knew she had to take it home. Similar to their Elsa style blouse, which retails for… wait for it…$158.00 (eeeek!), Megan's Lilly top features a beautiful v-neck, long sleeves, and gold accent buttons. The top is a bold yellow and swept in a fun and iconic Lilly pattern.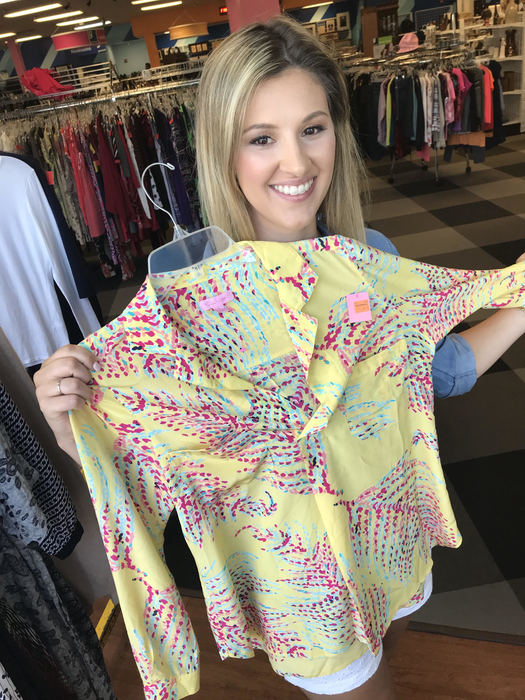 This top retails for more than $150.00 but we scored it for just $21.00! This was a Boutique item as you tell by its pink tag. In determining whether we should purchase this summery piece – our conversation went a bit like this…
Me: "Omg you have to get it."
Megan: "I don't really know if I need it"
Me: "It doesn't matter – if you don't get it, I am definitely getting it"
Have you ever had one of those moments while shopping with a friend?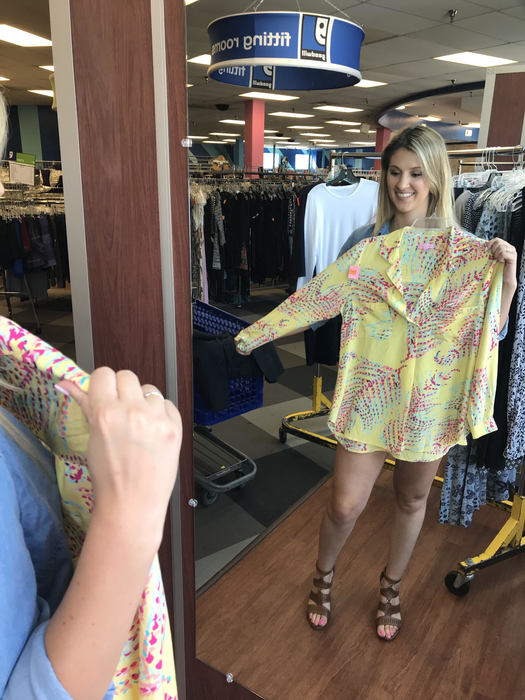 As you can see, Megan scored a fantastic deal. She plans to style the blouse with white shorts and wedges for casual wear and white ankle length pants and heels for work wear. Sounds perfect, doesn't it?
How would you style your Lilly for less?
Karen Wathen is a young professional and self-proclaimed "thriftanista." Her passion for fashion and her savvy spending habits make shopping second-hand one of her favorite hobbies. Wearing many (frugal and fashionable!) hats, Karen is a highly caffeinated Special Olympics coach, passionate community volunteer, amateur foodie, farm dweller, newlywed, and cheap wine connoisseur. When she isn't scavenging the racks at DC Goodwill stores, you can find her barefoot in her kitchen, blasting country music and cooking up locally sourced foods from her Southern Maryland community. Follow her on Instagram (@k_wattt) for a peek into her savvy life!