Exactly one year ago, I found out I was pregnant. I couldn't contain my excitement, and I wanted to go out and buy ALLLLLLL the baby things. There are so many baby things to buy, and it can add up quickly. Many moms rely on baby showers to help decrease the cost of setting up a nursery and preparing for a baby. However, Goodwill can also help. In fact, between hand-me-downs and thrift stores I needed almost nothing (except loads and loads of diapers) for my new arrival.
Here is what I recommend looking for at Goodwill if you are a new or expectant mother.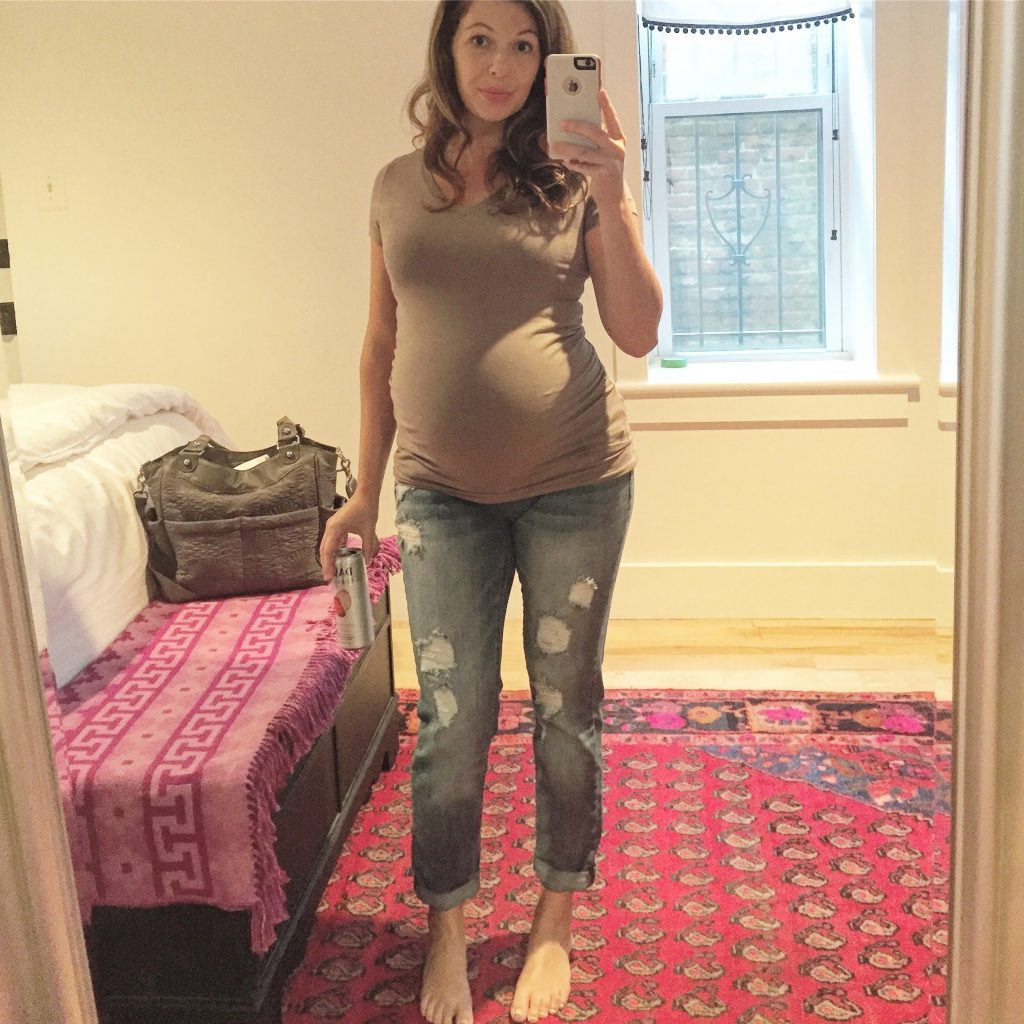 1.) Maternity Clothes and Diaper Bags
As our babies grow, our bodies change… and grow, as well. Luckily, most Goodwills have an entire section dedicated to maternity clothing. Purchasing a new wardrobe can be incredibly expensive so I was lucky to find designer jeans and tops for a fraction of the normal cost. Also, maternity clothing is only worn for a few months so it's often like new. I've also had luck finding stylish diaper bags at Goodwill. In the picture above, I have my Petunia Pickle Bottom City Carryall Diaper Bag that I purchased at Goodwill for $12.99. It usually retails for $165!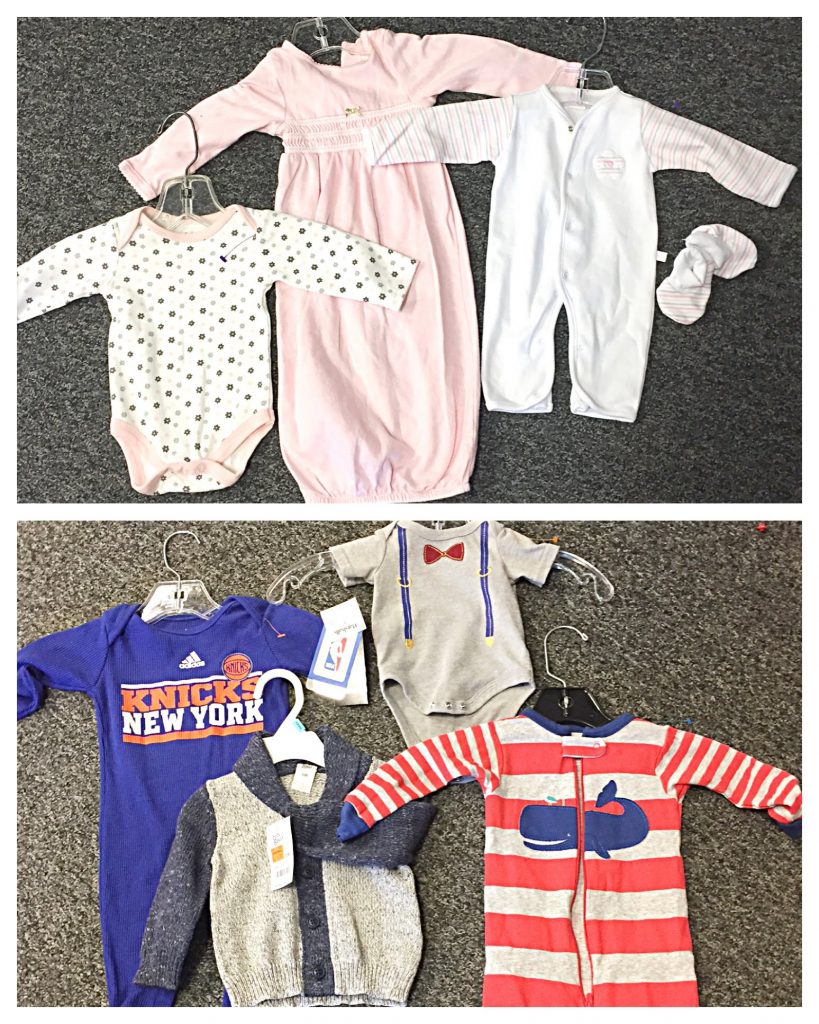 2.) Baby Clothing
Babies grow fast and require frequent outfit changes. Since babies grow so quickly, thrifted infant clothing is often brand new or like new. I purchased most of my infant clothing from Goodwill, especially holiday-specific clothing. I've found tons of onesies and pajamas for Halloween, Thanksgiving, Christmas, Valentine's Day, etc. One day, I even bought 6 pairs of stylish newborn shoes for my little angel! Do infants need shoes? Not at all, but they sure do look cute on!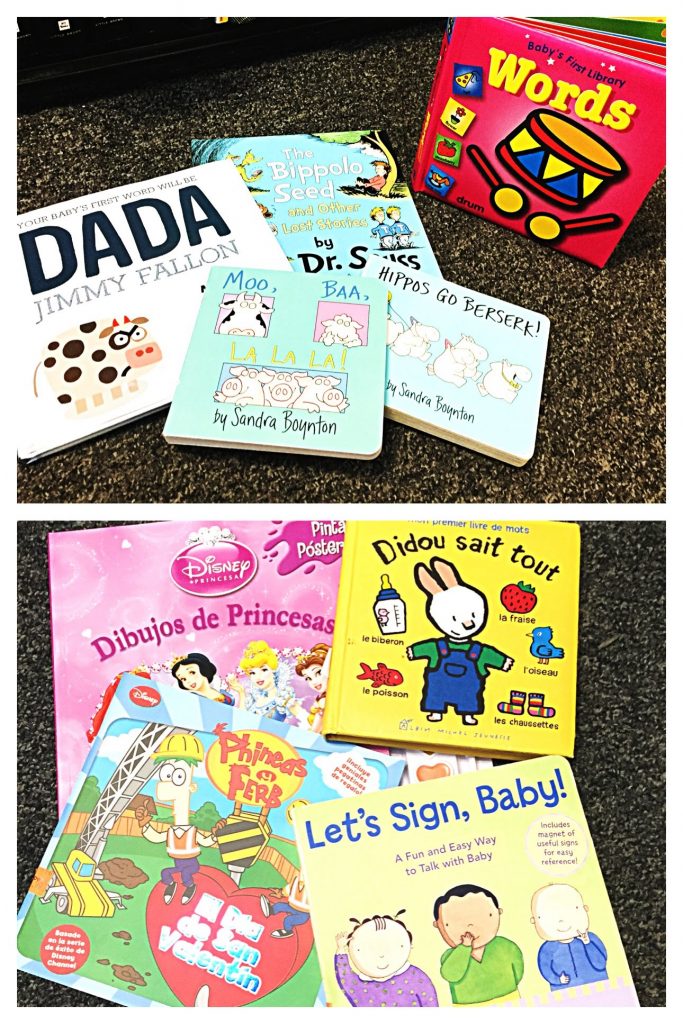 3.) Books
Maybe it's because I'm a teacher by day, but creating a diverse library for my little one was really important to me. Luckily, Goodwill carries a huge selection of children's books for pennies compared to their normal cost. If you have a bilingual home or just want to encourage other languages in your home, Goodwill often has an assortment of children's books in other languages. I speak and read in Spanish to my daughter so I've worked to create a bilingual library almost completely from thrifted books!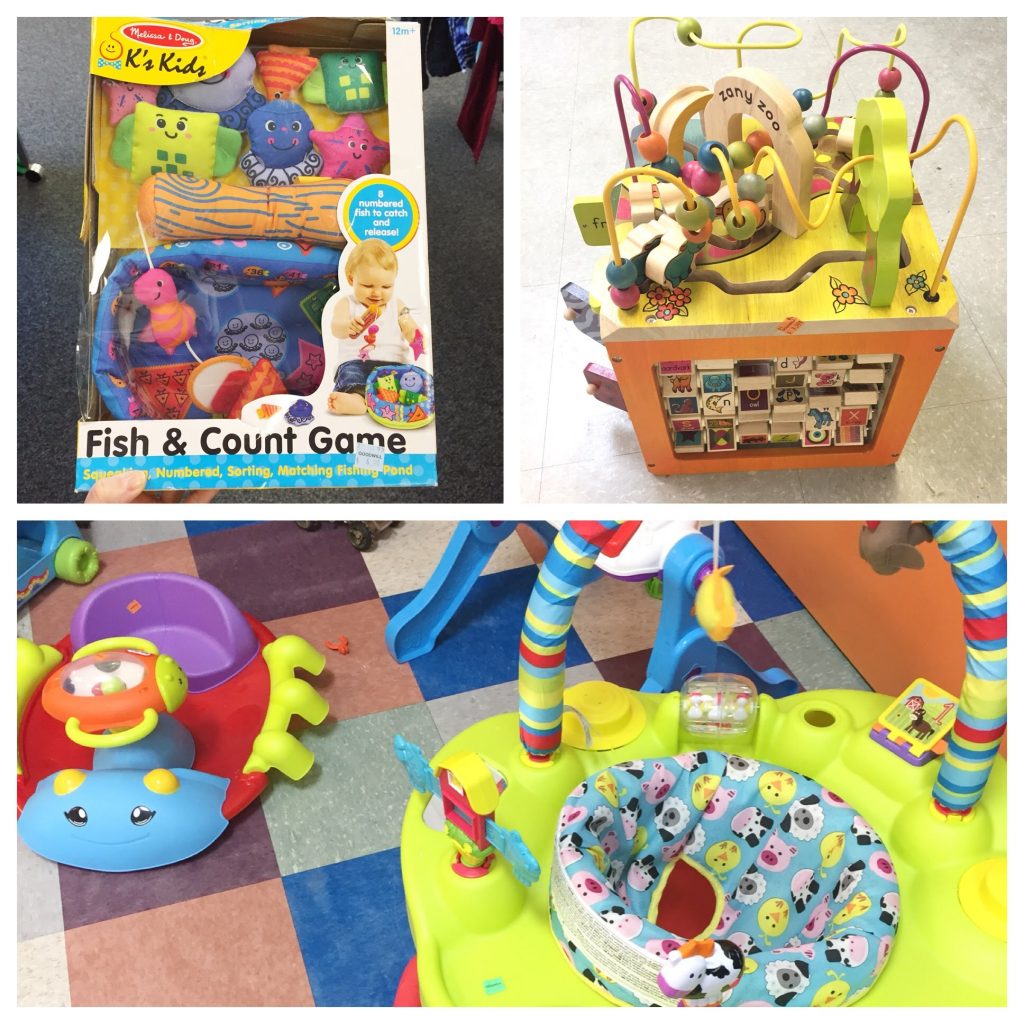 4.) Toys
Let's be honest: babies don't really need a lot of toys. However, it sure is fun to buy them! I'm a huge fan of quality wooden toys (which tend to be expensive), but I've found so many at Goodwill! Most locations also have a kids' area with toys. As with all purchases, I just sanitize them well since babies like to put things in their mouths.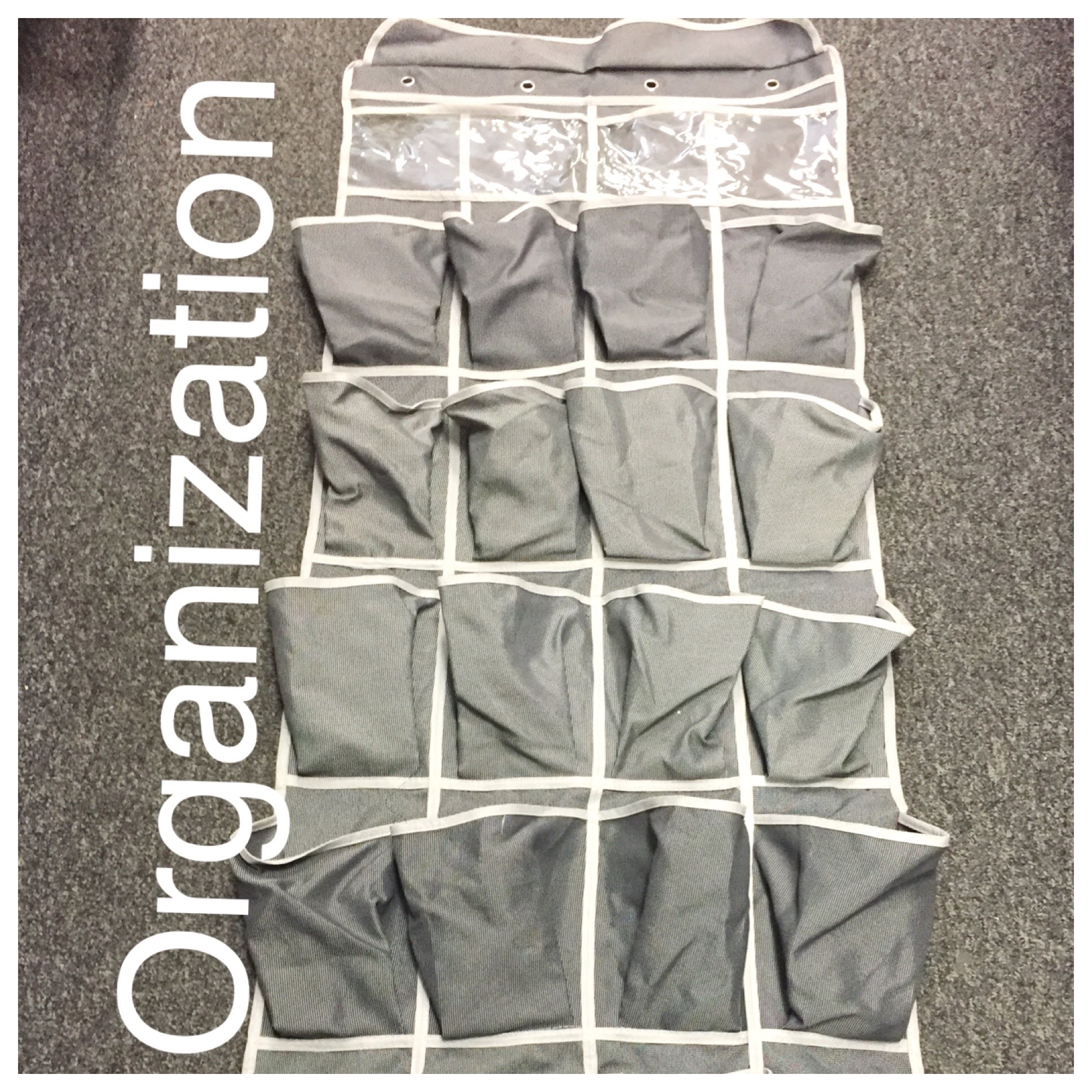 5.) Organization
You know all of the stuff I just wrote about? It needs to be organized. When creating my nursery, I hit up Goodwill first for baskets, hangers, storage containers, drawer organizers, etc. Thinking outside the box will serve you well when looking for organization tools. The image above is traditionally used for shoes. Hang it on the back of your nursery door to store onesies, baby shoes, bows, hats, burp rags, etc.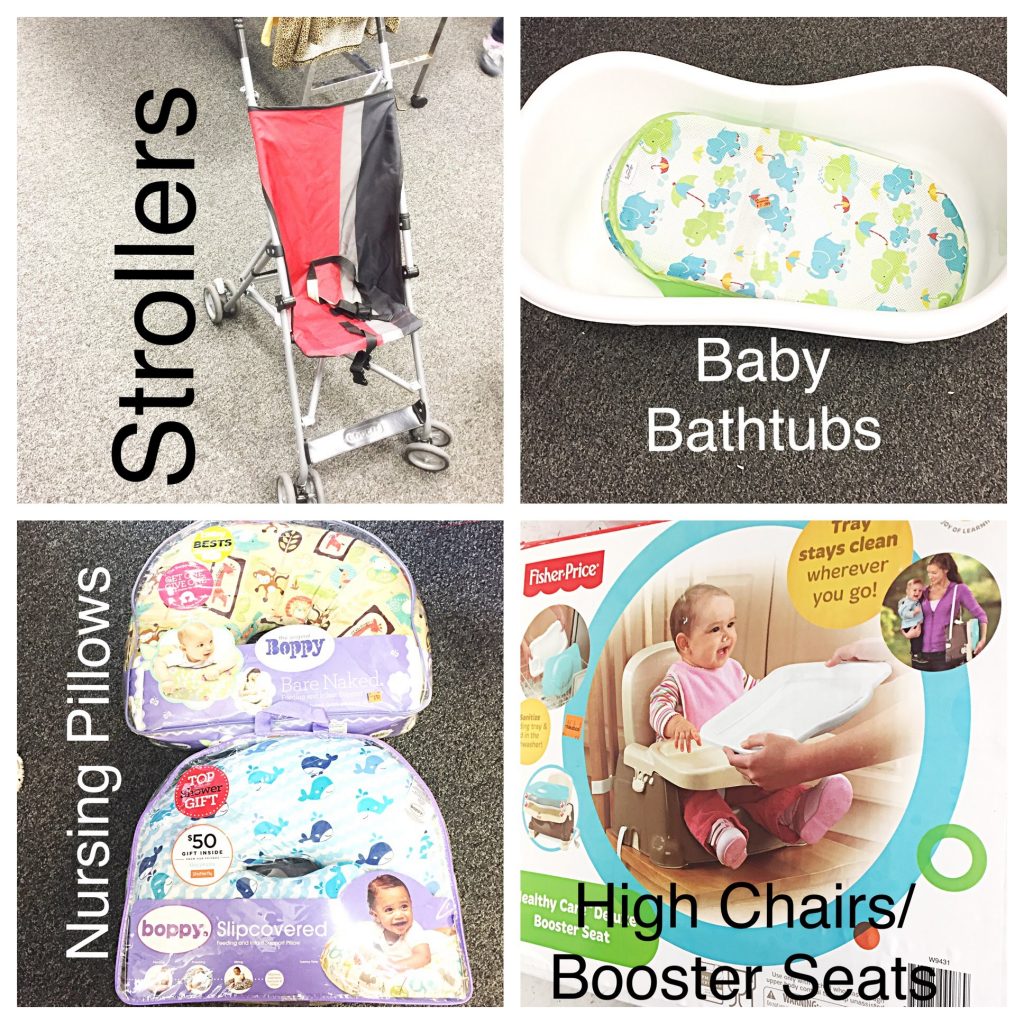 6.) Miscellaneous Items
There is so much that you can buy for a baby. Strollers? Goodwill has them. Baby bathtubs? I just use our sink, but almost every Goodwill that I frequent has a surplus of baby bathtubs waiting to be bought. Nursing pillows? I ALWAYS see these in their original packaging at Goodwill, which astounds me because I use mine frequently. That being said, I bought mine BRAND NEW at Goodwill for only $4.99. High chairs and booster seats? Yep! Goodwill has them! You can even find safety proofing items there, like the baby gate below!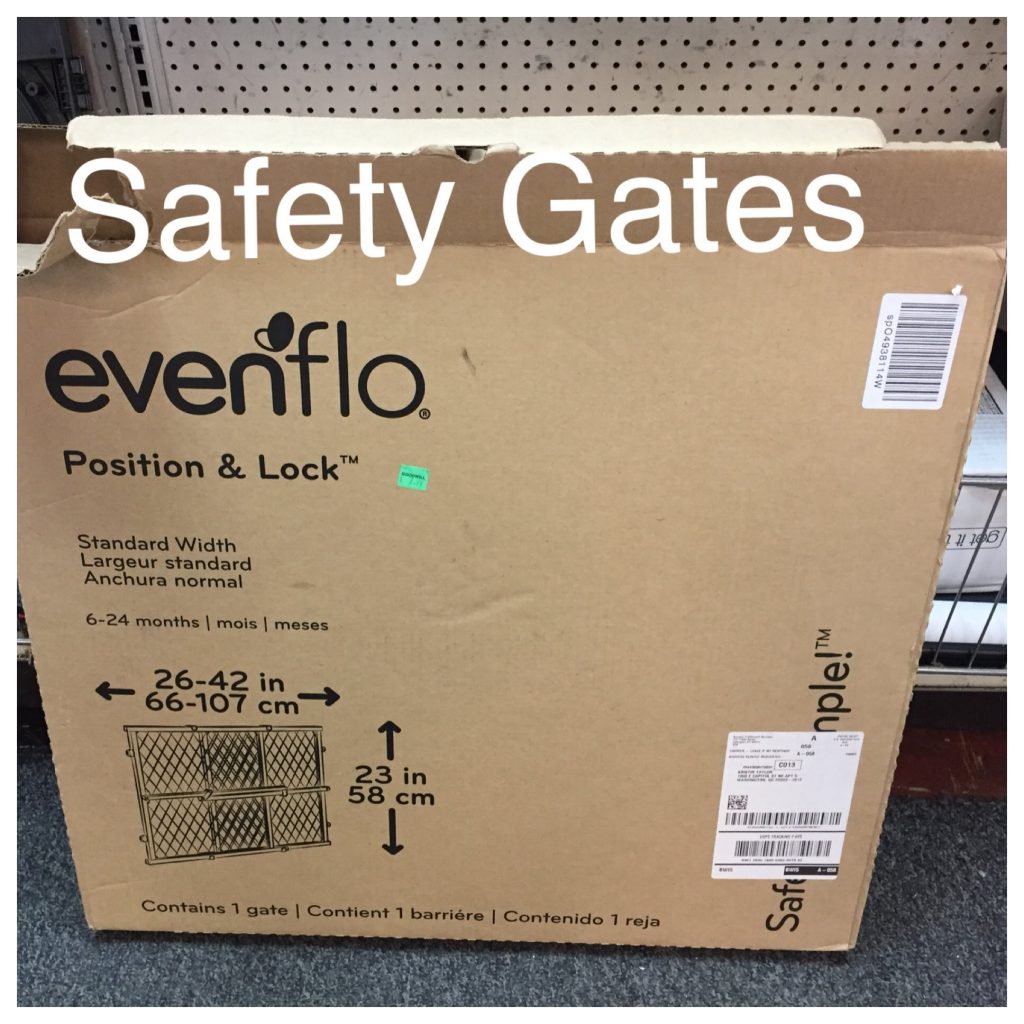 One of my favorite purchases at Goodwill for my own little one was a LILLEbaby 6 in 1 Carrier that I scored for $10. These baby carriers usually cost $125! Living in Washington DC, I've used that carrier almost every day with my little one!
I hope this post can help a few expectant moms. You truly do not have to spend a fortune to prepare for your new arrival! Stock up at Goodwill and you can reserve your baby registry for the big-ticket items that you'll need! Join me next time as I share how I decorated and organized my nursery with the help of Goodwill!
Also, check out the hashtag #MiniGoodwillFashionista to see thrifted infant fashion and tag some of your own, as well!
Ariel is an avid "thrifter" and budget decorator, as well as a teacher and expectant mom (any day now)! After being a military spouse for 9 years (and moving 7 times in the first 7 years), her focus is on making a house (or in this case, her small city apartment) into a stylish home on a budget. She also has a penchant for Chesterfield sofas, Campaign dressers, and bar carts of all types.