It's finally feeling like fall weather with the crisp air, fallen leaves, and my favorite jackets. It is important to dress in layers because it is cold in the morning and warms up throughout the day. It's always better to be able to remove an article of clothing rather than shivering from the cold weather!
As much as I love jackets, I also love camouflage items. I consider the pattern and fabric neutral and will rock it with everything from denim to leather to sequins. At one time, I owned over 15 authentic camo jackets that I have purchased over the years. However, this find was special.
While browsing the Clinton, MD Goodwill, I stumbled upon a gem in the men's section. This is a reminder to shop each section of Goodwill because there is always something new to be found.
Camo jackets are usually housed in the men's section anyway. As I pulled the jacket off of the rack, I recognized that it was different from a regular field jacket. The jacket was a bit heavier, longer, and had a message written across the back. It was in fact a Mess in a Bottle Army Jacket! Mess in a Bottle is a female black-owned business based in Baltimore, MD, which has collaborated with Target for Black History Month, Warner Brothers, RocNation, and YouTube.
I couldn't believe my luck with finding this awesome jacket, as it has been on my dream bucket list of items for years.
The powerful message across the back read "Queen, Don't Be Afraid to Rule Like a King." When I checked the website, the jacket is priced at $180.00 and was worth every dollar. Goodwill priced the jacket at $8.99, which is a total steal and I couldn't believe it.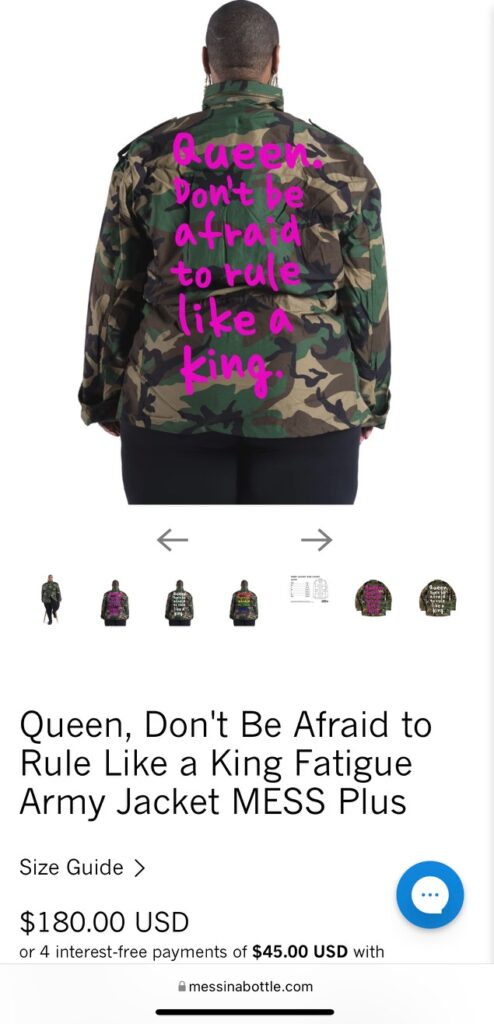 Thrifting is all about finding interesting items for me when I go shopping. You never know what you will find, even a dream clothing item!