One of the best things I love about personal style is the creative, DIY nature of it all. The ability to take a garment and transform it into anything under the Sun is pure gold.
I go Goodwill shopping regularly, and I've always enjoyed finding various ways to style the pieces I find.
Being a petite woman, I often find and wear oversized clothing in secondhand shops, making it my own by belting and cropping items as I see fit.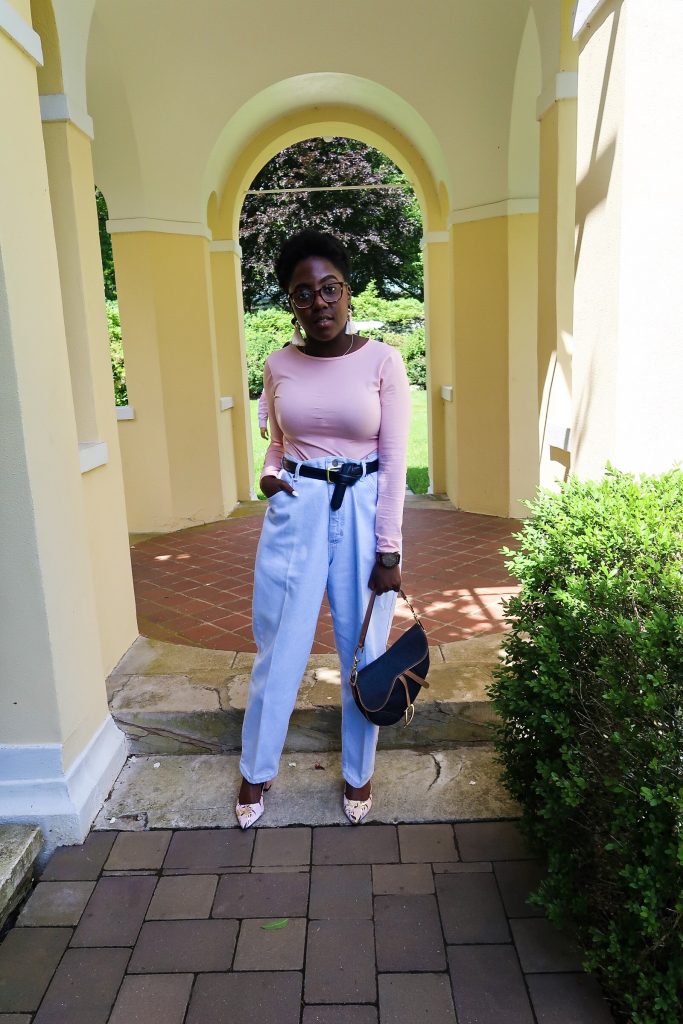 I was browsing through the DC Goodwill recently and found this amazing denim jacket for around $7.
It's by a brand called Maurice's, and I picked it because of the fit and great quality of the denim itself. This jacket was well cared for, and I'm really fond of secondhand pieces for that reason. I love denim in general for its versatility and durability, and so was happy to find this gem.
I'm planning to work my magic on it at the upcoming Goodwill Denim Pop-Up at the Brookland Monroe Street Market event, and I'm so excited!
I haven't done a serious upcycle since I was a kid, when painting clothes and tie-dyeing T-shirts was the norm at any summer camp. I'm a bit unsure of how I will transform this jacket, but I'm up for the challenge.
When I think of a denim jacket, I think of the vintage varsity letterman jackets student athletes receive in high school and college; the thick material, as well as the patches from various sports teams and clubs, make each jacket one-of-a-kind and unique to its owner's experiences.
In the fashion realm, I've definitely seen designer denim inspired by the letterman theme as well.
During my upcycle, I will follow this route. Fabric paint is definitely a must-have, in bright colors to match my personal aesthetic. Patches and buttons on various interests of mine will work together to customize the jacket and make it a uniquely Kam piece. The possibilities are endless!
My plan for this upcycle is to not only get my own creative juices flowing, but also to help inspire others to give their old clothes a new beginning.
Thrifting, reusing and upcycling are major bricks in the road to a sustainable future, and I'm happy to be part of that movement.