Welcome Your Thanksgiving Guests with an Inviting Table of Upcycled Items!
With Thanksgiving just days away, there is still time to ensure your dinner table looks festive for family and friends.
Here are three simple ways you can bless your table—and all who join you—by upcycling items.
Start with Plates Featuring Words
Items needed:
· White or cream-colored dinner and bread plates
· Craft paint for glass in Autumn tones
· Craft marker for glass in Autumn tones
· Small paint brushes
1. Be blessed when you shop at Goodwill
In the Housewares section of your favorite Goodwill store, look for plates to transform for your table.  Ideally, you will find a set that you can use for this project.  However, think outside the box; if you find white plates from different sets, that will look really nice, too.   For a funky and electric look, you could find plates in the same size or shape in varying colors.  Consider the plates you find as small canvases on which to create your masterpiece!
2. Unify with amber waves—or fall colored waves
With a small but wide paint brush, apply paint in organic, free-flowing waves. 
Overlap one color stripe with the next one so they blend together.  No worries if the white of the plate shows through; this will add to its visual interest and provide dimension.  If you are doing this project with small children, this is a great step from them to do since they are not being ask to stay within the lines.  Let your waved-covered plates dry.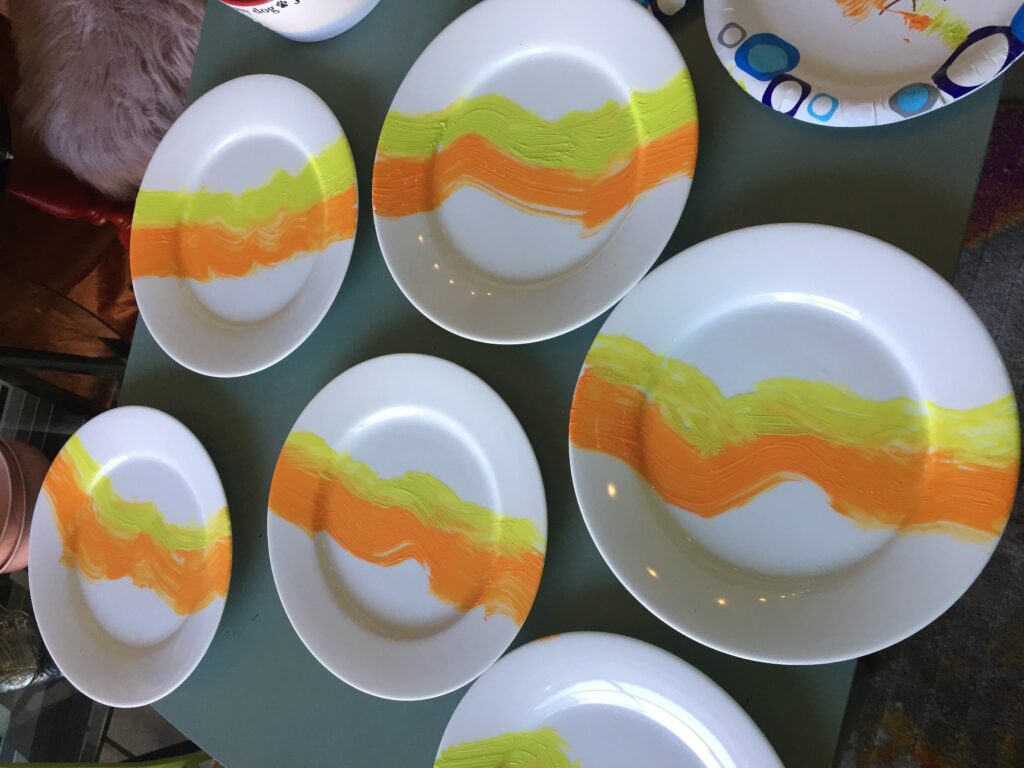 3.      Add a meaningful word or phrase
Grab your craft marker in a complementary color but one that stands out. 
Along the edge, write words that you associate with Thanksgiving like Family, Love, Give, Thanks and others. 
What words are meaningful to you?  Let dry and you will be ready to set your table!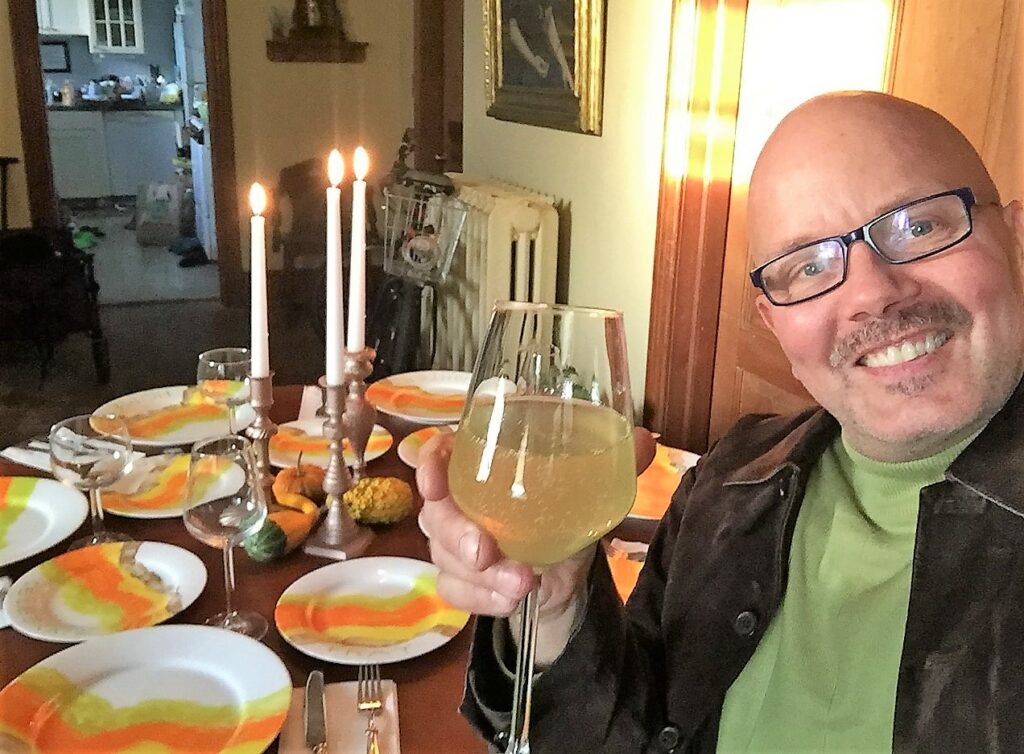 Add Glasses with Fall Images and Designs
Items needed:
· Clear wine glasses
· Craft paint for glass in Autumn tones
· Small paint brushes
1. Get glasses at Goodwill
Glasses for sale at Goodwill are always plentiful and come in all shapes and sizes.  If you find a matching set, great.  If you collect ones in various sizes, even better!  Pick ones with smooth goblets, stems, and bottoms.  You will get giddy over the glasses' truly remarkable low costs!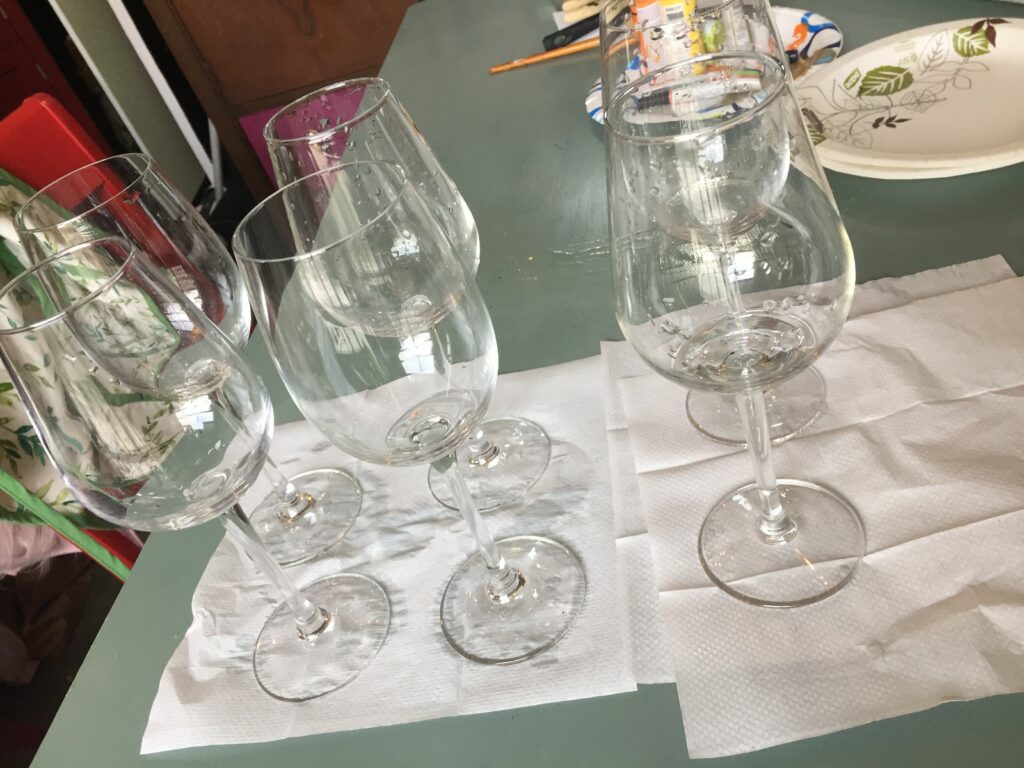 2. So many ways to approach your designs
What I love about this project is that each glass can be painted with its own look and design, but will feel connected to the other glasses because of its matching colors.  As you are able to see, one glass featured here was painted with a sunflower.  Another got some swirling stripes.  Another was turned upside down and paint was poured on it.  Paint away, then let them dry, too.
Expert input:
While these dishes look yummy and the glasses look delightful, you will likely not be able to eat off them. Read the information on your paint containers to be safe. So set the table, invite everyone to admire your setting, then remove the dishes and glasses for ones that are dishwasher-friendly.
Top of Your Table with Coppery Candlesticks
Items needed:
· Glass, metal or wooden candle holders
· Copper, bronze or gold spray paint
· White candles
1. See the light at Goodwill
Check out the various Housewares section at Goodwill for candleholders.  You will want to check various aisles; glass ones might be with glass, jars, and other items from glass.  Wooden ones might be in the section with wooden plates, serving trays, and rolling pins.  Visit the metal section for ones made of brass or silver metal.
2. Spray on Thanksgiving style
Place your candleholders outside or in a well-ventilated area and on a drop cloth.
Spray on gold, bronze and copper tones; do one color or spray on light layers of each to make them truly shimmer. 
After the first coating, let them dry then place them on their sides to ensure all parts are well-covered.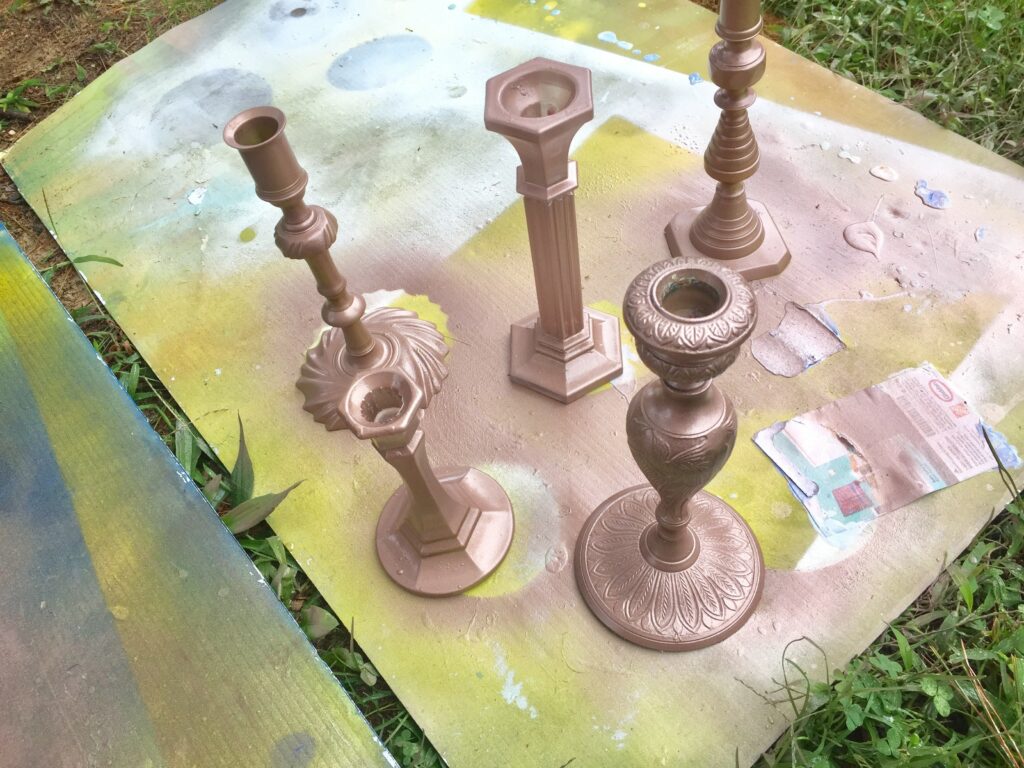 3. Add a candle and strike a match
Add a collection of your sparkling candleholders to the center of your table.  Add white candles for elegance.  Light them and invite all to gather to admire their luminance and how the light reflects off the holders, as well as your painted glasses and plates with pleasing messages.  You will feel grateful and blessed—and you haven't even carved the turkey yet!