A novel November to you, fellow thrifters and gifters! Trans(gender) and Native (/Indigenous) Months!
Month of Sigd, Diwali, the advent of Advent, and much more!
As you may know, this year even Hanukkah starts this month, which is unusual. Yes, Thanksgivukkah!! However, I'm still going to save my Hanukkah-themed post for here for next month. A tour of my thrifted and gifted menorah collection! Much of which has come from Goodwill of Greater Washington.
Nu, what am I going to talk about here today? Dragons, of course! I identify with, love, and collect them. Maybe because I was born in the Chinese Year of the Dragon (1976)?
Too, turkeys are descended from dinosaurs. And, what are dinosaurs but wingless dragons? It's Science!
November is also a good time to think about thrifting your gifts, for the Winter holidays and other gift-giving this season! And, oh so many people love dragons. How much more so when they're thrifted — in addition to being more impressive in the usual ways, you and your recipient also know you supported social justice. Now, I'll admit that, because I love them so much, I've given most of my favorite dragon finds to myself! But, when you see them, you'll find it hard to blame me.
Speaking of giving, mark your calendars for Giving Tuesday on November 30th. And don't forget to include Goodwill of Greater Washington on your gift list! Or whatever your local Goodwill is, if you're reading this from outside of DC Goodwill's region. Yes, you donate every time you shop Goodwill, online and off, but direct financial donations are also more needed and appreciated than ever. And you can make that a gift to another person or group, too!
It's true that because so many people love dragons, thrifting dragon items can be quite competitive. At the same time, due to dragons' ancient and worldwide popularity, there is a huge quantity, quality, and diversity of dragon items on the thrifting market.
If you're on ShopGoodwill.com, you may need to think outside the search term box. Some dragon items don't even have "dragon" in the listing title. You may want to try words like "serpent", and "wyvern" (one of several dragon-like mythical beings). It can also help to focus on your favorites — if you want to see Chinese dragons first, search for just "Chinese" items (there aren't actually too many of those at one time), and you may well find some hidden dragons there.
I've been very pleasantly surprised by the fabulous dragon items I've thrifted, offline and on. Especially at our local Goodwill here in Gaithersburg. Let's look at seven of them!
Three necklaces — a brushed stained steel pendant etched with a tattoo-style dragon in black; a jade and copper piece with a Chinese dragon; a Chico's design in red, gold, and black beads, with a gold Chinese coin with dragons. The third one is from one of the two Goodwills in neighboring Rockville — during a Finding Your Good Meetup there!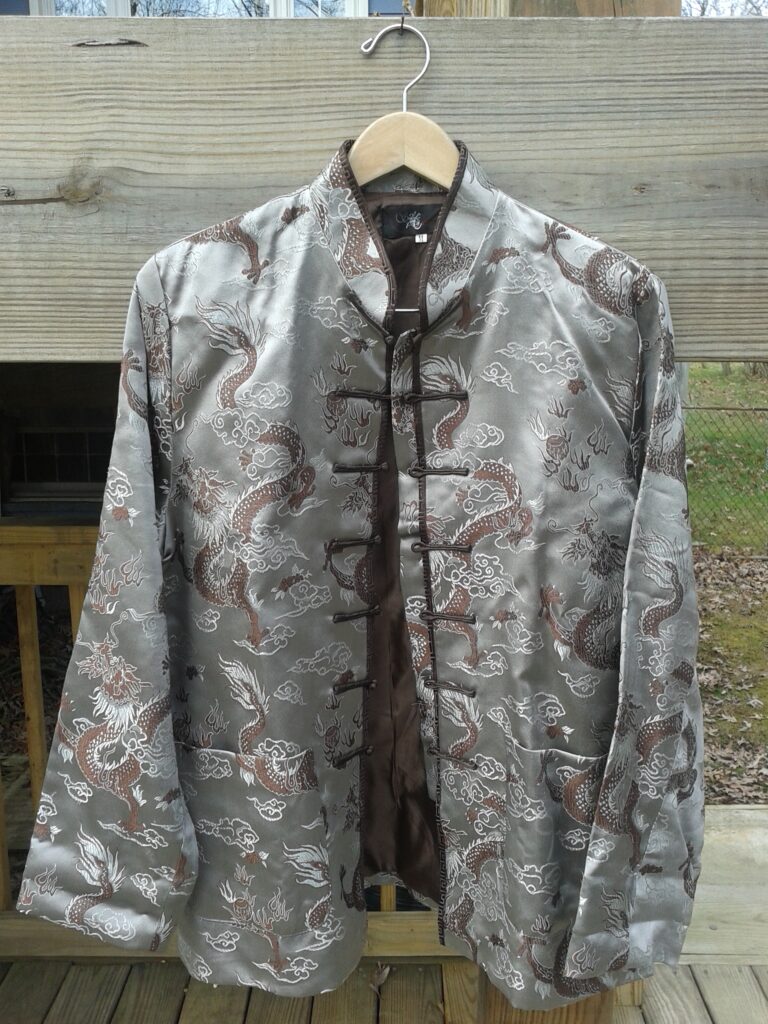 A classic, chocolatey Chinese-made Chinese jacket in gray, silver, and brown dragon brocade!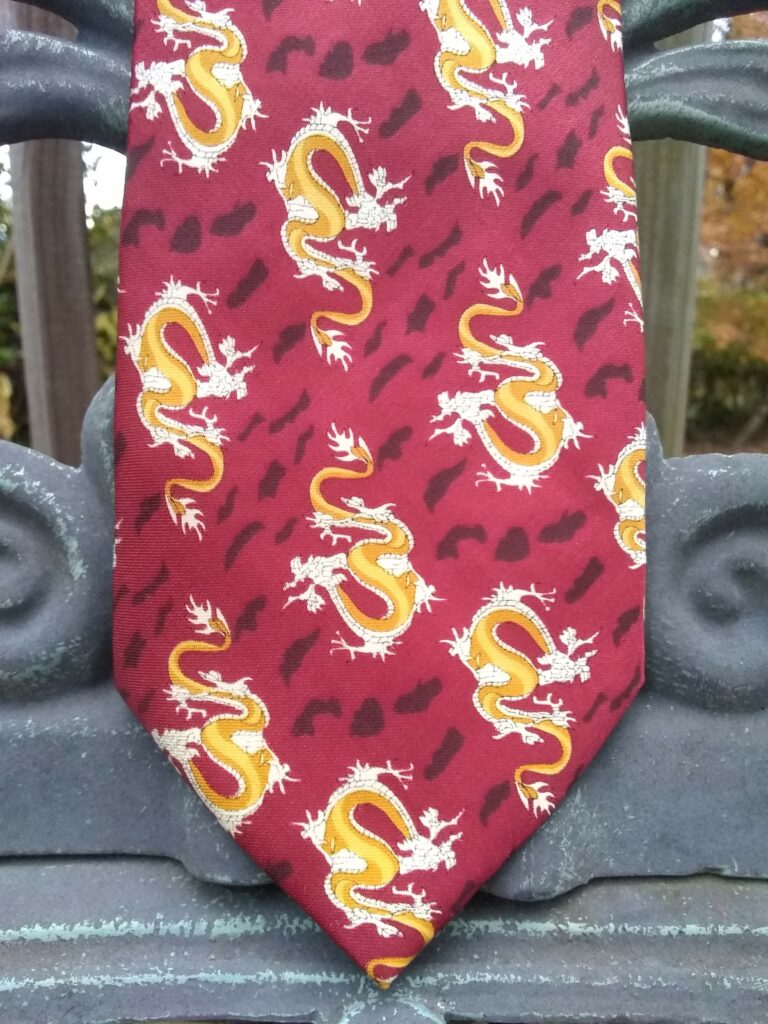 My spouse thrifted this dramatic dragon-print necktie during another FYG Meetup at the Rockville Goodwill (golden Chinese dragons on red silk, made in China).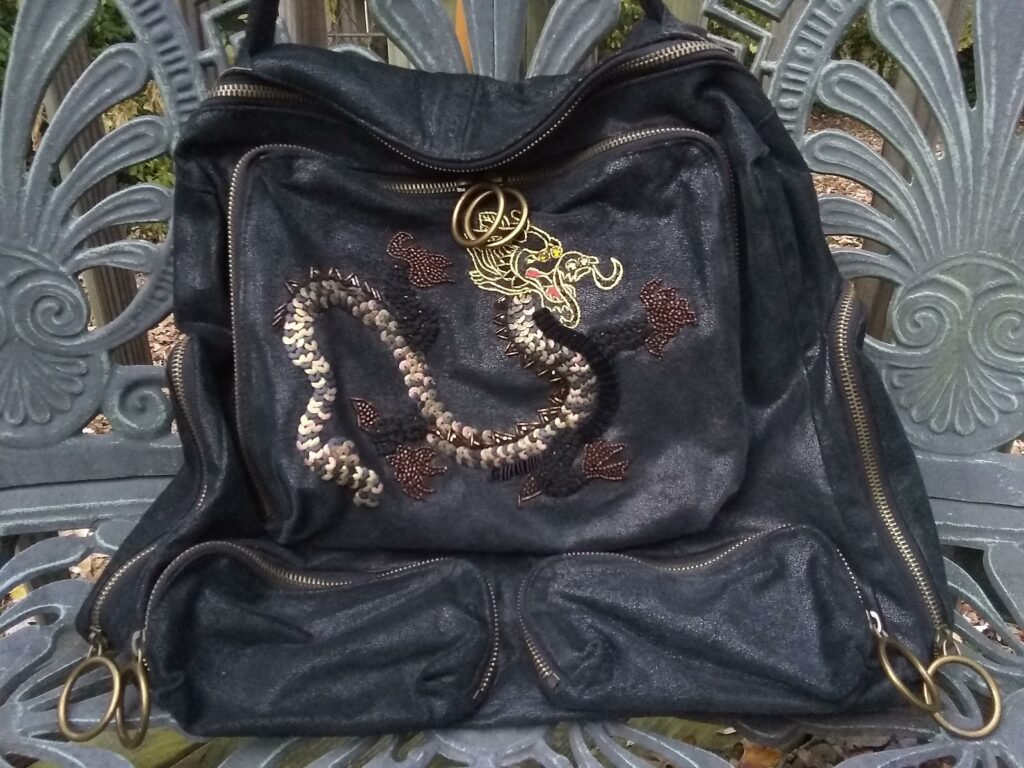 Can you even believe this Ipa-Nima bag?! I still can't! A Chinese dragon embroidered in metallic thread, faux jewels, beads in sequins, on faux black suede with brass hardware (and lots of it). Lined with custom-designed gold and black brocade fabric.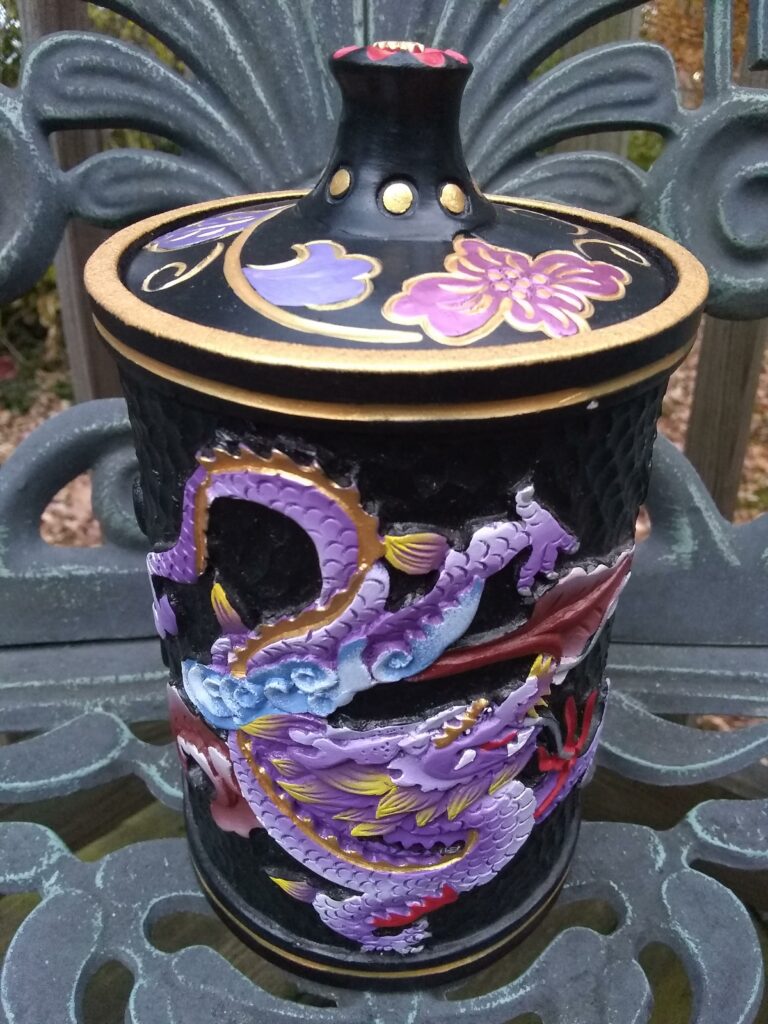 A Chinese canister, stamped with a chop on the bottom — ceramic, hand-carved and hand-painted with a purple (my favorite color), gold and red dragon, flowers, and more (the back has a decorative sphere and three flames!).
I also love to look at Shop Goodwill — and it's been a true thrifting lifesaver, in many ways, during the pandemic. Too, they redesigned the whole site just this month! Here are eight of my favorite dragon sightings there, all spotted at Goodwill of Greater Washington's store.
https://www.shopgoodwill.com/Item/126253712
Disc-shaped shield-style earrings etched with Chinese dragons, in sterling, by Silpada.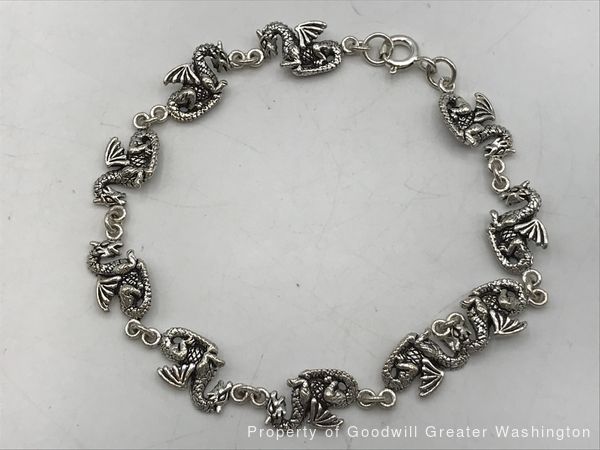 https://www.shopgoodwill.com/Item/118753624
A bracelet where the links are 10 tiny European dragons, in sterling.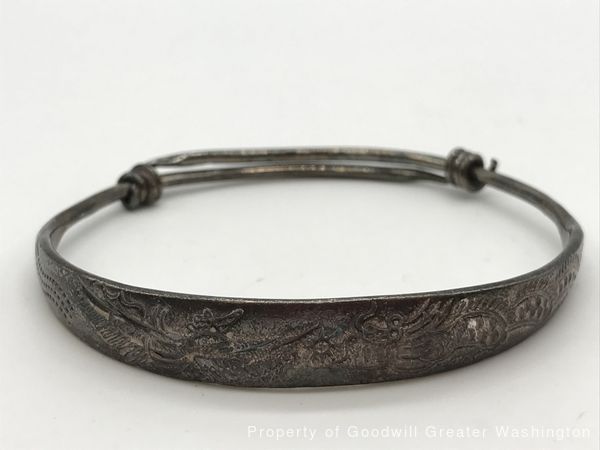 https://www.shopgoodwill.com/Item/129557092
A bangle bracelet etched with a dragon and phoenix (very commonly depicted together in Chinese artwork), in sterling.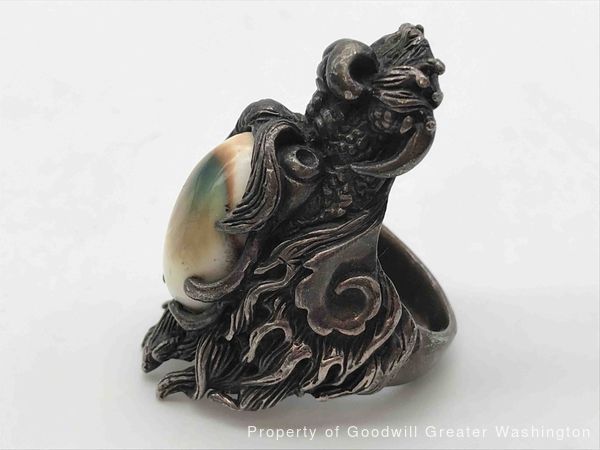 https://www.shopgoodwill.com/Item/129553798
A big dragon-head ring in sterling, set with an eye-like seashell (looking not unlike a yarmulke / kippah, actually!).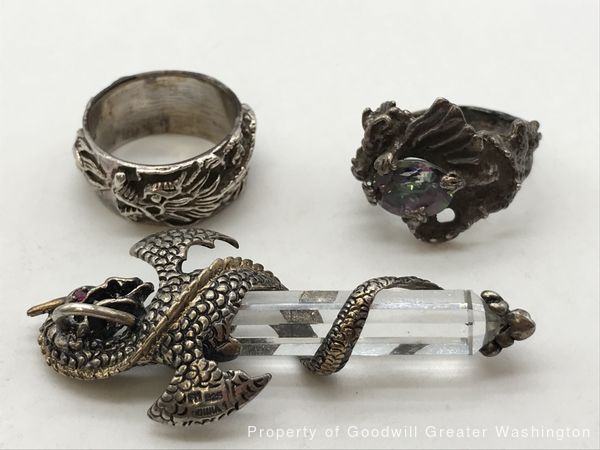 https://www.shopgoodwill.com/Item/130690973
THREE pieces of European-style dragon jewelry in sterling — one ring encircled by a 3D dragon, another clutching a mystic quartz gem, and a pendant where one is wrapped around a long quartz crystal.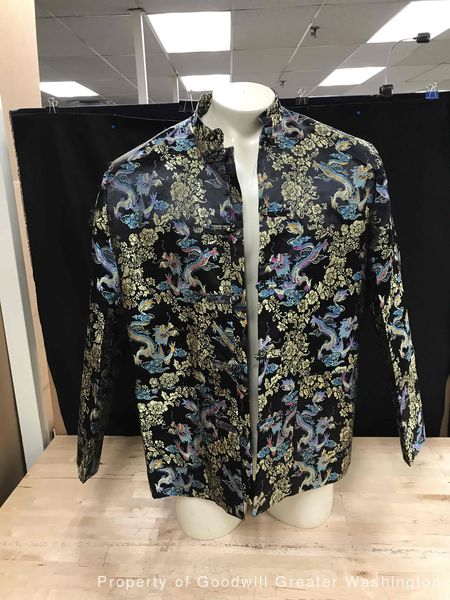 https://www.shopgoodwill.com/Item/121391283
A Chinese jacket in a beautiful dragon and floral brocade of gold, blue, purple and more on black.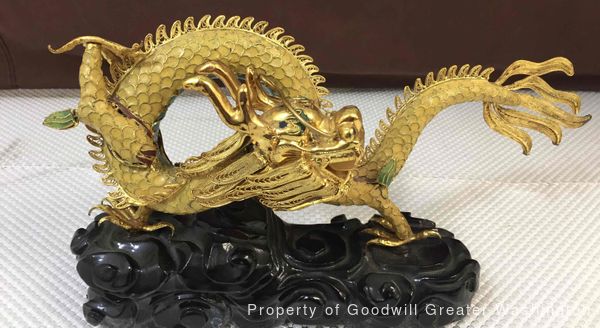 https://shopgoodwill.com/item/131562488
A very acrobatic Chinese dragon tchotchke, in very bright gold with enamel, on a base in the form of a glossy black stylized cloud.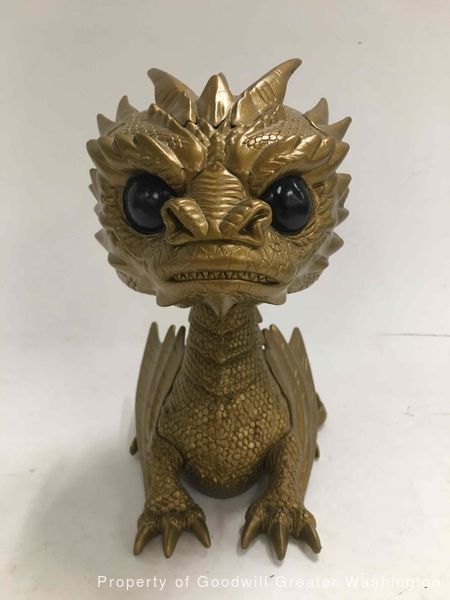 https://www.shopgoodwill.com/Item/124691374
A Funko Pop of Smaug, the central dragon in The Lord Of The Rings, in an antique gold finish with black eyes. He's a lot smaller and cuter here than in the books and movies, but I still wouldn't try to take his Arkenstone. Even if you find it at Goodwill!
Okay! I could talk about dragons all day. But, I don't want this to, well, drag on. And, I need to photograph the newest members of my menorah collection for you. Best wishes for your transition from Fall to Winter, and I'll see you back here soon!
About our fabulous guest blogger: