Make Love & Peace Shine by Reusing Jewelry!
With all that is happening in the world today, we all could use some signs that there is hope, love, peace and more out there. Here's a way to make these words and thoughts shine and sparkle: reuse costume jewelry to spell out these words as well as make peace signs and create hearts.
Combine parts of bracelets, earrings, necklaces and other jewelry pieces to create positive messages and images that will look vibrant and bright when made with repurposed bling!

Supplies:
1. Costume jewelry pieces
2. Picture frames
3. Five-minute drying epoxy glue
4. Burlap material or other fabric
5. Scissors
6. Small pliers
7. Small paint brush
8. Mod Podge glue
9. Foam craft brush
1. Get your bling on at Goodwill
As you can imagine, Goodwill makes safety, health and well-being top priorities for its customers and staff members.  Therefore, you will want to shop online to get one of their jewelry "grab bags" that will be full of great treasures to reuse and rethink for this glitzy and easy DIY project.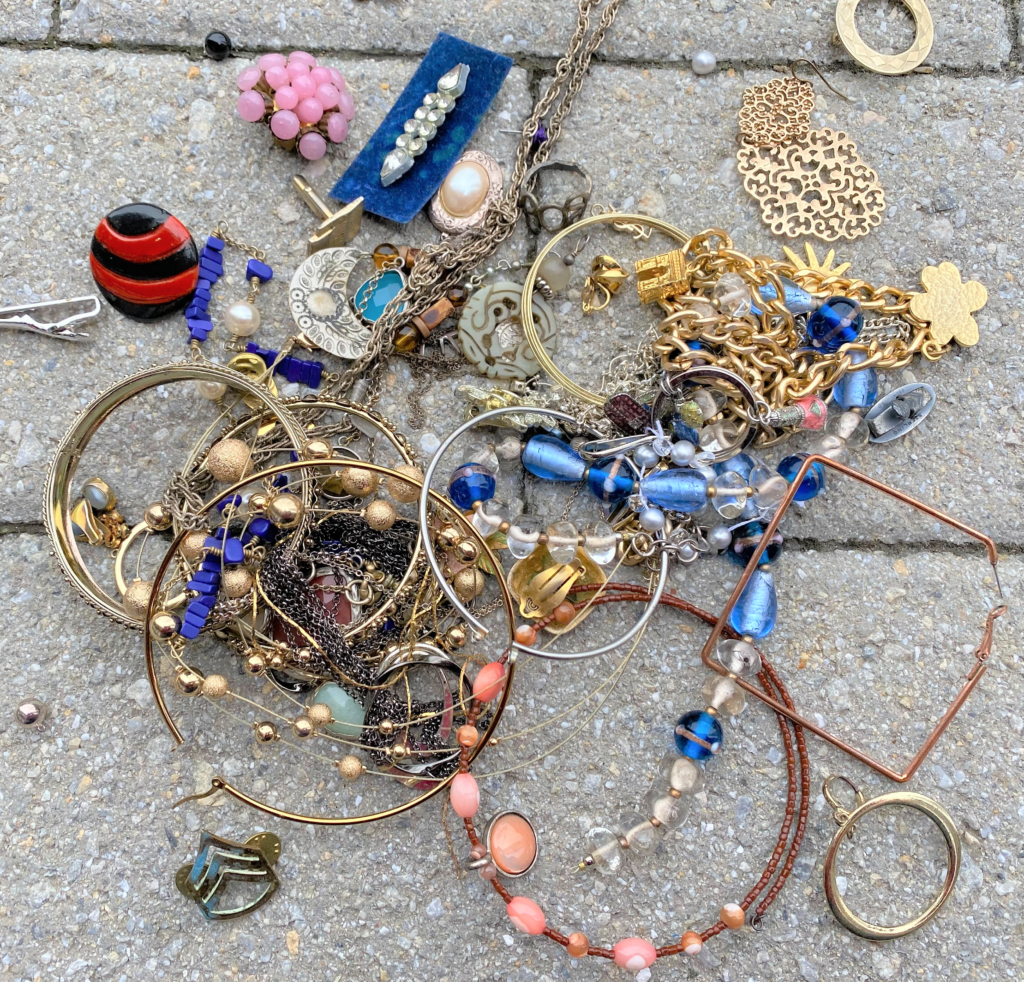 Go to www.shopgoodwill.org and follow the instructions to find many great items and truly amazing prices. The Goodwill team carefully pulls together these grab bags which are sold by their weight. The collection used for this project only cost $12 with so many interesting and beautiful pieces left over for more projects.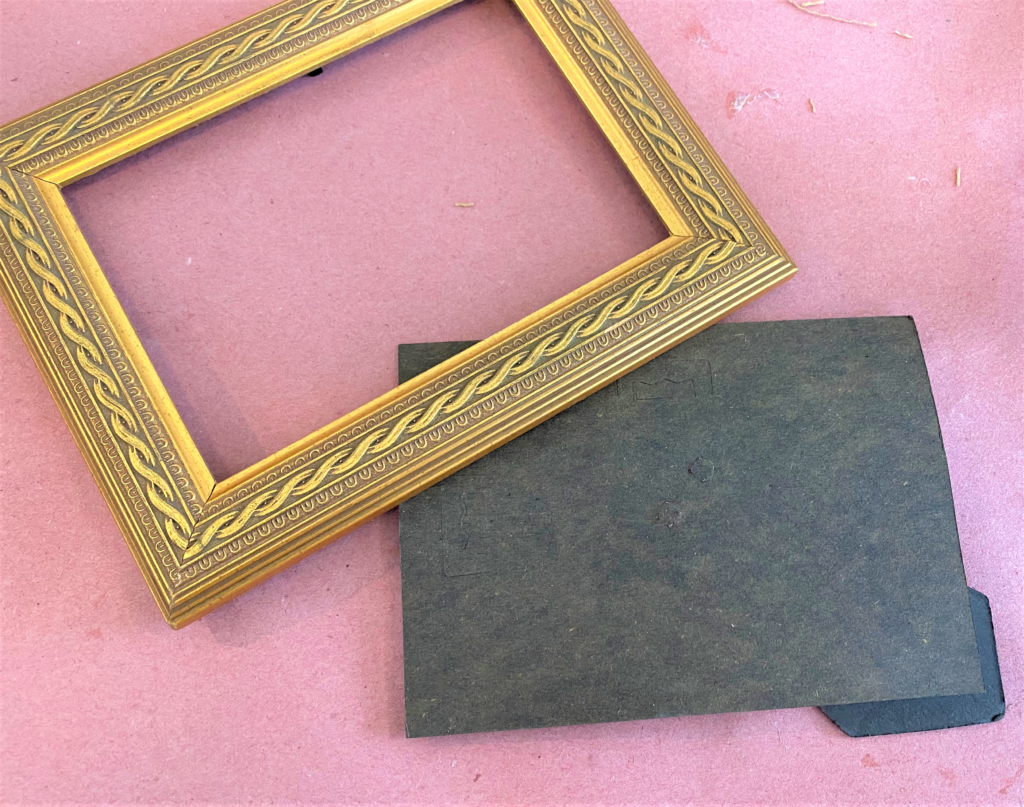 Should you want to venture out, all Goodwill stores have oodles of frames that are perfect for this project and for just a few pennies. Often, I paint frames to give them a fresh look or a bold color. However, the black and gold tones of those used for this blog looked really great already so it saved a simple step.
2. Begin with a burlap backdrop
Carefully take apart your frames, discarding the glass as it won't be needed for this project.
Many frames have cardboard insides or backing to provide support to the photos or artwork that was displayed there. Use this as your foundation.
Cut a piece of burlap the size of this cardboard piece then apply a generous layer of Mod Podge to adhere it in place.
If needed, brush on Mod Podge along the edges to there is a secure fit.
Let dry.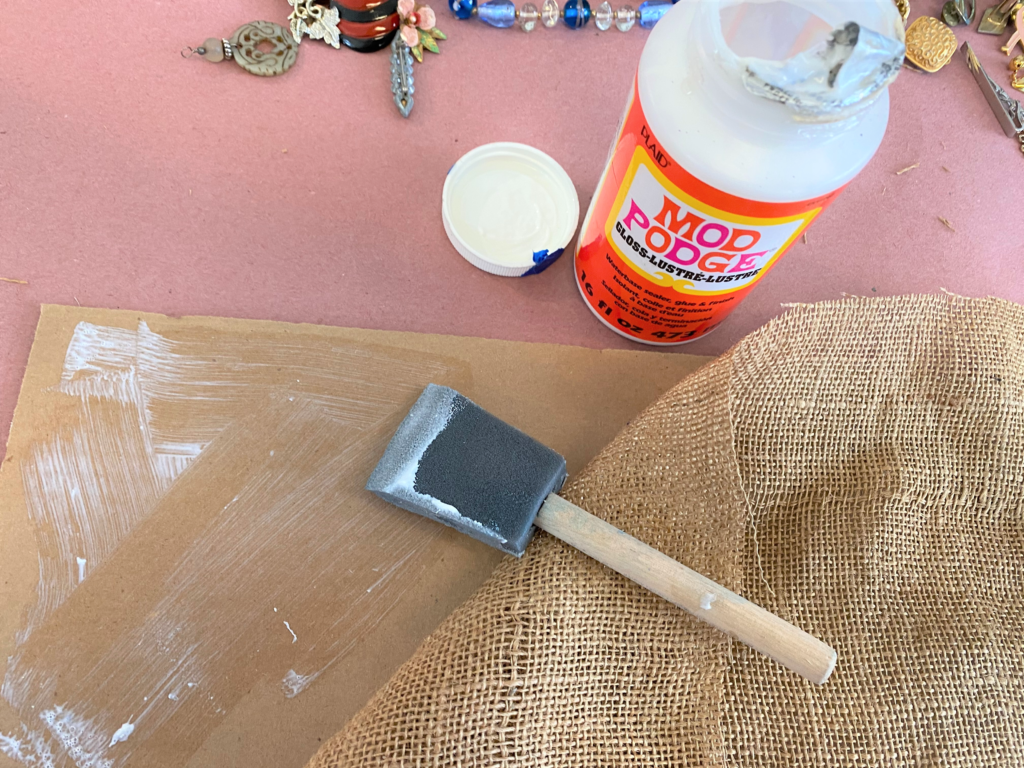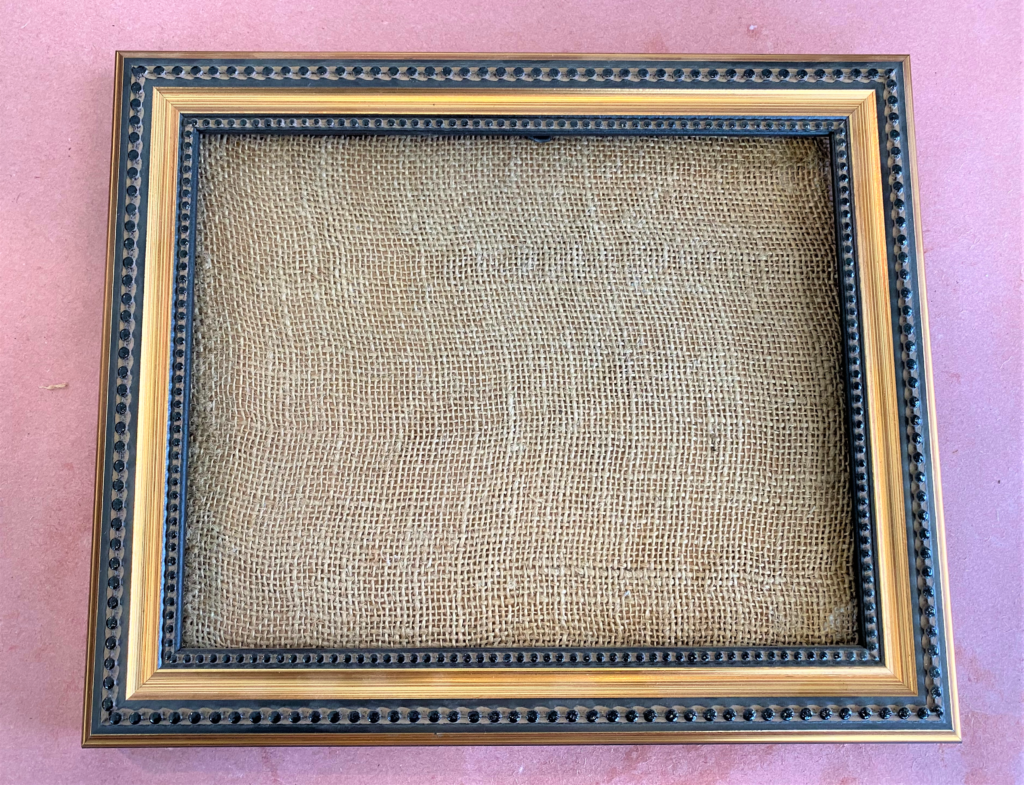 Design Idea: Part of the creative fun of this project is to use what you have on-hand. I had a roll of burlap that provided a friendly, neutral yet warmed-toned backdrop on which to show case the jewelry pieces. Also, I thought the rawness and texture of the burlap was an interesting contrast to the gold, pearls, fake diamonds and other elegant materials and pieces. Sheet music is an interesting option, too. Since you want your bling to take center stage, stay away from patterns or other materials that would distract from the pieces.
3. Glue your gold (and diamonds, silver, pearls, etc.)
Given the heavier weight of some jewelry items, I recommend you enlist some quick drying epoxy glue for this project instead of a hot glue gun. All hardware stores carry this kind of adhesive that requires some simple mixing. Use the kind that dries clearly and quickly. They have brands that dry in 5 or 15 minutes which gives you plenty of time to place your pieces on the burlap. Consider applying the epoxy with a small paint brush to allow it to easily and carefully go on your jewelry items.
Let dry.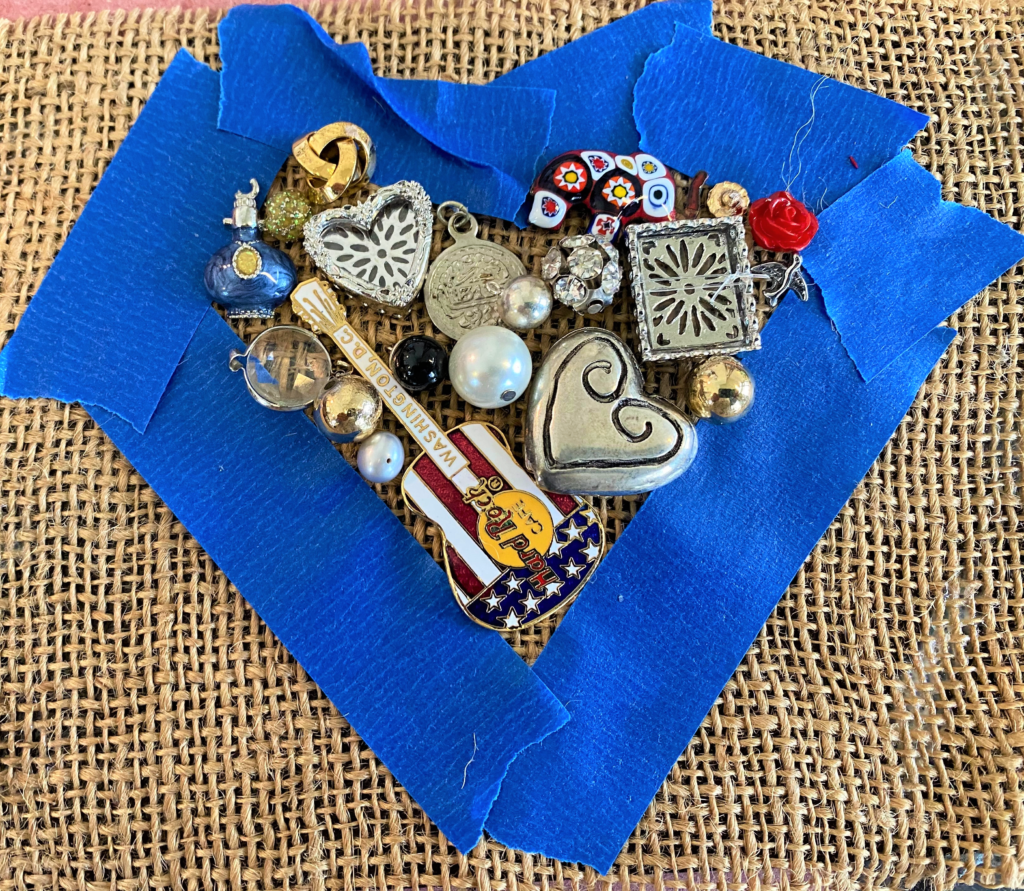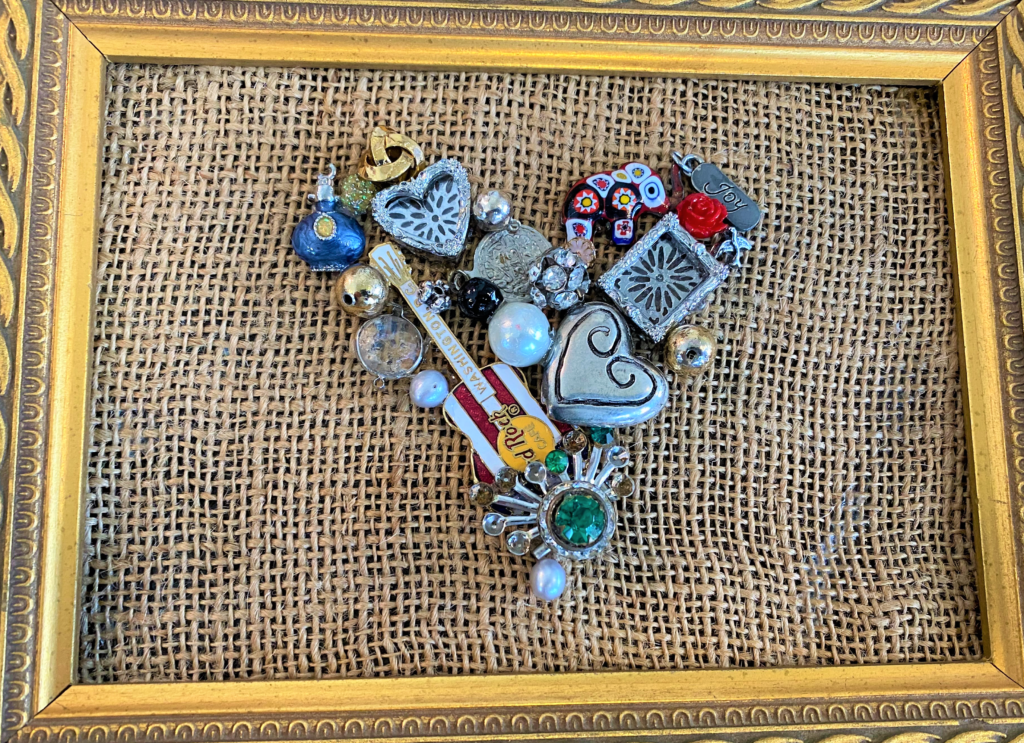 Based on the size of your frame, you could spell out words such as Peace, Hope, Love or Joy. Or, as I did, you could create a peace sign or heart by lining up pieces of earrings, beads, necklace pendants and other items.
With your small pliers, you will want to remove any parts not needed and to ensure each items lays flat.  For example, for the earrings used here, I used my pliers to twist off the ear clips or pins for pieced-style ones.  Several brooches had fasteners on them that were easy removed so that they could be secured better. 
Once all in place, allow it time to dry securely.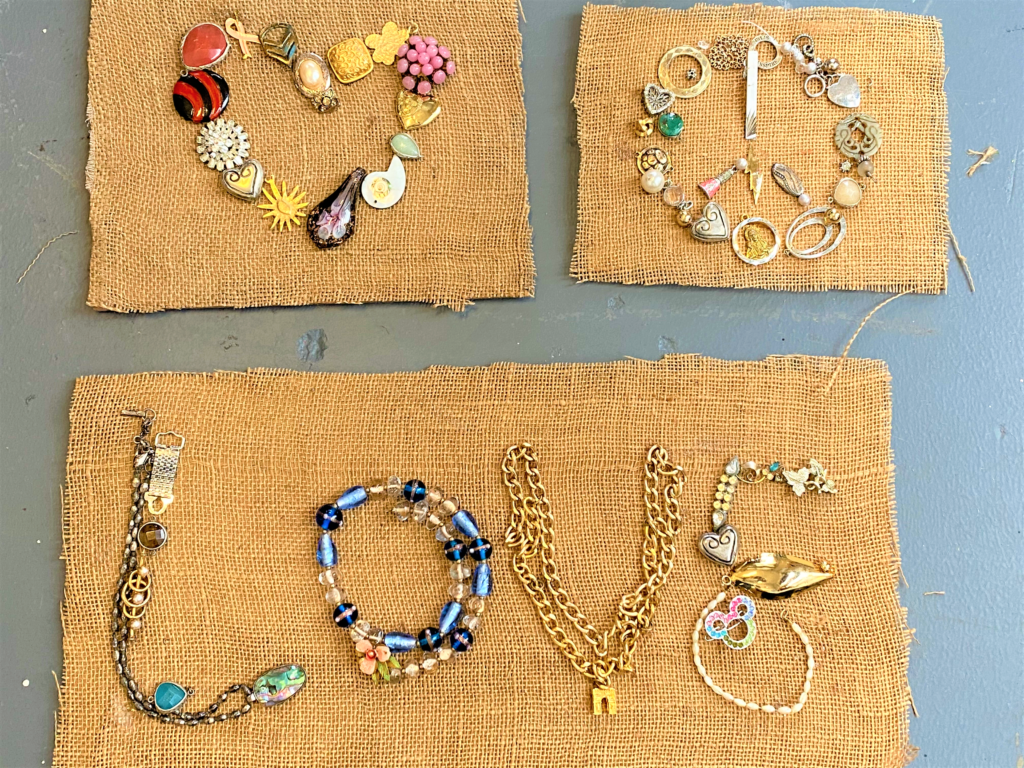 4. Reframe
Carefully flip your art piece over to insert it back into the frame, making sure that the burlap edges are hidden by the frame. 
Gently turn it over to see how beautiful and sparkling your creation looks!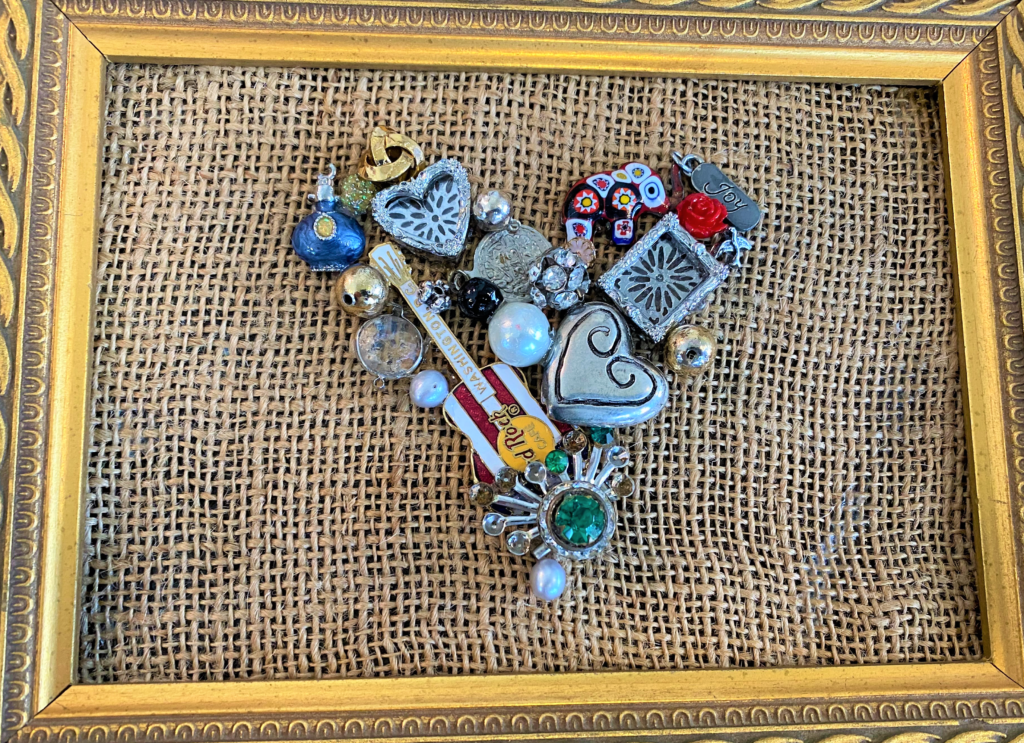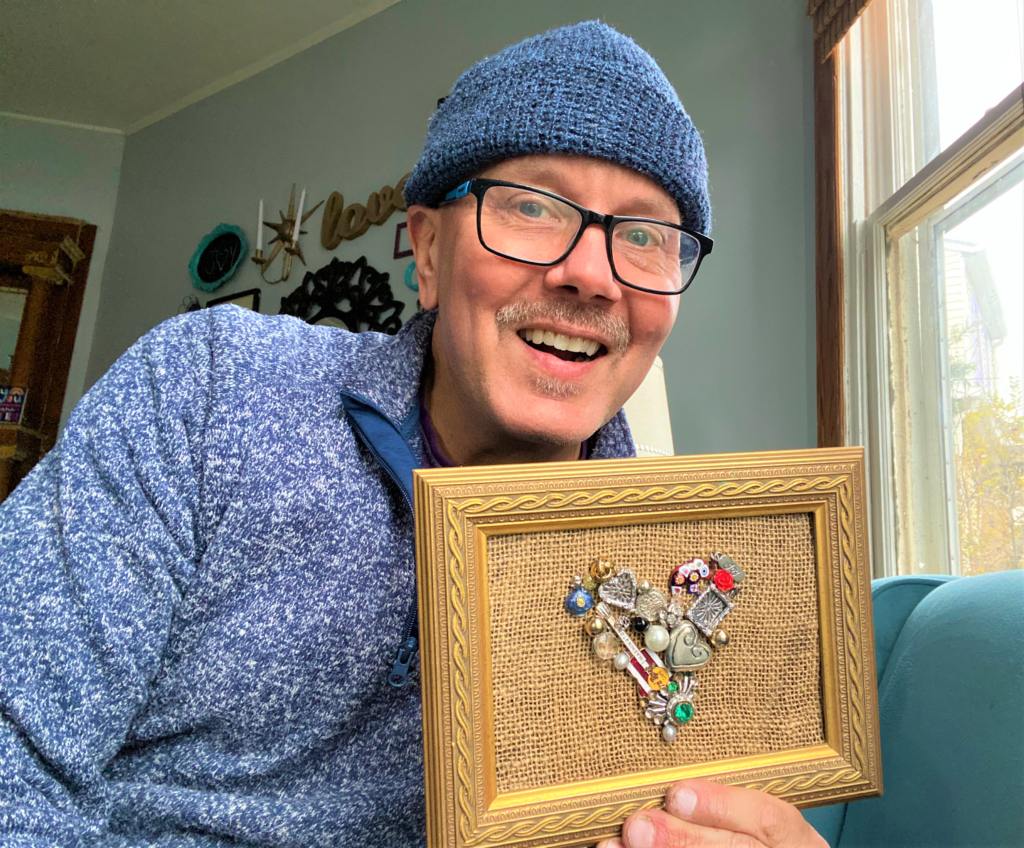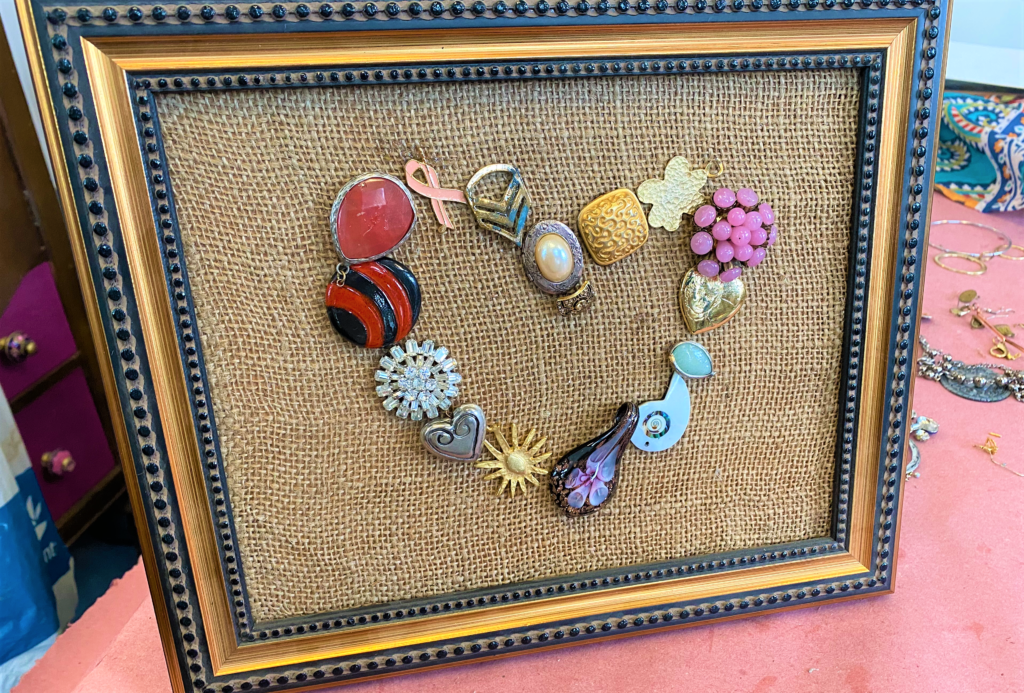 5. Spread the Love, Peace, Hope….and keep some for yourself, too!
This piece of art, created by upcycled/repurposed jewelry parts, is sure to be a hit with all who receive it. We always want Hope/Love/Joy, so this can be displayed all-year long and in any room or office space.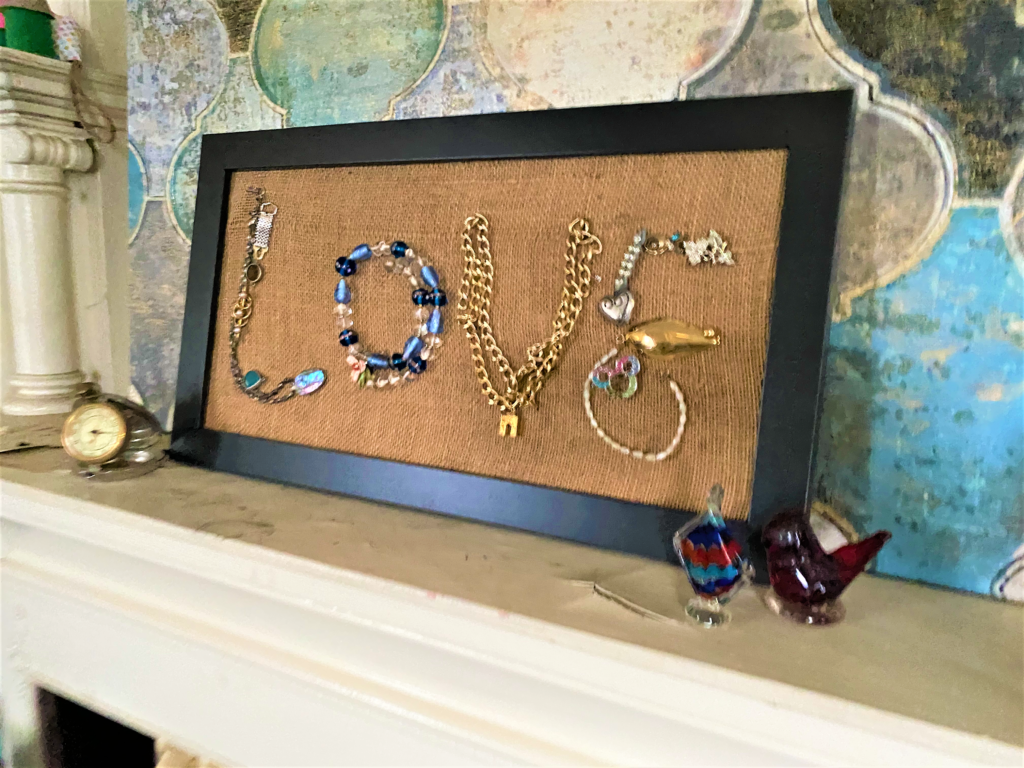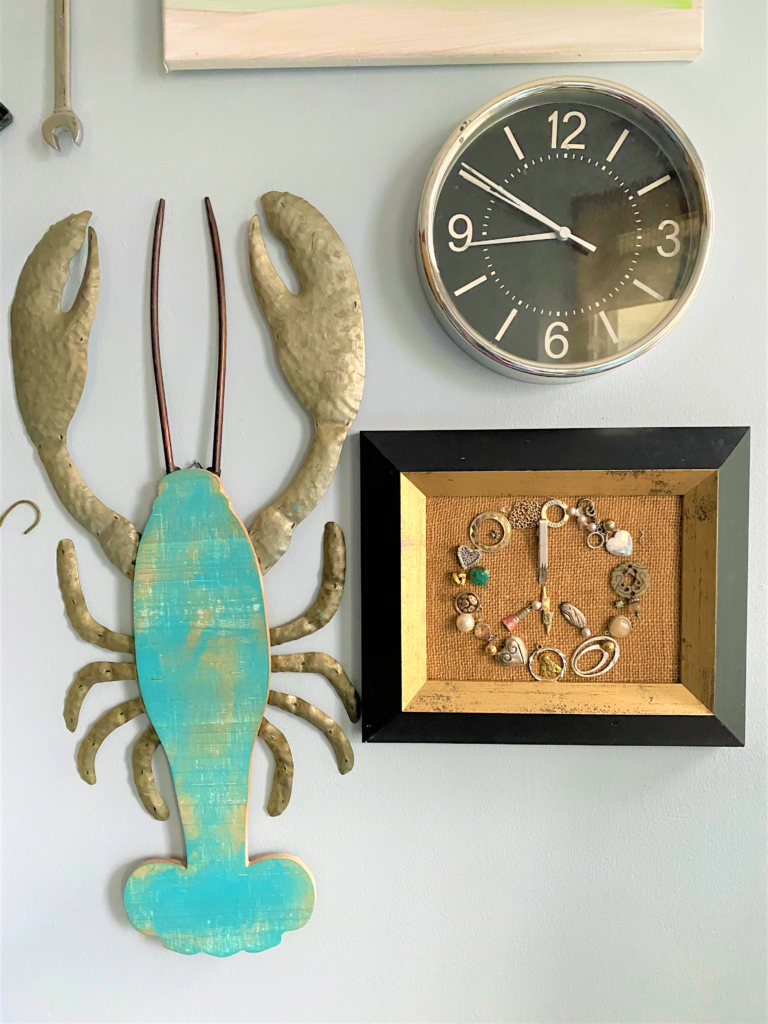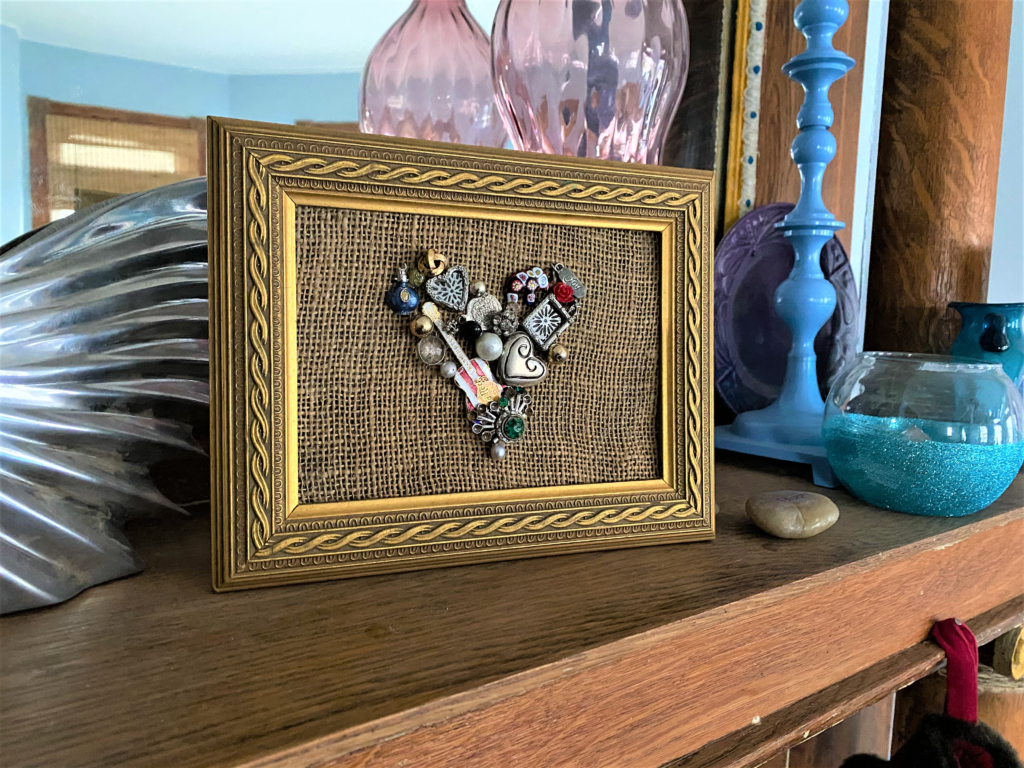 When you give one of these blingy pieces away, you will also help to change the world by making someone feel very special. Therefore, when making them, be sure to make and keep one for yourself, too, because you deserve love/peace, etc. too!
Check out this earlier blog that created signs using repurposed items found around the house.
What items do you have on-hand that could be used for letters? Isn't it fun to think outside the box? Always gets my creative juices going!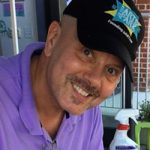 Tim Kime
Artist, Motivational Speaker, Life Coach
Tim Kime is an artist, life coach, connector. He is President of Kime Leadership Associates offering executive coaching, meeting facilitating and motivational speaking. He is also Chief Creative Force of Transformation Junkies which upcycles furniture and other household items into functional works of art. He combined his two passions—unleashing the potential in people and transforming items with the launch of the Art of Possibilities Workshops. These workshops are part upcycling, part dreaming, part goal setting.