Spring is the time when many of us are ready to usher in a bright and fresh season—and want to do the same with our living spaces. Also, with more and more people being vaccinated and taking trips, this is a great time to give your home, apartment, or condo some positive care and attention.
My downstairs bathroom was top-of-the-list in need of some refreshing—both for me and for the company I'll be hosting soon. From upcycling an old dresser into a vanity to adding elegant accessories that show personality, if you follow these simple steps and spend a few dollars, your bathroom will look and feel like a million bucks!
1. Skip the big box home improvement store—hit Goodwill for a vanity
A number of years ago, my bathroom desperately needed to be updated, which included purchasing a new vanity. However, the prices at those big box home improvement stores can be very high for a vanity that looks just like all the rest.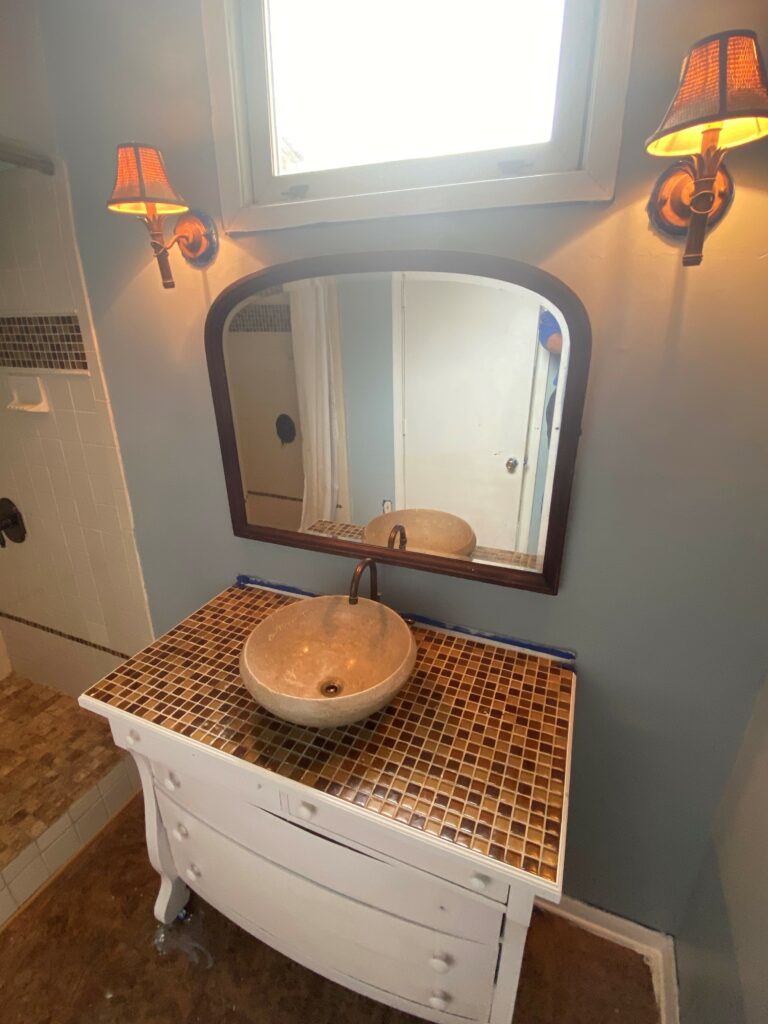 Part of my journey into upcycling began with this room when my thrifty-thinking self thought there has got to be another way. And there was—and is! An old dresser that was very well-constructed of real wood was picked up for a few dollars from a flea market.
You can find pieces like this at Goodwill, too, especially as more and more stores get back to their normal schedules and have larger and larger furniture items for sale.
2. Pair a vessel sink bowl with a bar faucet
To make the dresser work as a vanity, it will have to be repurposed internally. To accommodate the plumbing needed to make it functional, the top two rows of drawers were reworked inside.
A vessel sink bowl was placed on the dresser's top and a bar faucet was used, instead of a traditional bathroom type, to allow the water to go over the vessel's high rim.
This is a great project for your handyman or plumber to do to ensure all is tight and flows properly when the water is turned on in it.
3. Tile the top and edge the sides for a finished look
The top of the dresser was tiled with small, one-inch square glass tiles.
To provide a finished look when the grout dried, some white wood trim was secured around the edges.
A dark metal facial tissue holder was upcycled, too, by adding the tiles to its top to match it to the dresser/vanity top. A beautiful look. But that was then, and it needed some updating now!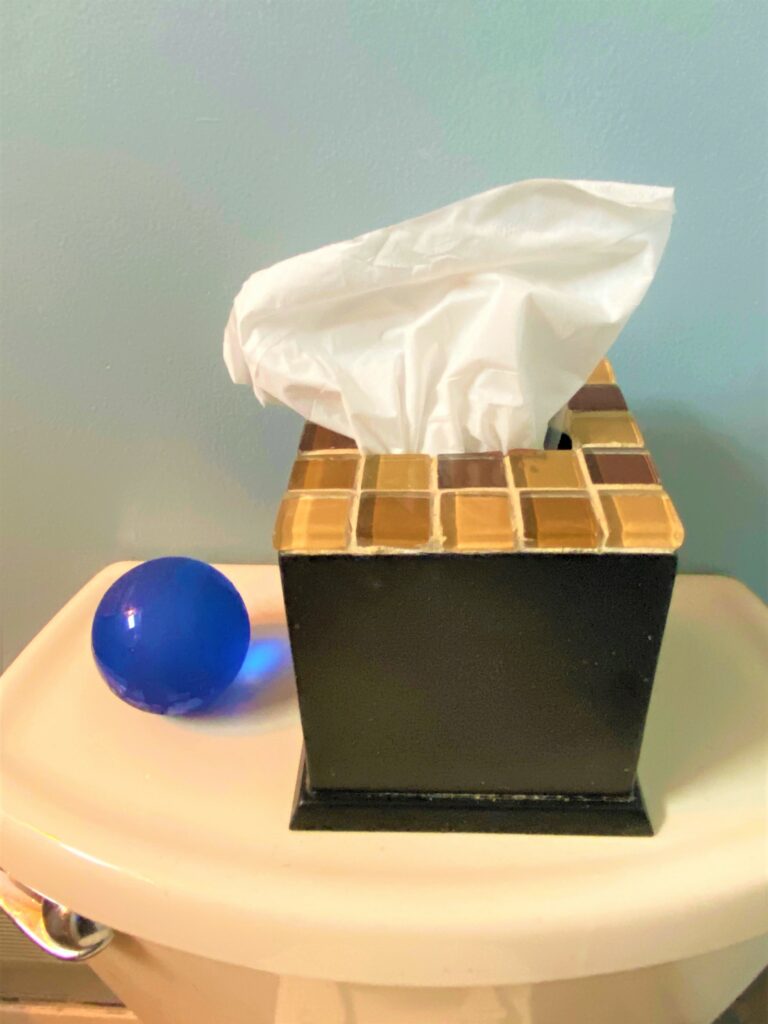 4. Paint makes everything pop
An easy and expensive way to give your bathroom a new look is paint!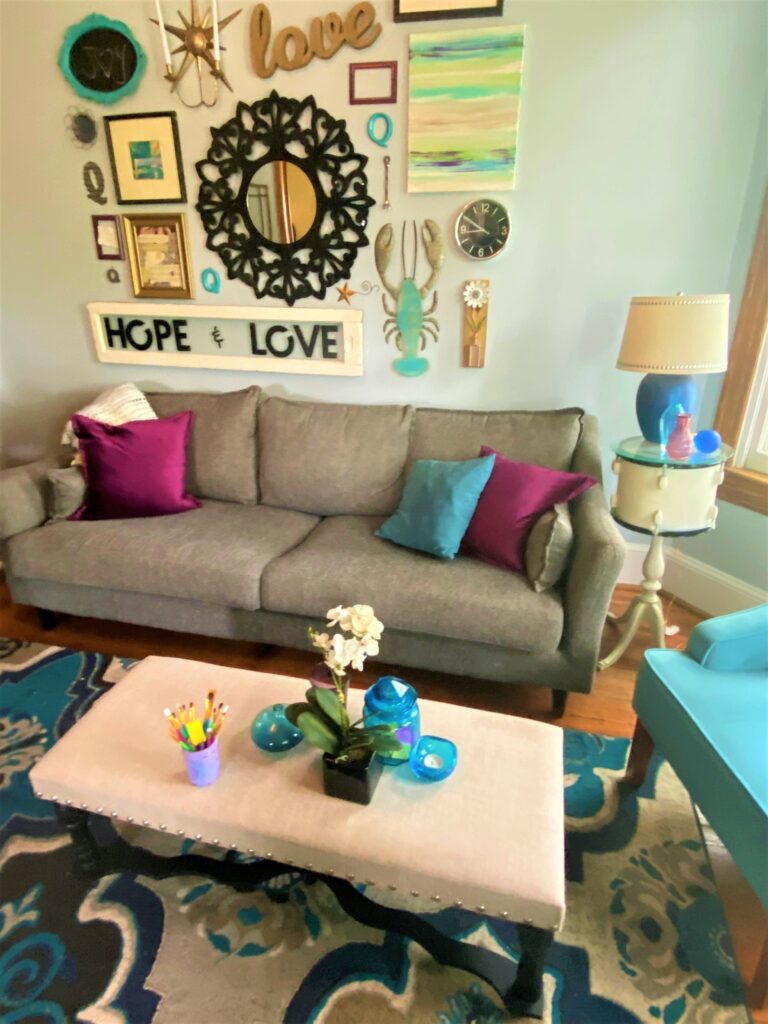 Walls: The old, very pale wall paint was worn out! A blue-gray tone, called "Half Sea Fog," was selected because it matched the color of my living room walls. (I love the creativity of paint color names!). You may want to consider using the same colors of paint in various rooms of your home, so they match, look cohesive, and feel very connected. Gone are the days when each room had its own bright and unique color.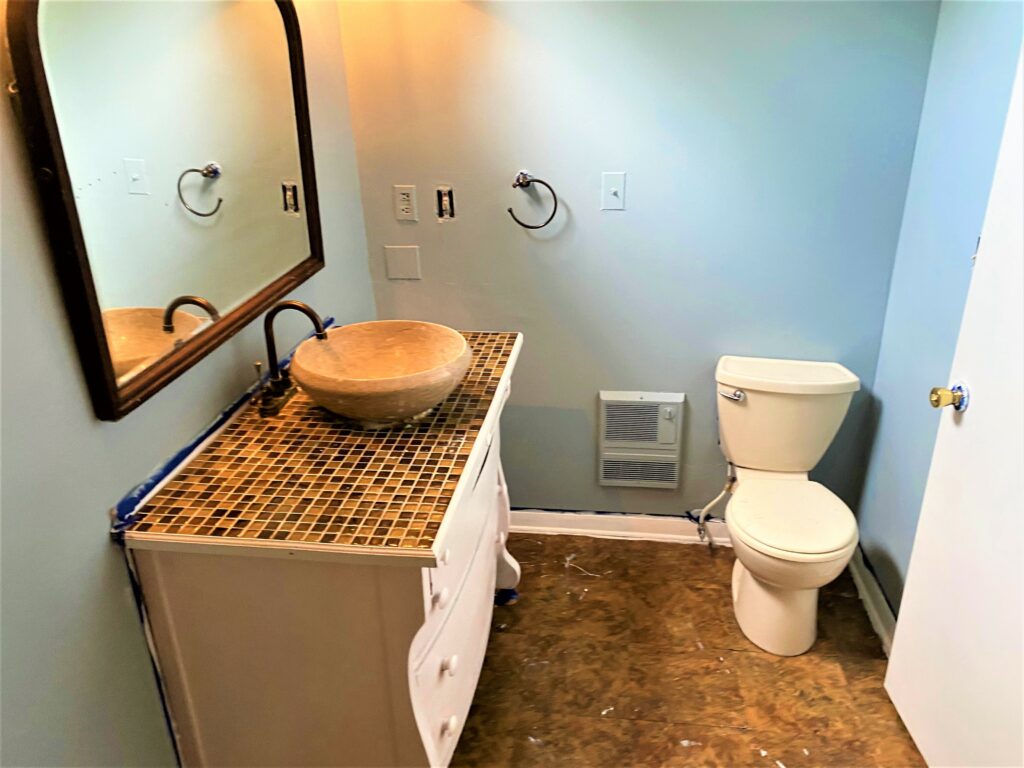 Vanity: The original wood tone of the dresser/vanity was dark mahogany. It, too, had seen better days so a crisp, bright white color was used on it as well as the baseboards, wood trim, and doors.
Use a semi-gloss on those parts where fingers might touch often to allow an easy clean-up. A small paint roller was used for most of the vanity which made the painting process go very quickly. It took three layers AND made such a difference now that it is light and bright.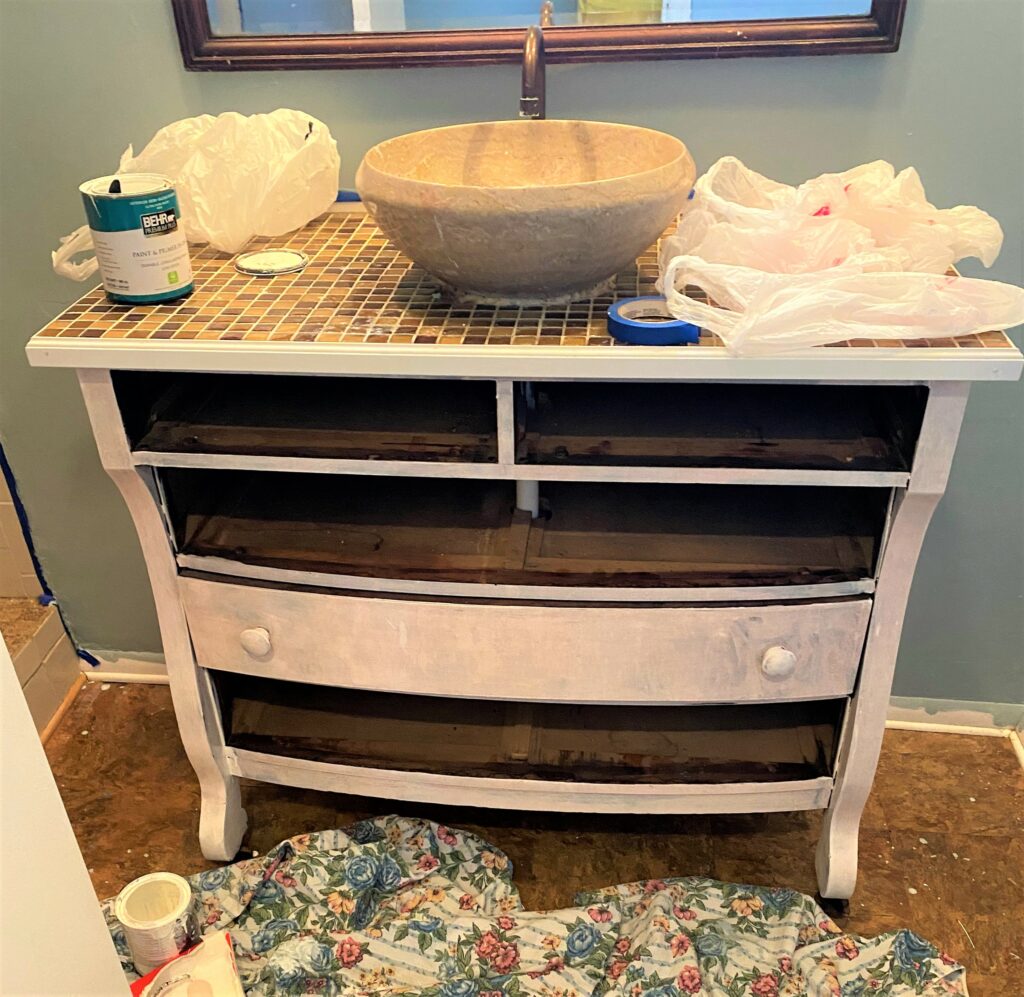 Mirror: Shop at Goodwill to find a mirror that you can pair with your dresser/vanity.
For less than $20, you are very likely to find one that will be wide enough and is well-constructed. The mirror I found way back when, had a dark wood frame, too, that matched the vanity's deep brown tones. For this project, rather than painting it the crisp white to match the newly painted vanity, I wanted to have some fun! A plum purple color, called "Sultana," was exactly what I was looking for because it picked up some of those tones in my living room (and was the same name as a dear friend!). Use painter's tape to protect the mirror's glass then give its frame a good coat or two. You will love the look, I promise!
5. Add awesome accessories
After you hang your mirror over the top of your refreshed vanity on your newly painted walls, now is the time for the icing on the cake—the accessories!
This step is always so fun because it will take your bathroom from good to gorgeous! Goodwill is the perfect place to pick up accessories like glass containers, vases, shaving/make-up mirrors, hand soap dispensers, small mirrors, artwork, and more! And of course, we love shopping there because the prices are always so great because they are so low!
For this bathroom transformation, a carved wooden mirror finished in silver tones, a tall curvy purple vase, a glass bowl in teal and a shimmery glass container with a matching top were all picked up while hunting for treasures—and my good—at Goodwill.
To make the space feel even more like my own, I hung up three of my mini-heart art pieces that pick up the blues and purple tones I love. Also, three salvaged, wooden bullseye rosette appliques with knobs added by me, were lovingly displayed, too.
A scented candle was lit, a hand towel (in plum purple, too) was hung and the transformation was complete! Now this bathroom is ready to welcome my Mom, Dad and Sister Tammy when the arrive here at the end of the month. What do you think they will say about my bathroom's new look? What do you say about it? I say, "I LOVE, LOVE, LOVE it!"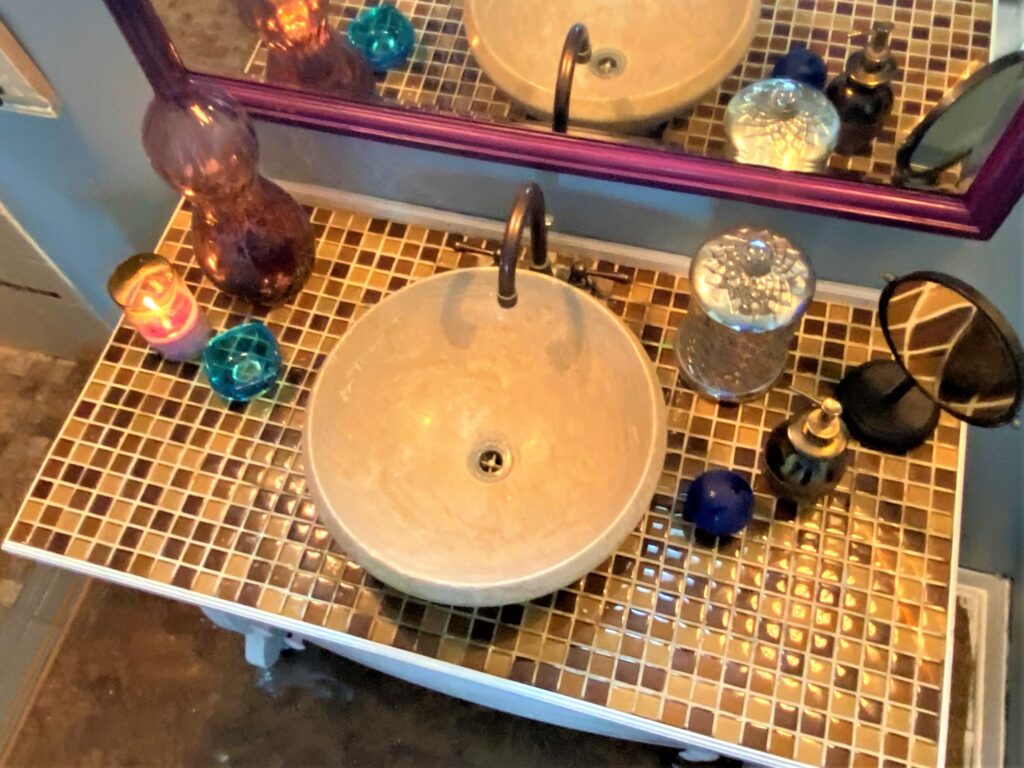 If you are inspired to try any or all of these steps and ideas on the way to refreshing your bathroom, please send us before and after photos! We love to see how you take the ideas featured in the Finding Your Good blog and make them your own!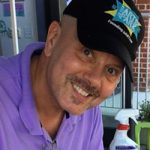 Tim Kime
Artist, Motivational Speaker, Life Coach
Tim Kime is an artist, life coach, connector. He is President of Kime Leadership Associates offering executive coaching, meeting facilitating and motivational speaking. He is also Chief Creative Force of Transformation Junkies which upcycles furniture and other household items into functional works of art. He combined his two passions—unleashing the potential in people and transforming items with the launch of the Art of Possibilities Workshops. These workshops are part upcycling, part dreaming, part goal setting.