Give your furry family members the attention they deserve by painting their portraits on upcycled canvases. We all love to see our dogs looking darling, so here's a whimsical way to capture their cuteness. Reusing an old canvas and craft paints, you'll easily make your canine best friend the super star they deserve to be.
As the late Comedian Gilda Ratner said, "I think dogs are the most amazing creatures; they give unconditional love.  For me, they are the role model for being alive."  I so agree!
Thanks to Heather and her handsome pooch, Charles, for allowing me to feature them in this blog. And they both were so happy with the final results of their pet portrait!
Supplies:
1. Old canvas
2. Craft paints
3. Paint brushes
4. Scrap paper
5. Pencil, pen or marker
6. Photo of a cute pet
1. Don't judge a book by its cover or a painting by its appearance
Goodwill has great deals on everything it sells and always has an interesting collection of framed artwork and canvases for sale. Look beyond the piece's current image or design because you are seeking a canvas on which to be creative.
New canvases purchased at an arts & craft store or bought online can cost beaucoup bucks—-but not at Goodwill. For a few dollars, you can snag a sturdy and solid canvas. And based on the day you shop, you can get them at 50 percent off! Like your dog, you will be wagging your tail and whimpering with glee!
2. Brush on your base
When you get your art canvas home, you'll want to paint on a coat or two of white paint or gesso to hide any images or colors. If you have leftover wall paint, use it for this step.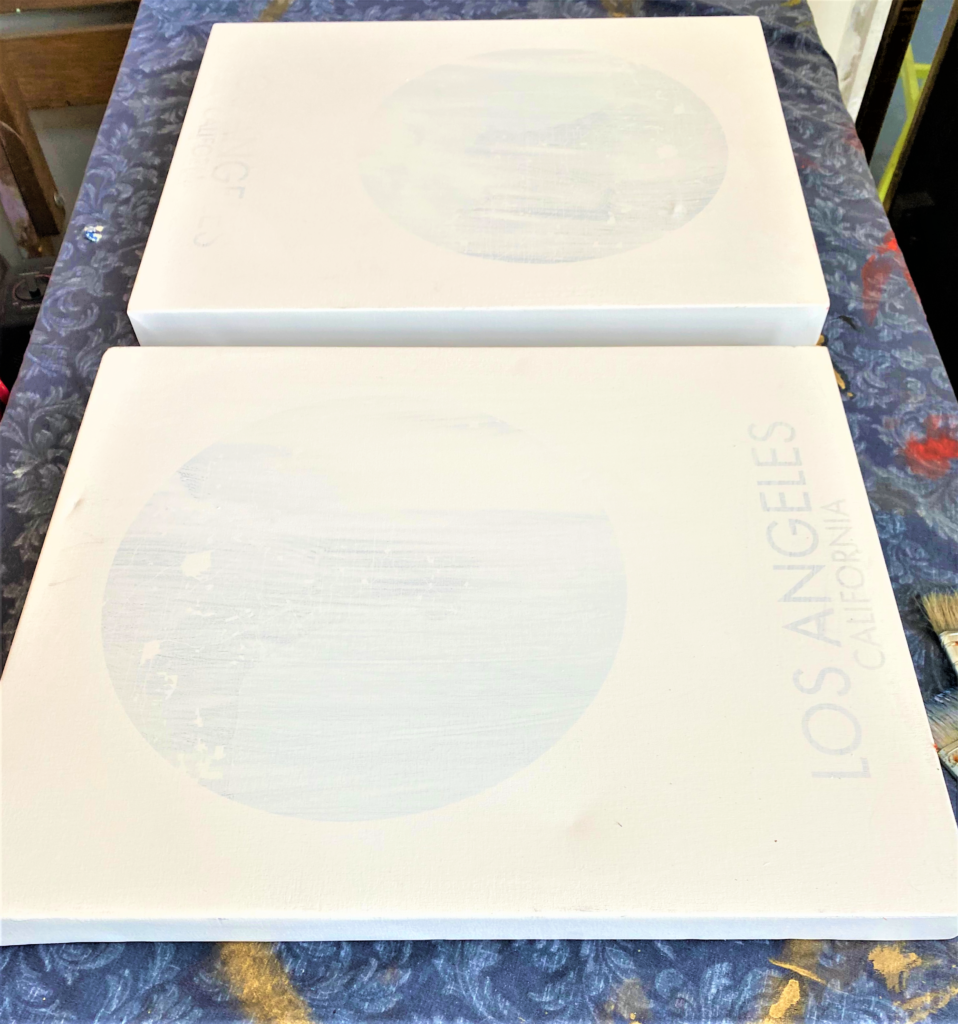 3. The sky's the limit
To provide a happy background for your pet portrait, I suggest you use layers of blue and white to look like a sunny sky. Also, the sky will give your painting some depth and will look happy in any space.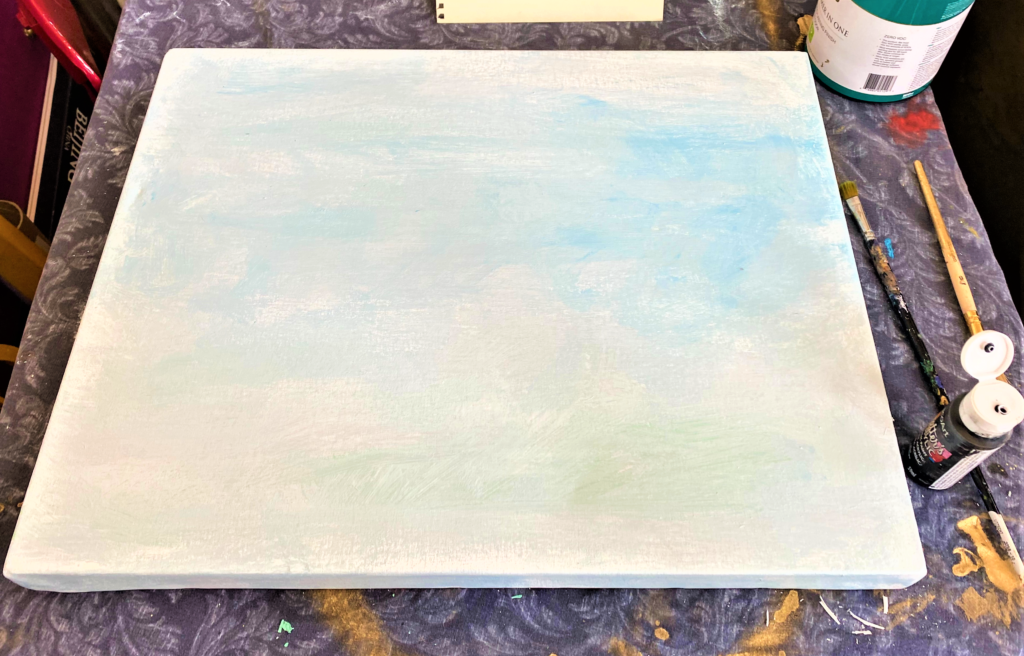 Use a bigger brush if you have one handy to blend the colors together.
4. Sketch out your subject
Given that this approach is more caricature than an exact photographic image, sketch out your pooch's portrait on a scrap piece of paper.
Break down his or her face by considering its bigger shapes.
For example, is your dog's head round or oblong? Then draw a that shape.
Are their ears big or little? Charles, featured here, had floppy ears that looked like triangles to me, so I added those shapes.
Does your dog have a long snout or a shorter one? Maybe you add a rectangle or square to the front of the circle to represent that.
A big nose? Draw a circle to show.
Have fun with this step as you are not aiming for perfection but a fun representation of what your fuzzy friend looks like.
5. Copy your image to your canvas
Using a shade of paint that matches your dog's coat, transfer the sketch onto your canvas.
Again, use just simple lines to capture the shape of its head, ears and neck.
Finally, draw in the nose, eyes and neck.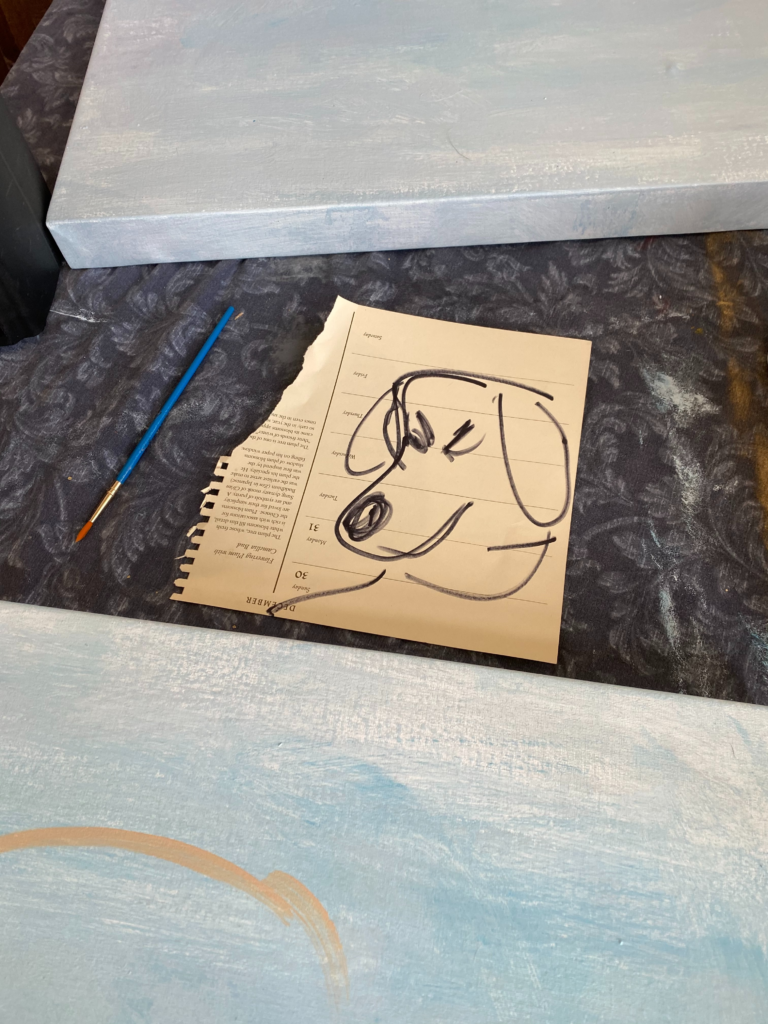 6. Fill in the fur
Fill in your dog's outline with colors of their fur.
Give it a solid, base color.
Go back and add shades to reflect any unique characteristics or colors. Charles had light brown fur and a lot of white on his snout, so the paint choices reflect that. His ears also had some white. He has a big black nose, so that was easy to include.
Does your pet have any stripes, spots or other interesting details? Capture them for sure!
7. Outline & add details
Once you have filled in all the fur tones and it has dried well, return with a small, detail paint brush and, using black paint, outline your dog's face, ears, neck and more.
Brush more paint on their eyes.
Add a collar then fill in with the color of it and add a heart in your favorite color.
8. Display or give away
Be sure to sign and date your pet portrait. Hang in your home by your doggie's dish, bed or anywhere that makes your heart happy. You could also create one to give away—a painting of a beloved pet is always a great gift! And with Mother's Day coming up soon, the pet Moms in your world would love a picture of their furry kids!
Ask any dog owner about their BFF and they will likely share about how wonderful it is to have them around. My little pooch, Tiptoe, makes me laugh with her cute and quirky ways.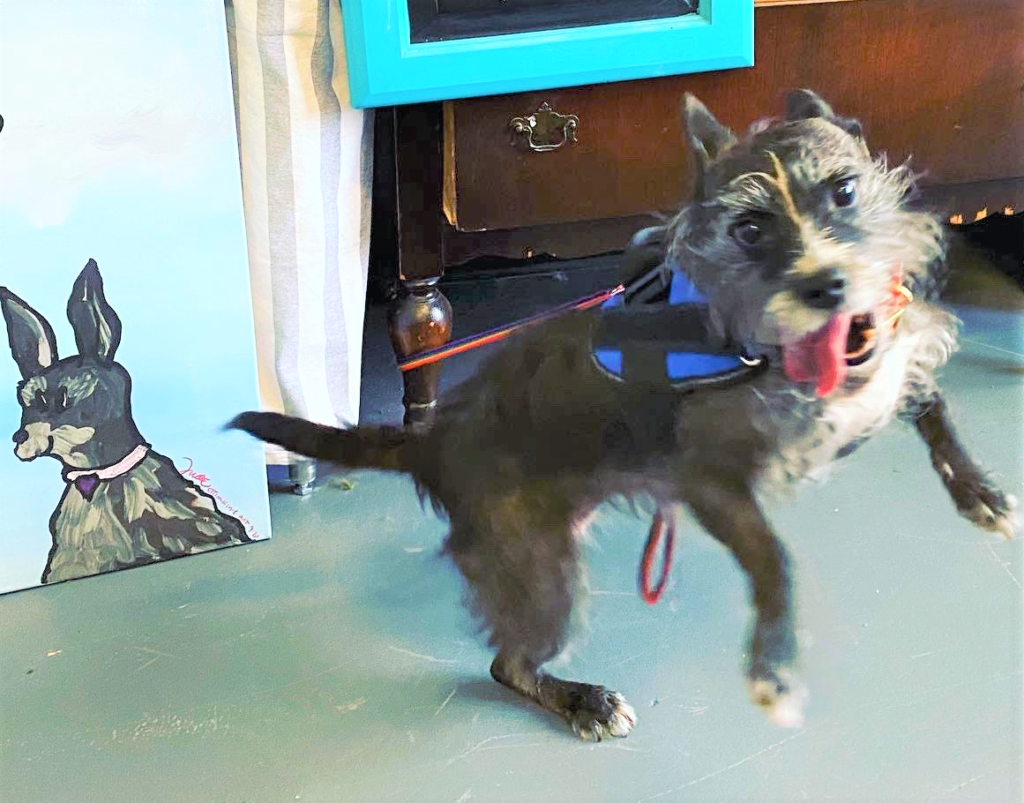 Actor Robert Wagner offered this, "A dog will teach you unconditional love. If you can have that in your life, things won't be too back. And Writer Josh Billings shared, "A dog is the only thing on earth that loves you more than he loves himself." All the more reason for you to try your hand at this easy and fun DIY project!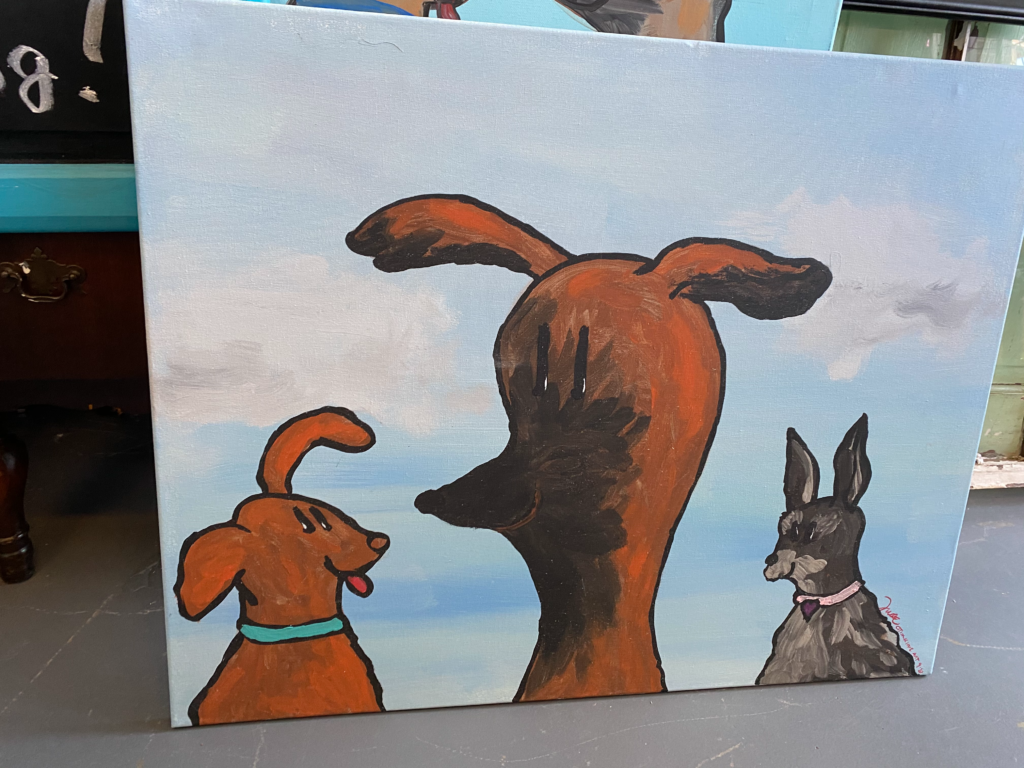 Here's another doggone good idea: I would love to create a special portrait for your special pooch. If you would like to enlist me to commission a painting of your pet—all creatures are welcome!—please send an email to Tim@Transformationjunkies.net. Thanks for the opportunity!
.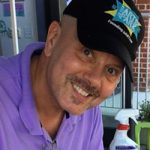 Tim Kime
Artist, Motivational Speaker, Life Coach
Tim Kime is an artist, life coach, connector. He is President of Kime Leadership Associates offering executive coaching, meeting facilitating and motivational speaking. He is also Chief Creative Force of Transformation Junkies which upcycles furniture and other household items into functional works of art. He combined his two passions—unleashing the potential in people and transforming items with the launch of the Art of Possibilities Workshops. These workshops are part upcycling, part dreaming, part goal setting.