I found this little sign for displaying children's artwork at the Fairfax, VA Goodwill store. It only cost $3.99! 

Unfortunately, I didn't have any children's artwork to display on it. My son is at the age where he doesn't draw too many pictures for his mom anymore (which makes me a little sad).
However, the binder clips seemed useful for organizing other items, including mail and to-do lists. Or they could be used for displaying photos. There was a lot of potential here for this child's sign to become a useful and stylish item for grown-ups.
All I needed to do was paint the sign to match my personal style.
I started by unscrewing the binder clips and painting the sign a dark blue color called Bunker Hill Blue by the Dixie Belle Paint Company. It only took one coat of paint to cover the "Look What I Did!" message.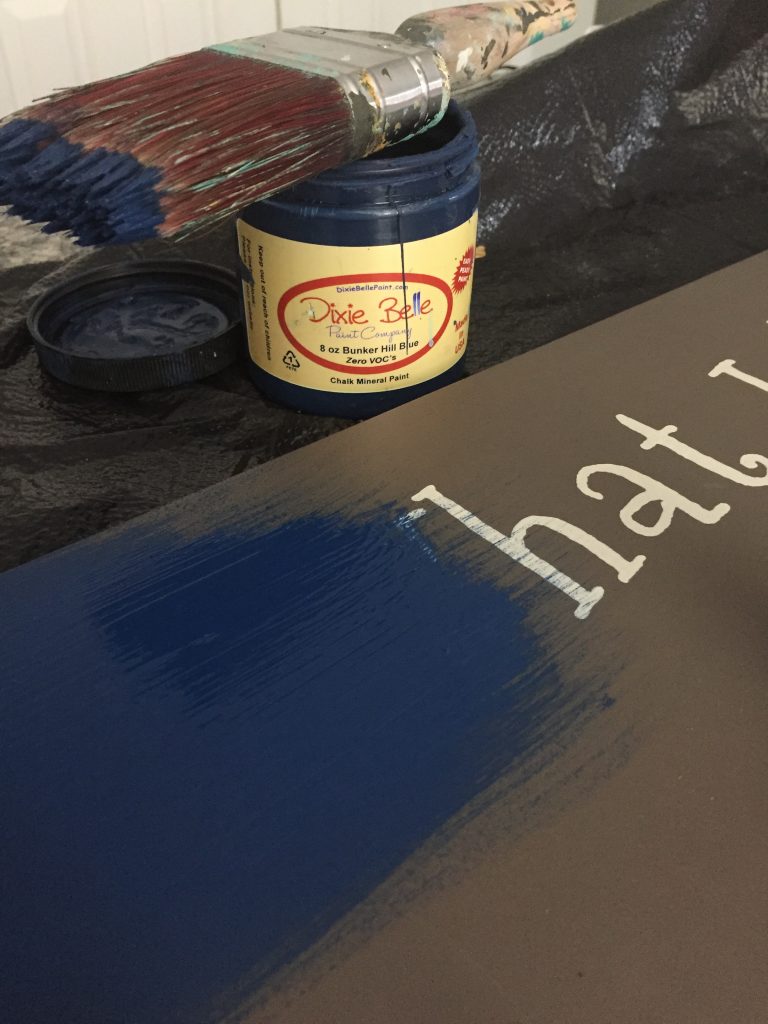 The blue board looked a little blah at this point. I thought about painting a new message across the sign to jazz it up, but I couldn't think of anything good! Instead, I selected several stencils to create a bohemian-inspired look across the sign.
I started with the same iridescent ReDesign with Prima Décor Wax that I used on this shimmery table. Then I added different colors of Dixie Belle's Gilding Wax, including Bronze and Turquoise-Teal.
I used a stencil brush to rub the different colors of wax into each band of the stencil design, overlapping colors where they met to create an ombre effect.
I often use colored waxes in my work so I had plenty of products already open on my shelf. You can create a similar look using inexpensive little bottles of craft paint. I kept adding stencils until I loved the overall look of the design I created.
Then I screwed the binder clips back on and hung my new bohemian-inspired organizer on my wall.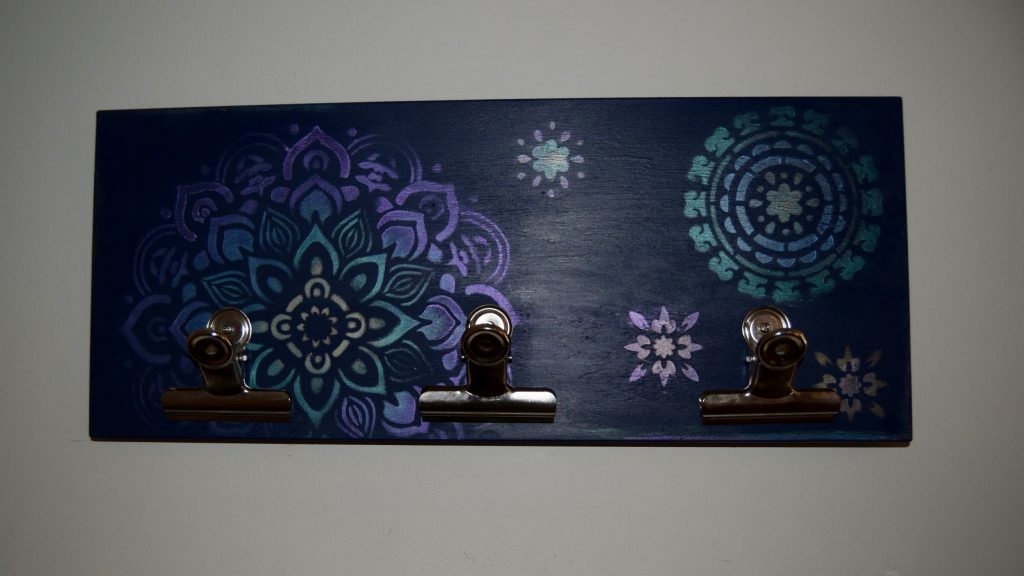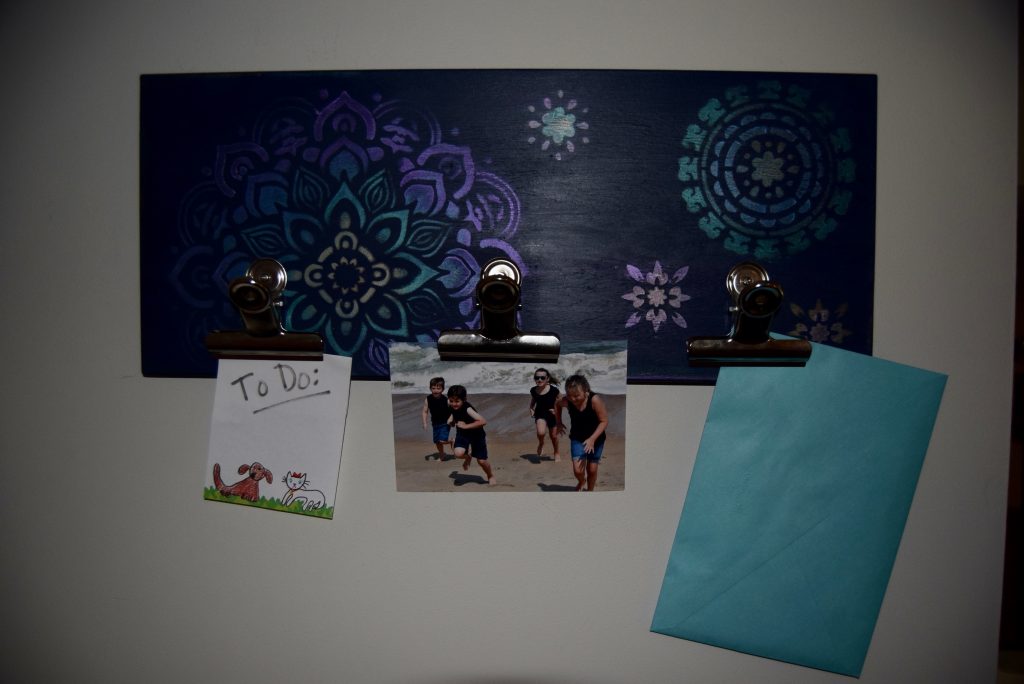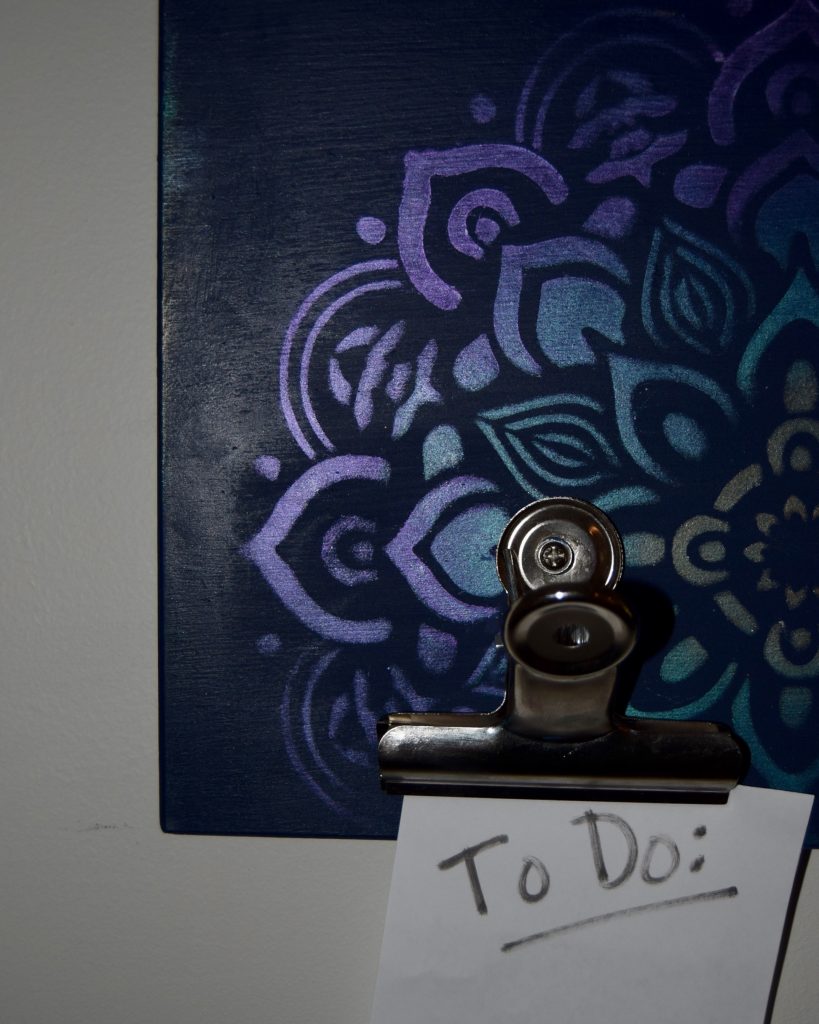 I love it—not as much as I love the artwork my son used to draw for me—but it is just perfect for helping to organize my life right now.
Not everything you find at Goodwill will be an exact match to your personal style – or your current phase of life. However, you can easily re-invent many Goodwill items to be useful and beautiful for you.
It just takes a little imagination—and a little paint!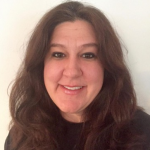 Courtney Mickalonis
Courtney Mickalonis
is an artist, teacher, and blogger at All Things New Again
,
www.allthingsnewagain.net
a furniture and paint boutique in Leesburg, VA. She finds old furniture that nobody loves anymore and makes it beautiful—and useful—again. Courtney teaches monthly furniture painting classes at their Leesburg studio and shares tutorials on her blog. Follow her on Instagram (@all_things_new_again) for more furniture upcycling adventures.