During one of my recent "Art of Possibilities Workshops" hosted at my studio, a participant looked at my various transformed pieces—from a guitar turned lamp to a table top decoupaged with paint sample strips—and asked where I get my inspiration when I am considering something to upcycle. 
She was feeling unsure how to approach her DIY project and her good question got me thinking.  The result?  Five places/ways which you, too, will find inspiration for your next drab to fab transformation…and it might give you ideas for other parts of your life, too!
1. Meander around Goodwill
Long before I got involved with Goodwill as a DIY blogger, I often would stop by the nearest Goodwill store to see what was waiting there. By design, there are new things at Goodwill every day that are treasures—-or could be with a little vision and some effort. And given the amazingly low prices on items, you can always find your good—and good deals—as you walk up and down the aisles. There is something about bargain shopping that gets me going and seeing how nice items looks my home, office or studio, makes me happy!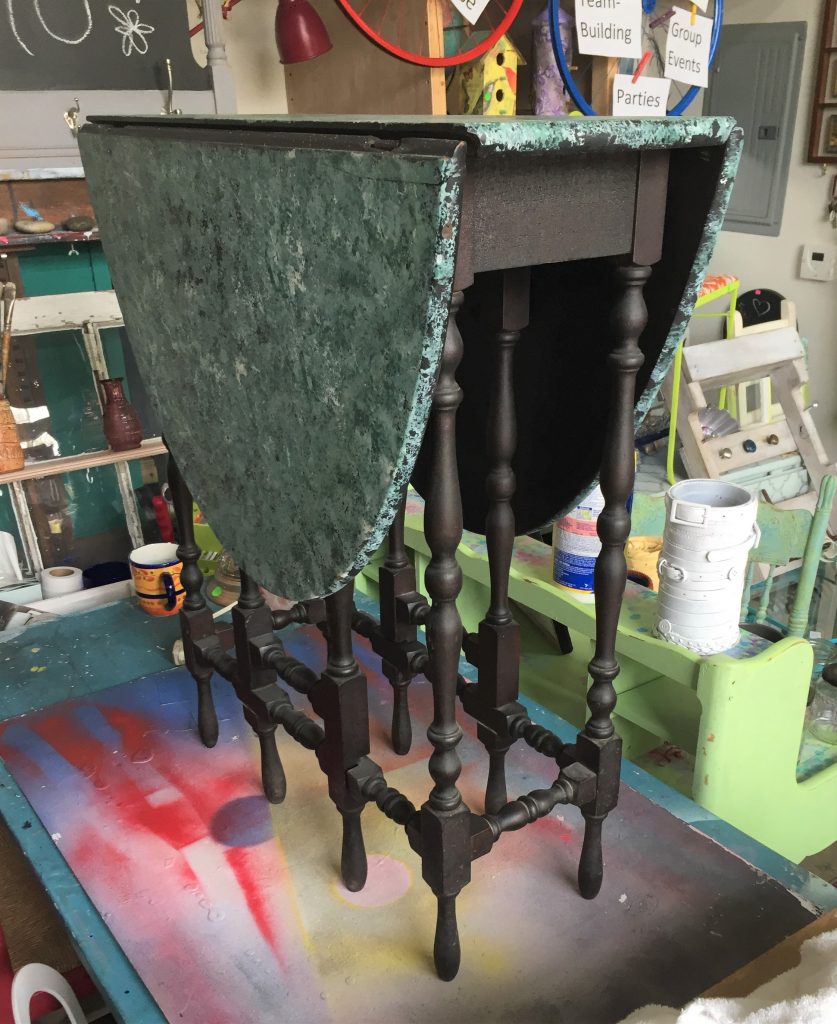 Approach your next visit to Goodwill with the eye of an adventurer and look at the various shapes, designs and functions of items found there. You are sure to find something that makes your journey there worthwhile.  And an additional benefit: your purchases go to help its important mission of transforming lives and communities. What's not to love about that?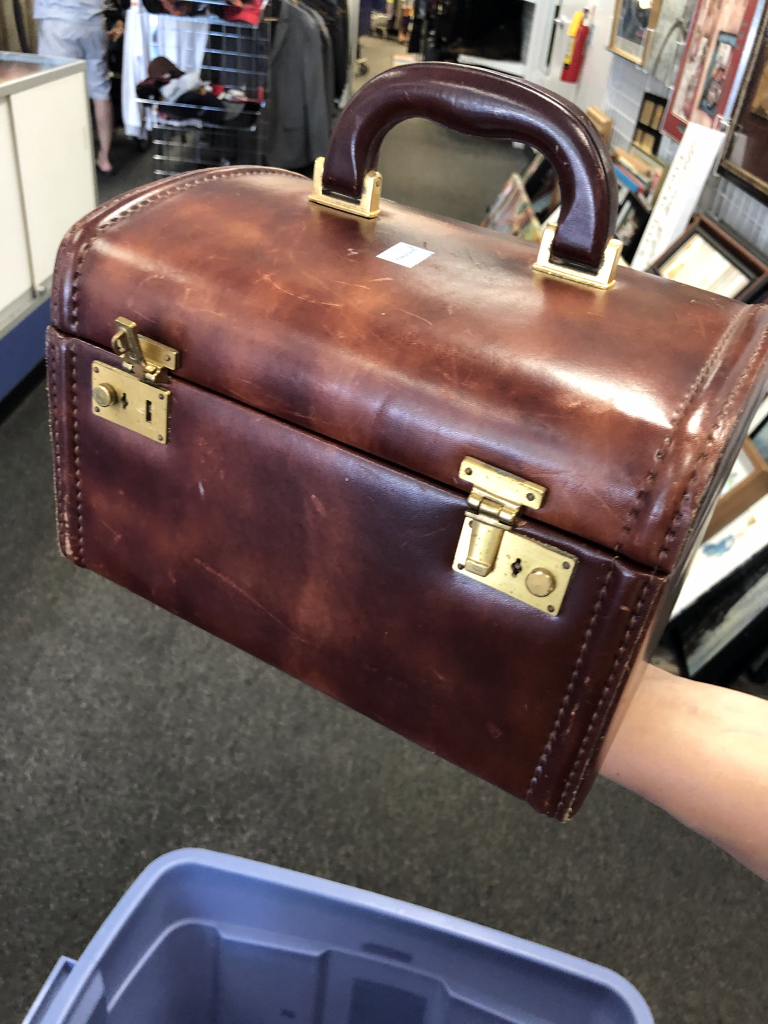 2. Look to Mother Nature
It is amazing what an artist Mother Nature truly is!  When you take a moment to look closely at a sunflower with its tones and textures or turn to the sky for the shapes of the clouds and various hues, you are able to discover beauty—and inspiration—right in front of you.  Upon returning from a trip to the Southwest, I used the colors of the dessert sands, mountains and sunsets when selecting paint colors for a pair of wicker chairs.  By using spray paint and overlapping the tones, it allowed the trip inspiration to be transferred to the chairs.  Each time I see them, I recall the visit to magical Sedona, Arizona.  Some people who see the chairs say they see a sunset or a rainbow—what wonderful images!  I take that as a great compliment since Mother Nature rules!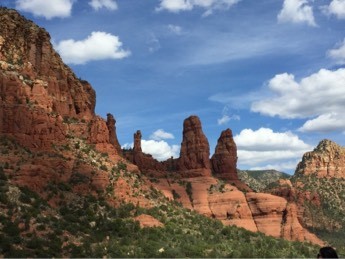 Look for the details outside to help guide your upcycled project. During a vacation in Colorado, my Mother and I collected twigs, shells, pinecones and pebbles to remind us of our time together. Their tones inspired an earthy color choice to paint on dated-looking picture frames. We then used a glue gun to adhere the found items on the frames and placed pictures of the trip inside. What a great and unique souvenir!
What places have you been that make your heart sing?  Capture those tones and images in your next DIY project.  What shapes or designs are in the plants outside your home or in a nearby park? Play them up in your next piece.  Colors, shapes and designs found in nature always look great in any décor, are timeless and are inviting for all.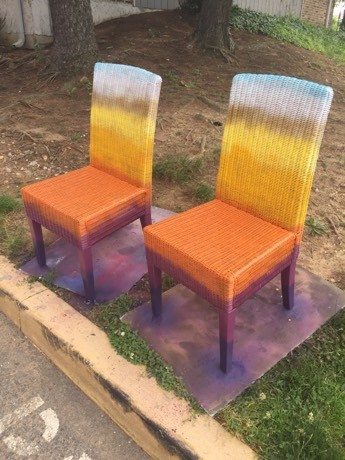 3. Seek out the "god" of Pinterest
Have you ever come across a great piece of furniture or found a unique household item needing a transformation and you weren't sure what to do with it? Let me tell you, I have been there often when ideas are not flowing. What do to? Pinterest to the rescue! This app/site has so many great ideas and all you have to do is type in "upcycled" X (add your item here) or "repurposed" X and watch the images pop up. What is so cool about Pinterest is that one idea leads to the next so all you have to do is click or swipe for countless, real life examples. And very often, you can find links to step-by-step instructions for creating your own masterpiece.
Recently, I was approached by a woman about transforming her Grandmother's old upright piano into a bar. I turned to Pinterest, typed in "upcycled piano bar" and, immediately, right at my fingertips, were many ways that others had completed this project. Some ideas I liked a lot, others didn't work for me. Several had links to videos that provided additional helpful information. And if you are like me, you are going to want to put your own spin on ideas to make them your own.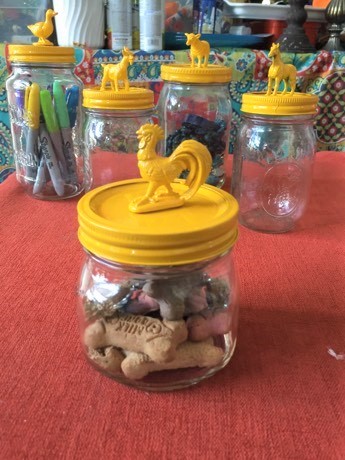 What do you have in your place that needs a fresh look and could be repurposed with a new function? Look to Pinterest for wonderful visual images that might be perfect for your next piece.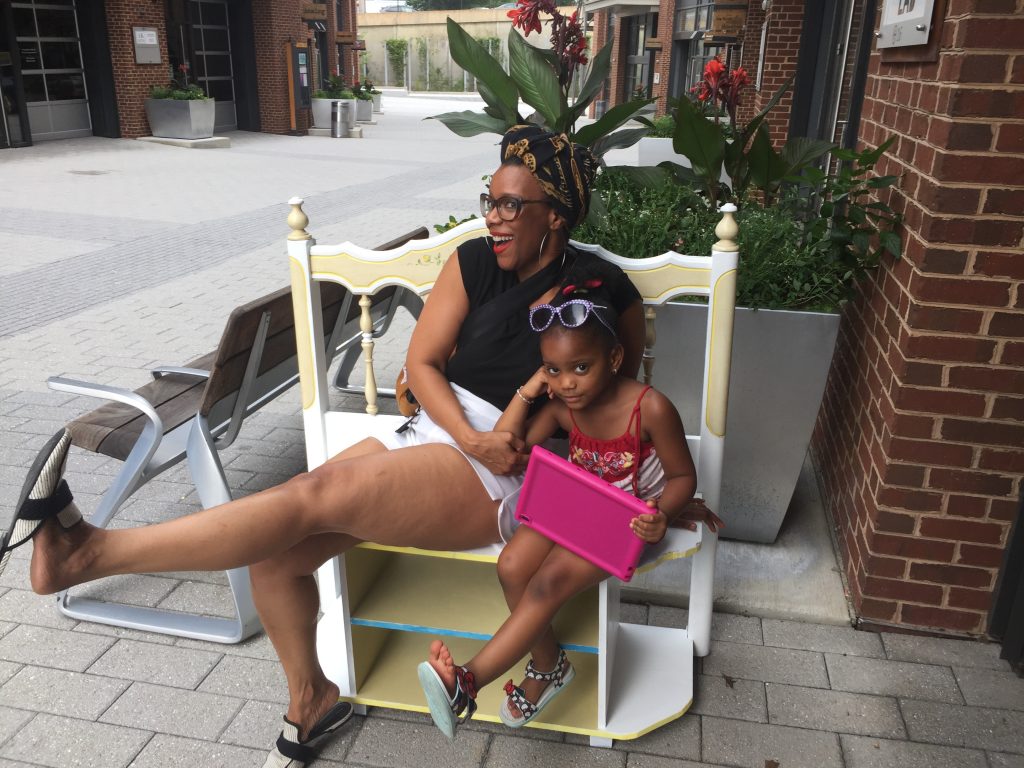 4. Tap into artists & creative types
I am a firm believer that we are all creative in our own way, whether we believe it or not. When someone tells me that they don't have that "gene" when it comes to making art, I see an opportunity to help that person to unleash what they have inside of them. However, however, however, there is something energizing and motivating when you are around creative souls, no matter the artistic media they use. Stop by a gallery to see what is there that might give you ideas for your project. Watch a video on Youtube about a famous artist or architect to gain insights on their approach to work and life. And if possible, surround yourself with artistic people who see the world differently than you.
I am so grateful to be part of the artist community at the Arts Walk at Monroe Street Market near my home in the Brookland/Catholic University part of Washington, DC. Visiting their other studios and watching the artists in action always gets my creative juices flowing. Seeing how they set up and decorate their spaces, too, always provides me with meaningful ideas. Several of my good artist buddies there have given me suggestions for several projects. One artist, Domonique, saw a poured paint process online and thought I could do it on my furniture pieces instead of on a canvas like she had seen in the video. I tried it and loved the beautiful results. The way the colors flow together looks like water and waves or the sky. I used the technique to transform an old mirror, a tossed aside dresser and a pair of drab nesting tables. The result was pieces that were truly one of a kind. You, too, could try it and approach it as if it were adult finger painting. Totally messy and totally fun!
5. Embrace every trial and (no) error
What I love so much about upcycling and transforming pieces is that, like life, sometimes it doesn't turn out as planned yet always with a much better result. How many times have our best laid plans fallen apart or directed us on a different path only for us to find out the shift was more impactful or joyful? I have so many stories to share so here is one. During one of my recent "Art of Possibilities Workshops," a participant started a project with bright red paint only to find out there wasn't enough to finish it. She was ready to toss her project aside and put up the white flag. With some encouragement, she explored other options and went in a totally different direction. She found some silver paint that made per piece shimmer and sparkle which she loved even more than the red. Again, how many times has life thrown us a curve ball which forces us to think outside the box and grow in unexpected ways?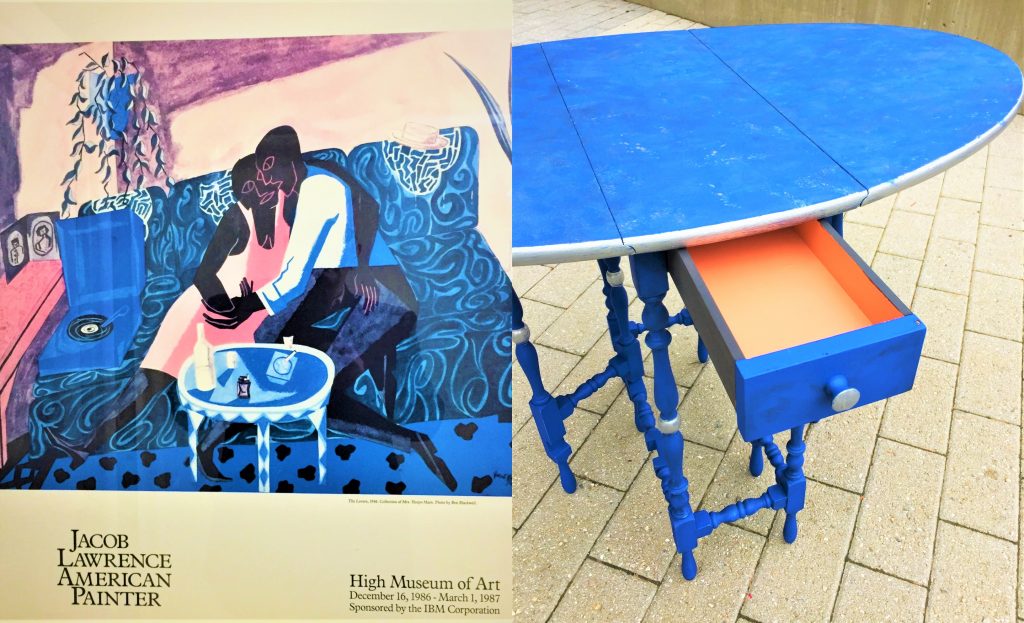 Given that most pieces we are upcycling are relatively inexpensive—or might even be cost-free if we already have them or were "gifted' them—there is really little to lose if you don't like the first result.  Paint is cheap, too, and can be covered over or layered upon easily to provide a different outcome.  I say try everything because you can't go wrong.  You might even learn a new technique which can open doors to new ways of thinking.  Wait, are were talking about upcycling or life?
Where do YOU find inspiration?
These are just five simple ways that I find inspiration for my various repurposed and upcycled projects. If you followed one or all of these five recommendations, what did you discover? What ideas did you come up with? What might you learn about yourself in the process?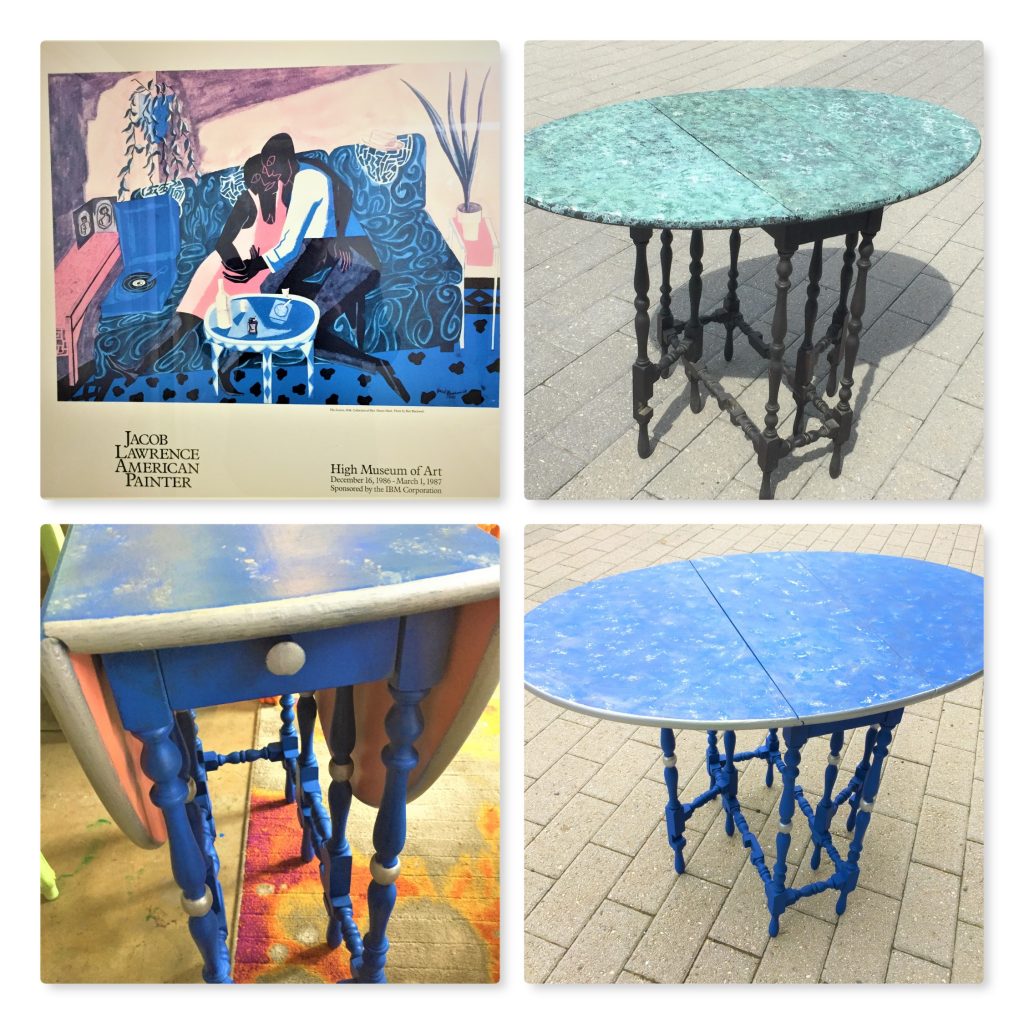 We would love to hear about the ways you find inspiration, too, for your DIY projects—and life in general.  We always love to "borrow" great ideas and to hear things you tried.   Thanks for sharing and for inspiring us, too!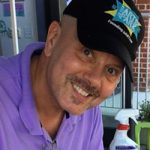 Tim Kime
Tim Kime is an artist, life coach, connector. He is President of Kime Leadership Associates offering executive coaching, meeting facilitating and motivational speaking. He is also Chief Creative Force of Transformation Junkies which upcycles furniture and other household items into functional works of art. He combined his two passions—unleashing the potential in people and transforming items with the launch of the Art of Possibilities Workshops. These workshops are part upcycling, part dreaming, part goal setting.