Celebrate Flower Power! 
Make a nice piece bloom by enlisting a sunflower as a stamp to add fun accents and embellishments.  Here's hoping that this week's DIY blog will plant a seed or two of inspiration when you paint a sunflower then "stamp" it on a furniture item.  You, too, will reach for the sun as you see how easy, charming, and whimsical your simple piece can become when you enlist one of Mother Nature's flowering creations.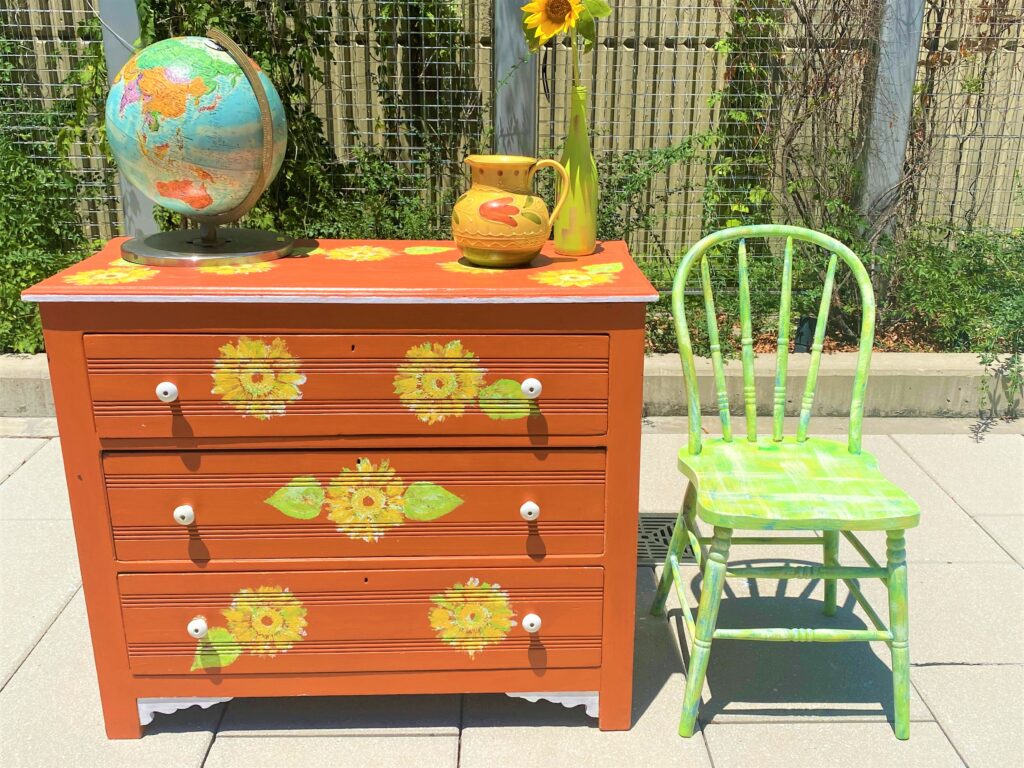 Sunflowers are my favorite flower because they are so bright and cheery, so it was an easy choice to use them to give a piece some pop!
1. Pick a piece to pretty-up
Like many of you regular Goodwill shoppers, you love the adventure and challenge of finding a great piece at an amazing price.  You know what to expect when you are at a big box furniture or housewares store (boring!) and it is always so fun to see what unusual items you will find at Goodwill.  The dresser featured in this blog was fine as-is AND it needed the "Tim Treatment" to take it from good to great.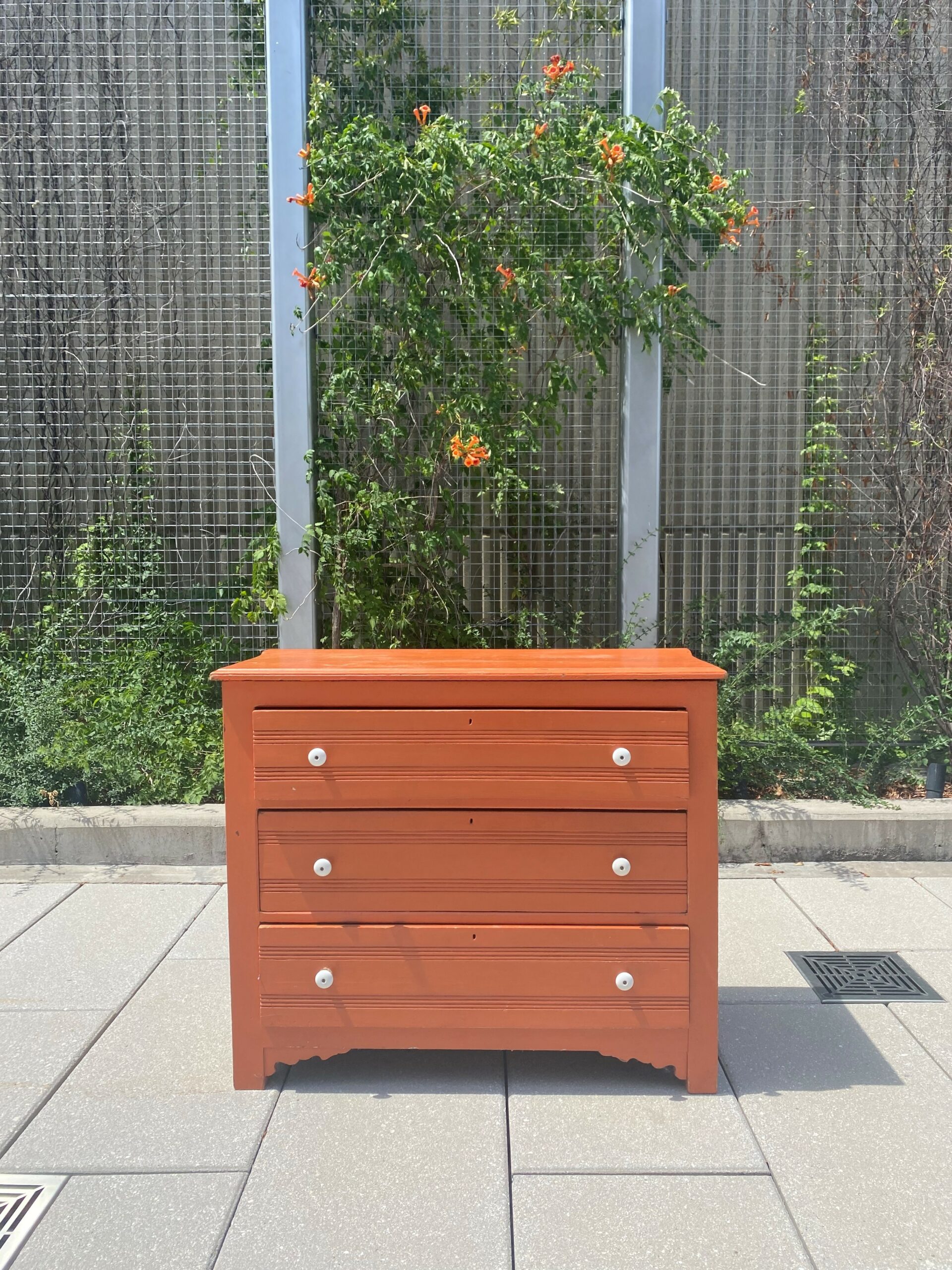 What makes this dresser worthy of a transformation? Solid construction with real wood, great details like the carved legs, the horizontal grooves on the drawers, and the fancy top edge.
And the two cherries on top? It was already a great orange color and had wonderful, white ceramic knobs. Cha-ching!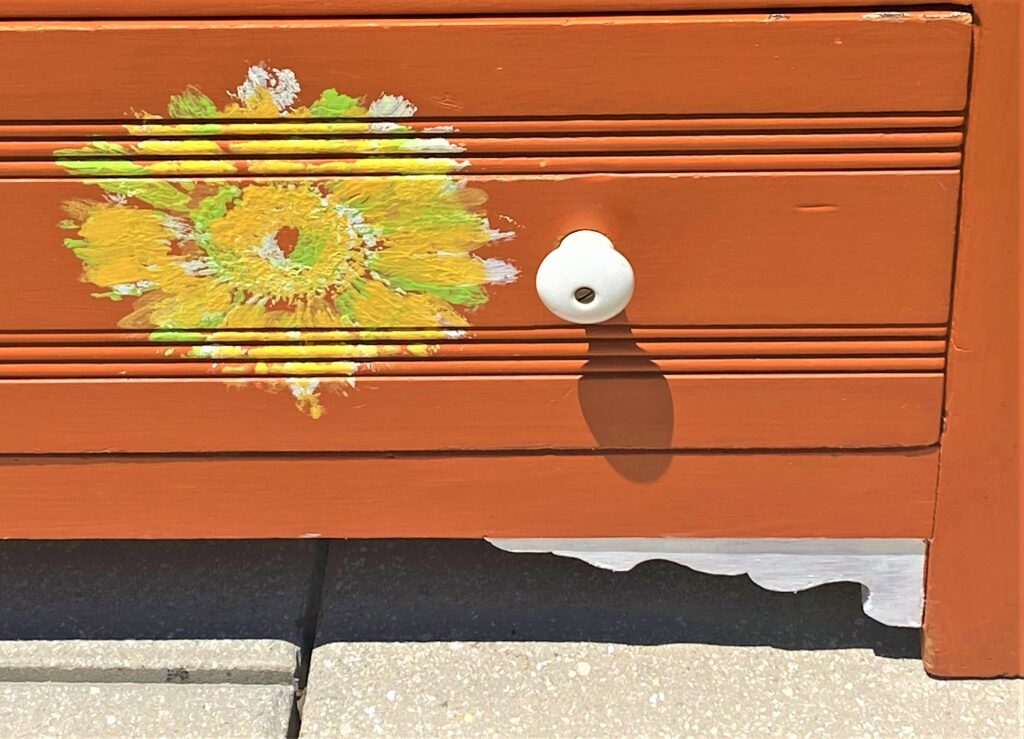 2. Paint sunflowers to stamp on style
If you get lucky like me and you have a furniture item that is ready to go, then start here.  If your piece needs painting, there are five simple steps:
1. Sand it lightly to prepare for painting
2. Wipe it down to remove dust, debris, and fingerprints
3. Use painter's tape to protect parts
4. Add several light layers
5. Turn your piece on its back and sides to get all edges, nooks, and crannies.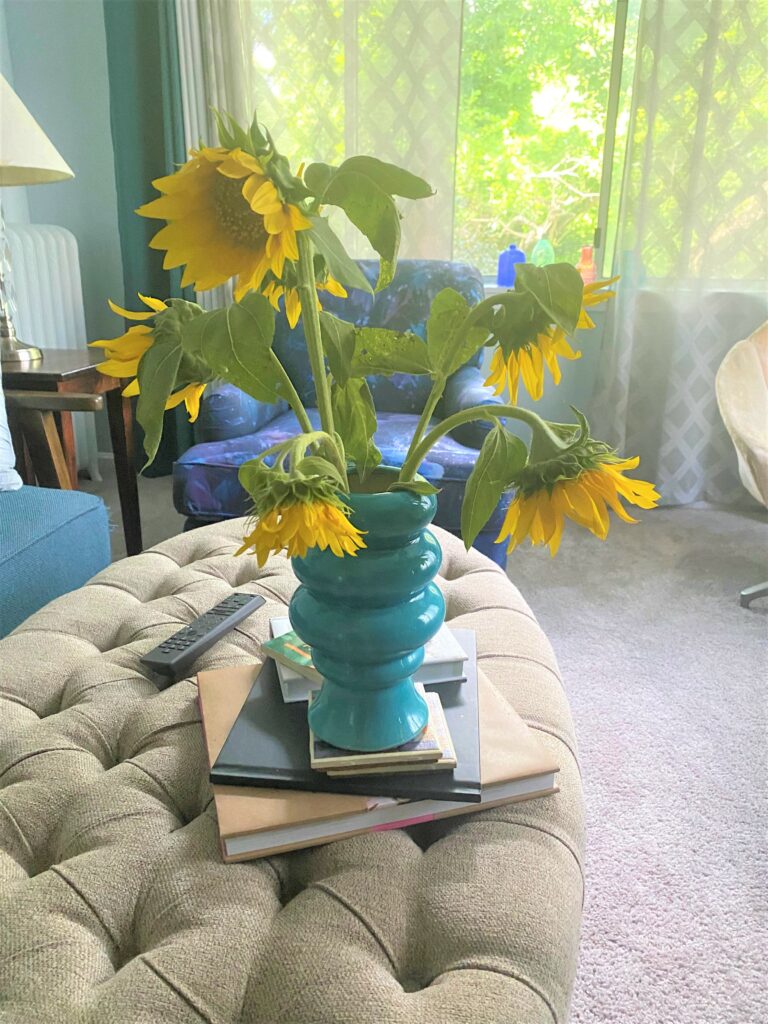 Three layers of color were used to give the sunflower stamps depth and visual interest. 
Start with bright green paint.  Brush it on your sunflower then carefully flip it over and position it where you want it. 
Push down gently on the flower and use your fingers to ensure each petal touches your piece to leave a painted print behind.  
Carefully pull up the sunflower, add more green paint and repeat this step.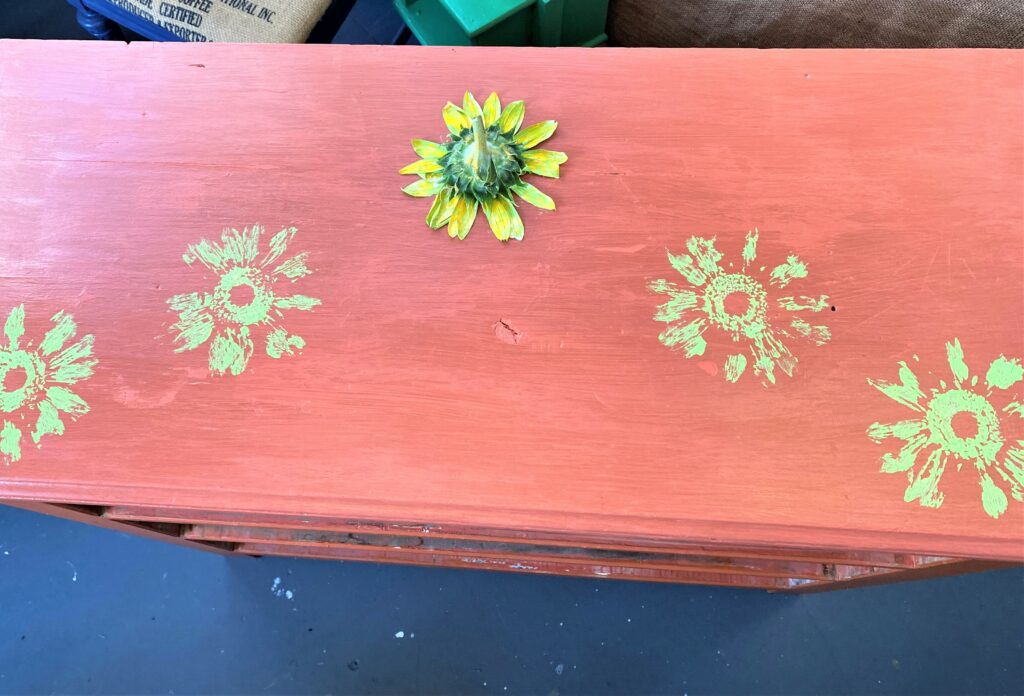 After you have embellished your piece with the sunflowers in green, follow the same process using one of the leaves. Not every flower needs to have a leaf attached to it; as you are able to see by the photos here, some had one, some had two and some had none. You want your final look to feel organic and that each flower is unique.
Follow the same steps using your white paint, then finishing up with yellow.  Ensure you have several sunflowers on hand to add paint to as well as several leaves.  This step will be a little messy as your fingers will get paint on them as you handle each "stamp" so be careful not to touch your dresser or piece with your fingers. 
3. Brush on some beauty
After your three layers (green, white, and yellow) have been added to your piece, return to each stamp print that you created and, with a small detail paintbrush, fill in some of the pedals with your yellow paint. 
Touch up each leaf using green paint and a small brush.  This step helps make each sunflower detail come to life and truly bloom!
4. Highlight details
As I mentioned, this dresser had some nice carved legs and a nicely edged top border, so these were perfect to draw attention to with white paint. White was chosen because it also matched the white knobs. Several layers of white were added with a small foam brush and made such a lovely difference. It helped to pull all the parts together. What unique details does your piece have that a bit of paint could highlight?
5. Poly protects
After your piece has dried well, brush or roll on a layer or two of polyurethane to help protect your sunflower stamps and other painted details.  A semi-gloss or satin finish always looks nice and will allow you to easily wipe away any future spills or dirt. 
6. Place your piece
This sunflower stamped dresser would be great in any bedroom, office or even the kitchen for extra storage.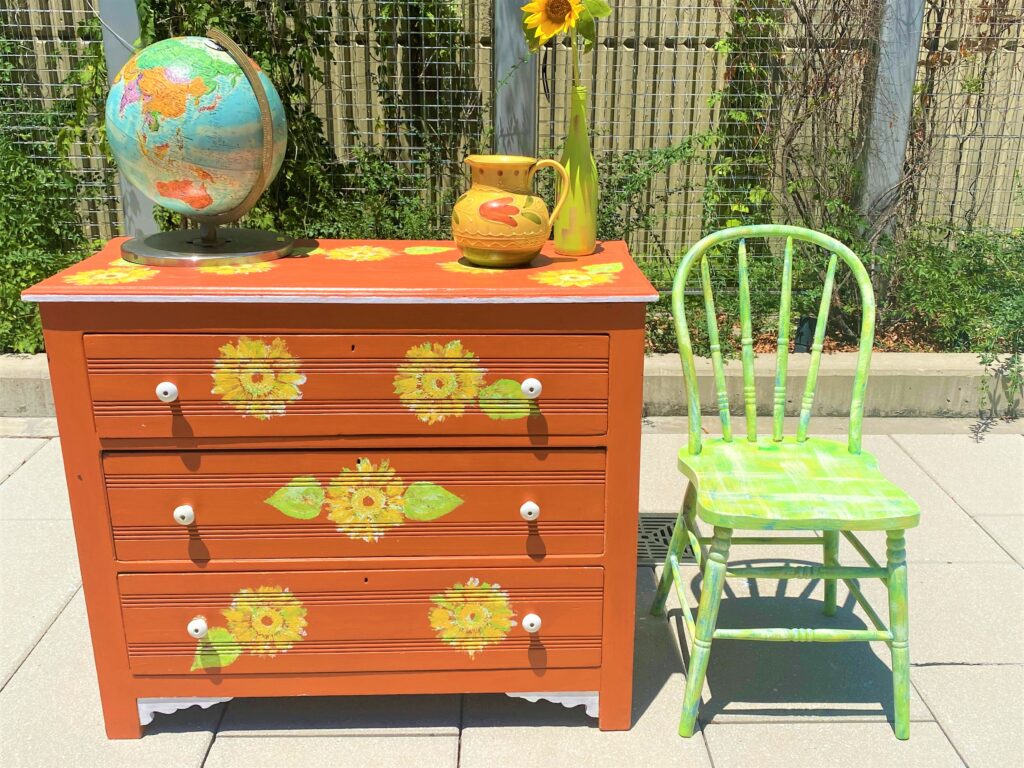 Put it in your foyer for a friendly welcome home. 
There are so many ways to use sunflower stamps to make ho-hum pieces burst with happiness.  What will items will you upcycle this way?  Share some of your transformations to inspire us!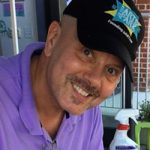 Tim Kime
Artist, Motivational Speaker, Life Coach
Tim Kime is an artist, life coach, connector. He is President of Kime Leadership Associates offering executive coaching, meeting facilitating and motivational speaking. He is also Chief Creative Force of Transformation Junkies which upcycles furniture and other household items into functional works of art. He combined his two passions—unleashing the potential in people and transforming items with the launch of the Art of Possibilities Workshops. These workshops are part upcycling, part dreaming, part goal setting.