Here's some graffiti you will LOVE: A dresser transformed with spray paint!
Raise your pulse by upcycling a blank white dresser into one covered with colorful hearts. Inspired by an outdoor mural at Washington, DC's Union Market (and painted by Mr. Brainwash, a Los Angeles-based artist who created it for International Women's Day in 2015), here's a way to bring that art inside.  
This is all about coloring—or spray painting—outside the lines!
Items needed:
· Dresser with simple lines and flat surfaces
· Spray paints in various colors
· Painter's tape
· Drop cloth
· Screwdriver
· White paint
·        Paintbrush
1.      Get your heartbeat up by racing (safely, of course) over to Goodwill today
There's always love at Goodwill in the form of wonderful staff members waiting to take care of you while you find your good there.  And many times, you will find the perfect piece to upcycle in a unique and fun way.  
Look for a dresser that has simple lines and flat drawer fronts; you could follow the same steps offered here and transform a dining table, coffee table, or side table this way, too. What item might you pick up to give a hearty transformation?
Always a very lucky guy, I came across this tall white dresser that had clean lines and painted knobs—along with two that looked like flower buds. The dresser was nice as it was AND it could easily go from adequate to awesome with just a little vision and a spray or two (or three or four!) of paint.
2. Wow starts with white
This simple and creative DIY project starts with a dresser that is solid white from top to bottom. This color serves as a great foundation—or canvas—on which to build your hearty design and models our inspiration artwork. Found a dresser that isn't white but will work for this project? Follow these steps to prep it and get it ready.
Remove the drawers and all hardware/knobs/etc.
Buff up all surfaces to be painted with a medium to heavy grain sandpaper.
Wipe it down with a damp cloth to remove dust from sanding and any dirt or fingerprints.
Use painter's tape to protect any parts you don't want painted.
Brush or roll on several layers of satin or semi-gloss white, in a bright tone.
Allow time to dry, remove painter's tape and let the good times roll!
3.      Time for a lineup
Place your dresser drawers on a drop cloth in a well-ventilated space. 
Position them in the same way or order as how they will be when they are placed back in the dresser. 
Put them as close together so the design will flow from one to the other.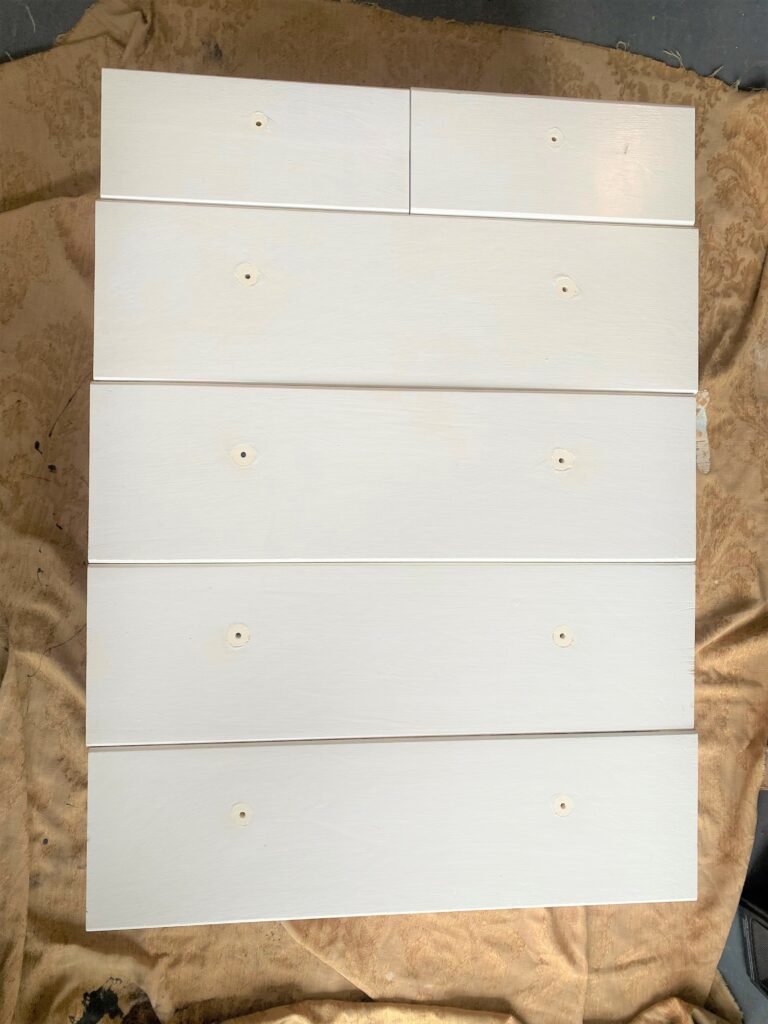 4. Layer on the love
Do you have a collection of spray paints on hand?  If so, grab as many different and bright colors as you have.  The more, the better.  This project cost me nada, zero, nothing because I already had the spray paints in my studio.  If you need to buy paint, consider the colors of the rainbow (red, orange, yellow, green, blue, and violet) and pick up as many of those tones as your budget allows.  Be sure to have red on hand, too, for the final layer/step.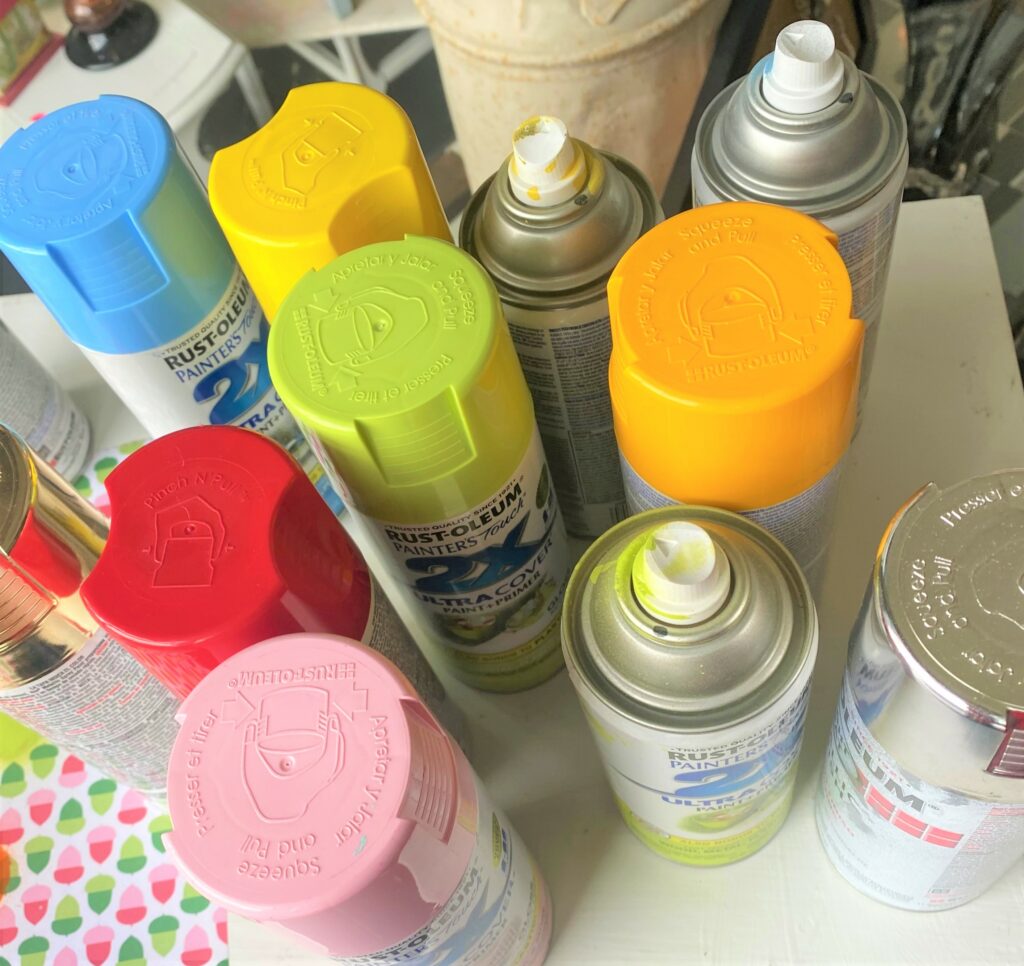 Pick up the first color/can of spray paint and carefully spray on small hearts all over your drawer fronts, which are your creative canvas. Get the nozzle of the can fairly close to the drawer then "draw" your heart shape. 
Repeat, repeat, repeat so that there are hearts of the same color from top to bottom and right to left.  
Continue this step with each one of your colors, overlapping them. 
The last set of hearts will be with your red paint, so they are the clearest and there is nothing overlapping them.   
Add your red hearts now.
Let dry.
Expert Tip:
Candidly, I had some challenges with some of my hearts not coming out shaped exactly as I wanted them. You, too, may have this challenge but don't worry. You want your final look to be organic and out of the box, outside the lines.
Two red hearts I painted ended up being more solidly filled than I wanted so I took some white paint and sprayed on a smaller heart inside the red one. It ended up looking even nicer. You truly can't make a mistake when your heart (Ha!) is in this project!
5. Reassemble and fill with love (or socks and shorts!)
After your drawers are dry, carefully reattached each knob  As you are able to see if you look closely, I returned all the original white knobs back in place and replaced the flower bud-shaped ones with two painted white ones that I already had. The flower bud ones took attention away from the art on the front.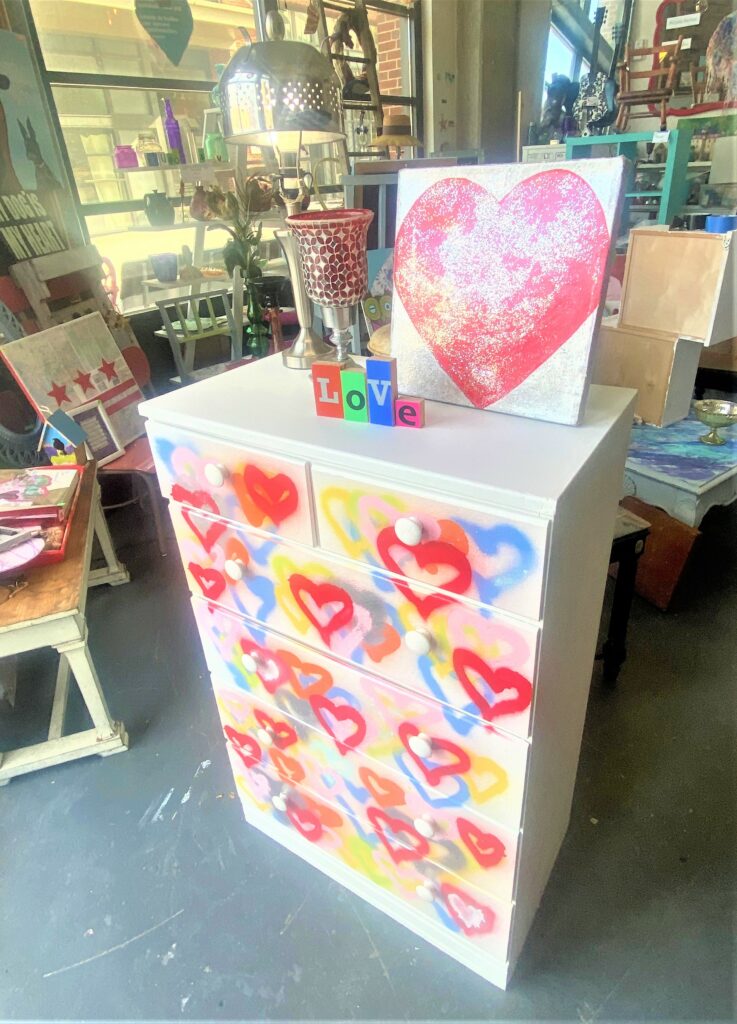 Place this in your bedroom, family room, or even your foyer, wherever you need storage, and want a colorful piece for that function. I added other art pieces that had the word "love" and hearts on them to tie into the dresser's happy look.  
Where would you use this urban, cool piece?  Show us your transformations inspired by this idea and the mural by LA's Mr. Brainwash.  It touches our hearts when you do so!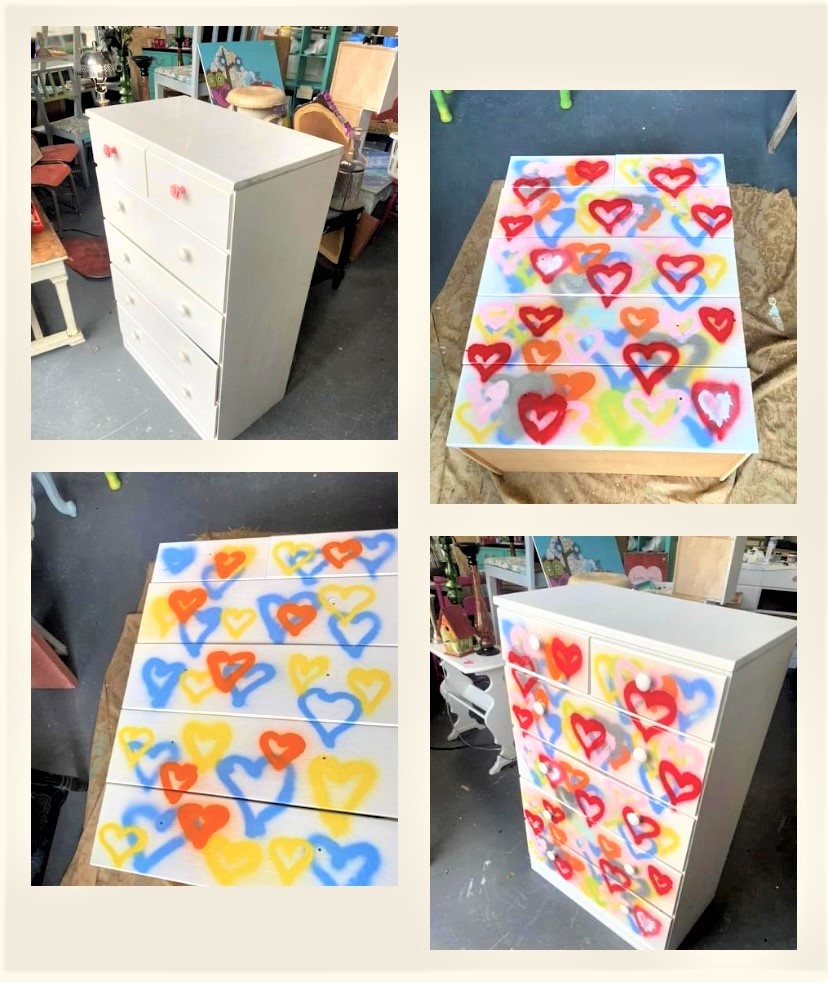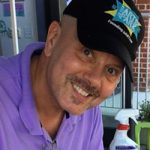 Tim Kime
Artist, Motivational Speaker, Life Coach
Tim Kime is an artist, life coach, connector. He is President of Kime Leadership Associates offering executive coaching, meeting facilitating and motivational speaking. He is also Chief Creative Force of Transformation Junkies which upcycles furniture and other household items into functional works of art. He combined his two passions—unleashing the potential in people and transforming items with the launch of the Art of Possibilities Workshops. These workshops are part upcycling, part dreaming, part goal setting.