You still have time to create some holiday magic and get your place decked out with the spirit of the season (and for just few bucks!), when you shop 'til you drop at Goodwill.
Think it's too late to decorate for Christmas? Bah-humbug! Get your jolly self to Goodwill today for deals on pieces that will make you sing for joy about the price—and then sing, "Joy to the World!"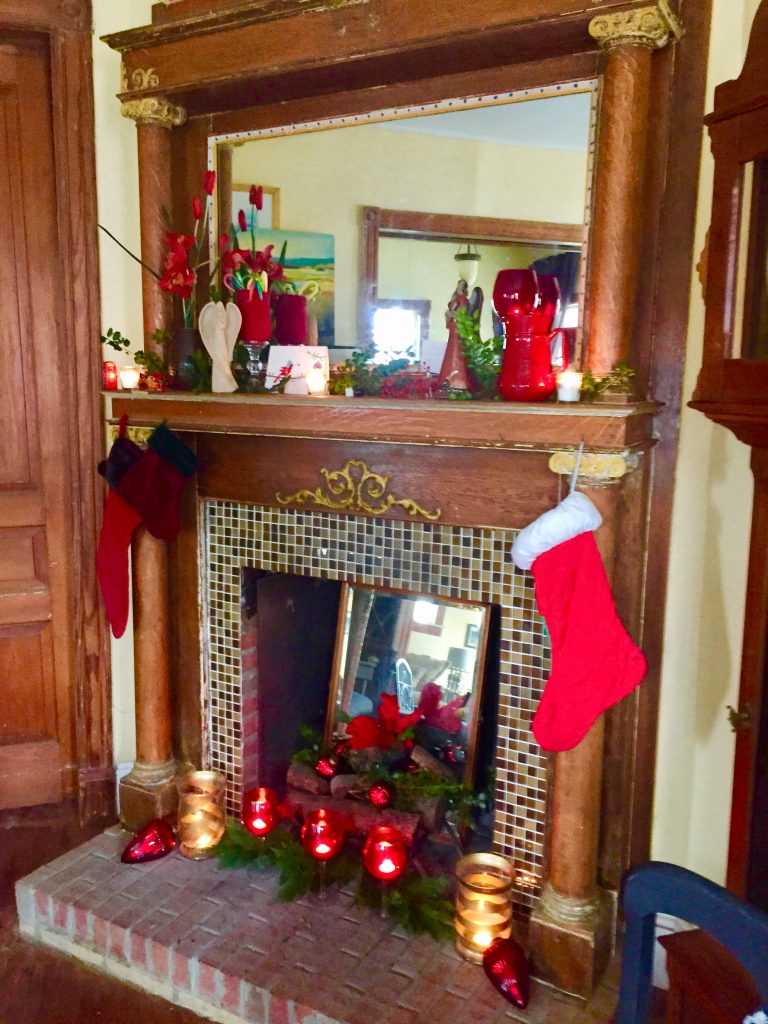 Ability level: Easy as dreaming about sugar plums
Age: Fun for tiny tots with their eyes all aglow & of all ages
Items:
1. Housewares items like wine glasses, goblets, votives, pitchers
2. Shining, reflective ornaments
3. Holiday decorations like stockings, artificial poinsettias, cards
4. Treasured family mementos & personal items
5. Evergreen clippings (real or artificial)
6. Tea light candles
7. Matches
8. Small- to medium-sized mirror
Cost: $30
$3 per wine glass or goblet
$1 to $2 per ornament, other decorations
$4 to $9 for mirror
$5 for tea light candles
$0 for family mementos
$0 for evergreen clippings
1. Get your holiday cheer-on at Goodwill
Hop into your sleigh, grab a reindeer or drive your car over to your holiday-happy Goodwill store. Check out the Housewares section for items to give some merry, merry to your home.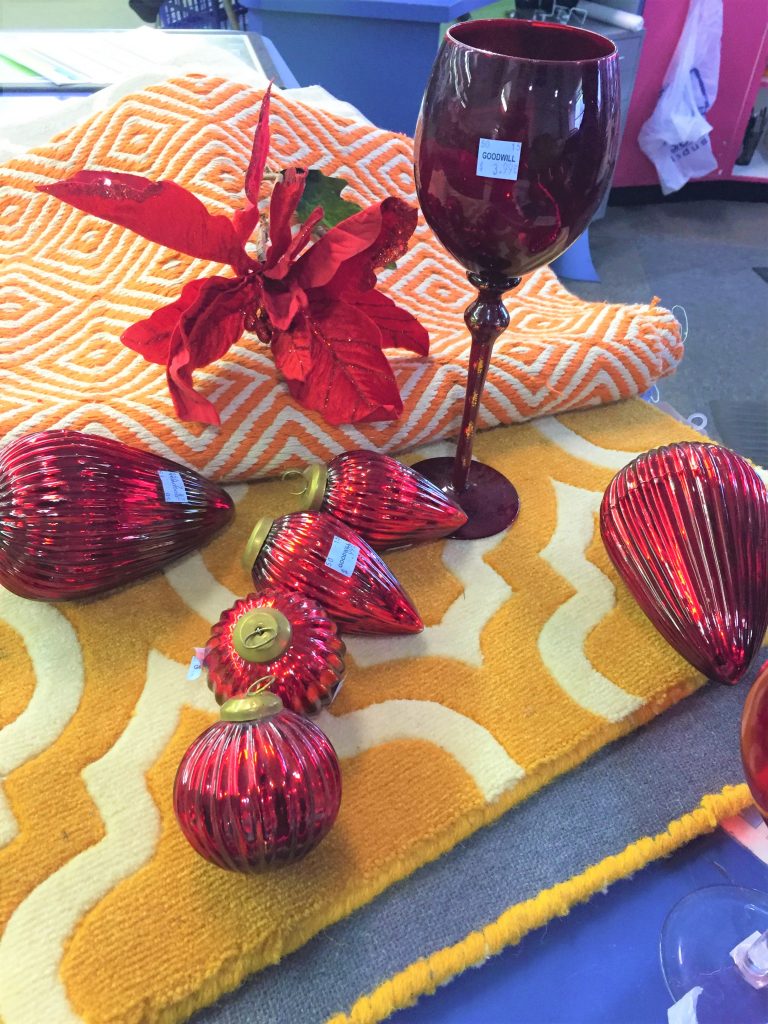 Goodwill makes it so, so easy as they often group holiday items together as part of their wonderful store displays. Look for items to collect and show off together in a special place in your home. I am so blessed to have an amazing mantel and fireplace which took center stage for this blog. However, you can transform your coffee table, a dresser top, or any surface by modeling this easy DIY project. And make it a fun time by taking your kids, a neighbor or a friend with you so they may look for and select items for this super easy and elegant holiday transformation.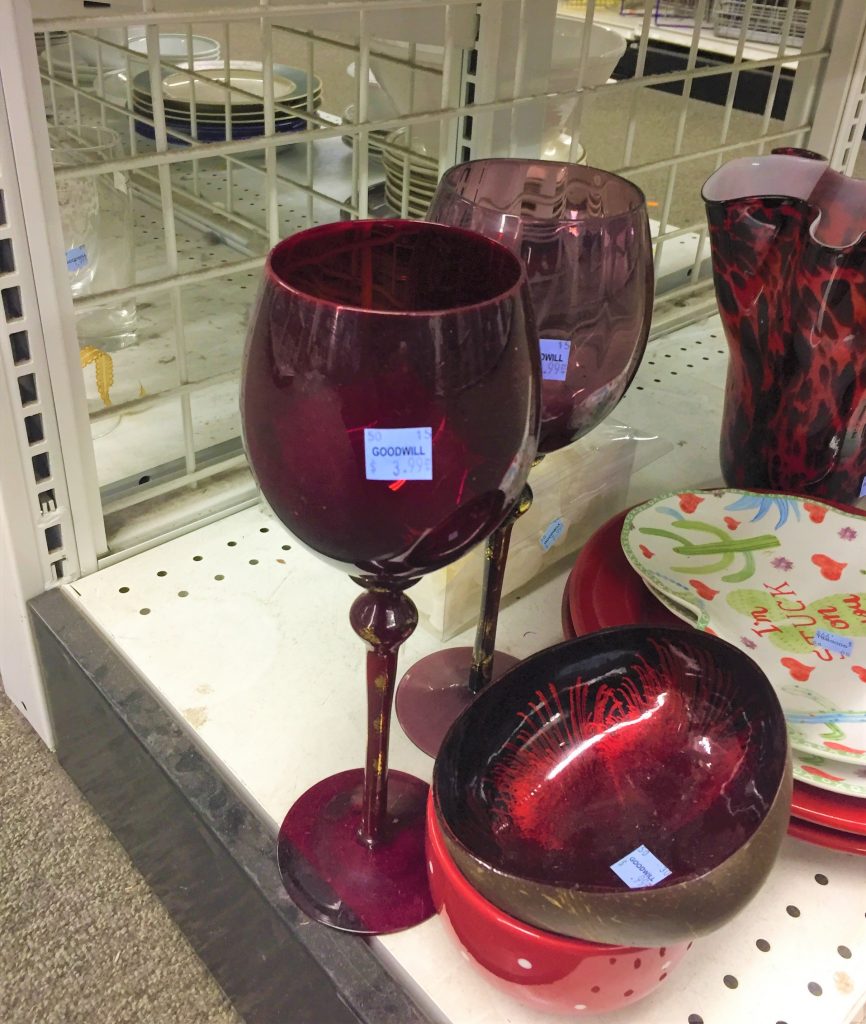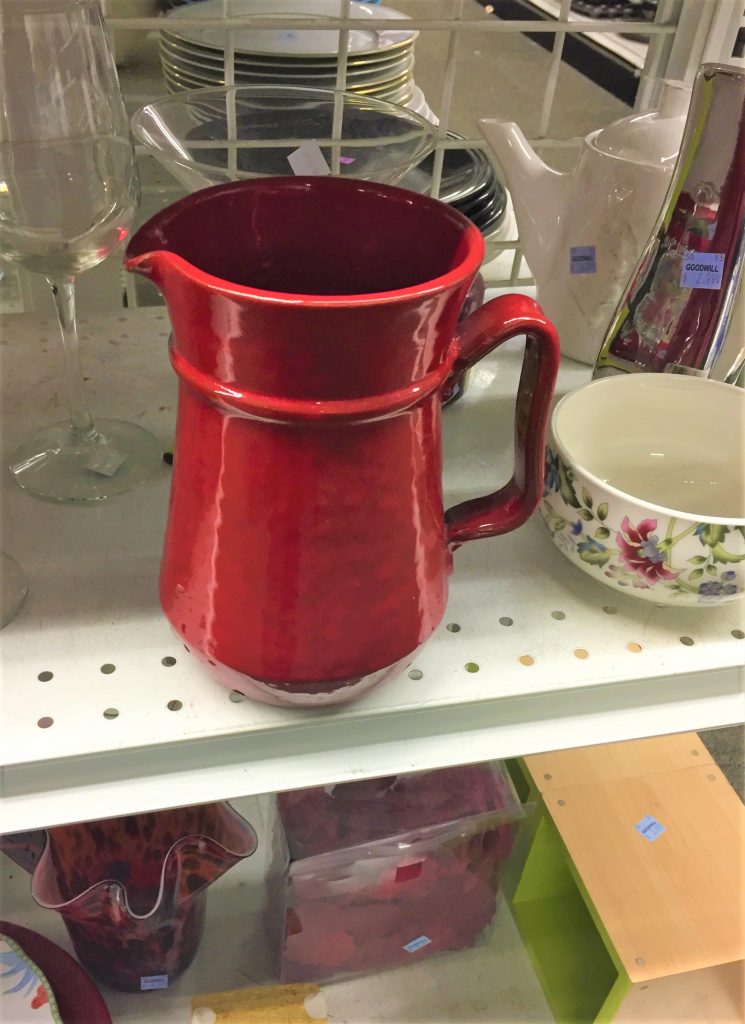 After selecting pieces such as wine glasses, vases, bowls or other such items, next hit the Holiday Décorations section to see what else you might pick up to blend in with your collection and to truly make it yule tide focused.
You may find ornaments, small wreaths, statutes and other holiday specific items to use; I wanted my layout to shimmer so was thrilled when I came across some red glass ornaments that were perfect!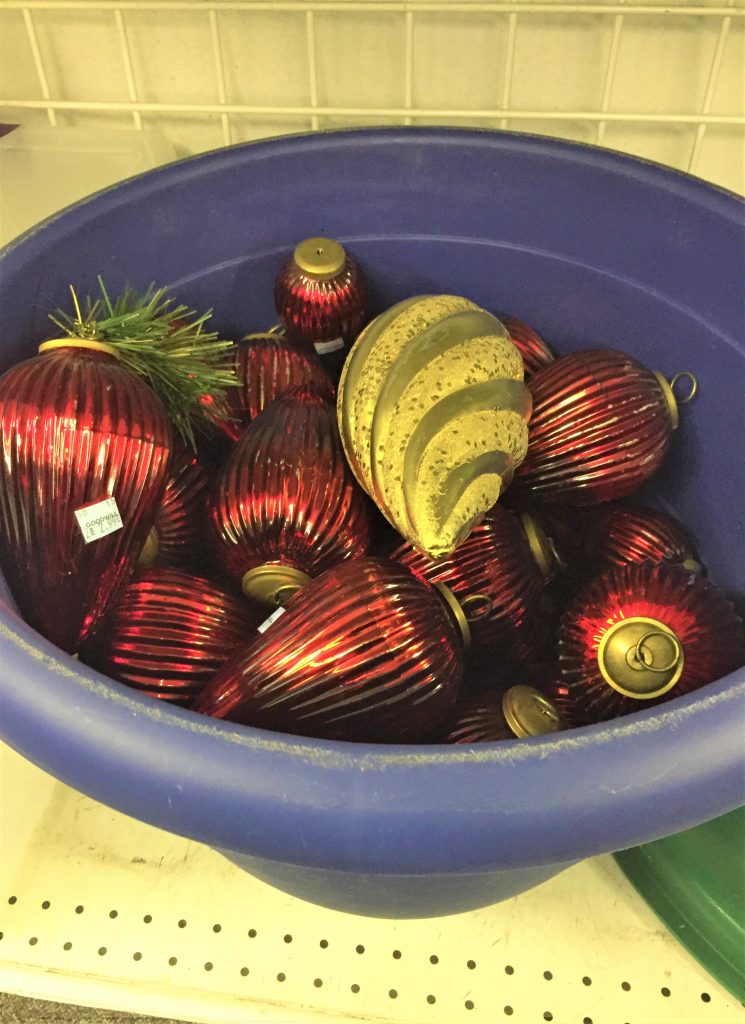 Design Tip: Select items in the same color family. Red is such a great color this time of year and we see it all over in holiday decorations, in Mother Nature (with red berries on plants) and in your favorite cozy sweater. Choosing one color on which to build will make your display look very festive as well as well-thought out and cohesive. Other tones ideal during the holiday season are golds, silvers, greens and even purples. Pick one to give you some focus or direction, then happy hunting!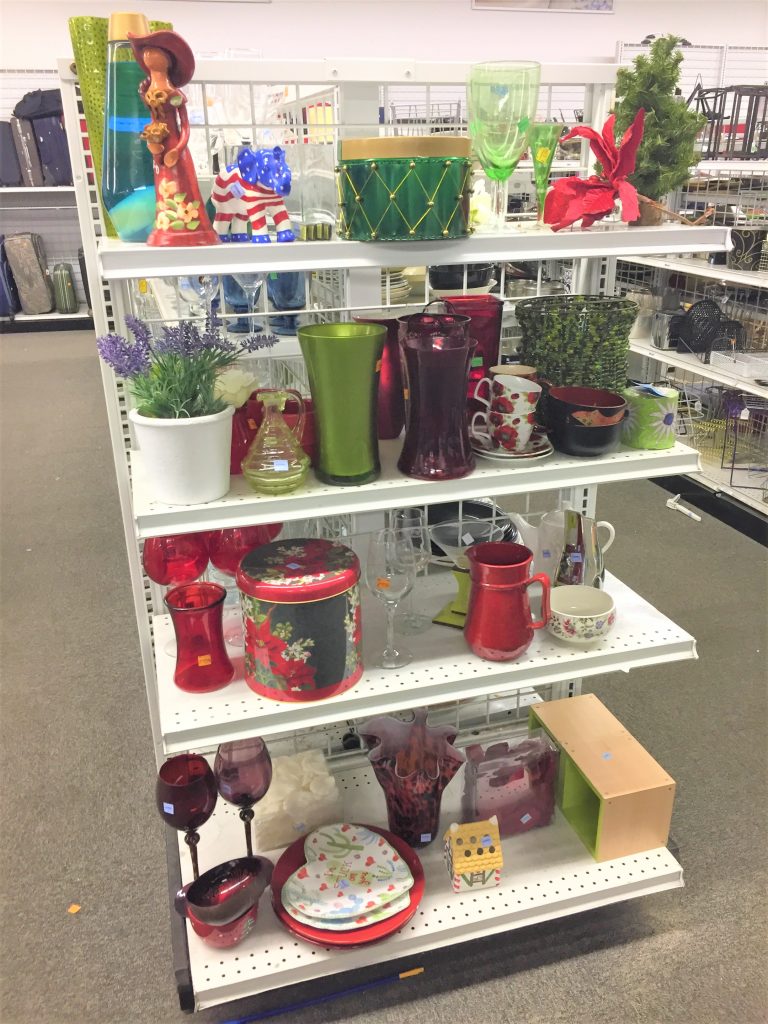 2. Start with a clean slate
Based on the place you chose to select to get this holiday upcycle project, remove all current items to take-away any distractions and to give you a great place on which to layer on the next several steps.
If your space allows it, add a mirror as a backdrop to reflect the light and color. Most fireplaces, when not in use, are so dark and not very welcoming looking. I added a mirror to the back of mine and it went immediately from black to bling as the mirror picked up the light in the room.
If your place has the space, you could prop a mirror against the wall behind your dresser or countertop you are using for this project. You could even place the mirror flat on its back on your coffee table as reflective base for this project.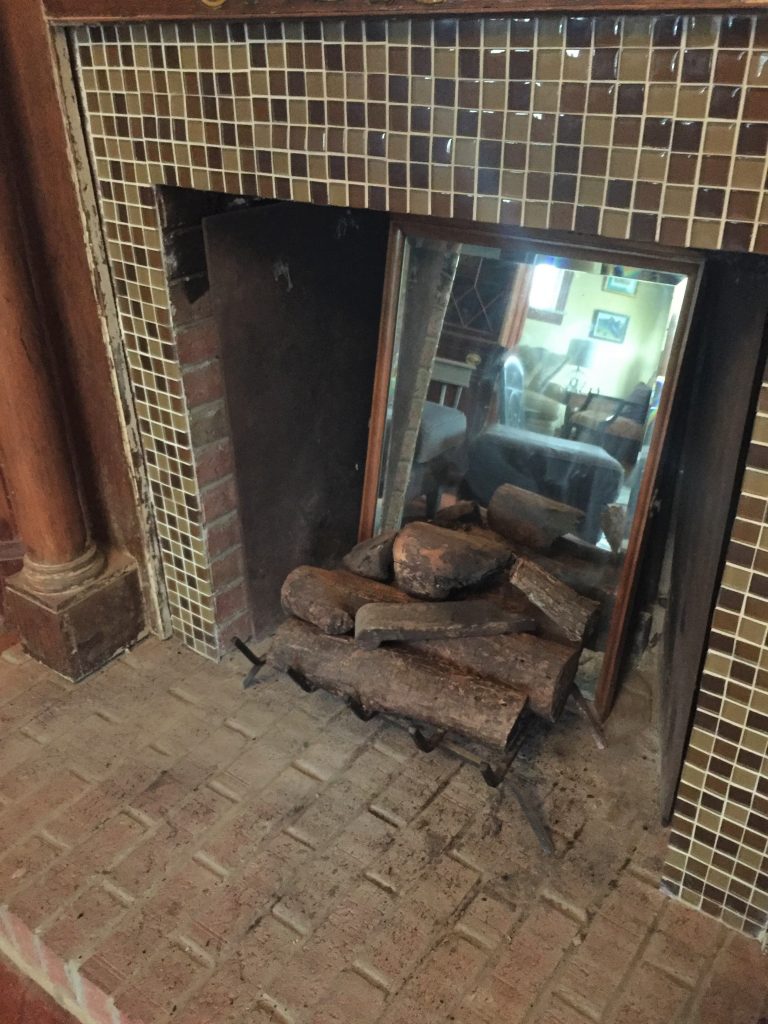 A smaller sized mirror won't take up too much space and won't bother any other artwork you might have on the walls.
3. Team-up your treasures
Place your glasses, votives and other items purchased at Goodwill on your space's surface so they are in groups, kind of like a family.
I like to cluster items in groups of threes or fives and with items of various shapes and heights to make it a visual delight and to add some movement and energy as your eyes look at things.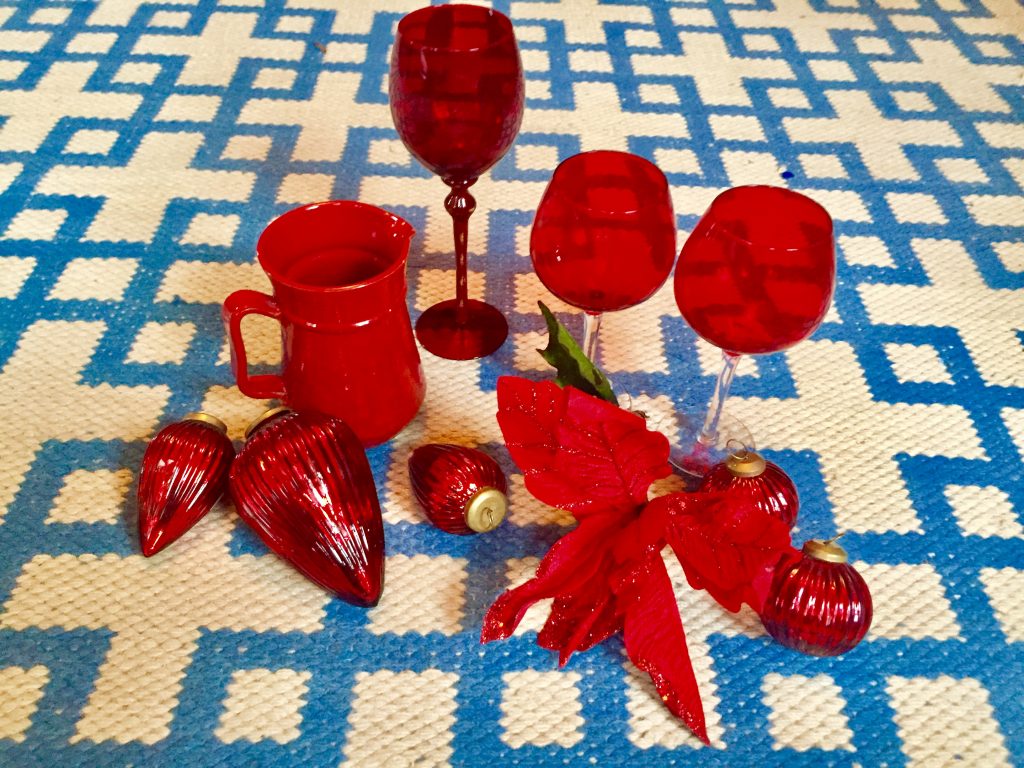 I had a planter with some red silk flowers in it (also picked up from an earlier Goodwill excursion, of course!) that added some height to one side of my mantle, so I set the tall goblet to the other side. I positioned some of the glass ornaments on the logs in the fireplace as well as three matching wine glasses so that there was red from top to bottom. Again, the color connects the items and gives a cohesive feel to the overall look.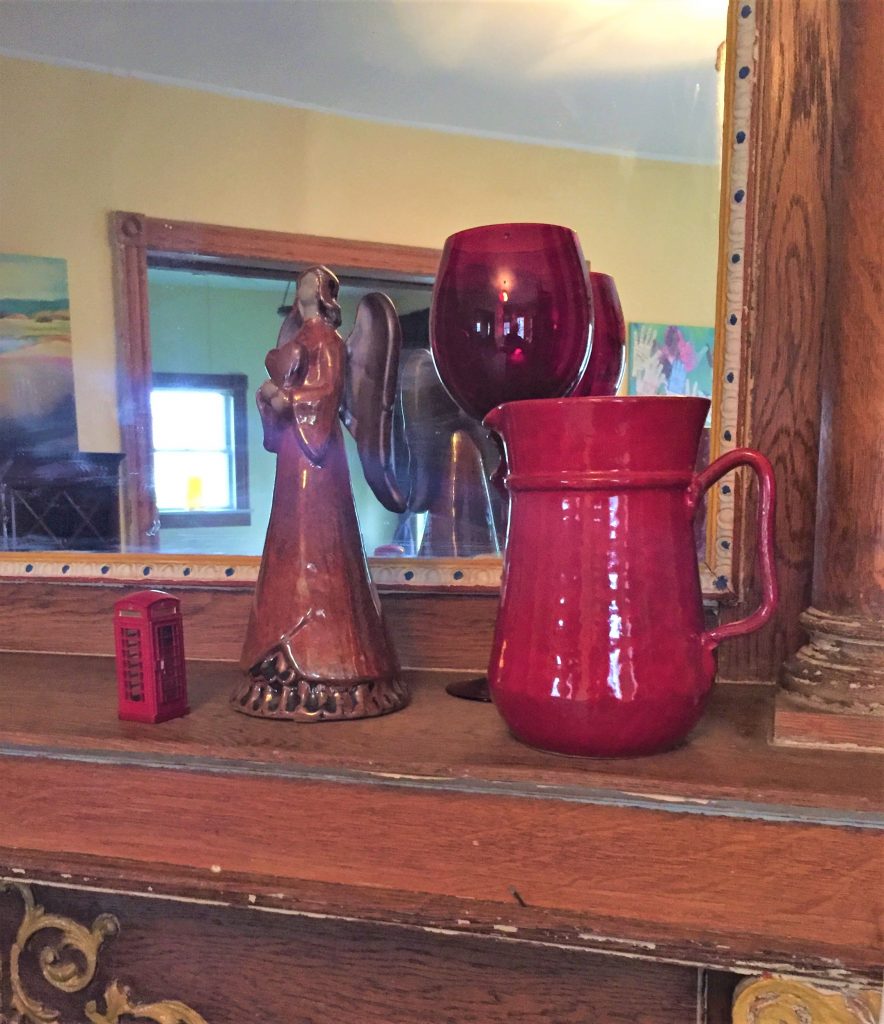 Put several items in place, step back to see if it feels balanced and keep moving them around until it feels right to you. Nothing is written in stone so keep tweaking as you like!
4. Weave in your keepsakes
One of the joys of decorating for the holidays is to remember those family members no longer with us as well as to celebrate the people in our lives today. Now that your Goodwill treasures are in a position that pleases your eye, add your personal items so that this truly is your display.
I added three angel statutes received from dear ones during past holidays. A favorite Christmas card was lovingly placed among the pieces I purchased. A sweet hand-written note from my wonderful mom was included and copper-colored small pitcher belonging to my grandmother took a proud spot.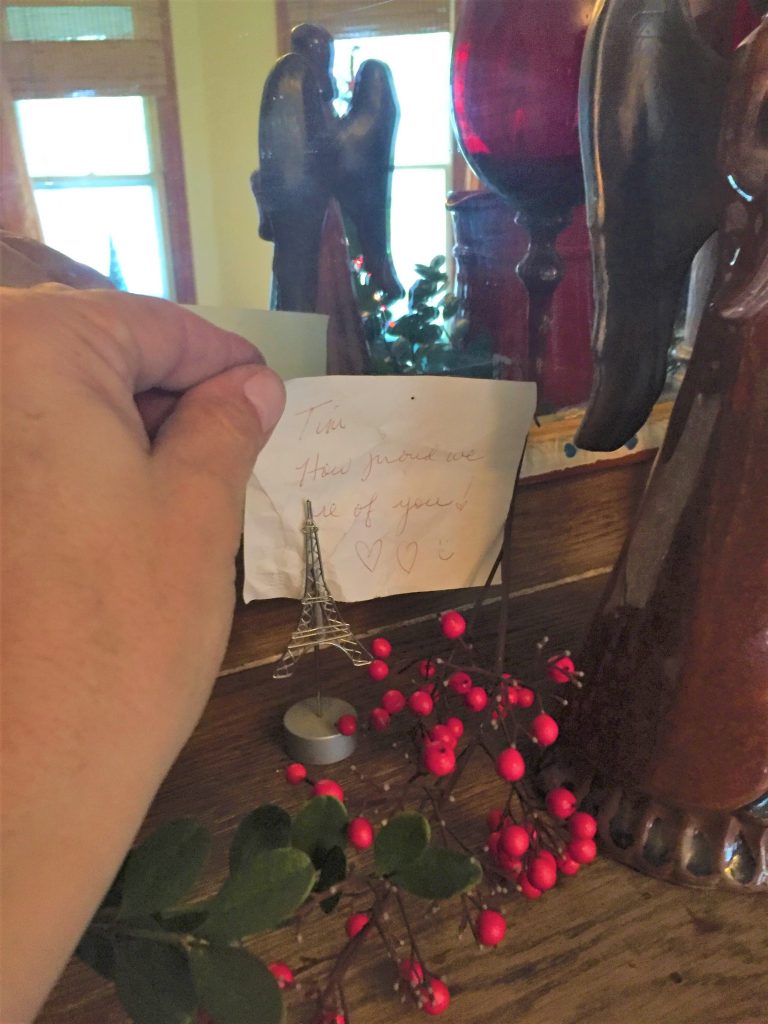 Take a moment to look around your place to see what items you have that can be added to this motif to make it say love when you see it or show it off to your visitors and guests.
You could add a small, framed photograph of a loved one. What about a postcard from your favorite spot? Consider adding that sugar bowl from your late Aunt. You could even add your grandfather's old hammer or a tin of your favorite tea. You will find joy as you discover items to showcase for the holidays!
5. Go for the greens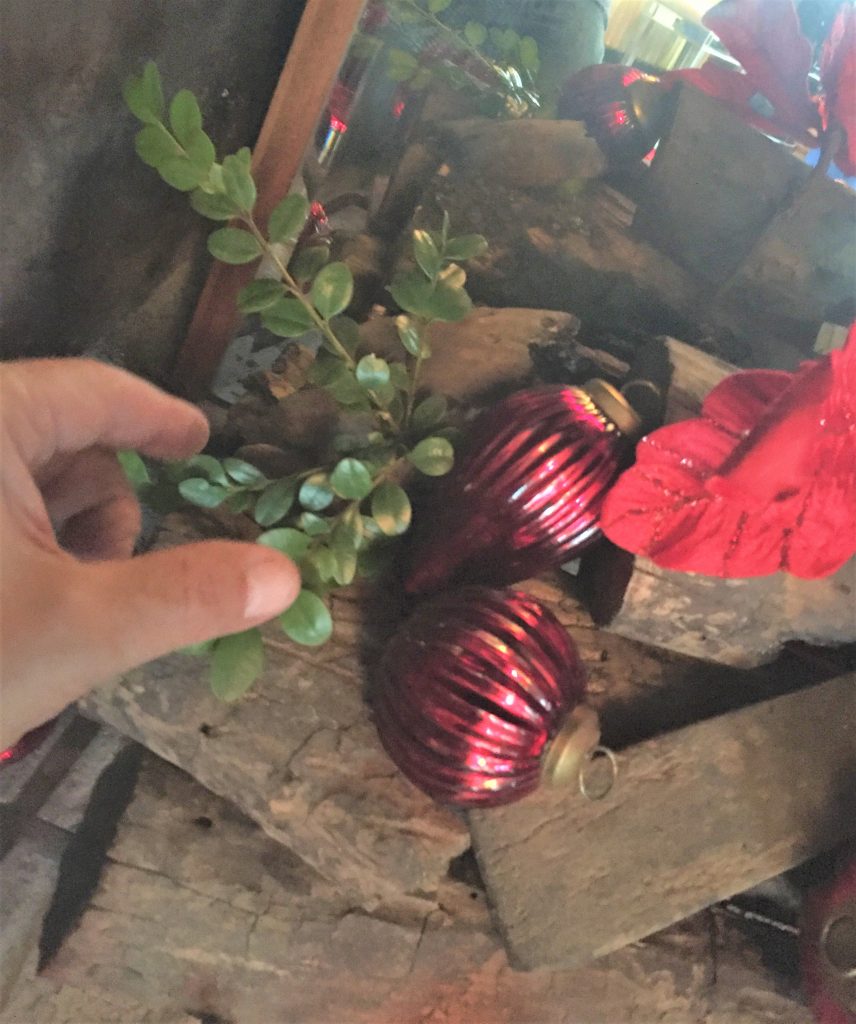 If you have access to some live evergreens, clip a handful to use and if not, pick up some fake ones from your local dollar store.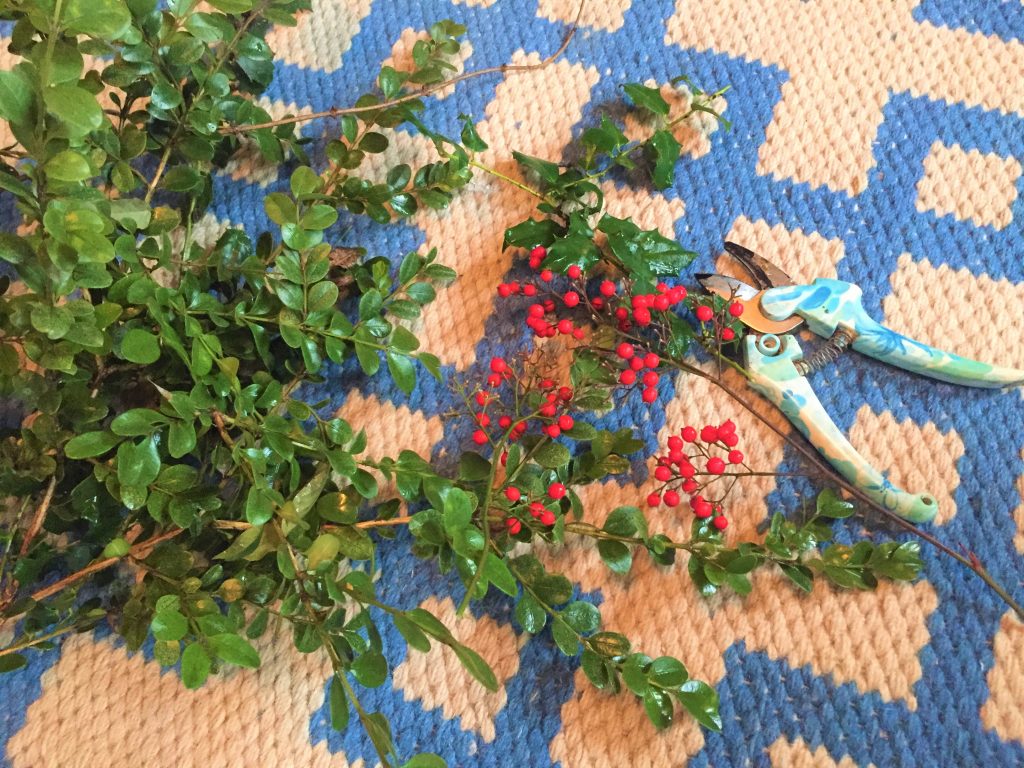 Around your items and throughout your display, carefully add pieces of greens to give it some natural color and depth. I added some to my fireplace, too, which helped to give some texture to previously empty spots.
6. Let there be light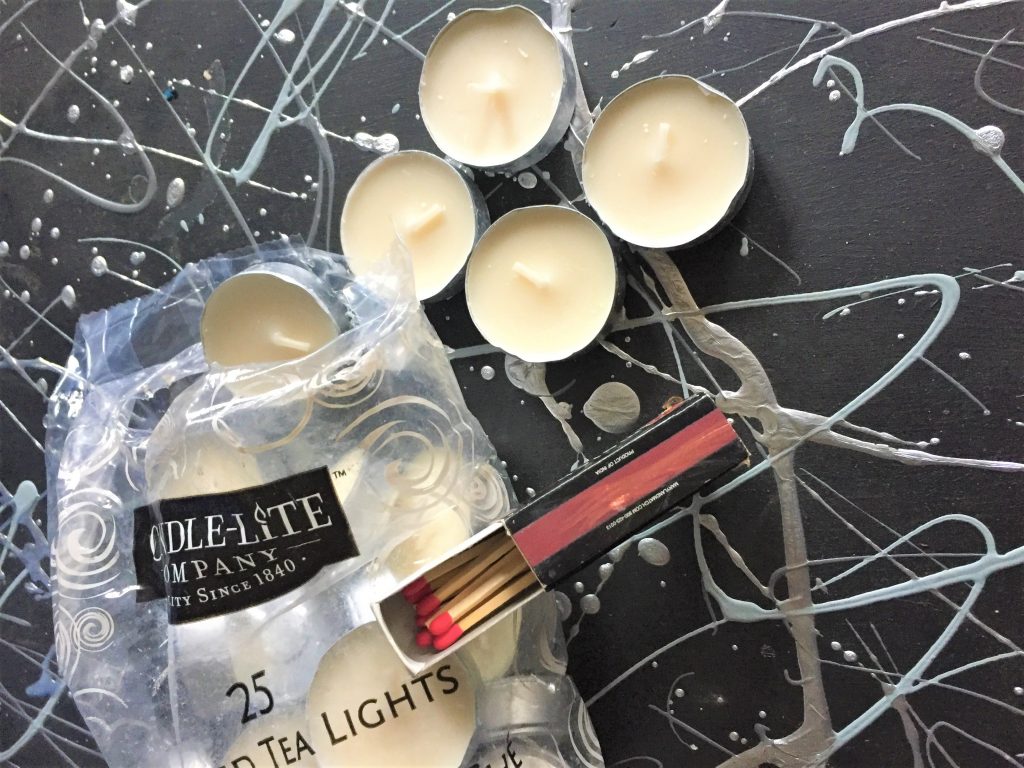 Carefully add tea lights to each glass or goblet so they are transformed into lovely and eye-catching candle holders.
Add small votives, too, throughout your set up. I wanted real candles and picked up some tea lights that were cookie-scented so when lighted, they make the place smell like freshly baked Christmas cookies. However, if you have kids or pets around, you can also play it safe by using battery-powered tea lights.
Turn them on to add shimmer and allow light to bounce of your items. There is something so heart-warming about candlelight, no matter the source!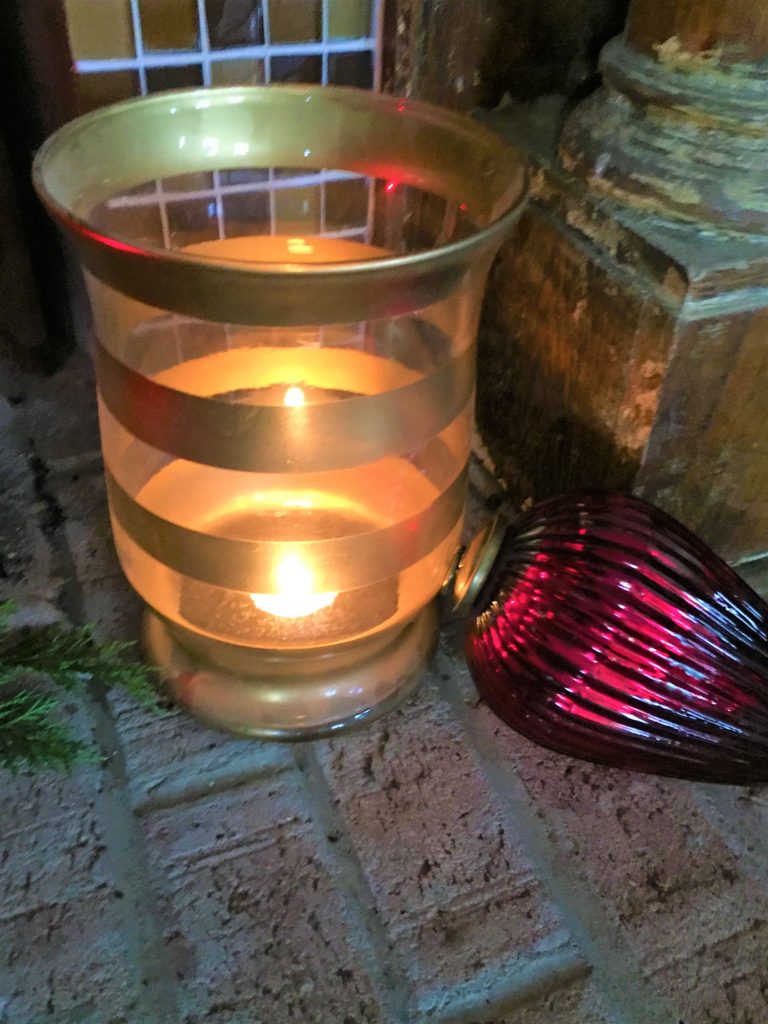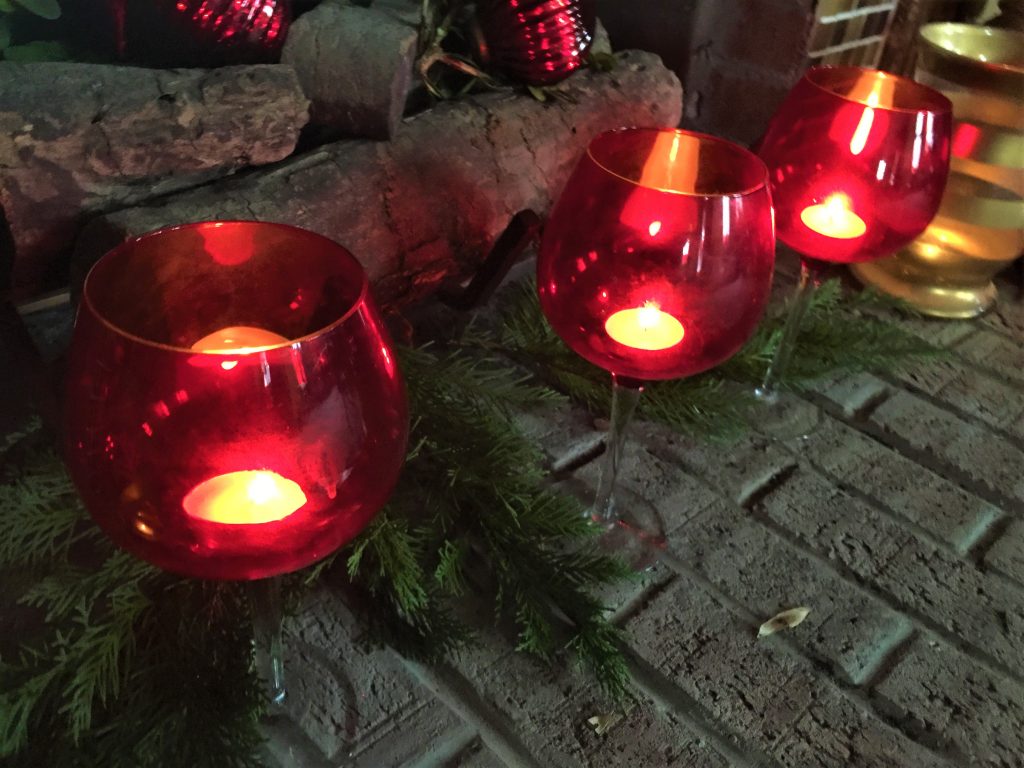 7. Share the love
Invite your family and friends to join you in the space your new display calls home. Play some Christmas music. Serve some hot chocolate or your favorite festive libation. Then clink your glasses—or mugs—and say "Cheers!" to a wonderful holiday season!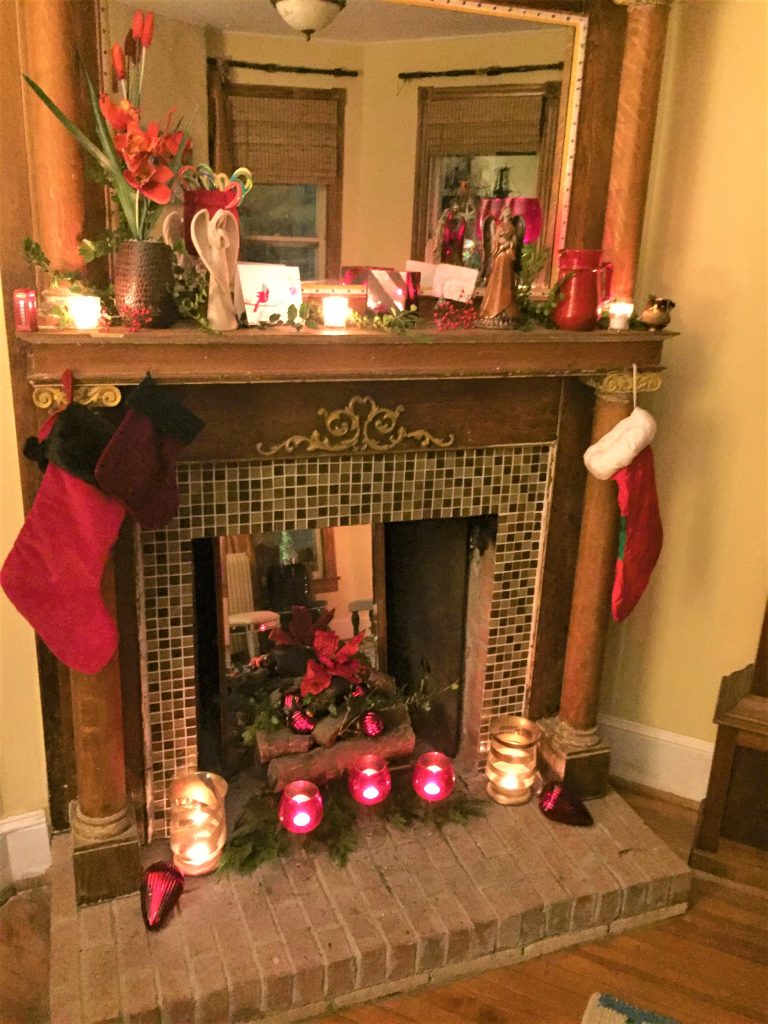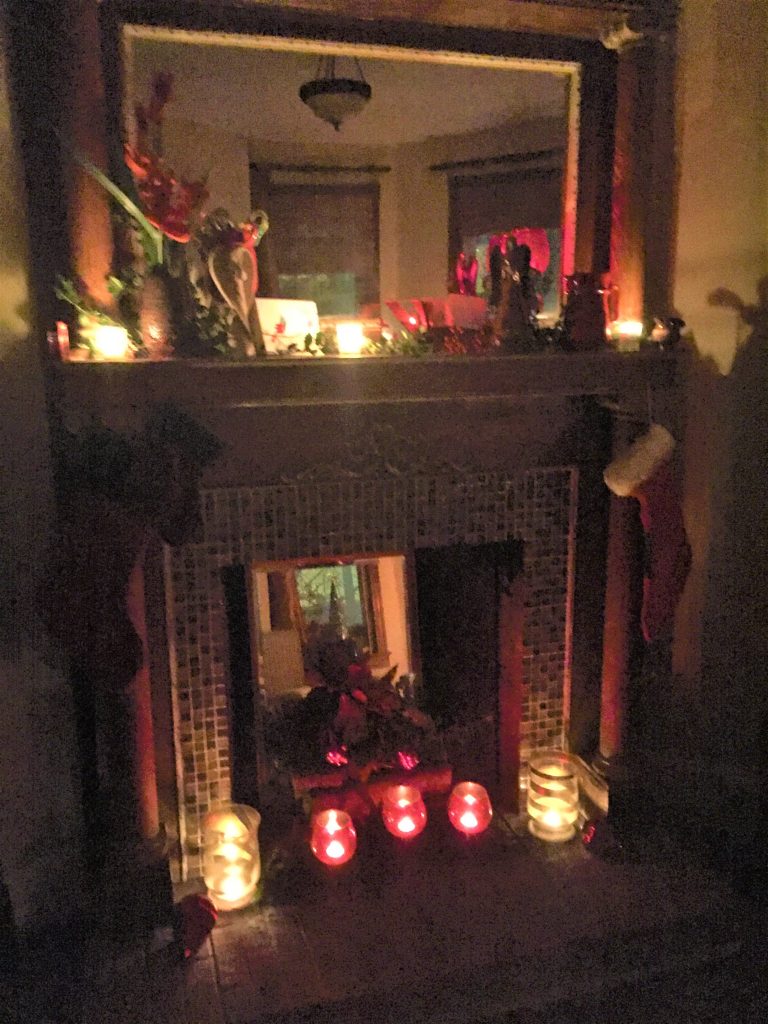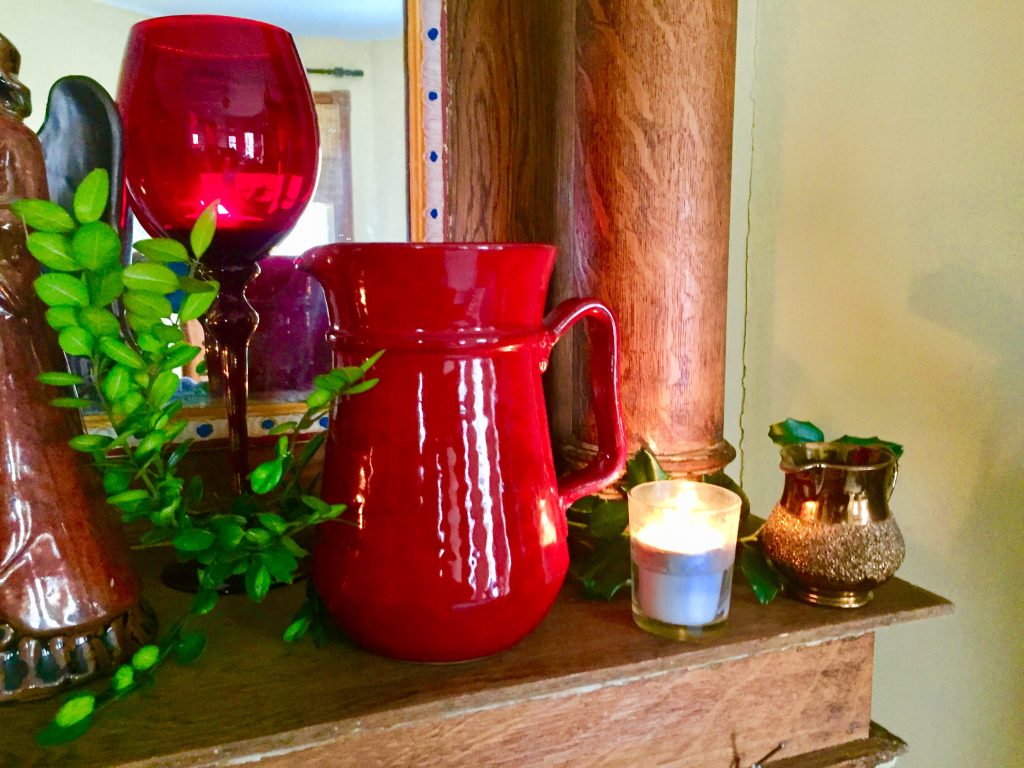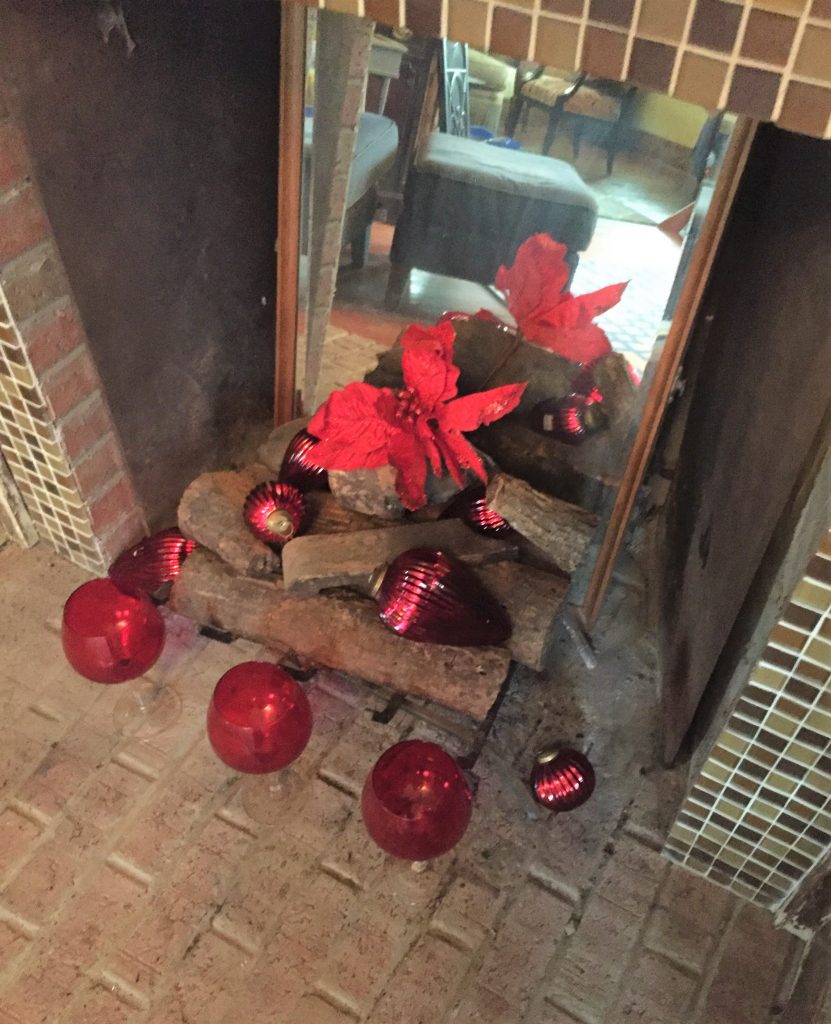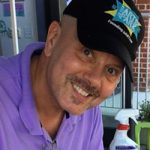 Tim Kime
Tim Kime is an artist, life coach, connector. He is President of Kime Leadership Associates offering executive coaching, meeting facilitating and motivational speaking. He is also Chief Creative Force of Transformation Junkies which upcycles furniture and other household items into functional works of art. He combined his two passions—unleashing the potential in people and transforming items with the launch of the Art of Possibilities Workshops. These workshops are part upcycling, part dreaming, part goal setting.