Create a shimmering Winter scape with upcycled items!
Celebrate the season by creating Winter scapes that will shimmer and shine until Spring.  Transform a collection of thrift store glassware, votives, and silver platters into a magical, winter wonderland for your tabletop.  
Today's sparkling DIY project was inspired by a recent Goodwill International Instagram post where a talented person turned glassware into holiday-themed terrariums. This creative idea was a catalyst for me—and can be for you, too—when you give thrift store items a blizzard of bling and celebrate Mother Nature's talents during this special of the year.  
Pulitzer Prize winner in poetry Mary Oliver summed up this season well:
"Snow was falling, 

so much like stars

filling the dark trees
that one could easily imagine

its reason for being was nothing more
than prettiness."
Items needed:
· Mason jars, tall vases
· Small silver platters/serving trays
· Tea light votives
· Small throw pillow
· Small statues, tiny artificial trees, plastic fruit, other items
· Silver paint
· White or silver glitter
· Buttons, jewelry parts
· Crystal beads, plastic diamonds
1. You'll sparkle when you shop at Goodwill
Shopping at your local Goodwill store gives you many reasons to sparkle—and smile.  From the remarkably low prices to the always very friendly staff members, you are certain to leave feeling like a million bucks.  This simple and seasonal DIY project will make you shine your light brighter, too, when you collect items to create a tablescape that looks beautiful in any room in your home or office. 
Search for items in the Glassware Section that can be tapped for this transformation. Several good-sized mason jars were bought along with a tall, rectangular vase—which also had small plastic apples and pears, ripe for an upcycle, too. I hit the bling jackpot when I also found four silver, sequined covered votives.
For this project, you will want a silver platter to serve as your foundation on which to build, so check out the aisle that has metal items for sale. While tarnished silver platters are beautiful in their own way, I encourage you to look for super shiny ones to reflect as much light as possible.
Pick up a small throw pillow while you are there which you will cut open for its white stuffing inside; this will become your winter scape's snow.
Explore the store section where little statutes and other decorative knick-knacks hang out.  I already had several small pine trees, an Eiffel Tower ornament, and buttons that I could use; you might want to transform small animal statutes or other items with a coat of paint.  You are looking for something small and charming to take center stage in your jars or vases and as part of your winter scape.
2. Spray on some silver
Once back in your workspace, place any items needing a shimmery transformation on a drop cloth in a well-ventilated area. 
The plastic apples, pears, small trees, buttons and even the Eiffel Tower got a quick coat of silver to connect them and make them super reflective. 
Let these pieces dry, then turn them over to add another light layer.  This will ensure all sides are covered with silver.
3. Let it snow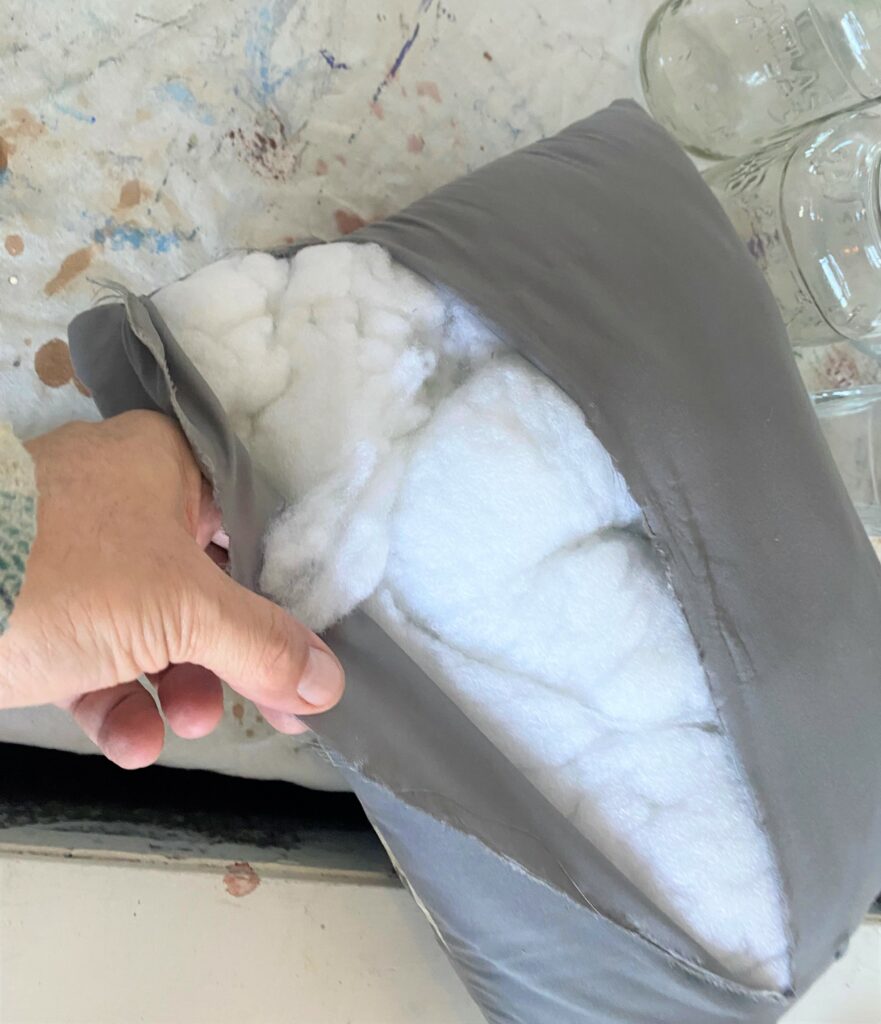 Cut open your throw pillow to reveal the beautiful "snow" inside. 
Select a jar or vase and add some stuffing to it. 
Cover the bottom third then place your item, like the small tree or statue, to be featured in it on top of the stuffing. 
I started with a small pine tree and placed it on the stuffing; I ended up removing some of the stuffing because I wanted the entire tree to be inside the jar.  
Once your snow and tree/item are in place, then add accessories around it like white or crystal beads. 
Carefully place your silver-painted buttons alongside your tree. 
If you are a creative type like me, you likely have glitter, beads, plastic diamonds, and other things you can sprinkle around your tree to add even more shimmery and shine to it. 
Design Suggestion:
The mason jars were selected because they also came with lids. However, when I added the trees to the jars and put the lids on top, it blocked the view of what was inside. Therefore, I decided not to use them for this project and will keep them for a future DIY upcycle. Be sure to be flexible and open as you create your masterpiece!
4. Position on your platter for a pretty vignette
Place one of your silver platters on your work surface and add a very thin layer of pillow stuffing. 
You may need to pull it apart, so it doesn't clump in the same way as in does inside your jars or vases. 
Cover the entire base of your platter a layer of "snow." 
Put one of your jars with its items inside on top of the platter. 
Add a votive next to it.  Add old jewelry parts as well as your beads and plastic diamonds. 
When all are in a position that looks lovely, add another layer of snow by sprinkling on a little bit more glitter. 
5. Show off your silver, shimmery winter wonderland
This project is very easy and so much fun to do with family and friends.  However, now is the hardest part—where to place it! 
Truly, this is not hard at all as you have so many options.  Hosting people over for the holidays or in early 2022?  This winter tablescape will look lovely in the center of the table.  Want to surprise family and friends when to stop by the bathroom?  Place a small winter scape next to the sink or even on the top of the tank. 
Are you lucky to have a fireplace with a mantle?  This project will make that space shimmer and sparkly during the day or in the evening when the candles are lighted.
Planning a winter-time wedding, special birthday gathering, or anniversary celebration?  These tablescapes are perfect as centerpieces and will add elegance to any setting.
This lovely decoration will warm your heart throughout the holiday season and all winter long!
 "Snow flurries began to fall and they swirled around people's legs like house cats. It was magical, this snow globe world."― Sarah Addison Allen, New York Times best-selling author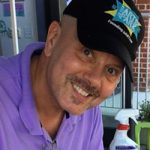 Tim Kime
Artist, Motivational Speaker, Life Coach
Tim Kime is an artist, life coach, connector. He is President of Kime Leadership Associates offering executive coaching, meeting facilitating and motivational speaking. He is also Chief Creative Force of Transformation Junkies which upcycles furniture and other household items into functional works of art. He combined his two passions—unleashing the potential in people and transforming items with the launch of the Art of Possibilities Workshops. These workshops are part upcycling, part dreaming, part goal setting.