I have to admit it's a weird feeling to walk into a Goodwill store and see your stuff for sale.
That's what happened to me last week when I spied my former kitchen table right there in the middle of the Furniture section of the Sterling, VA Goodwill store.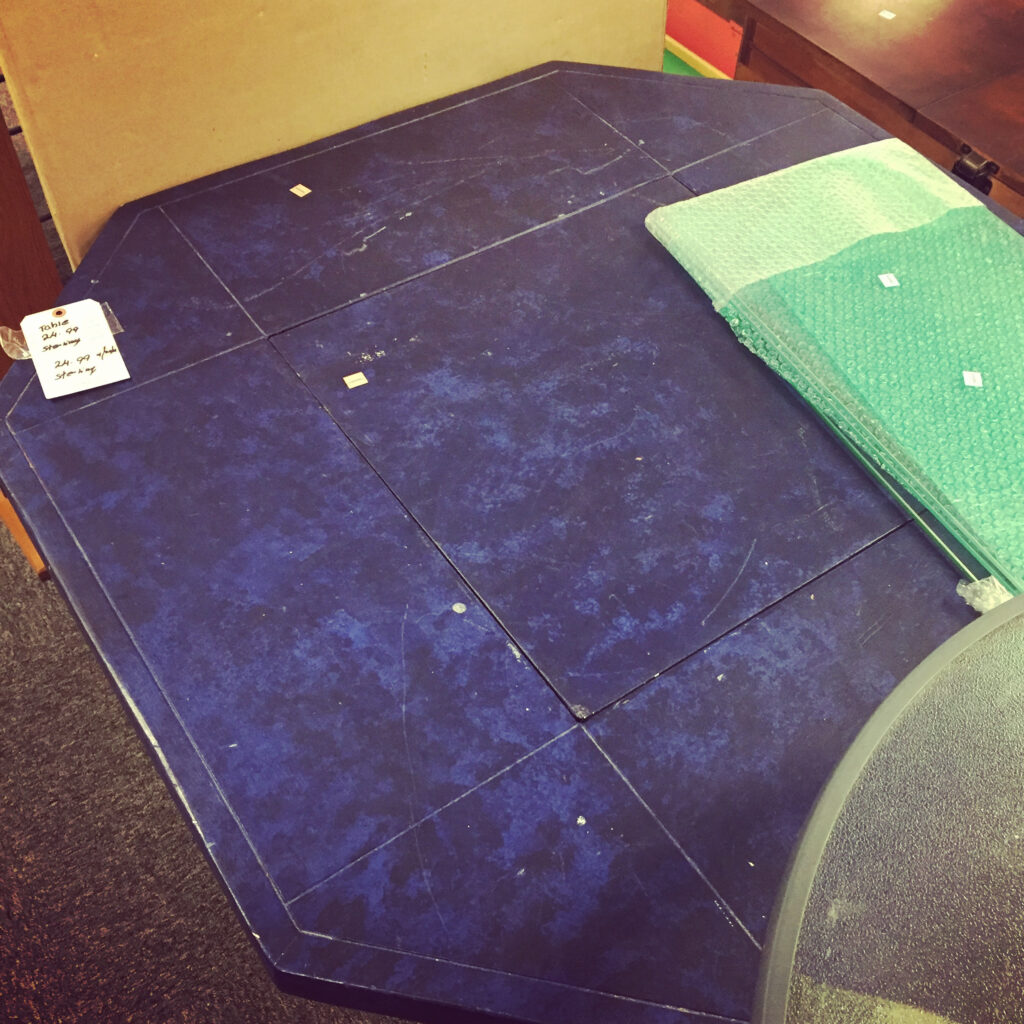 The table has come full circle! I purchased it here at the Sterling, VA Goodwill store when I moved to Sterling in the early 2000's. I didn't have a lot of money, but I did have a vision for how I wanted my new home to look.
My style back then – and now – involves bright colors, happy vibes and eclectic furniture and home décor items that you just don't find in big box stores. That's why back then – and now – I love shopping at Goodwill.
I love the thrill of a good treasure hunt – not knowing what you are going to find, but knowing that it will be awesome. I love seeing past the flaws in items other people no longer want or need – and coming up with a plan for making it useful and beautiful again.
The middle square of this table pops out and has a checkerboard on the other side. I never played checkers on it. But I did paint it. I didn't know anything about furniture painting at the time, but I knew what colors I liked. I tried a technique called sponge-painting for the first time on this table. I dipped a sponge in several shades of blue and dab, dab, dabbed them all together until I loved how it looked.
It's a technique I continue to use it in my work today.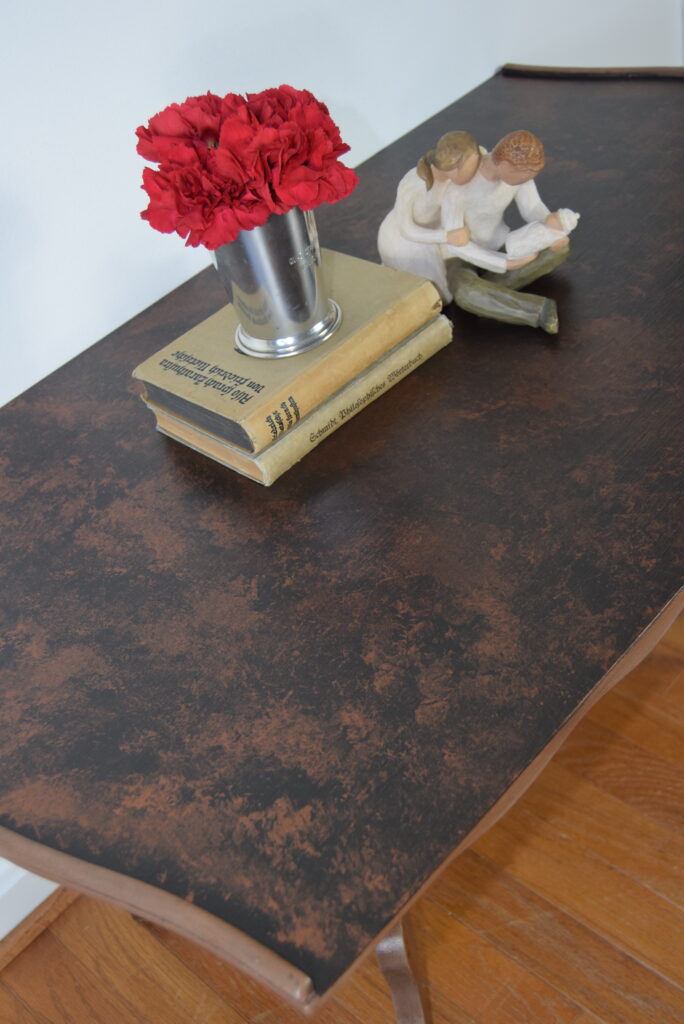 Somehow my kitchen table ended up in my parents' basement when I moved. It's been down there for many years underneath a pile of clutter. It's looking a little rough these days. My parents are de-cluttering their basement and my dad called me last week to see if I wanted it back.
I didn't.
So he donated it to Goodwill.
(When I told him I was stopping at Goodwill on my way home from our shop last week, he joked, "See if your table is there!" So I texted him a photo of it. He laughed and said $24.99 is a great deal!)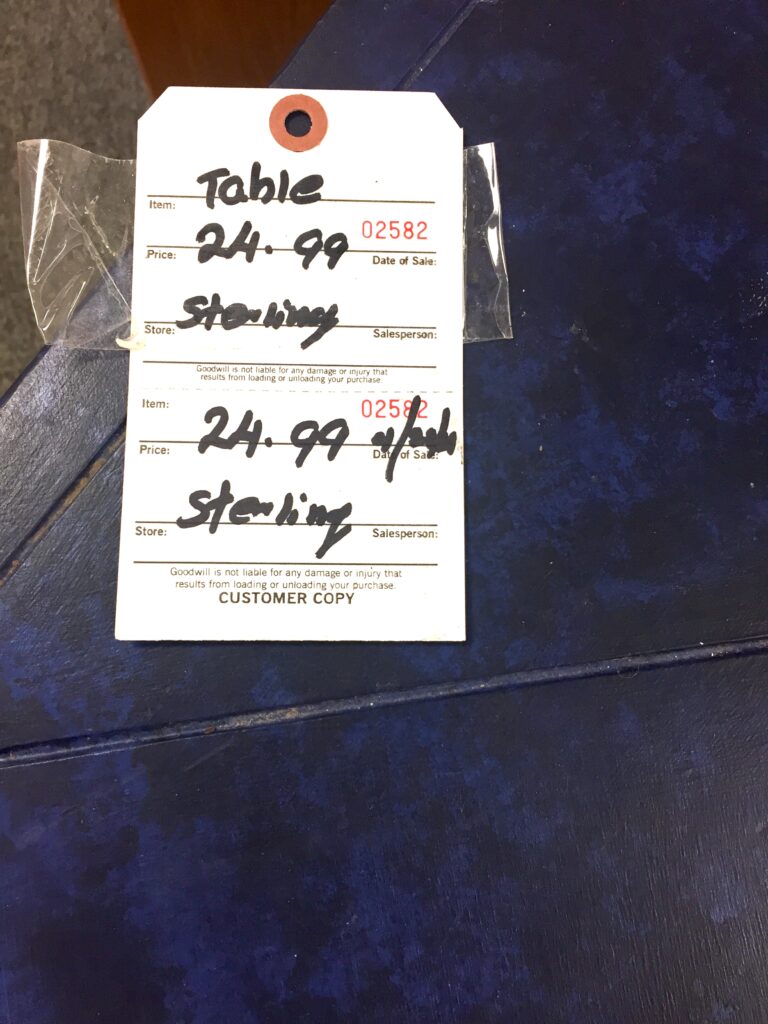 I have many happy memories at this table. I ate a lot of meals here with a lot of awesome people. I wrote a lot of articles, wrapped a lot of presents and even tried to learn how to sew here once.
So many moments in life happen around your kitchen table, don't they?
I'm glad this table is out of my dad's basement and waiting at Goodwill for the perfect person to come along and find it. I hope they fix it up to fit their style perfectly and I hope they enjoy it.
Mostly I hope whoever buys this table creates many happy memories of their own around it.
Have you ever spotted an item you donated for sale at Goodwill? What was it? Tell us about it in the comments!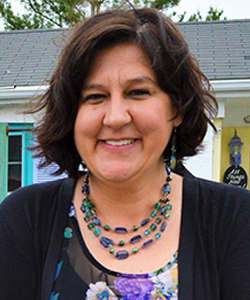 Courtney Mickalonis
Courtney Mickalonis is an artist, teacher, and treasure hunter at All Things New Again, a furniture and paint boutique in Leesburg, VA. She finds old furniture that nobody loves anymore and makes it beautiful—and useful—again. Courtney teaches a monthly Learn How to Paint Furniture class at their Leesburg studio and hosts The Furniture Painting Friday Show every Friday at 12 noon on the All Things New Again Facebook page.