Upcycle two cast-aside pieces into a pretty in pink pair with paint & posh fabric. This easy DIY project will have everyone wanting to sit on this set to get the royal treatment. The faux fur fuzzy fabric feels so fine to your fingertips, for sure (love alliterations)! Here are easy steps to transform two pieces from drab to fab, from Granny to gorgeous!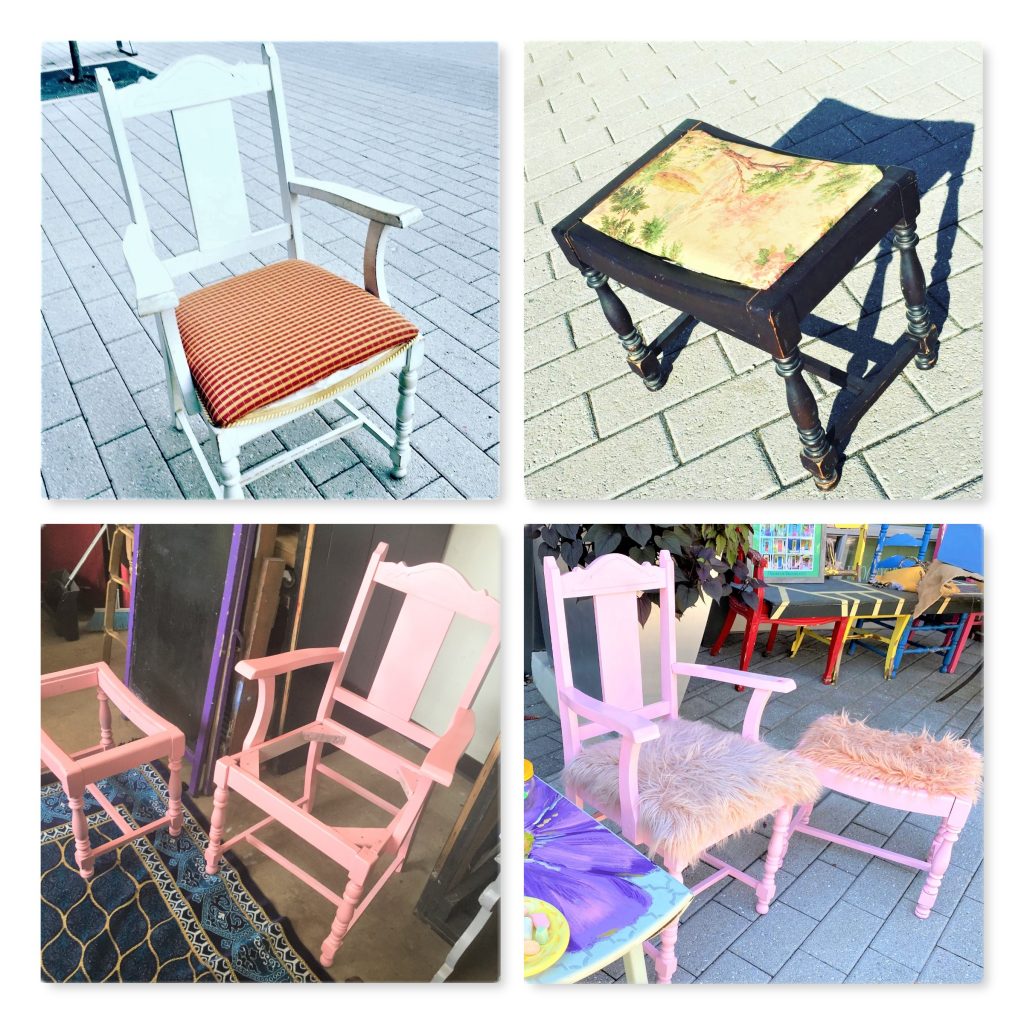 Supplies Needed:
1. Sturdy wooden chair and footstool with upholstered seats
2. 3 cans of pink spray paint, semi-gloss finish
3. Faux fur fabric
4. Staple gun
5. Scissors
6. Screwdriver
7. Fine sandpaper
8. Wood glue
Step 1: Pick your pieces & pack 'em up promptly
For those fellow thrift shoppers and deal hunters, Goodwill is truly the best place in town for great pieces and rock bottom prices. Now that area Goodwill stores have reopened, you can get your fix of fantastic finds. However, plan to take your pieces home with you immediately after purchased as items are no longer available on hold. This will help keep things safe and healthy for all. The good news is that this project asks you to find a chair and footstool which are easily movable.
So what to look for? I love the chair and footstool featured in today's blog because they had a similar look and feel with their knobby legs and bottom crossed support pieces. Also, I liked the chair's back shape and carved details that have an elegant feel to it. Both looked so dated and dreary but had lots of potential to be a special set.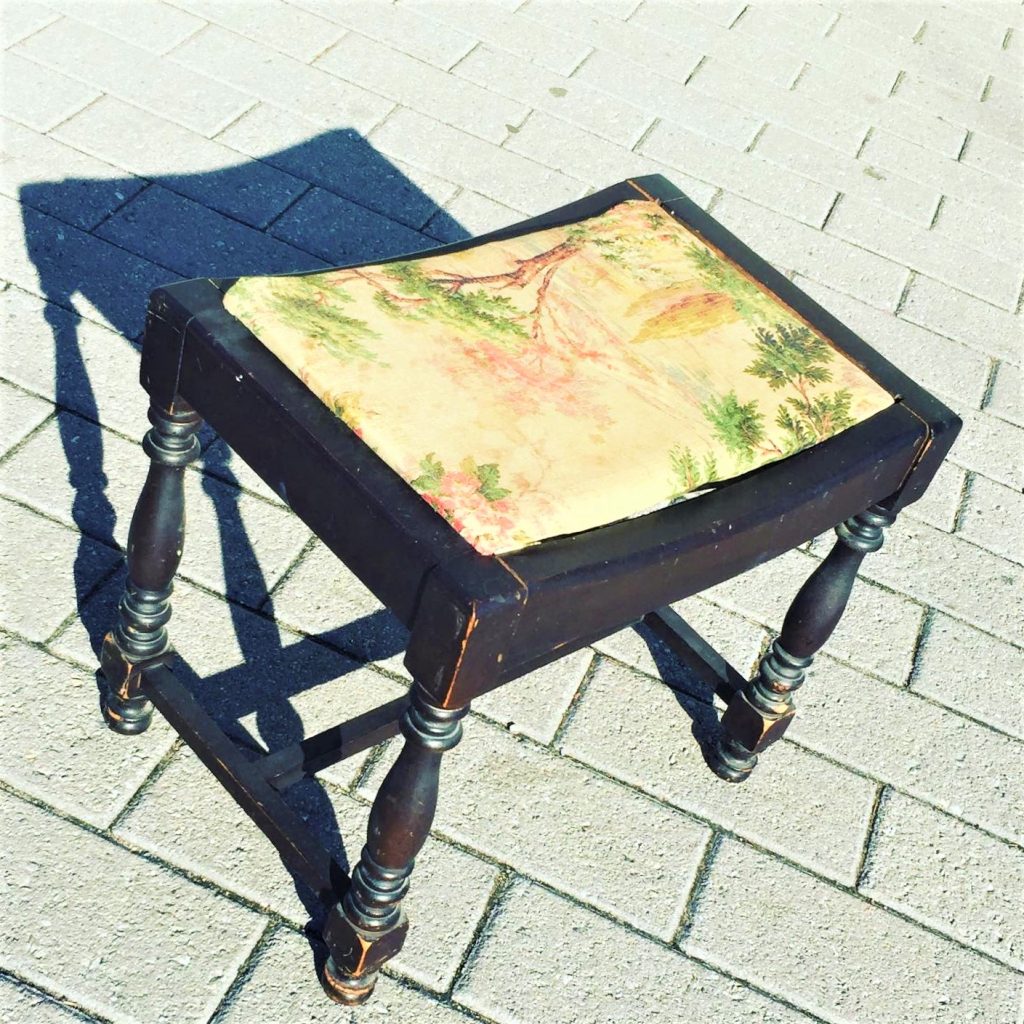 When you are at Goodwill, look beyond the current colors or finishes of things for sale. Two mismatched pieces can easily become partners in transformation when you follow the next steps. And look for furniture made of real wood, if possible. They will be more durable over time and just feel more solid.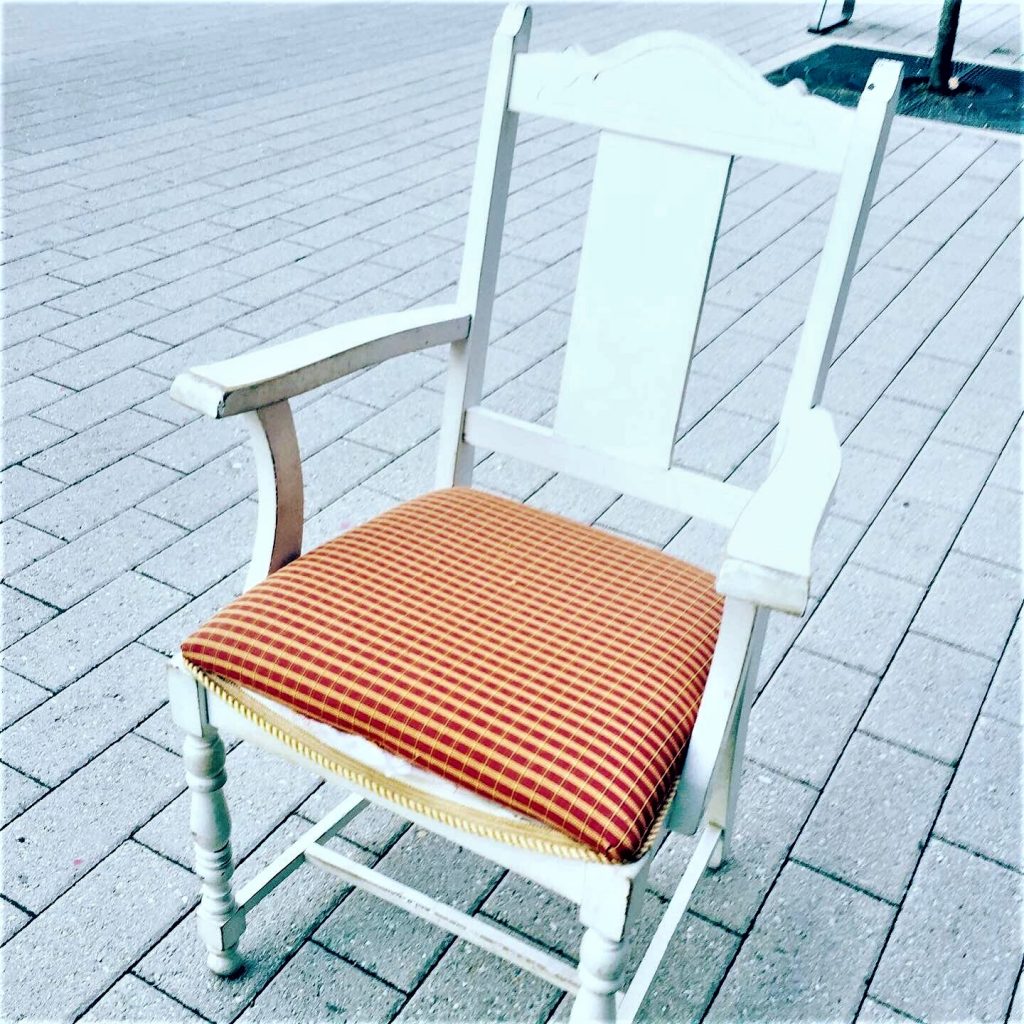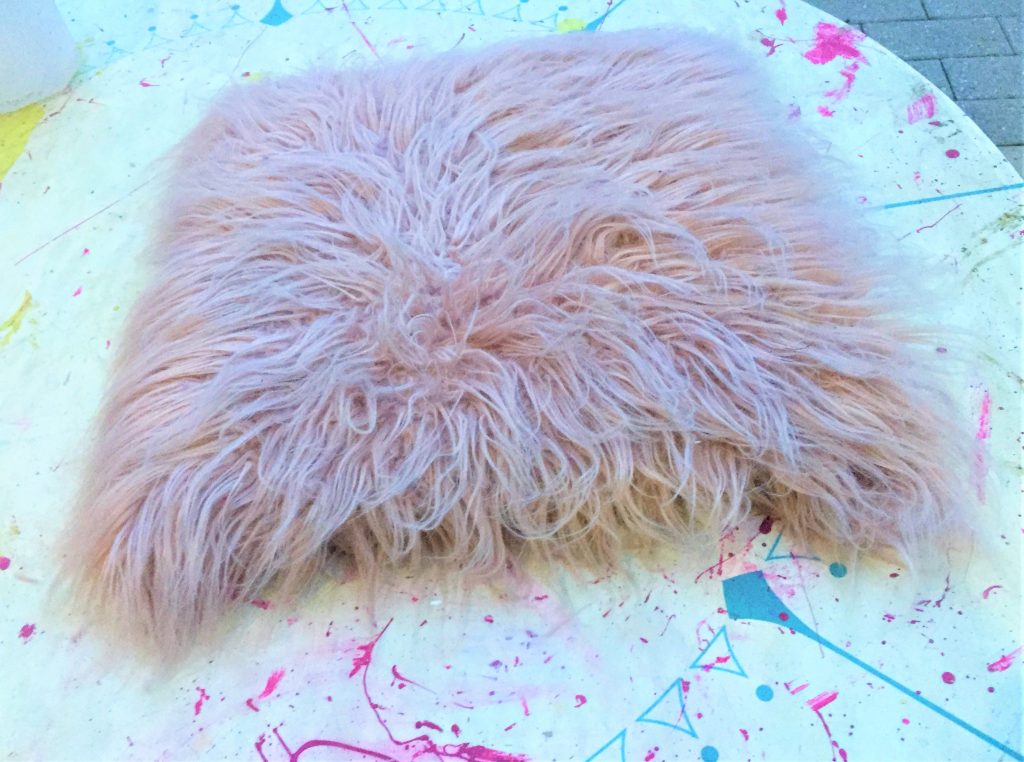 In addition to the checking out the furniture section at Goodwill, stop by the area that has pillows, blankets and linens. A furry pillow for sale was part of the inspiration for this project because it could be cut apart easily and reused. Check to see if there are any cuddly blankets available as they could be repurposed, too.
Step 2: Prep for paint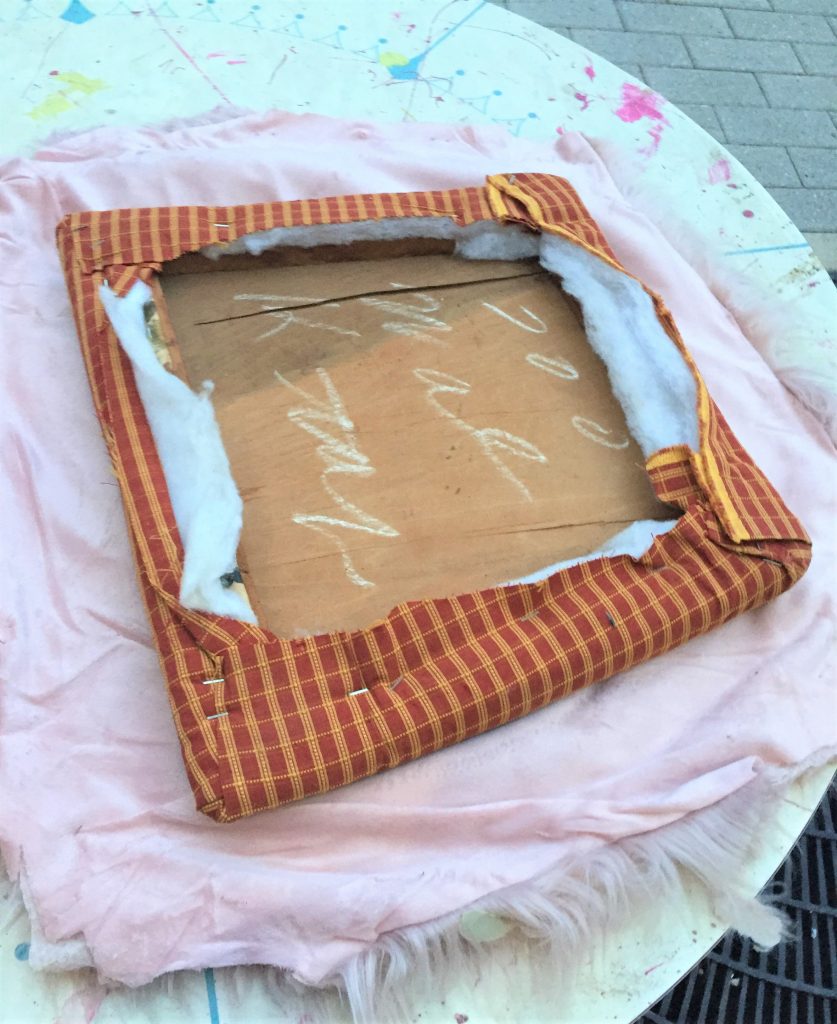 With your screwdriver, remove the seat by flipping the chair and footstool over and unscrewing it.
Set the seat aside for Step 4.
With a fine grain sandpaper or sanding block, lightly rough and buff up the wooden surface. You will be making the surface more paint-friendly but not removing the whole layer of varnish or paint.
Tighten any screws which hold the pieces together; you may need to add some wood glue to various joints to ensure the pieces are tight and all wobbles are gone.
Wipe down your pieces with a damp cloth or rag to remove the dust created by sanding as well as any dirt or fingerprints.
Let it dry or use another towel to remove the moisture. If you are doing this project outside, the current hot weather will dry your pieces very quickly. Please do this in the shade and drink lots of water along the way!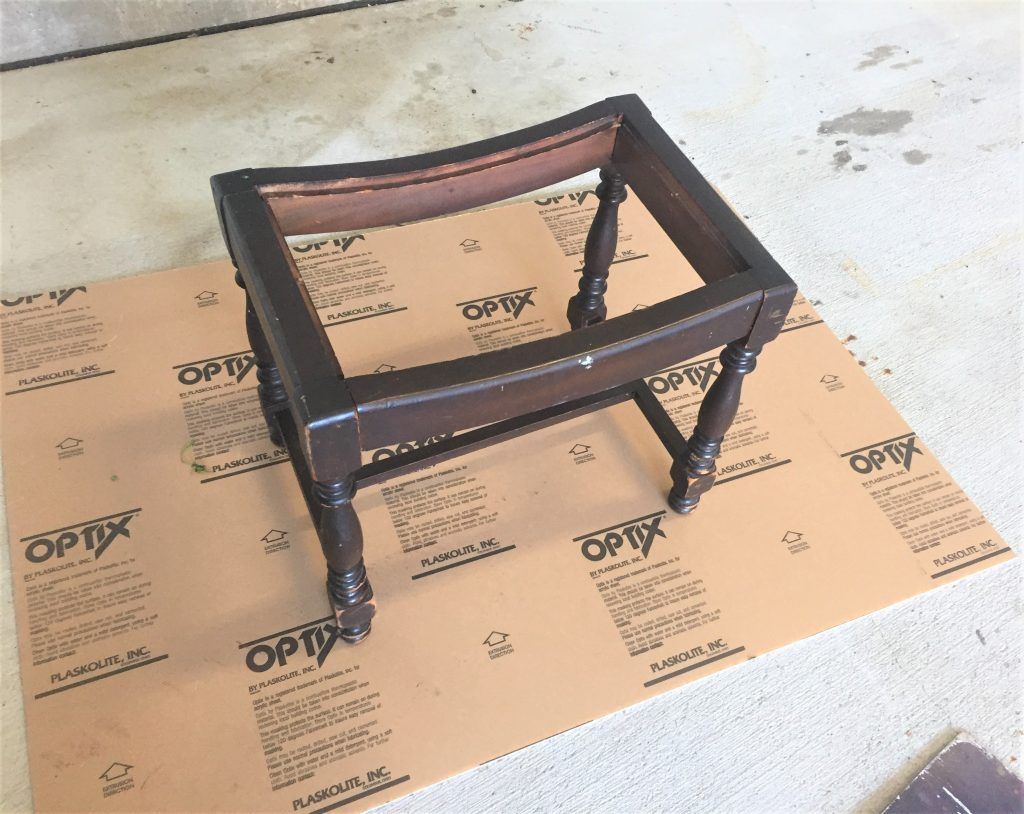 Step 3: Pick a pink to make it pop—and pretty
Sometimes the materials you have for projects help to determine your color choices. The furry pillow and fuzzy blanket for this project were shades of pink so it was an easy choice to continue in that color vein. Other hues that would have worked well are lavenders, light blues or other pastel colors. If the fabric had been white, I might have gone with silver tones or even black to give the set a really elegant look.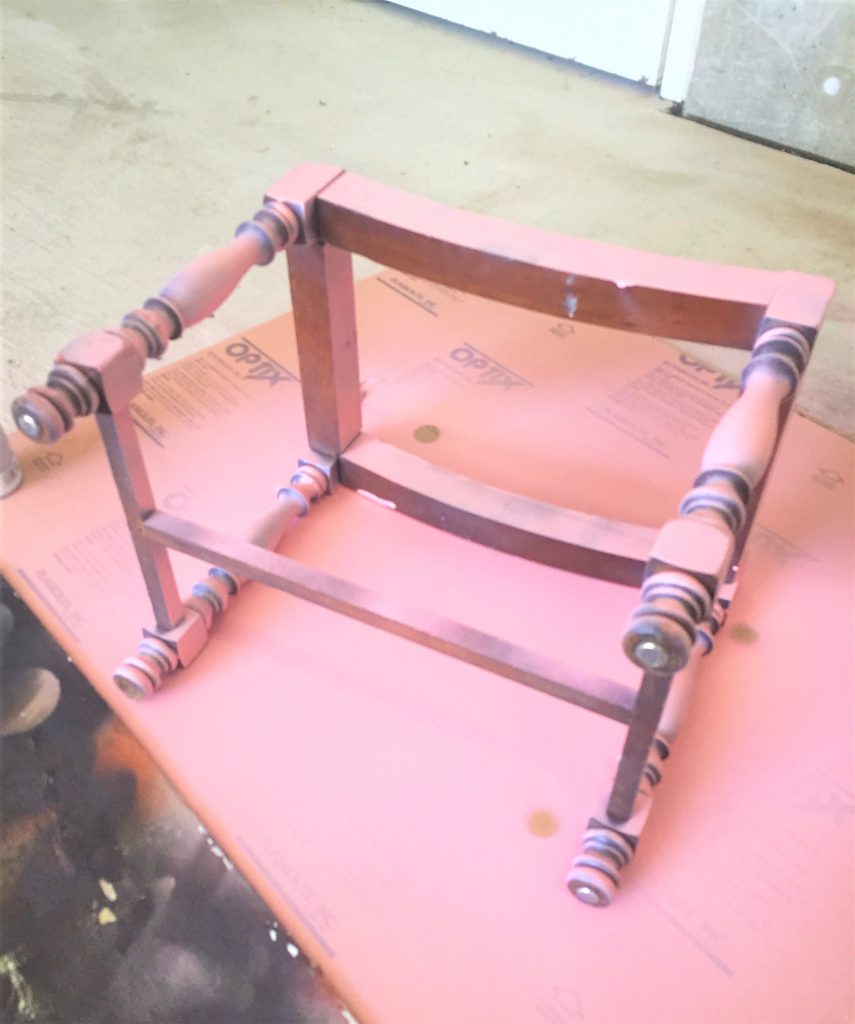 Place your prepped pieces on a drop cloth and spray on a light coat. Don't go for a solid, perfect coverage on your first spray because you might get drips or runny areas.
Let them dry then turn your pieces over, spray again and let dry some more.
Place your pieces on each side and go to town with a light touch. This will ensure every part gets covered and looks great. Since your pieces are so lightweight, they will be easy to move and flip around.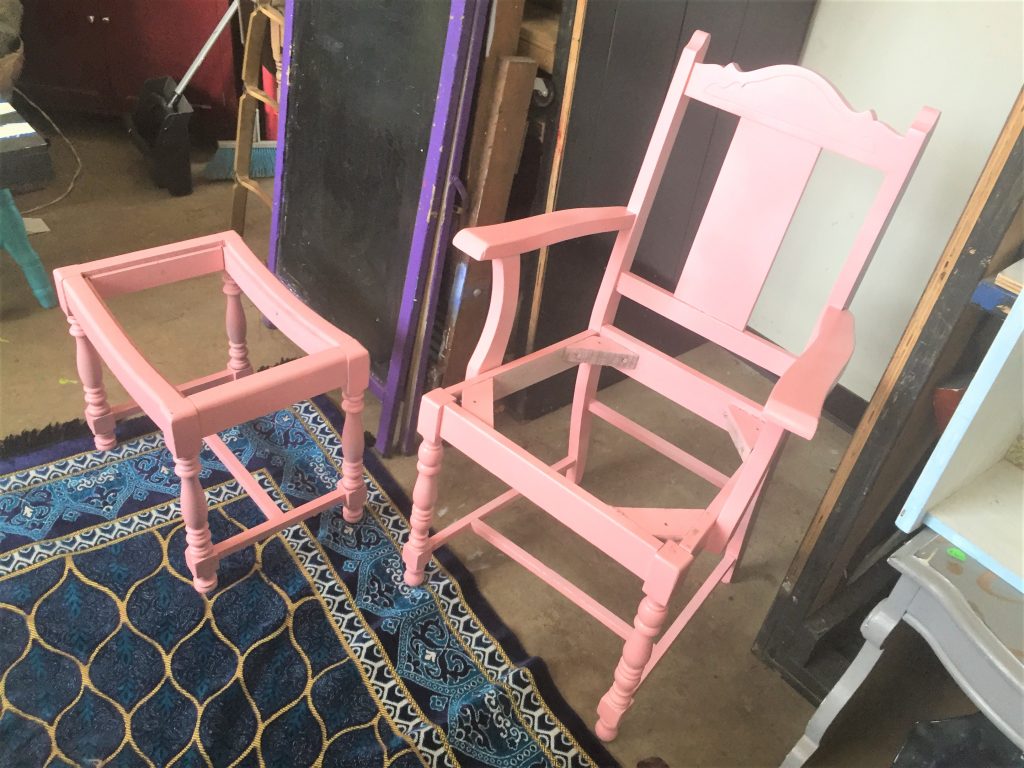 Step 4: Shift your seats
To make the best use of your time, tackle this step while you are in between coats of paint and drying time.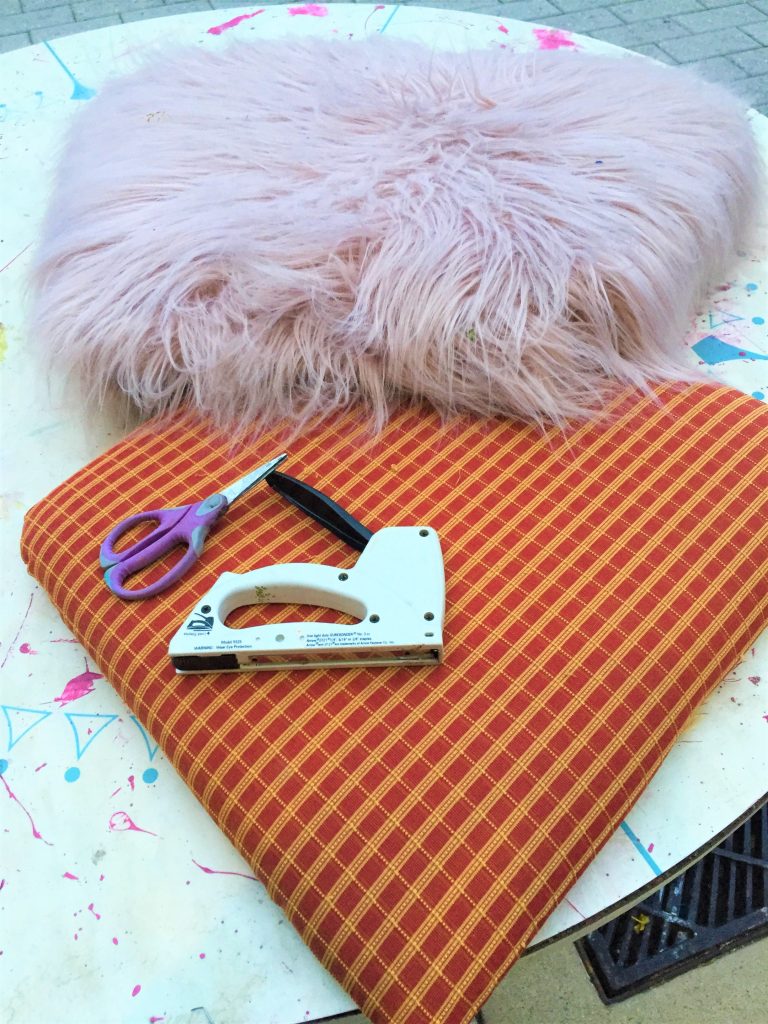 Cut the fur fabric from your pillow or blanket and place it flat on your work surface, fuzzy side down.
Put your seat on it with its top side down, too. Based on the condition of your pieces' current fabric, they might not be the need to removed, so build upon it instead.
Position your seat in the center of the fabric and allow it to overlap it and give you space to secure it with your staple cut.
Cut the fabric then staple one flap of the fabric on the back or underside.
Continue to staple around the seat, cutting access fabric along the way.
Expert tip: For a simple upholstery project like recovering this chair and stool seat, I suggest you add a stable to each side. Place your seat upside down on the fabric. Staple one edge then pull the fabric tightly and add a staple to the opposite edge to hold in place. Repeat this step for the other two sides so that each side has a staple holding things place. Then go back and fill in all the blanks with lots of staples pulling the fabric tightly as you go. This will allow the finished seat covering to look tight and crisp and oh-so professional!
Step 5: Fastened the fuzzies
With your pieces thoroughly dried and your seats recovered, flip them over and secure them back in place with the original screws.
You might have to trim a little of the fabric in the process to ensure a tight and secure fit.
Turn them back over and your transformation is complete!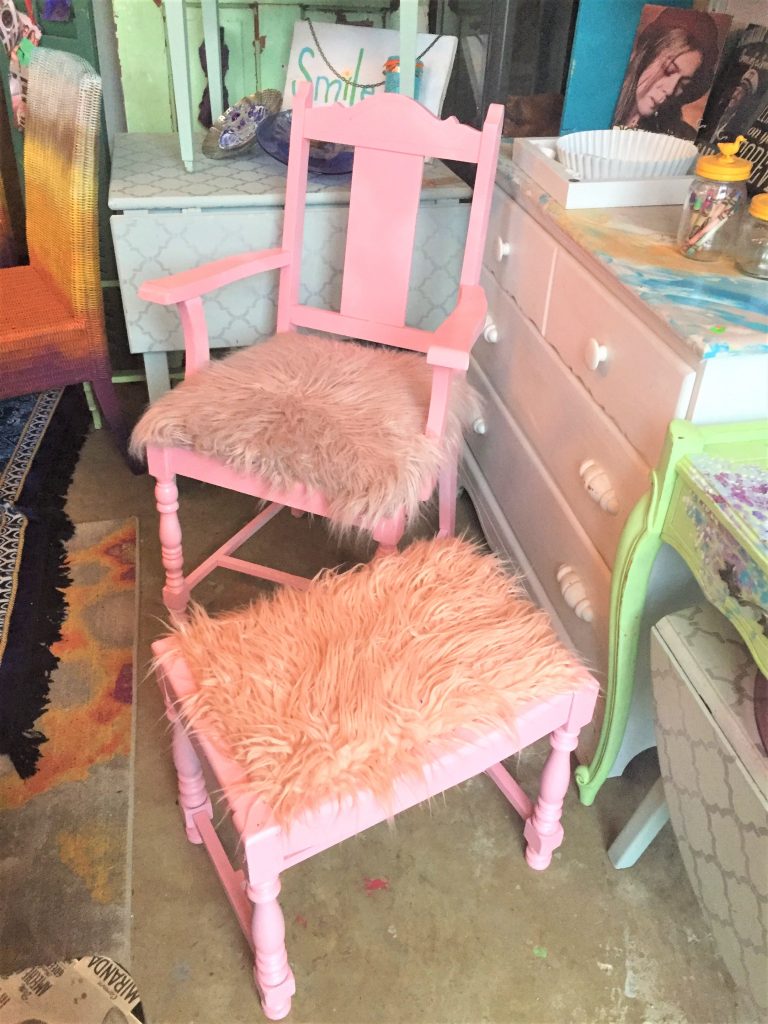 Step 6: Position and perch
This is the hardest step—deciding where to place your pretty in pink pieces!
First of all, you might want to give them as a gift to a special person.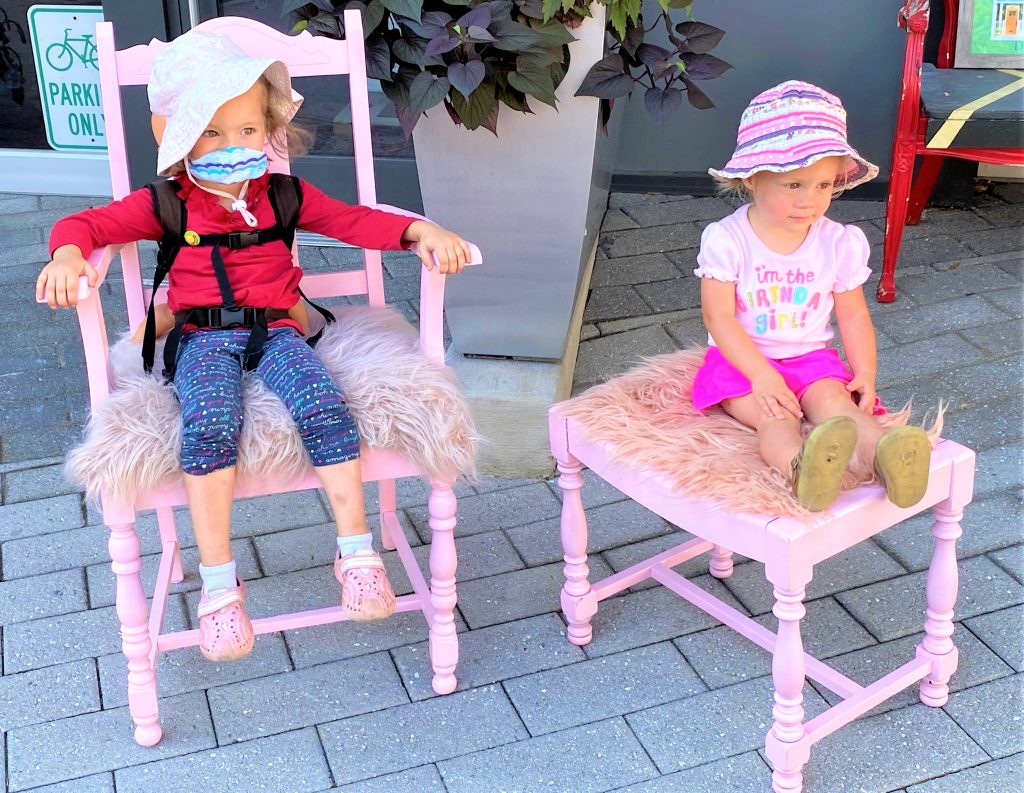 Or keep them for yourself! In your living room? Possibly. In your bedroom? Certainly. In your office? Why not? In a child's room? Of course!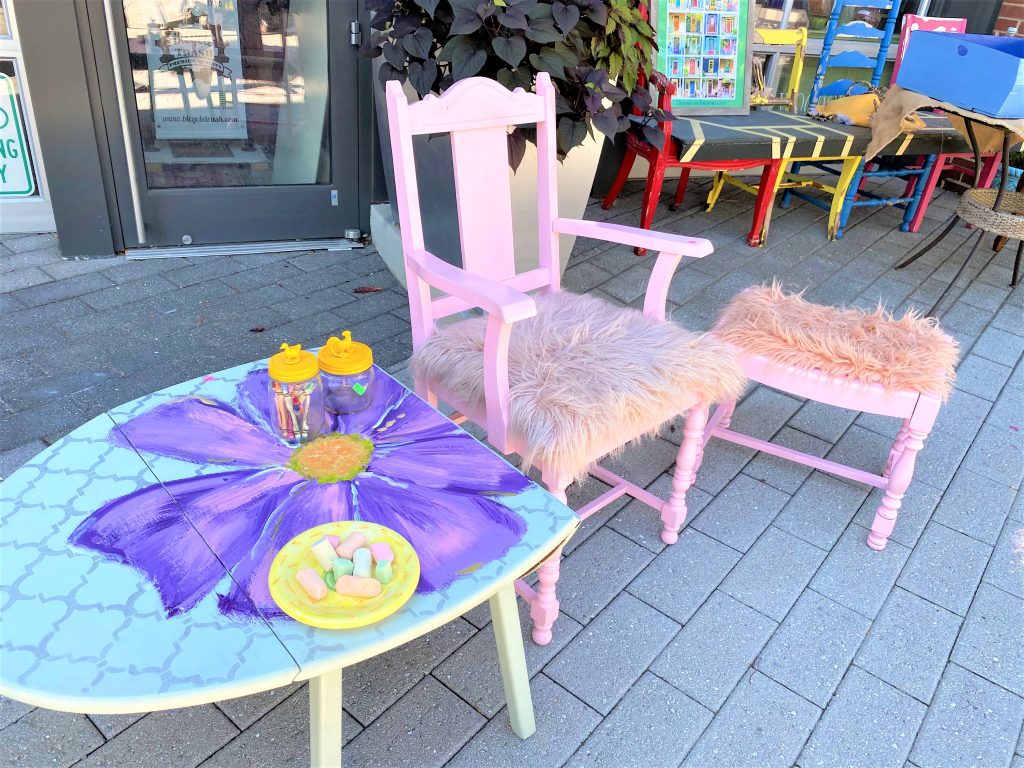 Wherever this pair calls home, people will want to touch it, take a seat and put their feet up. All your peeps will feel perfectly proper on this pastel pair!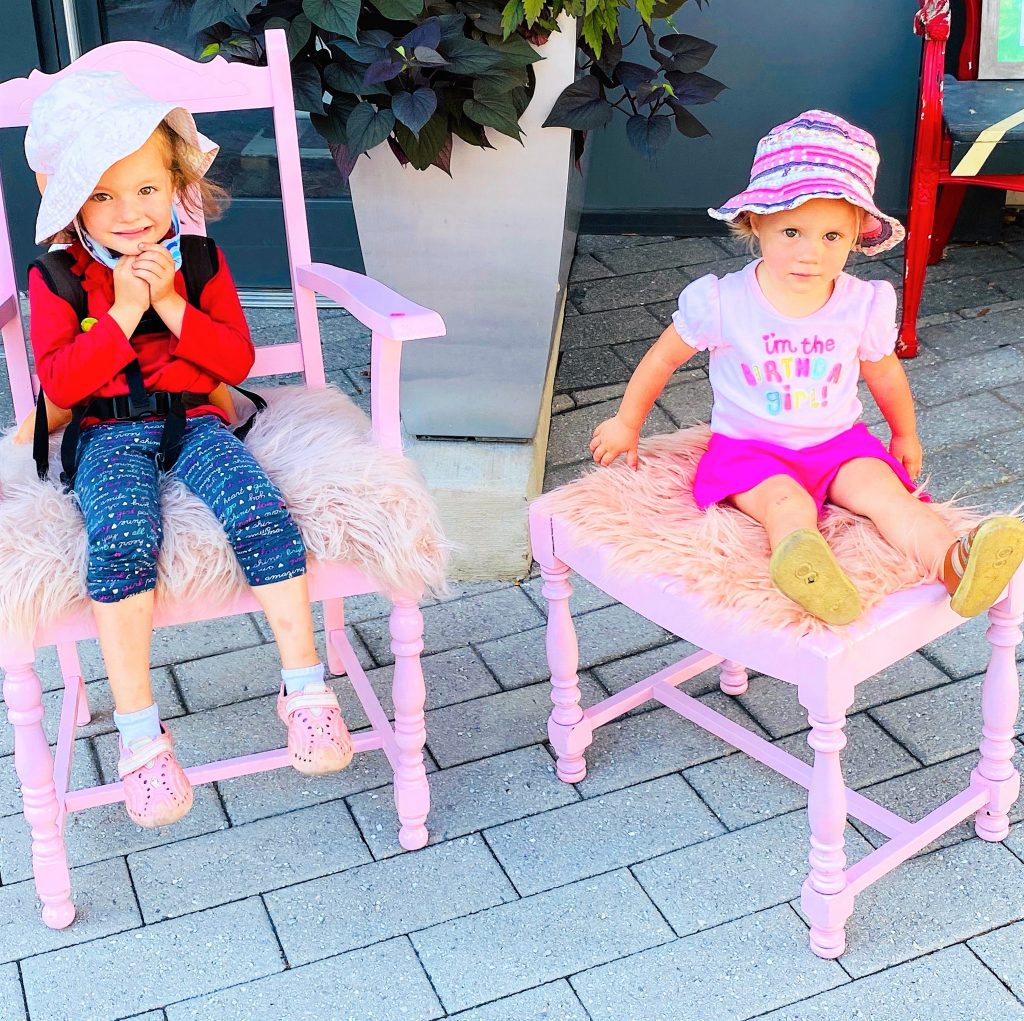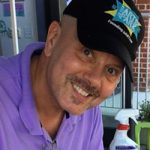 Tim Kime
Artist, Motivational Speaker, Life Coach
Tim Kime is an artist, life coach, connector. He is President of Kime Leadership Associates offering executive coaching, meeting facilitating and motivational speaking. He is also Chief Creative Force of Transformation Junkies which upcycles furniture and other household items into functional works of art. He combined his two passions—unleashing the potential in people and transforming items with the launch of the Art of Possibilities Workshops. These workshops are part upcycling, part dreaming, part goal setting.