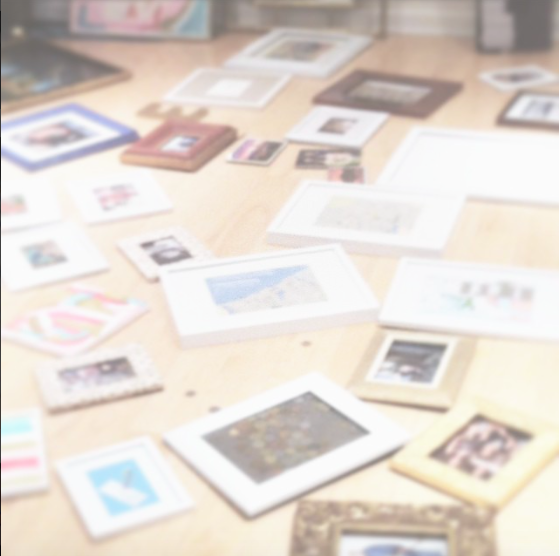 I love the look of a well-styled gallery wall. A gallery wall can be made up of paintings, prints, photographs, or other artwork. I have a few gallery walls around my home of varying sizes, and I've purchased almost all of the components at various secondhand stores over the years. It can sometimes feel daunting to put together a gallery wall, but I have always followed a few tips that make it simpler and help me look for the right pieces when I'm out shopping.
1.) Develop a Palette
I felt uncomfortable mixing different colors of frames when I made my first gallery wall so I chose a color scheme and went with it. Back then, I bought a few random frames, and I spray painted them all white. Instead of worrying about color placement, all I had to figure out was the layout. Recently, I found 6 matching brushed brass frames at Goodwill (SCORE!) with outdated artwork in them. I took out the existing artwork and printed 6 black and white family photos on a regular printer, and then I hung them in a simple pattern. EASY PEASY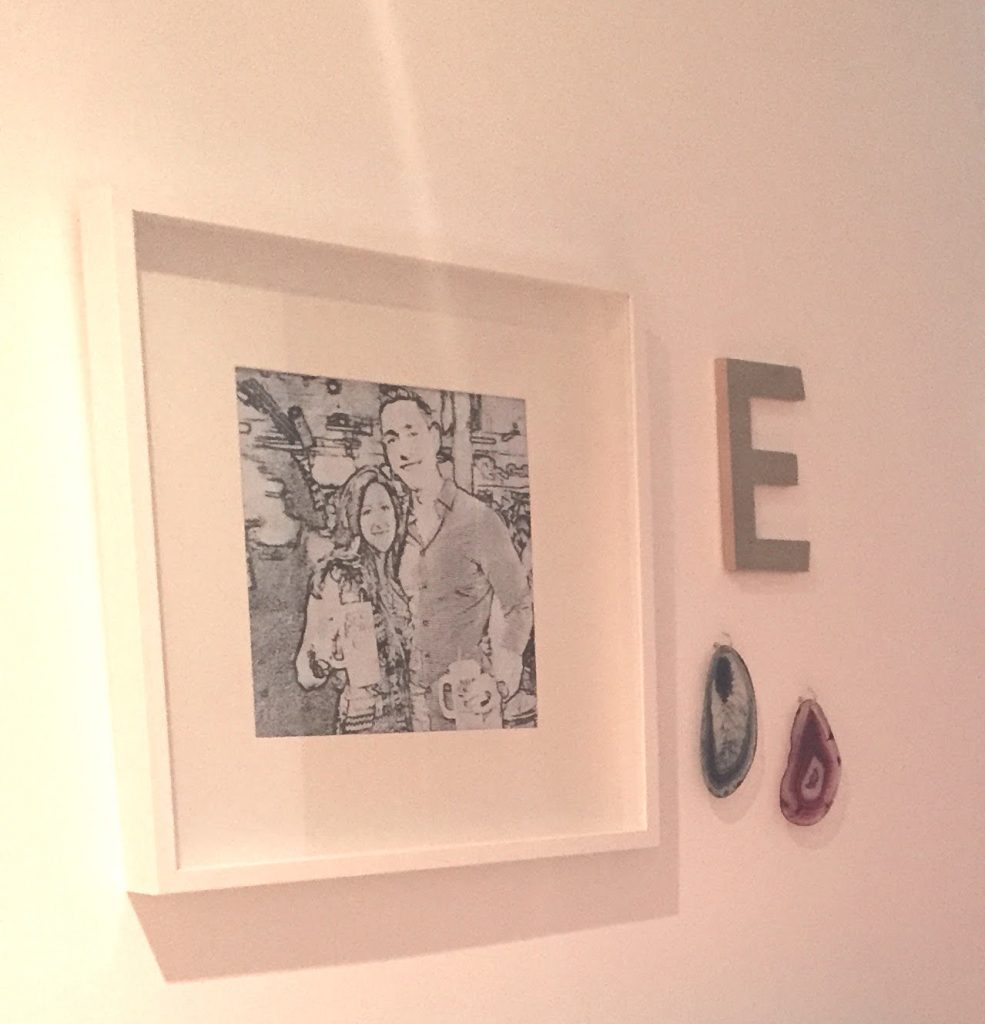 2.) Start Small

Begin with just a few pieces and let your collection grow over time. This is the beauty of Goodwill: you can go frequently and pick up a little something here and there for your home without breaking the bank. My little gallery wall in my dining room only has 4 pieces to it: a frame from Goodwill with some DIY art in it, a brass letter from Goodwill, and two faux agate rock ornaments that I got in the Christmas clearance bin at Target a few years ago (for $.25 each). *I recommend hanging mixed finds in odd-numbered groups normally, but the two agate ornaments in this mix feel like a single item.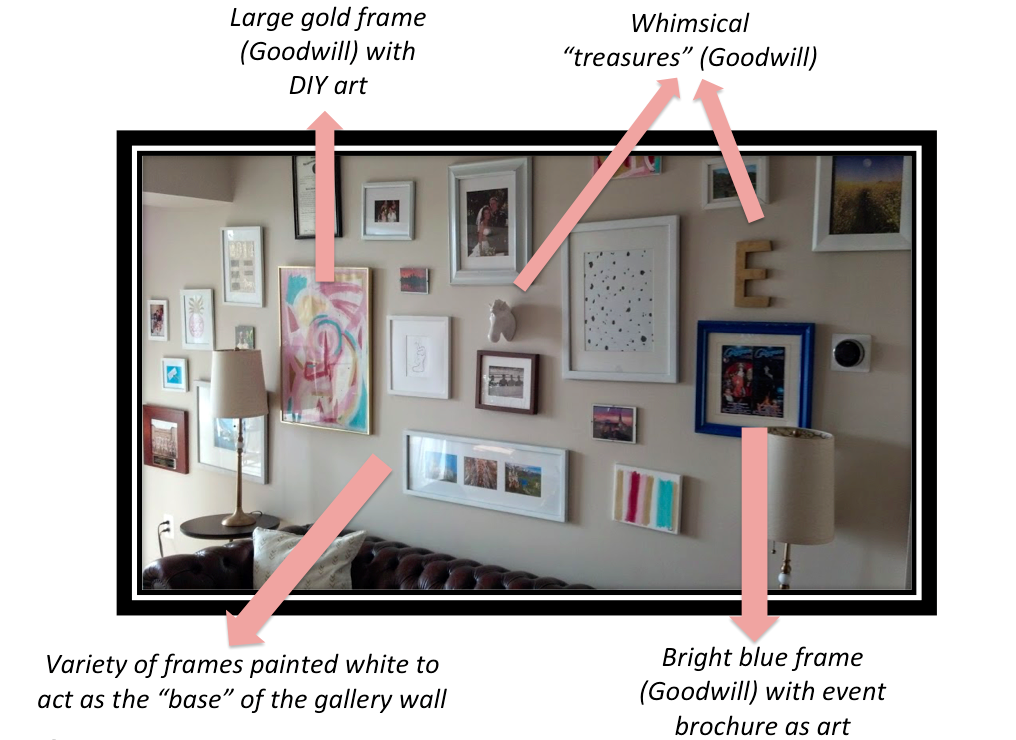 3.) Let Loose
If you love something (regardless of how strange and zany it is), get it! Tip #1 (choosing a palette) is an easy way to make a gallery wall, but this tip is the FUN way. Start purchasing things you adore for your wall (paintings, frames, etc). Your collected items end up creating an eclectic "gallery" vibe. I personally enjoy mixing multiple colors and sizes of frames with a few whimsical "treasures." I also create my own paintings for gallery walls by repurposing canvases and frames from Goodwill. When creating a layout for an eclectic grouping, I always like to keep things off center and place items around 1 focal piece. I lay out my pieces on the floor before I hang them.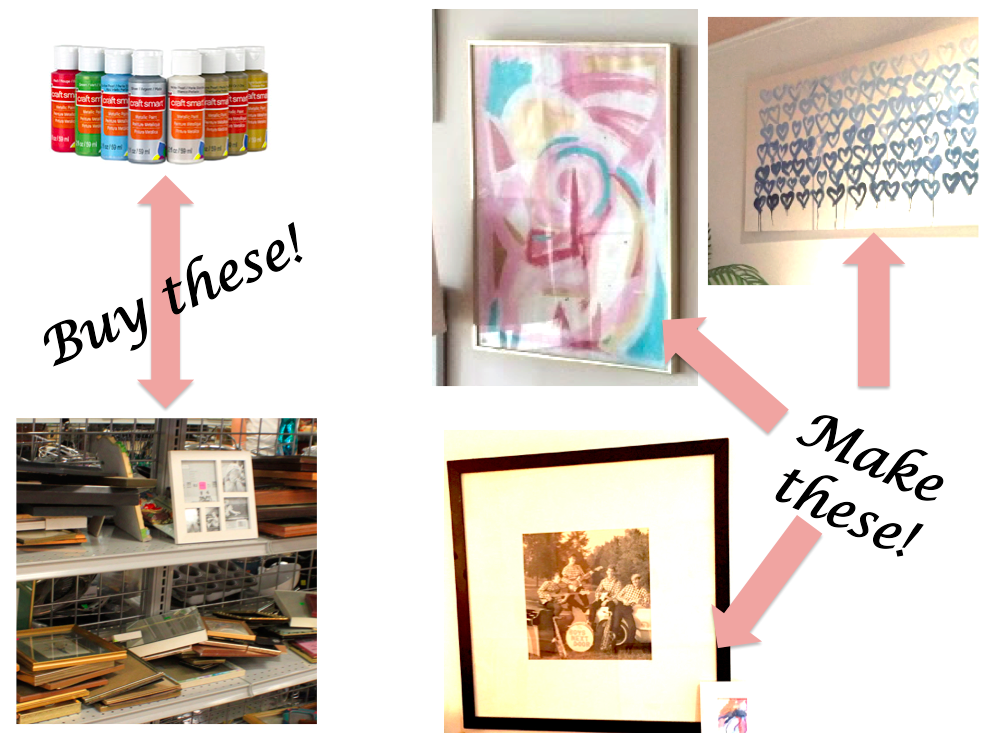 As for art, I know it can be tough sometimes to find art that you love. If you enjoy being crafty, this mini project is for you! I buy affordable craft paint and use it to make my own art inside Goodwill frames or over canvases (which need primer beforehand). Pinterest has hundreds of DIY art ideas that are simple to replicate, even if you don't feel particularly creative. Art Tip: You can use a regular primer over thrifted paintings, but I prefer to use gesso over them. It gives the canvas a bit of texture and fully covers the original painting.
If I want to fill a large frame inexpensively with a large photograph, I order a black and white engineering print from any office supply store for a couple of dollars. As you can see one photograph I enlarged as an engineering print for $3 and a few easy paintings I did to fill wall space and add color to my home.
I'd love to see some of your Goodwill gallery walls! Use the hashtag #mygoodwillfind on Instagram to share your own Goodwill finds.
Ever since she can remember, Ariel has looked for a creative outlet. From decorating cakes and sewing to repurposing furniture and interior design, she enjoys creating beauty around her. She established her personal decorating blog District of Decor when she and her husband moved to their little apartment in Washington D.C. in 2015. You can follow her on Instagram @districtofdecor
Ariel is an avid "thrifter" and budget decorator, as well as a teacher and expectant mom (any day now)! After being a military spouse for 9 years (and moving 7 times in the first 7 years), her focus is on making a house (or in this case, her small city apartment) into a stylish home on a budget. She also has a penchant for Chesterfield sofas, Campaign dressers, and bar carts of all types.