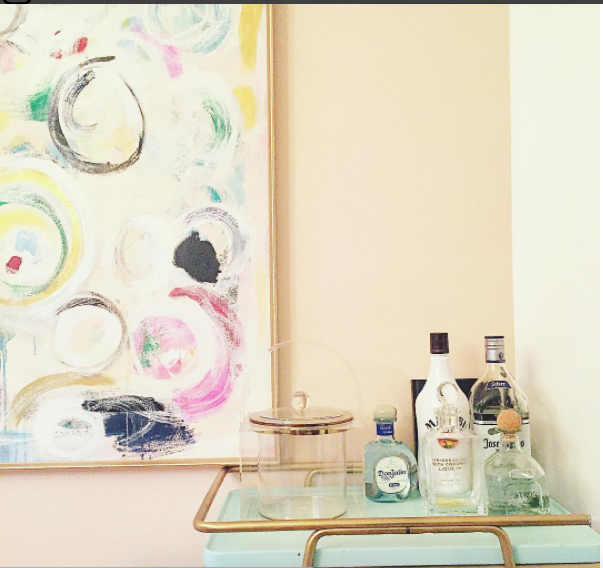 I have an odd obsession with bar carts, despite the fact that I cannot make a cocktail for the life of me. I love the way they look in a home, and I love finding unique, Goodwill treasures to put on them.
Not interested in having your own home happy hour? No problem! Bar carts are the perfect spot to set up a lemonade bar in the summer or perhaps a coffee or hot cocoa bar this winter. I've even seen people set up a "homework station" for their children on a bar cart, using cute containers to store pencils, crayons, and other odds and ends.
Almost everything (except the beverages) in the above picture was thrifted. Goodwill is the BEST place to find bar carts, barware, and bar decor. I've even found glasses that were etched with my last initial in them! They all went home with me, in case you were wondering. Here are a few items to look for when Goodwill shopping, if you are interested in having your own little home bar!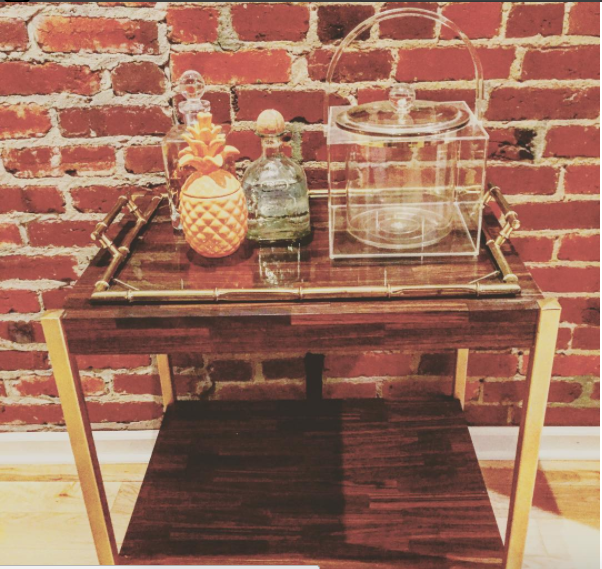 1.) A Cart!!!
This doesn't have to literally be a cart. I've turned microwave and TV stands, console tables, and more into "bar carts."
Definitely, have an open mind when looking for the right piece of furniture though. My favorite thrifted item is perhaps my bar cart, but it looked rough in person and required a lot of cleaning and care before it could be used.
No room for a full cart? No problem. Goodwill always has a plethora of trays that can be used to house a few pieces of barware in a corner of your home.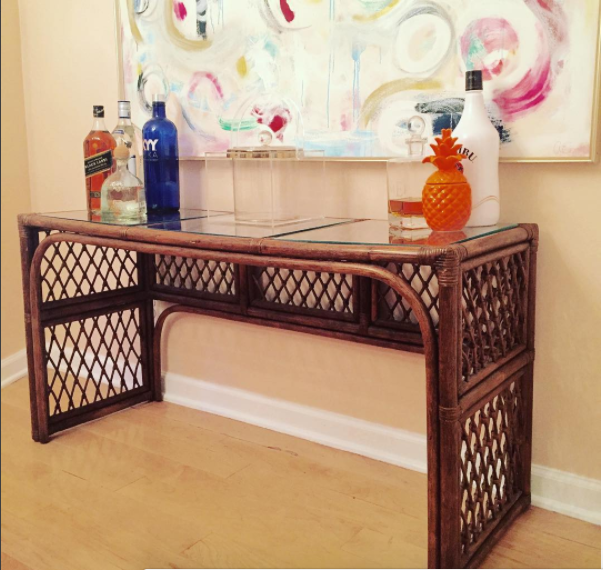 2.) Decorative Bottles & Glasses
I love an eclectic mix of glassware, especially colorful, vintage pieces. I love perusing the glassware in Goodwill because you never know what you'll find. Goodwill is a fabulous place to find specialized glassware like brandy glasses, margarita glasses, champagne glasses, etc.

3.) Barware
Wine chillers? Cocktail shakers? Ice buckets? Cocktail mixers and tools? Goodwill is my favorite place to buy these items at a steep discount. They also tend to have unique pieces that I've never seen elsewhere. I always do a quick scan up and down the housewares section of Goodwill to look for unique pieces to add to my collection.
Find something fabulous at Goodwill to style a bar cart? I'd love to see it on Instagram! Just add the hashtag #mygoodwillfind so I can check out your fabulous finds!
Ever since she can remember, Ariel has looked for a creative outlet. From decorating cakes and sewing to repurposing furniture and interior design, she enjoys creating beauty around her. She established her personal decorating blog District of Decor when she and her husband moved to their little apartment in Washington D.C. in 2015. You can follow her on Instagram @districtofdecor
Ariel is an avid "thrifter" and budget decorator, as well as a teacher and expectant mom (any day now)! After being a military spouse for 9 years (and moving 7 times in the first 7 years), her focus is on making a house (or in this case, her small city apartment) into a stylish home on a budget. She also has a penchant for Chesterfield sofas, Campaign dressers, and bar carts of all types.