Holy cow! I'm so jealous of today's Friday Fashionista's designer find.
On Facebook, I saw her one-of-a-kind luxurious score and instantly fell in love. I thought, "How could I NOT feature this?!"
To give you the feeling I had the moment I saw this beauty, I'm sharing this gem with you, dear readers, today.
Local fashionista Aysia found this BRAND NEW WITH TAGS (swoon!) luscious navy 100% leather Oscar de La Renta skirt during last year's holiday Modage Style Goodwill Shopping Bus tour. I wish I was on that trip! It would have been fun experiencing and witnessing Aysia score this luxurious skirt.
I've picked up my own DCLR at Goodwill, but none that were brand new AND clearly sold at Saks! Now that is a fashionista's dream.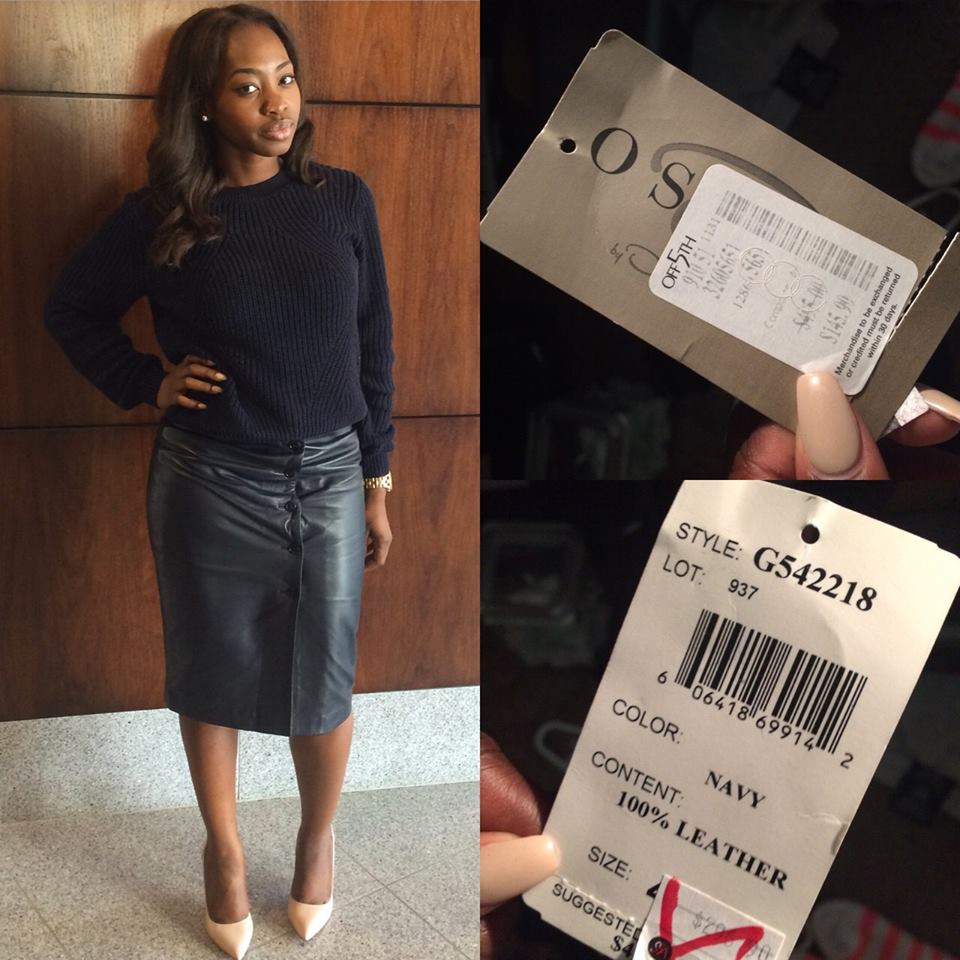 I especially love the style of today's skirt because it is both sexy and very appropriate for work; the length is great for it hits right at the knee. It's not too short or long.
You know I'm a label lover, but certainly a look lover as well…and I love the way Aysia styled her designer treasure.
She successfully embraced the business skirt yet sexy-style and by creating a classy and sophisticated ensemble that allows the skirt to shine in the office, without being over the top.
Her nude pumps and black top hit the nail on the head. Pairing neutrals together is always a safe yet smart move in my book, you really can't go wrong. To top it off, the nude pumps add a lightness and airy feeling to the whole outfit — it doesn't look to dark or "serious." Work it, girl!
In this particular look, I'd love to see a pop of color via a lipstick or handbag. What do you think dear readers? Doesn't it need a mini splash of color or is it fine the way it is?
I'd also love to see how more jewelry might pair with this gem. I'd be careful not to go too flashy though. Leather and too much jewelry might look a bit dated and 80's….but that's not always a bad thing! 🙂 Embrace the edge!
Thank you Aysia for posting your fab find online for me to discover. It MADE my day! It always makes me so excited to see fellow Goodwill lovers shopping smart and finding designer treasures! 
Want to be a Goodwill Fashionista? Send a photo of your latest Goodwill find to fashion@dcgoodwill.org. If we feature your look here, you'll get a badge to share on your blog or site to show everyone that you're a savvy Goodwill Fashionista! Oh and don't forget to add "#DCGoodwill" or "MyGoodwillFind" to all your local finds, dear readers! I want to share the excitement of your amazing items.