On previous blog posts, my vintage sensibilities have come through my bold appreciation for patterns. Skirts, tops, you name it…I'm rocking' it!
Last month, I provided tips on rocking vintage patterned pants. What I didn't mention is that these tips can be utilized for any type of patterned bottoms – even patterned shorts.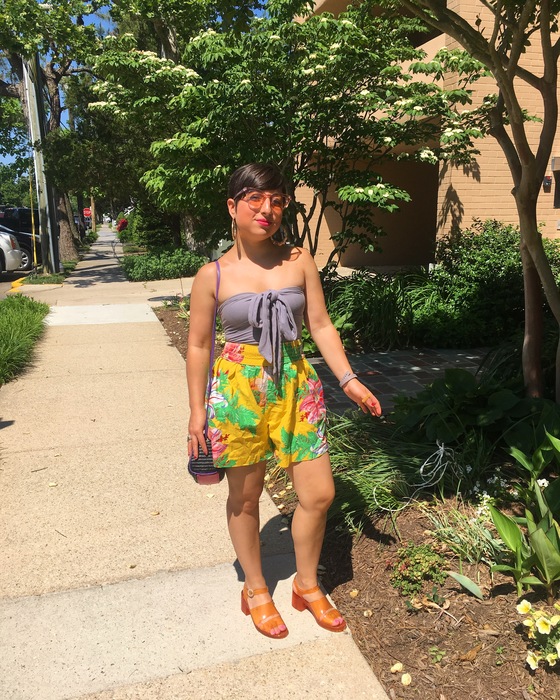 Over Memorial Day Weekend, I integrated some of the tips into a fun Rehoboth Beach outfit. I wore a bright pair of vintage floral yellow patterned shorts (under $5), my beloved jelly heeled sandals, and a dark gray neutral tie-up bodysuit. It was humid and unbelievably hot, so I wanted to keep it cool, both practically and aesthetically.
Because these shorts were bright and bold due their yellow hue, I opted for a neutral darker gray simple top. By keeping this on the basic side, I allowed my shorts to become the star of my look. The darker gray also acted as a catalyst to make the yellow even more vibrant, through its cool-in-tone nature.
I did want to play with color and jewelry a bit more throughout my look, so I wore vintage-inspired hoops, poppin' pink lips, and orange jelly sandals.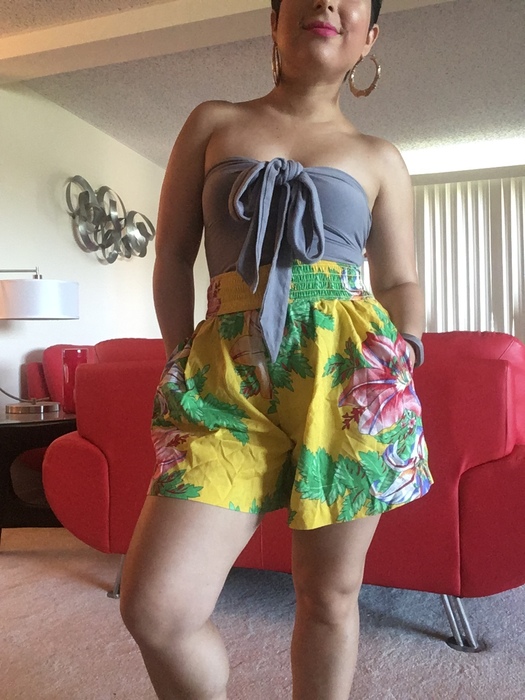 Even though this look was saturated and rich in one color, none of the look's elements competed with my superstar shorts because they didn't feature bold patterns themselves.
Curious to know the breakdown of my look? I'd be happy to share where everything came from! My outfit consisted of:
Gray tie-up bodysuit: American Apparel (been in my closet for over 6 years)
Vintage yellow patterned shorts: No brand, $3 Gaithersburg Goodwill
Jelly Shoes: American Apparel, $15 – Online secondhand store
Gold vintage-inspired hoop earrings: Claire's
Sunnies: AJ Morgan
Outfit total (Goodwill items): Under $5! Wow!
Talk about a steal! The authentic vintage item in this look would have cost at least $20 at other boutiques.
What do you think of my bold summer beachy vintage look, readers? How would you have rocked these shorts?