Holy cow, fashionistas! I am still jazzed with energy from Saturday's shopping bus tour. It was an incredibly fun and productive day, where I had the rare opportunity to shop with over 15 Goodwill enthusiasts such as myself.
Women of all ages and professions joined us on the tour, which was incredibly exciting because although we were all different, we all had a uniting passion of shopping at Goodwill. Everyone from elementary school prinicpals, entrepreneurs, moms' n' daughters, law students, make-up artists, and more rode the limousine bus to all 4 Goodwills, each one having excitement and hunger for deals pulsing through their veins.
We departed from the South Dakota Ave. location right at 9 AM to embark on our journey to our first stop: Alexandria Goodwill. Many on the tour had never been to this location, so I was very excited to explore the racks with newcomers.
We spent around an hour at this stop, and the gondolas and racks proved to be filled with designers, vintage, and fashionable fruits.
Dee, the fashionist abover walked out with a brand new Diane von Furstenberg dress for less than $9! I wish it had fit me! You know I love designer items, and this dress is a great pumpkin color for the fall.
Many others found oodles of purses, dresses, and blazers at this stop. At least 3 pairs of boots were acquired  – talk about gearing up for the fall! I, myself, found some vintage cowboy boots detailed with ostrich and leather textures. These were a whopping $8!
Among other things, I also found this incredibly beaded and blue designer Robert Rodriguez top for around $3. I can't wait to sport it with a pair of jeans this fall. I looked up this top, and it originally cost over $100!
Next up, we headed off to one of my all time favorite DC Goodwill stores, the Dale City location. This one is very large, with a seemingly endless amount of bountiful racks. We spent the most amount of time at this stop, for we had the chance to sit down, cool off, refuel and eat yummy lunches provided by Goodwill. Some fashionistas skipped lunch and ate on the bus because they couldn't shake off the shopping bug! I don't blame them!
Most importantly, at this stop, one fashionista won our Goodwill Scavenger Hunt, where attendees were urged to find 15+ items at Goodwills for a chance to win a giftcard. Ms. Jackson, you nailed it!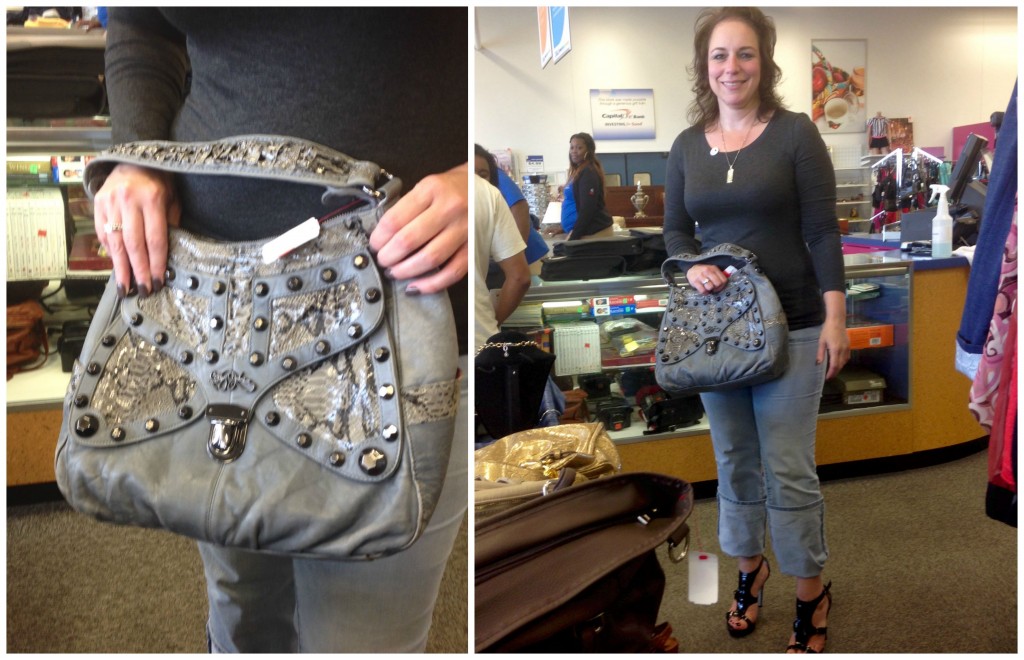 Heidi found a real Betsey Johnson bag for pennies on the dollar!
When we first arrived, Heidi instantly found this beautiful and authentic Betsey Johnson bag for pennies on the dollar! On top of that, she picked up these black patent leather pumps for under $10. She sure knows how to shop!
This fashionista scored some warm and cozy cardigans and skirts at Dale City. She spent a good amount of time meticulously browsing the racks to find the perfect fall staples.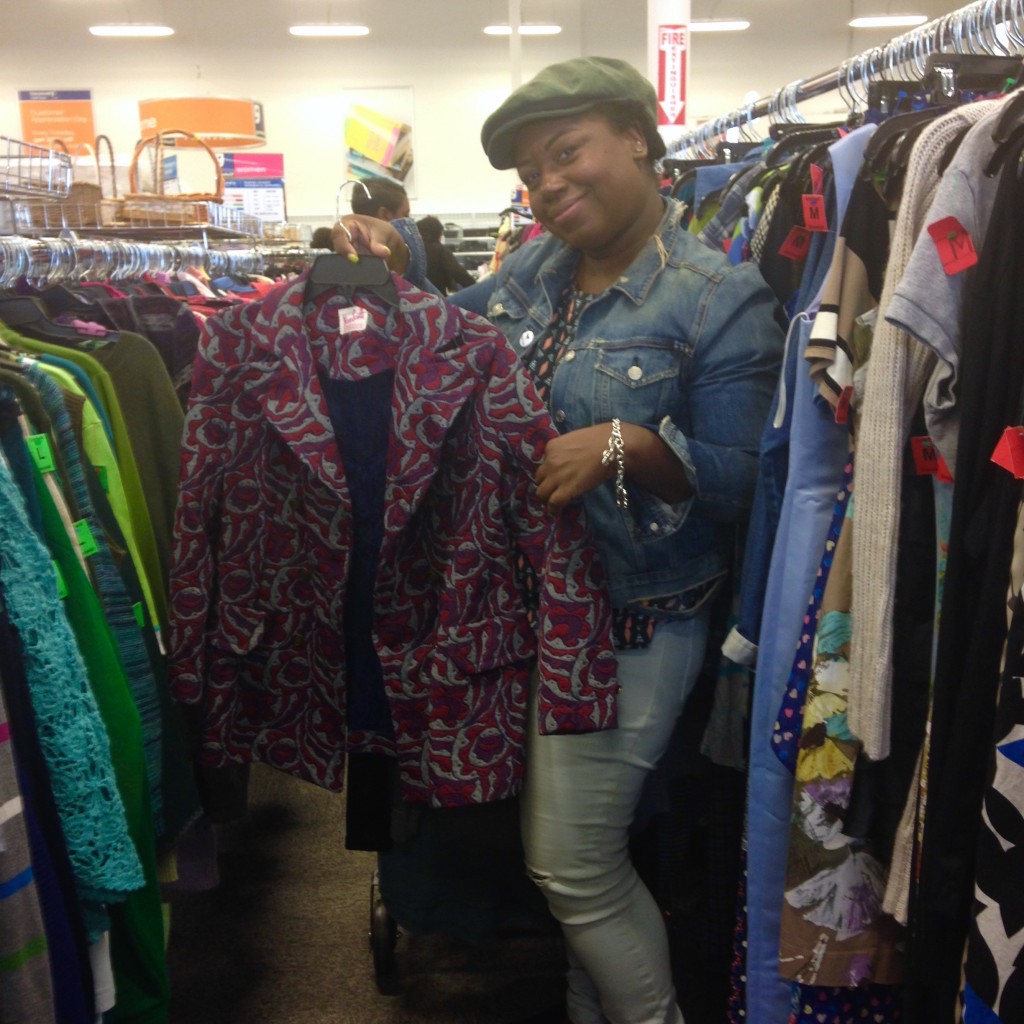 This stylish mama picked up this handmade 1970's jacket with a wild and unique print to wear with pants and booties. Her daughter studies fashion at a nearby school — talk about an eye-for-style running in the family!
At Dale City, some were on the hunt for components of their Halloween costumes. These 70's leather purses were the perfect finds for one fashionista to use in her hippie 70's Halloween ensemble!
Talking about vintage, this fashionista, an elementary school principal, found this floral vintage dress. I'm in love with the cut of the sleeves! I also love the colors — they're very bright and playful.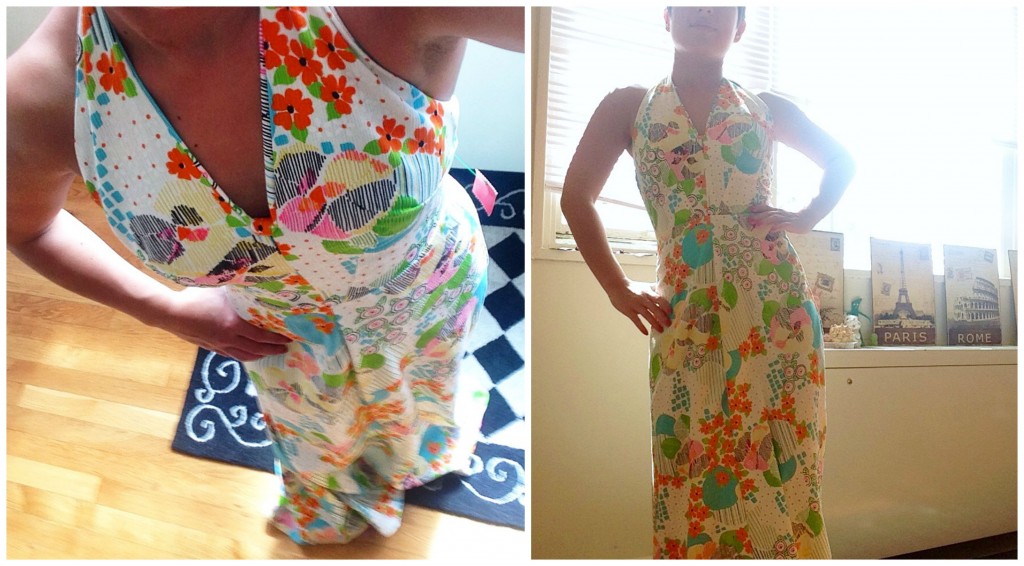 And finally, I found myself a vintage maxi at Dale City for around $6. I hope to at least take this dress on one test run before the fall air really begins to hit the DC area.
Our third stop was the Herndon Goodwill, a store I've never been to. It was quite different from Dale City and it was great to see how Goodwills vary across the area. This one was packed tight with treasures, and was a bit smaller than the other locations we visited. But this store had an AMAZING selection of shoes and housewares. I snagged a pair of shoes for only $4!
And finally, after a long day, we headed back to the South Dakota spot to go for one last round of shopping. There, we also snapped some additional pictures of our finds and bid each other farewells.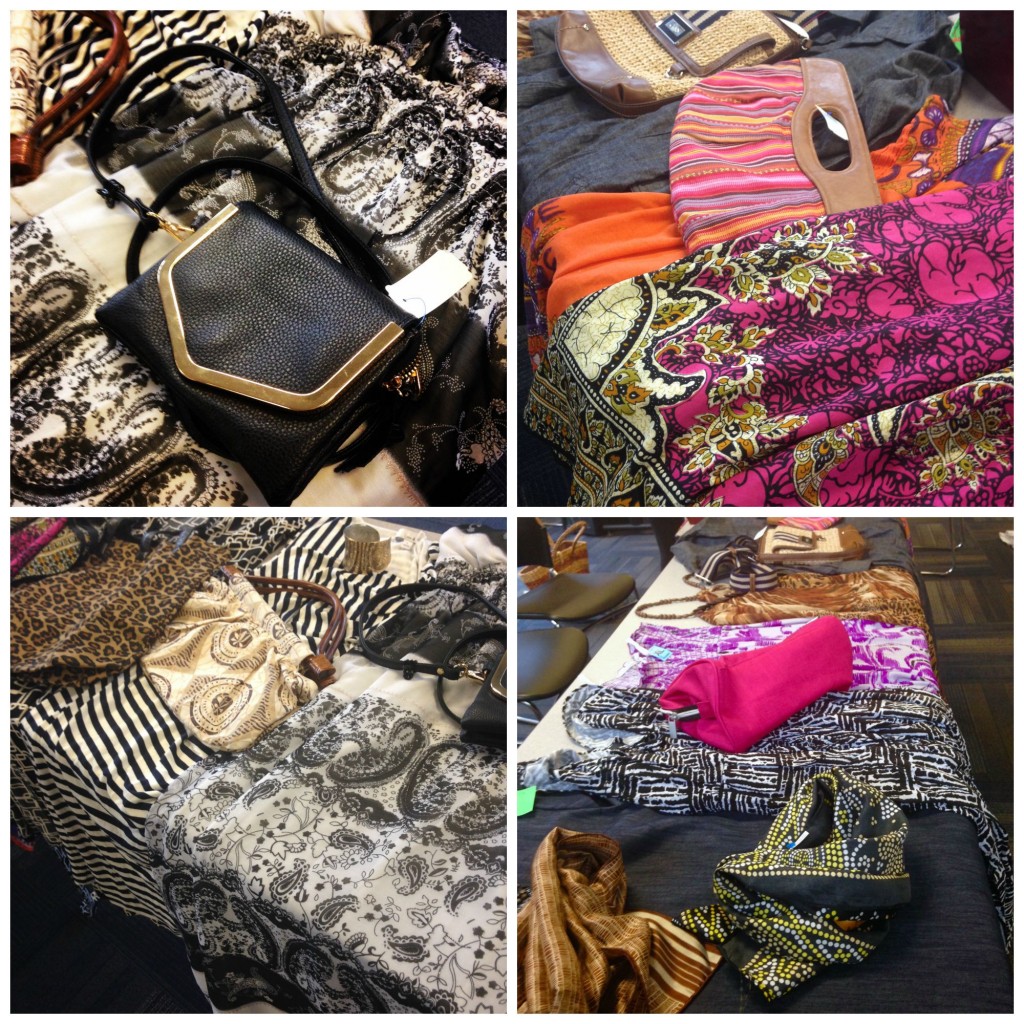 One fashionista had a budget of $100 and spent under all while acquiring a whole new fall wardrobe. For around $95, she could open her own shop with her plethora of gems. Look at all the patterns!
Here are some playful finds from the tour. The skirt looks like a painting! The skirt, shoes, and sunglasses were only under $12! The shoes, however, will have to be put away for next spring for fall is quickly gracing us!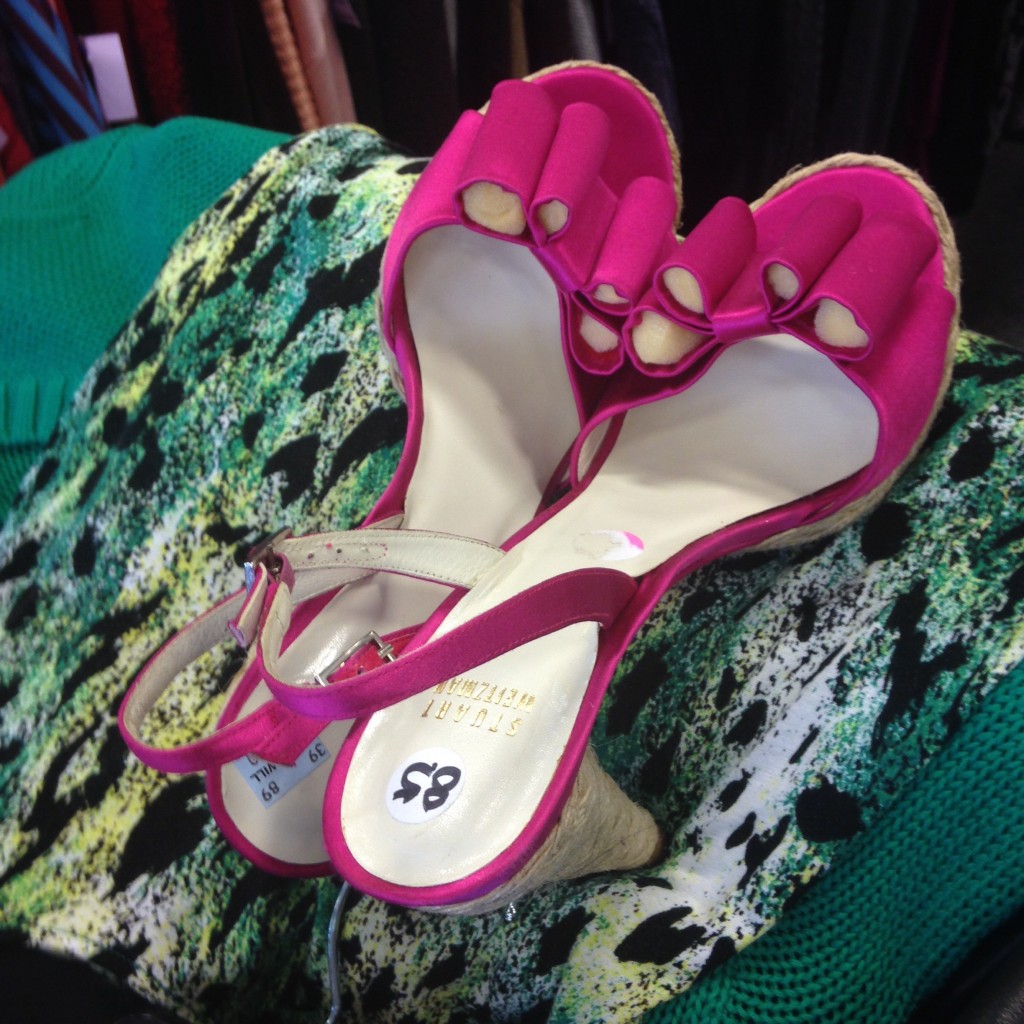 Lerkia snagged these brand new Stuart Weitzman heels for pennies! The hot pink is to die for! These originally retail for over $200!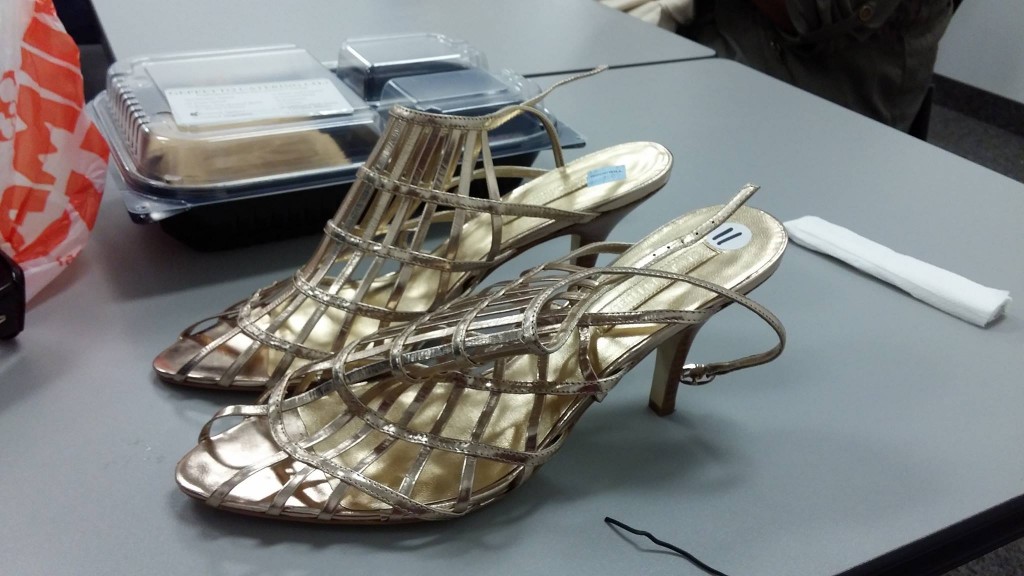 Pam also found a pair of snazzy kicks. The color of these is incredibly versatile, making them a wardrobe staple! These would look excellent with a vintage dress that flares out.
Erika, one fashionista and a good friend of mine, also picked up some designer gems all for under $40! This book she scored originally goes for $50 and she's going to use it well in school. Also, look at these Tory Burch flip flops! I am so jealous that I didn't find them first!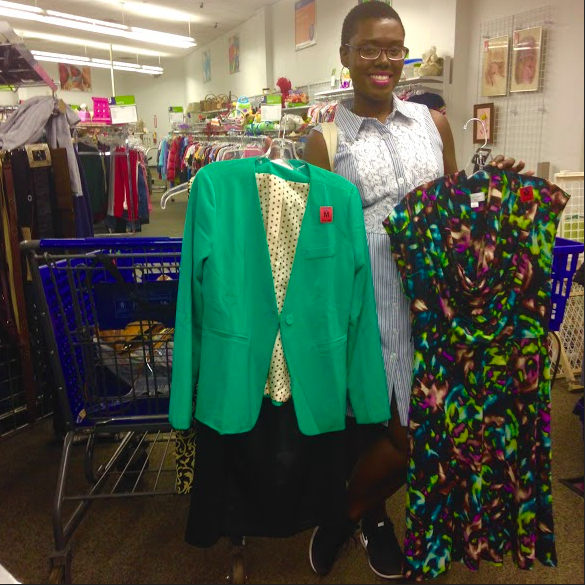 Erika also found this Jessica Simpson dress and minty blazer at the South Dakota location. Although it was late in the day, we still found plenty of items to obsess over!

Heidi came on the tour with her daughter, and for just under $170, she scored a whole new closet of goods for the season. The Betsey Johnson bag and leather coat alone would cost more than $300! I love the camel colored coat. It's a beautiful leather material that will keep one fashionably warm all season long.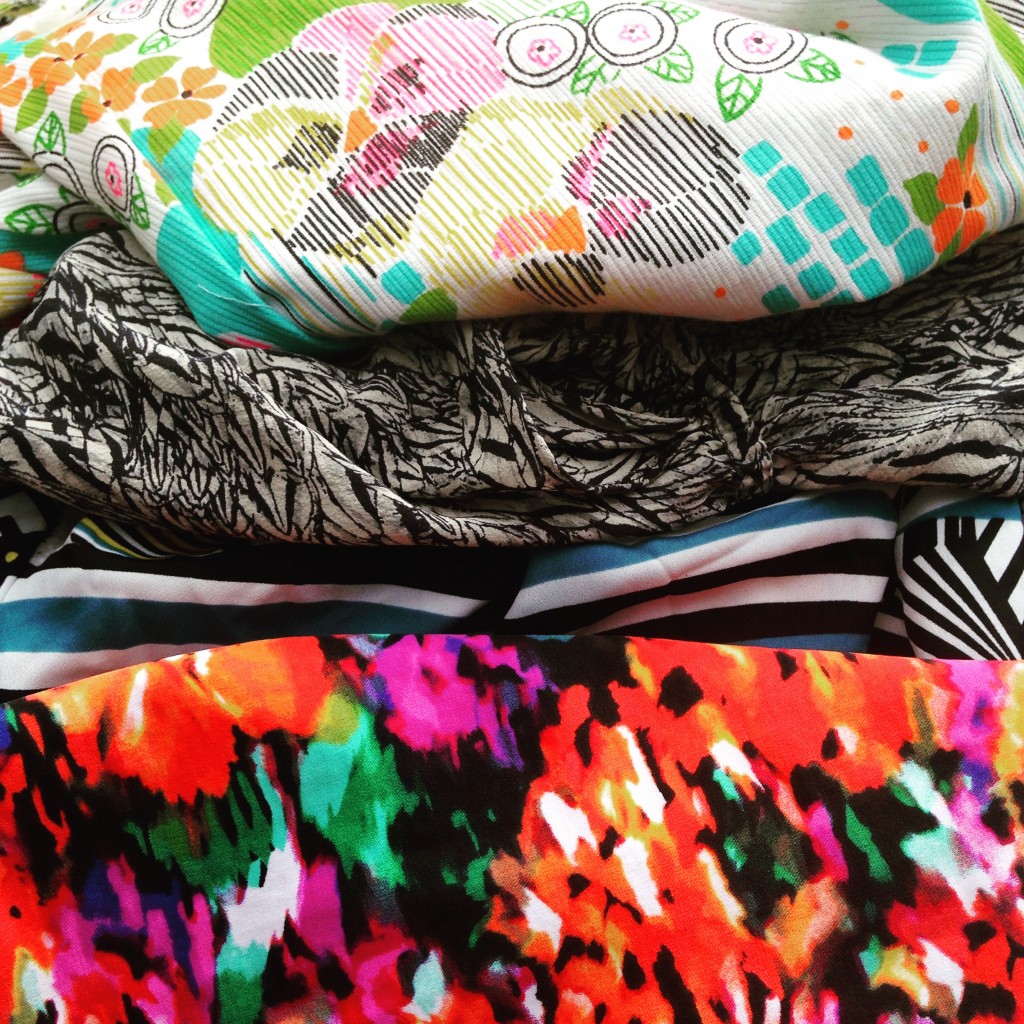 Check out these patterns! It turns out that all of my finds had some sort of pattern or texture. You know me and colors! I just can't get enough. Which pattern is your favorite?
And finally, you know me and my labels! These are all the designer and contemporary labels from all my finds. Each item originally cost at least $50! Multiply that by 6, and that's hundreds of dollars is savings! Plus, the money I spent helped create jobs in my community. Now that's a win-win!
And finally, this group photo truly captures the excitement and joy of the tour. So many happy ladies!
What are some of your favorite snags from the bus tour? If you attended, share more pictures with me! I'd love to see more of what you found. 
And a big thank you to my partner in crime on this tour, Lerkia, for always leading the tours and making them a smashing success!