This is the first time we've posted a pair of bottoms on here in months, and I'll say that this pair is very worthy of breaking the cycle.
These linen in a size 6 wide legged slacks kwill be your next office staple this Winter. You might think "hey, linen is for warmer temps!" but because they are wide-legged, there's nothing wrong with layering them with leggings underneath. This will keep you extra warm!
The rich blue Victorian and vintage pattern on these slacks is a beautiful and rich velvety navy blue that is sure to attract many compliments.
These slacks hit the waist, making them perfect for a loose blouse or fun professional blazer.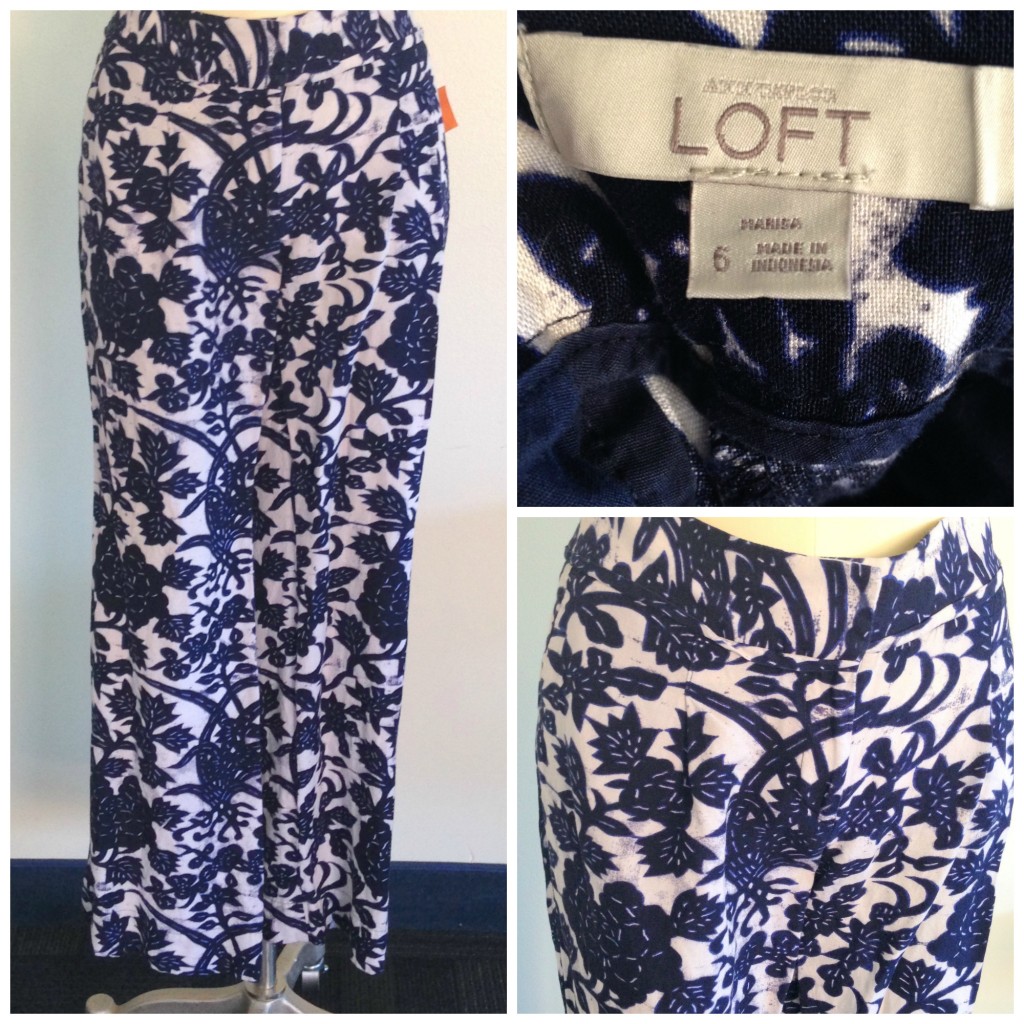 I'd rock potentially a black, sharply cut and flattering blazer with these amazing pants. No cropped blazers here for I think that might look a bit funny with the waist of these slacks. You could try a deep cranberry or green/blue jacket too, if you want to add another level of color to your ensemble.
Under a blazer, I think a collared blouse or button-up shirt would look stunning. These are very work appropriate and can be found at Goodwill for around $5 a pop with your Customer Loyalty discount. That's what I'm talking about!
You could wear a white one with these pants to tie into the white of the pattern, but I dare you to pattern mix and wear a patterned collared top. Something not too flashy though. Maybe a print that's composed of blacks, beiges and blues? Just pick something that will flow nicely….try experimenting!
And if it's too cold out, I'd totally rock a sweater with these great pants. A tan or beige one would be a great canvas for any fun blingy, baubly necklace. The neckline should be a crew neck in my opinion, so that you can play with different shapes and styles of neckwear.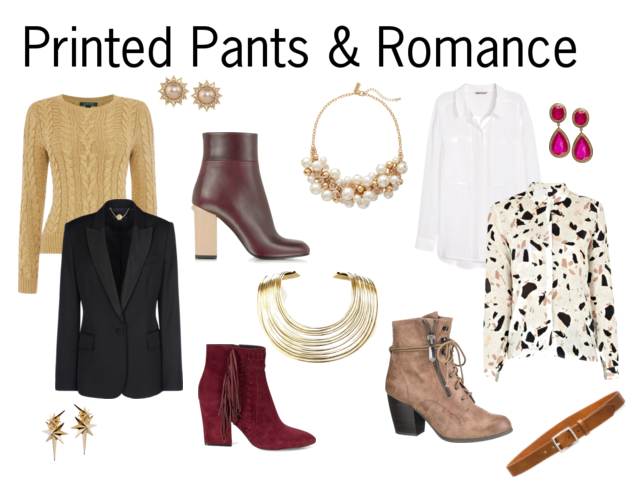 Image by Polyvore.
If you're going to rock a fun necklace, I'd keep it subtle with earrings. Perhaps some mini studs comprised of gems? Or how about some funky tiny dangly earrings? They both work in my book!
Now, let's talk boots. Sometimes it can be hard to figure out what kind of boots to wear with pants like these because they are usually hidden under the large pant legs. However, I still think you can have fun with it!
I'd try sporting some colored or brown heeled booties to both give you height and a little touch of femininity. A strong or rich color will show a little bit under the pant leg, which certainly might trigger those to ask you to lift of the pant leg and see the whole shoe.
A flat or heeled bootie can be worn with these pants, but I think a good heel will be more work appropriate and keep these pant legs from dragging on the floor if you're more petite like myself.
What would you rock with these pants this winter or fall? Pattern mixing? A more simplistic and sleek look?