Black and animal print is a combination that never fails. This style pairing always withstands the test of time and is a classic look that will always remain classy and sassy. Whether it's summer or fall, animal print and black is a go-to styling option.
For today's look, I've paired this black, silk, tuxedo-style dress by Elizabeth & James with sassy animal print wedges by Tallulah Blu.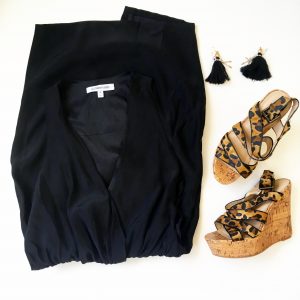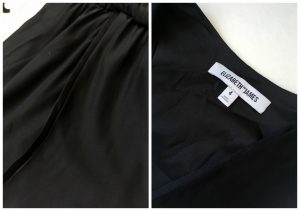 This sleeveless dress in a size 4 glistens in shiny silk material and shows off some leg with a tulip cut that adds a perfectly unique shape on the bottom. Typically this brand sells for $200+ at stores like Nordstrom or Bloomingdale's.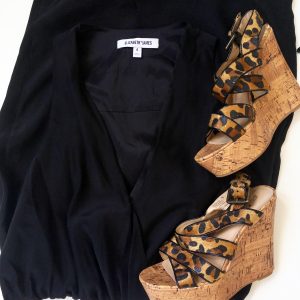 For footwear, I recommend pairing it with these leopard print hair wedges. In a size 7, you'll find these 2 inch chunky cork soles in practically brand new condition with no wear on the buckles.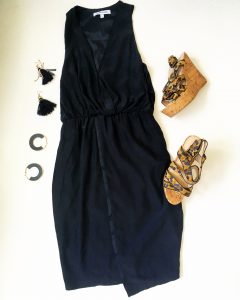 Although this look is very summery, I think these cork printed wedges could transition into fall just like this little black dress. With a nice black moto jacket and jeans these shoes will last season after season.
And with the dress being sleeveless, a cardigan or jacket will keep this fall-friendly too. If you want to give this dress some edge I'd pair it with a motorcycle jacket as well.
For accessories, gold tones will be your friend. Studs, chunky mod hoops, a glitzy bib necklace, or metallic bangles will all elevate this look.
Now, go have some fun with a night out with your gals!

So readers, how would you wear this dress and shoes? Would you rock them together or separately? Shout in the comments or on social media!