Fashionistas, I am bursting at the seams to share with you my most recent discovery that will transform your closet, uplift your personal style and keep your wallet perfectly healthy. If your New Years Resolution included saving money, caring for your self, and sprucing up your look – keep reading. You'll want to hear this.
This fashion find is what I'd consider a staple. It's versatile – coming in a variety of colors, patterns, fabrics, and styles – and there's no doubt this item will serve your wardrobe throughout the seasons. But really, best of all, it will cost you less than a cup of coffee from your favorite coffee shop! An item you can use over and over again. In all four seasons. At work and on date night. Dressed up or dressed down. For less than $5.00! (There aren't enough exclamation points to contain my excitement for this!!!!!).
I present to you: the sleeveless blouse! Hmph. Doesn't sound that exciting? Let's talk more.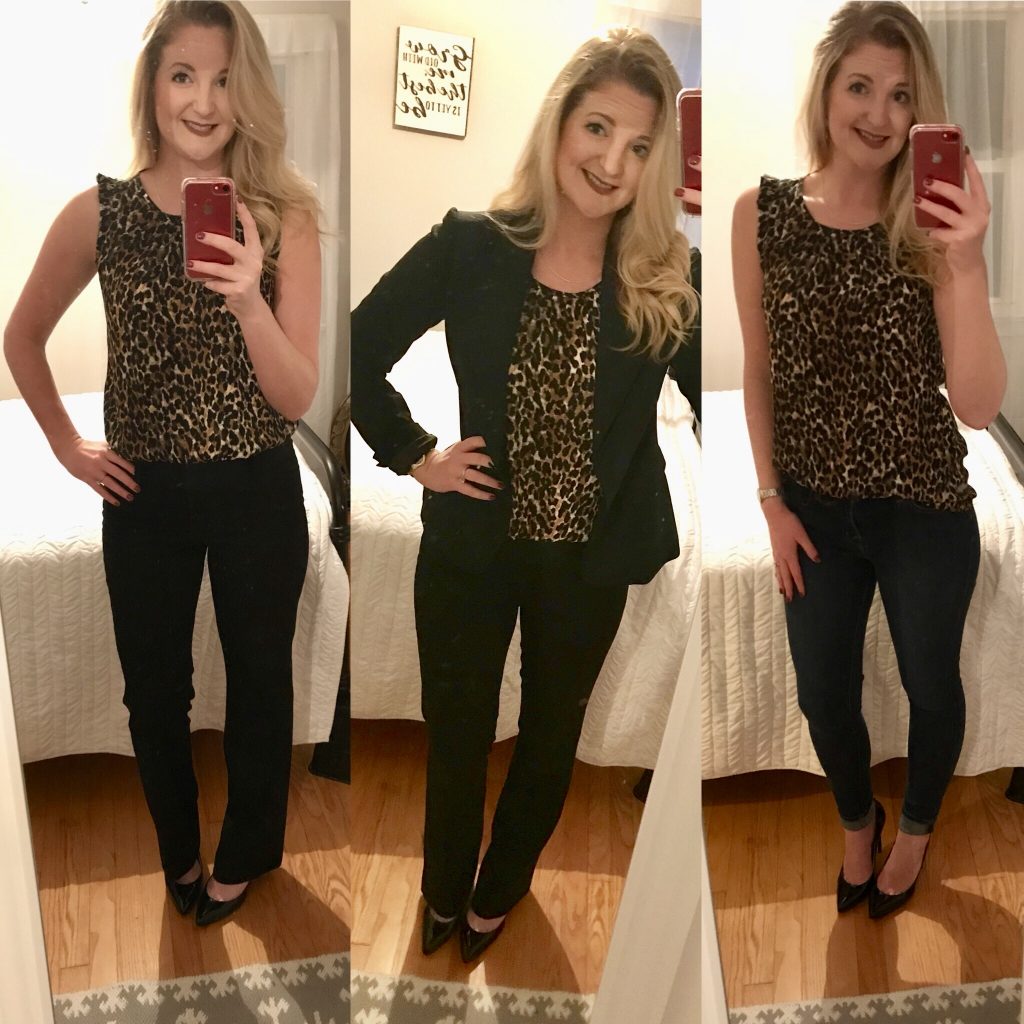 1.) Versatility: Being a frugal fashionista, versatility is a must when I am making a purchase. The sleeveless blouse selection at Goodwill is unmatched. With designer brands like J. Crew, Banana Republic, Zara, Ann Taylor, LOFT and so many more – there is never a shortage of quality blouses begging to be worn! When I'm shopping for a sleeveless blouse, I try and imagine how I can wear it with each season. Will it pair well under a blazer but still be stylish with a pair of jeans? Is the neckline appropriate enough for work but still playful enough for date night? When the answer is yes to any of these questions, into the cart it goes!
2.) Timelessness: Purchasing a few sleeveless blouses in timeless prints and solids will serve your wardrobe well. You can play them up with trendy accessories, giving them new life each season. They make the perfect base for layering; they're great to throw on under a cardigan (like I did here!) or a blazer (like this beautiful classic one I scored over 3 years ago at a Goodwill meetup and STILL wear on the reg!). They're absolutely an essential layering piece for any fashion-forward wardrobe. I'm fairly certain we've never seen a Vogue headline that read: "Arms are OUT! Never show them again."
3.) Variety: One of the reasons that I consistently shop secondhand fashion? I can make wardrobe rotations in a much more sensible manner. I'll wear my $3.00 blouse for a year, donate it back and pick another $3.00 one up on my way out. Had I paid retail…I'd have a much harder time working so many vibrant patterns and colors into my closet without going totally broke. The sleeveless blouse can take on so many forms – fun and flirty, classic and timeless, funky or whimsy. At $3.00 a pop, I can afford to take home two or three blouses for literally less than half of what I'd pay for one at a big-name department store.


And, for my financially savvy readers, keep in mind when you're shopping at DC Goodwill stores – if you find a sleeveless blouse with a Color of the Week tag, it will be 50%. That means you can score the amazing brands mentioned above for $1.49. Yes, you read that right. One DOLLAR and forty-nine CENTS! Case in point, I left the Columbia Pike Goodwill Store with 4 sleeveless blouses last week for less than $10. Now THAT, my friends, is unbeatable! So, stock up on the sleeveless blouses, rock them under your favorite layering pieces and dream of warmer times when you can take them all on the town in all their fashionable glory!
In Style,
-Karen
Karen Wathen is a young professional and self-proclaimed "thriftanista." She has brought her love of writing, food and affordable fashion together on her blog, County Meanderings, where she frequently posts about her thrifting adventures. Follow her on Instagram (@k_wattt) for a peek into her savvy life.