Simple elegance: Create a shimmering Fall-themed centerpiece with mismatched candle holders connected by copper and gold paint.
Age Level:  Older kids, teens, and adults
Items needed:
Five or more candle holders, metal or glass
Two cans of spray paint: one copper, one gold glitter
White tapered candles
Fall decorations
Autumn-toned glass pieces, small statues or figurines (optional)
Time requirement:  30 minutes (not including paint drying time)
Cost: Approximately $20 for the entire centerpiece
$2 to $3 per candle holder
$5 per can of spray paint (with lots left over for more projects!)
$5 for spray paint (lots left over!)
$1 per pair of candles
$2 for Fall decorations
$2 to $3 per glass piece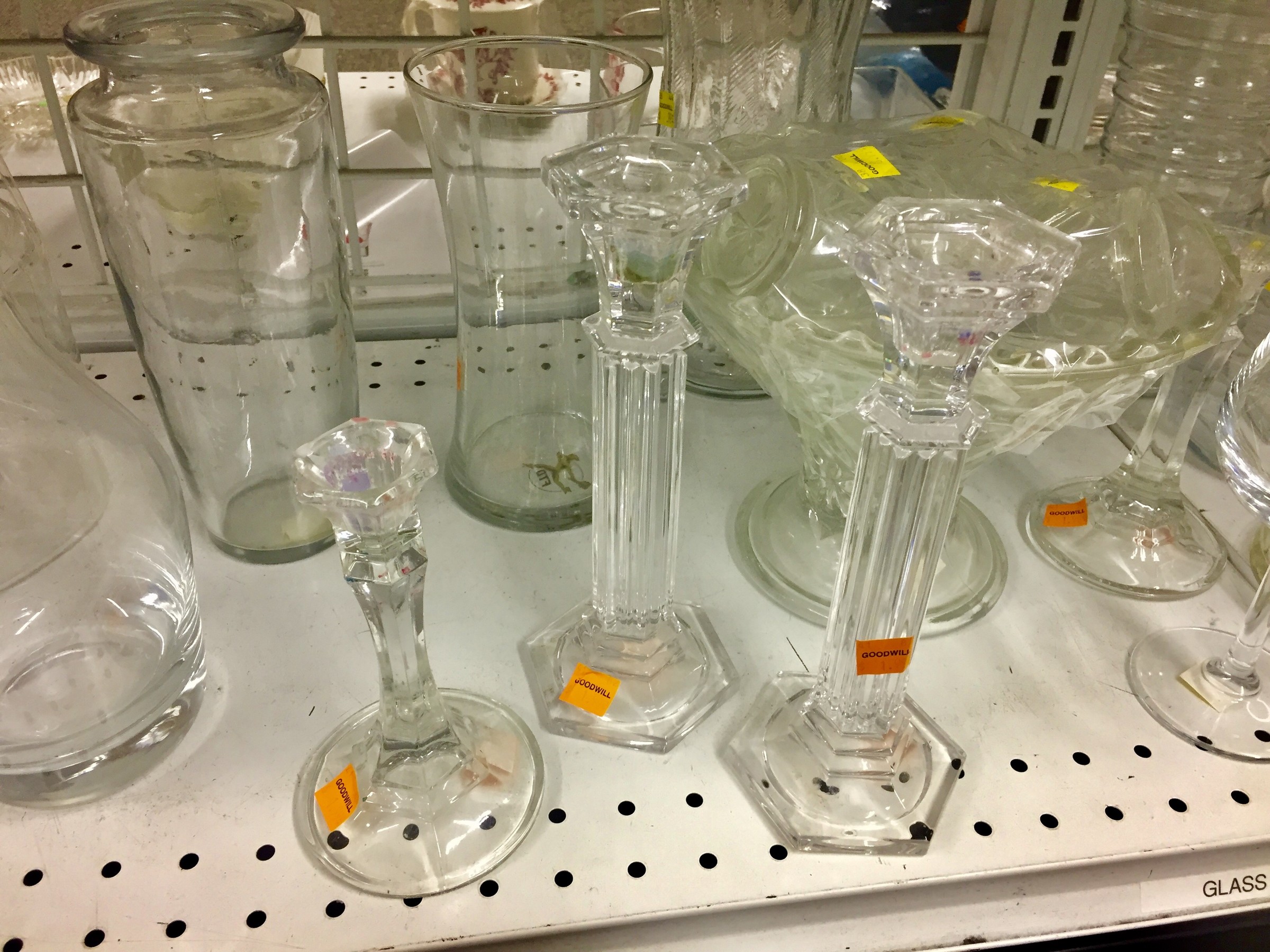 Step 1:  You'll count your blessings with great options and savings at Goodwill
As Thanksgiving approaches, many of us take time to count our blessings.  Add this blessing to your list:  the House-wares section of your neighborhood Goodwill Retail Store!  There you will find lots of interesting choices for this easy, quick, simple and elegant project.  Look for candle holders in a variety of shapes and sizes in both the metal and glass aisles.  While you might find them in pairs, the charm of this project is that each one is unique in its look and design.   While there, also look for other glass pieces to add to your centerpieces.  Small statutes or figurines are great options, too, and can be painted white to compliment the look of this project.  I struck gold by finding a collection of small glass vases and pitchers in red and oranges colors which will add a fall feeling to this centerpiece.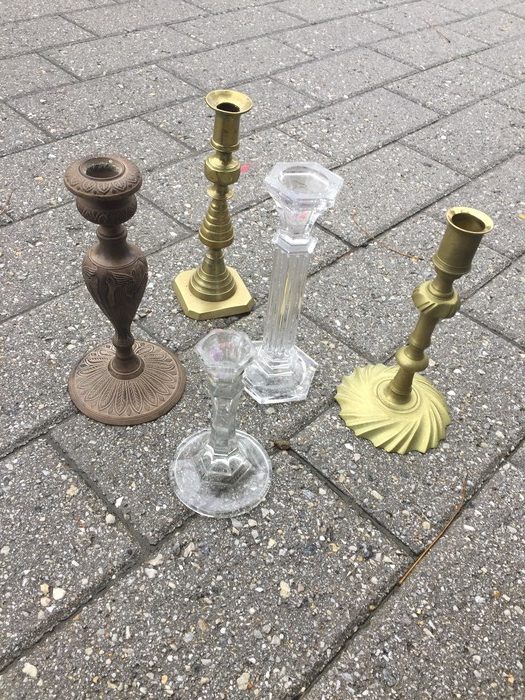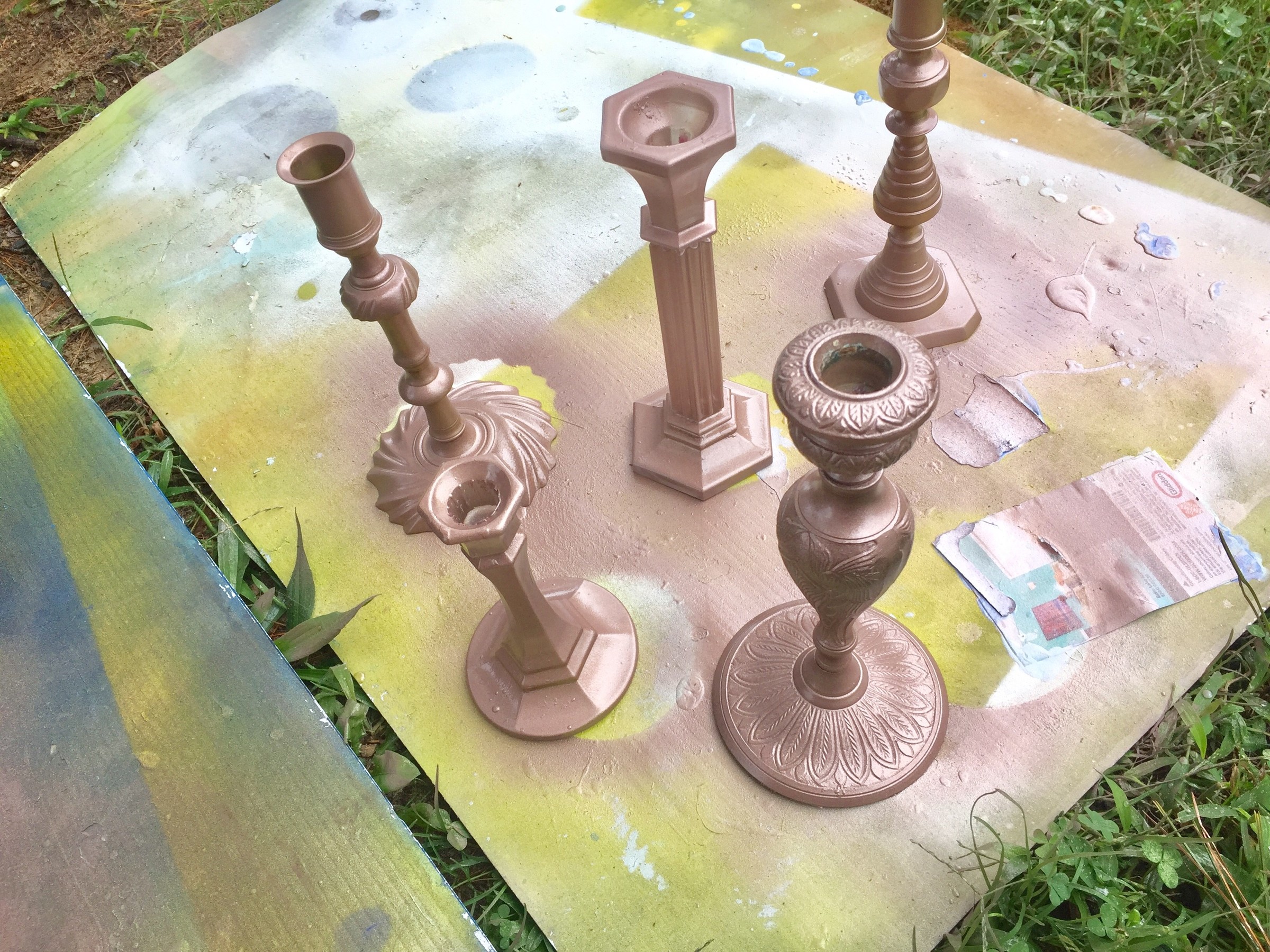 Step 2:  Paint on the precious metals
On a tarp outside or in a room with good ventilation, place your candle holders for this fun step.  With a can of copper-colored spray paint, lightly cover all sides of your pieces.  Allow time for them to dry then place them on their sides for another coat of paint.  Continue to flip them around, after drying, to add a layer of paint until all surfaces, nooks, and crannies are covered.   Next, with your can of gold glitter paint, lightly spray on some bling.  Do so lightly to add some sparkle and depth but allowing the copper color to show through, too.  Let dry overnight.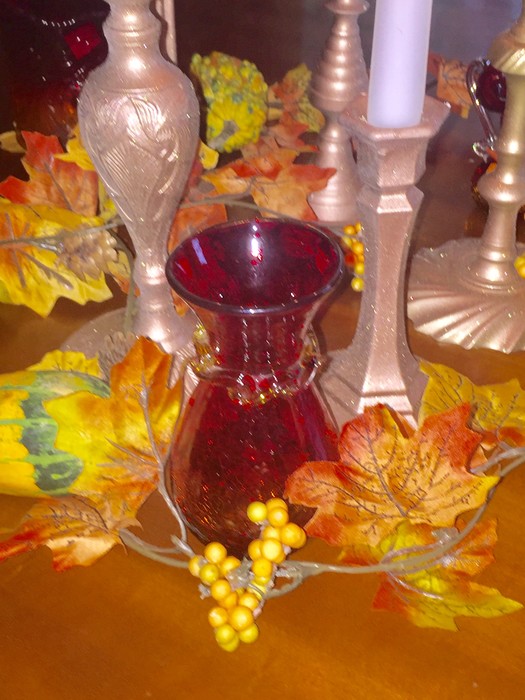 Step 3: Add candles, decorative items, and glass pieces
Place your upcycled, matching candle holders in the center of your table, on the mantel or dining room buffet—anywhere you want to add a festive, Fall look.  For a truly elegant and timeless look, add tall white, tapered candles.  Place Autumn items along the base; real or silk leaves, colorful gourds, and small pumpkins are ideal choices.  If you got lucky like me and found some eye-catching glass pieces, add them, too.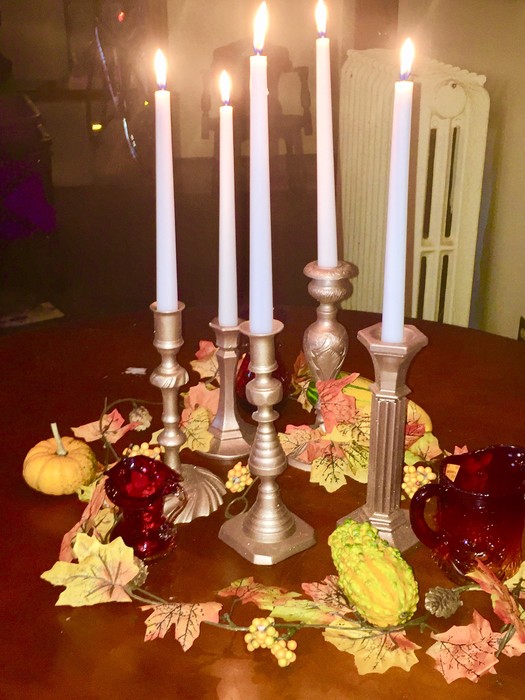 Step 4: Strike up the festivities!
Add the ultimate sparkle to your centerpiece by striking a match to light your candles.  There truly is something special and even magical when you add candles to your decorations.  And in addition to counting your blessings, you will have to count all the compliments this elegant (and easy!) project will collect.