Last night, I made an impromptu trip to the Rockville Goodwill store and used the oh-so-handy and convenient Zipcar to get there right from the Bethesda metro.
The best trips to go shopping are the ones you don't expect. Plus, it was raining last night….so shopping is always a good rainy night activity.
Of course I spotted amazing accessories on my trip…and all were under six bucks. Name brands….trendy pieces…..my trip was well worth it. For once, I wasn't really looking for clothes on my shopping trip, I was only looking for jewelry, purses and scarves.
1) Fun totes!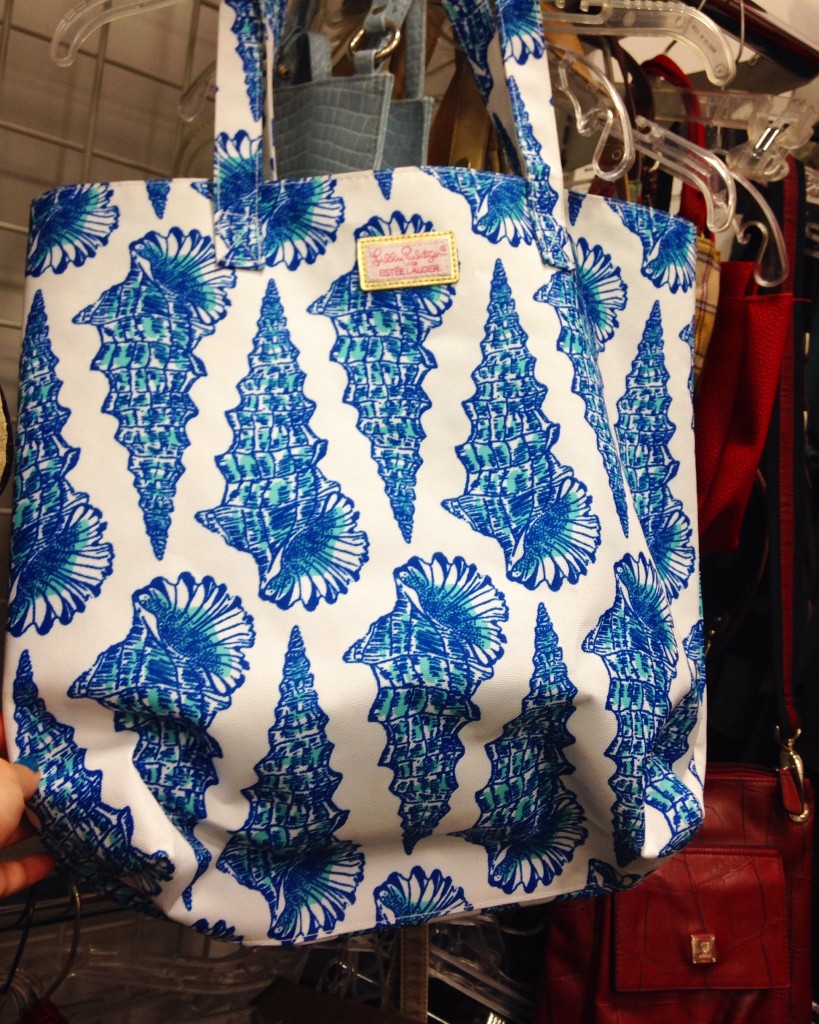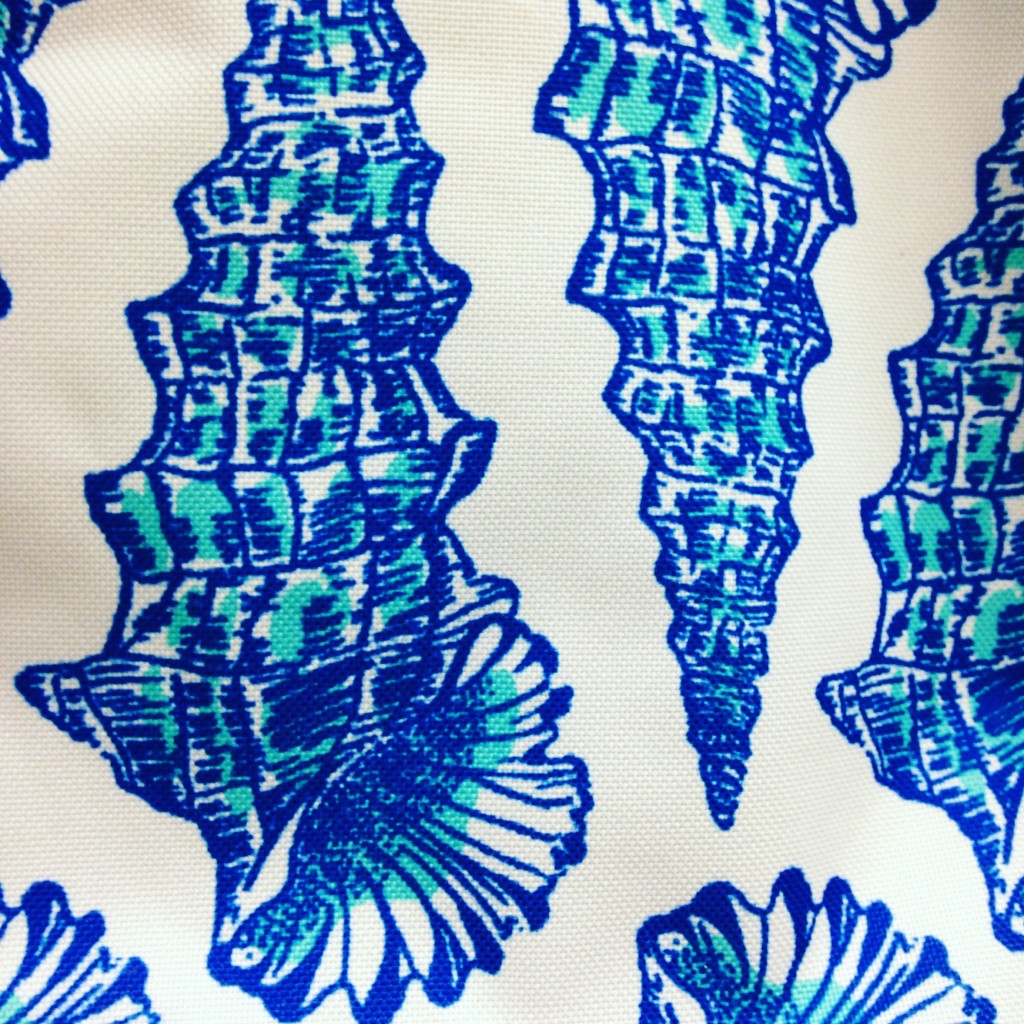 I spotted this gorgeous Lilly Pulitzer for Estee Lauder tote for $6! It was basically brand new, just sitting there on the hanger.
I could see this baby being used as a grocery bag this spring or a playful beach bag! It's so fun and bright – it will make anyone's day.
2) and Clutches, too!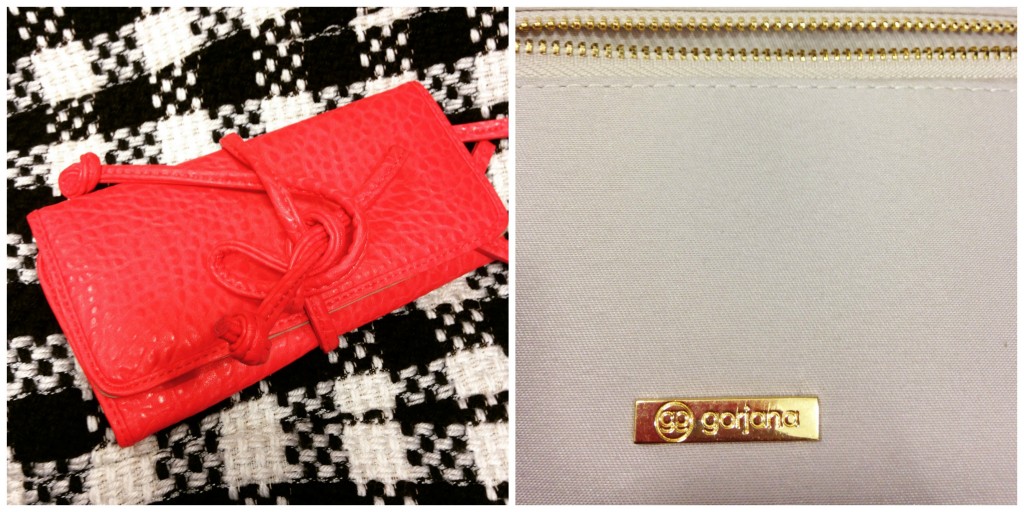 Hiding in the wallet section, I couldn't help but notice this bright red Gorjana tie clutch, waiting to be found. It, too, was practically brand new…totaling only $4. 
This brand is usually sold at Nordstrom and similar boutiques, which means that this item is worth a pretty penny. After searching it on Google, I was delighted to see that it originally sells for $70+.
3) Infinity Scarves, galore!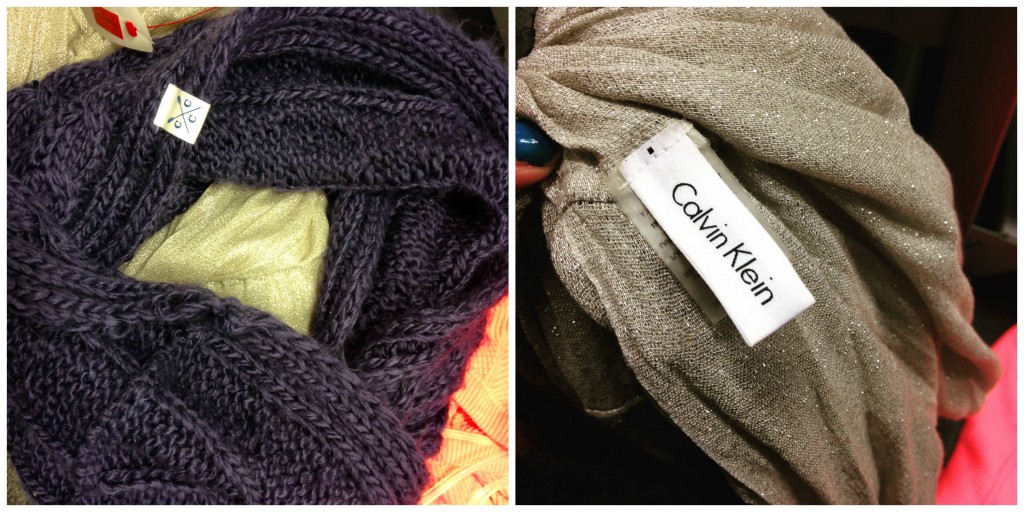 There were three infinity scarves at Goodwill, all $3-$4 a pop, that I REALLY wanted to take home. I didn't buy them all, for I have too many, but these were my favorites.
One of them was even new with tags by a brand called Stitch Fix, a personal shopping/closet curating type service.
I also spotted a glittery Calvin Klein, too! 🙂
4) Vintage and contemporary earrings
The Rockville location, along with all the other ones in DC, always have a solid and diverse earring section all full of vintage, contemporary, and new with tag items.
Yesterday their case was fully stocked with all types, ranging from neutrals to bright colors, from the 70's ranging today, posts and clips….every type you can imagine.
Each pair ranged from under $1 to $5. You CAN'T beat that!
5) All types of bangles and bracelets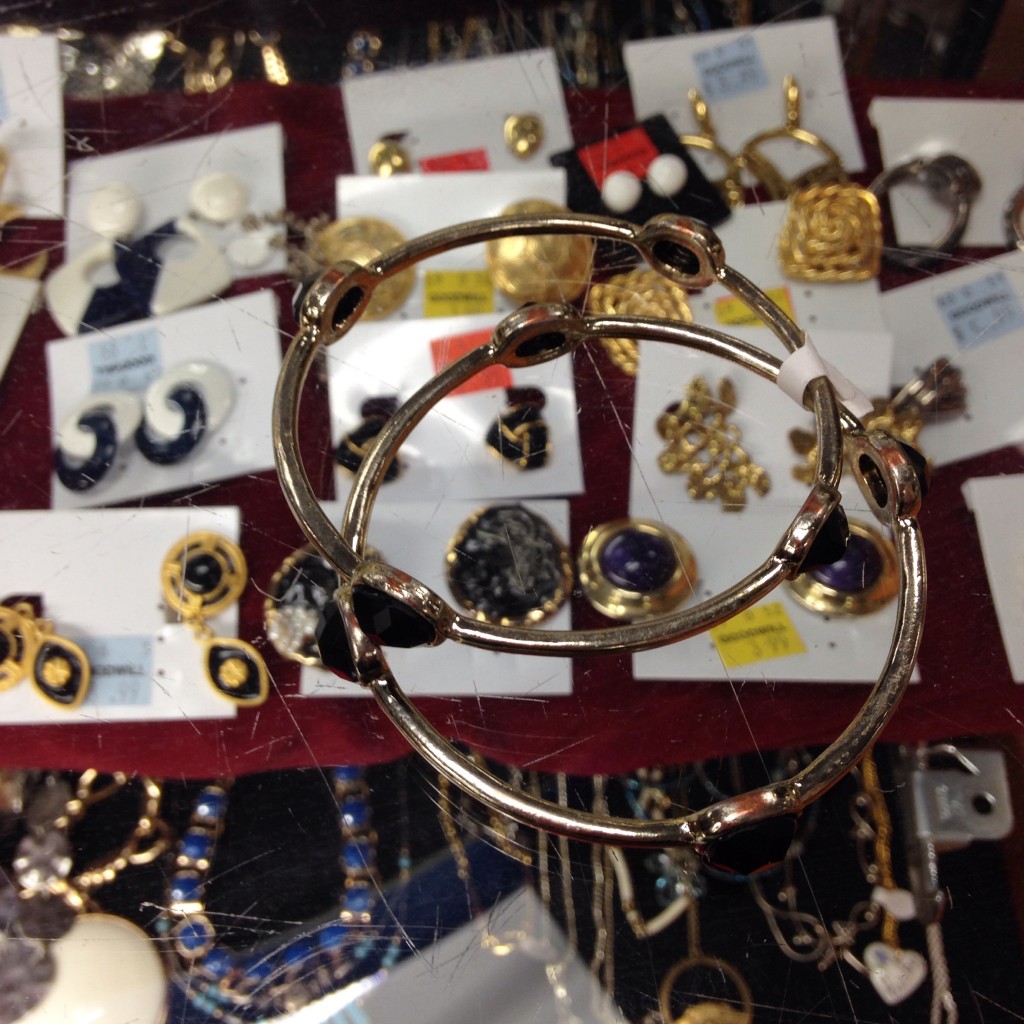 Do you love big bracelets? Check! Prefer smaller ones? Check, too! I spotted both styles of beauties last night while picking out some gems for myself.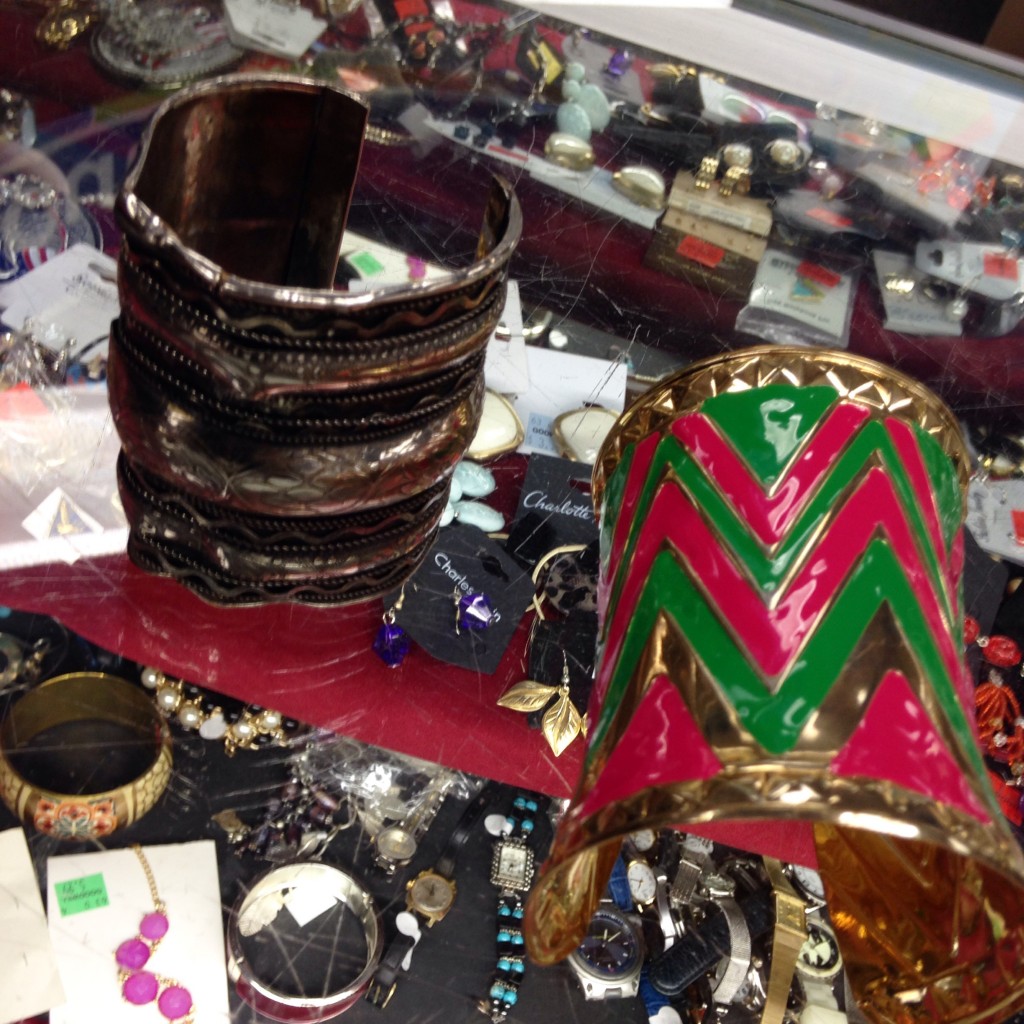 I personally prefer smaller bracelets, but sometimes a big statement piece can make an outfit go from a 7 to a 10. All of this arm candy, both large and small, only cost up to $3! 
6) Quality statement necklaces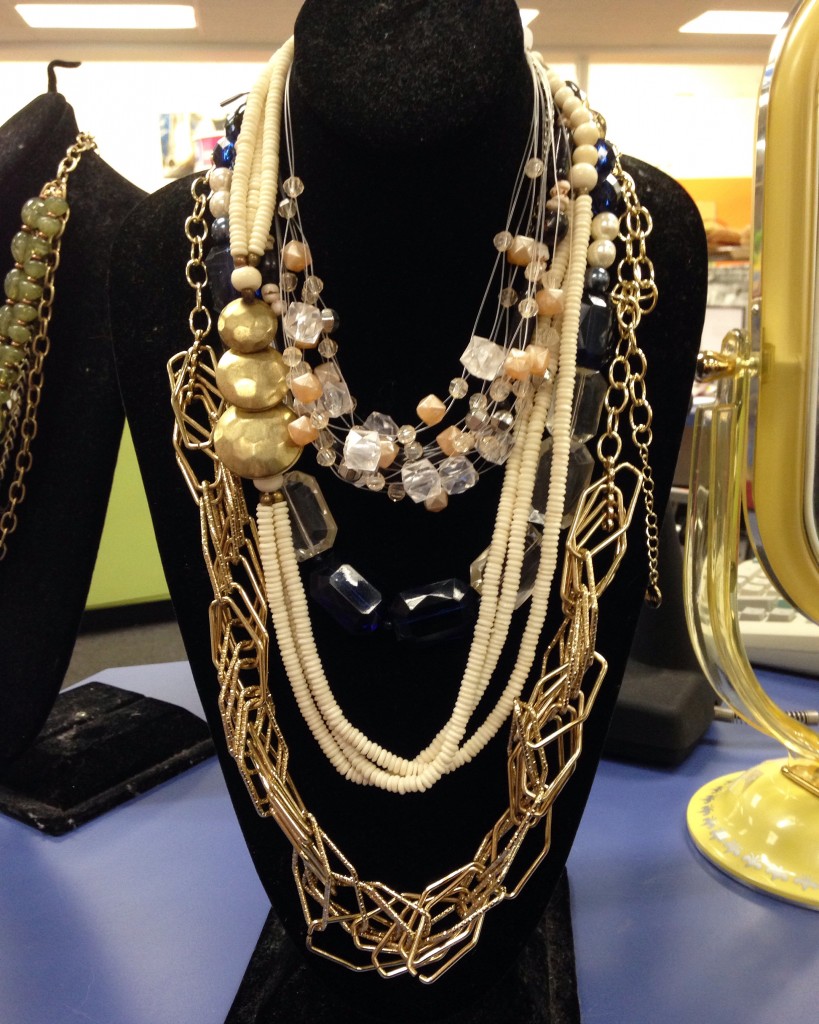 Need I say more? All of these were only about $5 each.
My personal favorite is the long gold layered chain one. Wear that with a loose black top and you have a date night look!
Fashionistas, don't you love all these finds? I wish I could have taken ALL of them home with me!
Want these items for even cheaper? Starting next week, they'll be an extra 25% off every Wednesday if you're a DC Goodwill Rewards member! <3