I've got another designer score up for grabs today, dear readers. Lucky for you, I found this piece brand new with the tags!Can you believe that someone donated this without ever giving it the wear that it deserves? This mockneck wardrobe staple comes to you in a classic style but with a popping shade. It's a jazzy staple piece that will surely rope some much needed color into your wear.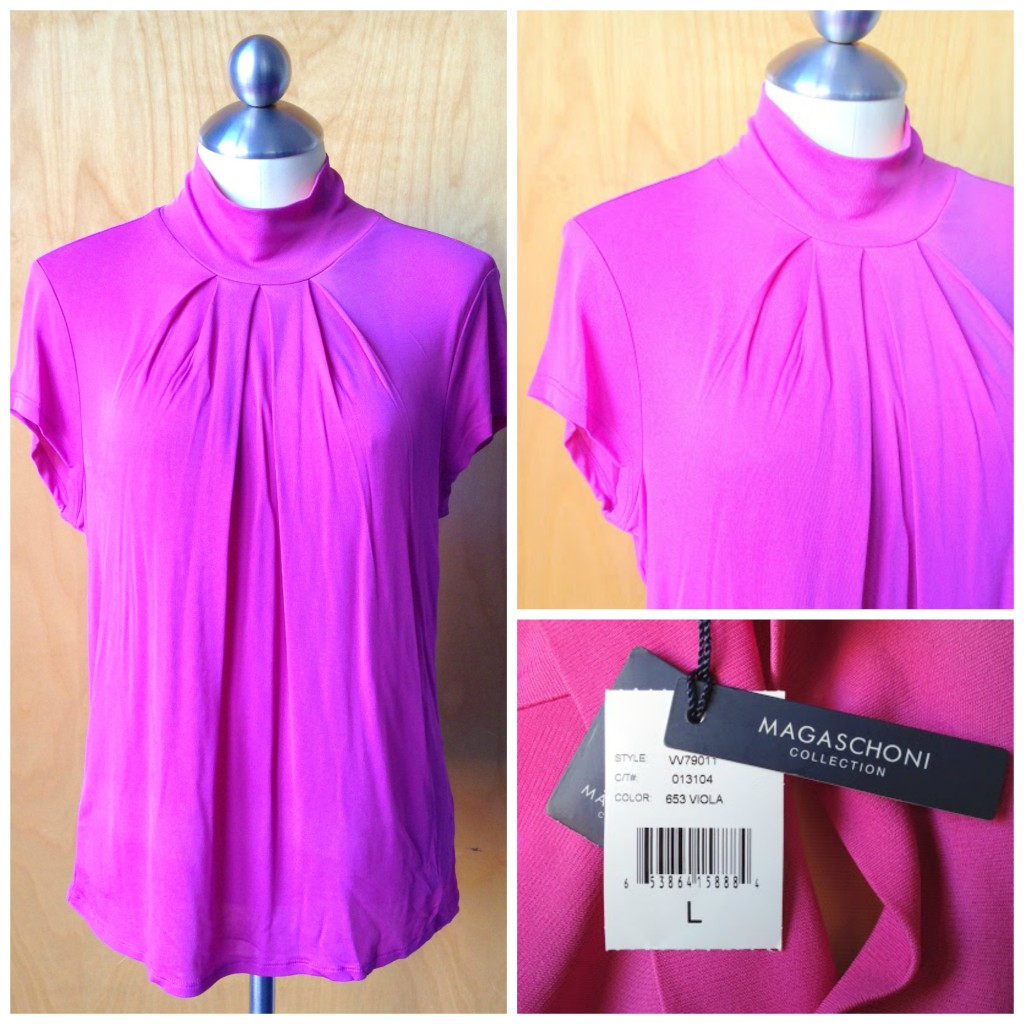 Made by Magaschoni, this piece would've easily retailed for upwards of $200.00. Magaschoni is known for their luxury cashmere pieces and you could be the lucky owner of one today – that is, if you are a size large! It is commonly sold in upscale department stores like Bloomingdales. This specific piece is a short sleeve turtleneck style. The sweater is light enough to be worn year round – so don't worry about having to ditch it after the cold leaves us in a few months. A mock neck style lends itself to a more comfortable and stylish wear than the traditional fold down style, too. The neckline is adorn with a few strategic pleats that will give this top a flawless fit. The best part about this piece, other than the fact that is new with tags, is the fabulously rich color. It's called 'Viola' and I'd describe it as a popping pink.
This brand spanking new top has some serious style potential. I get a lot of compliments when I wear turtlenecks in the office. I don't know what it is about this style that just has an ere of elegance and polish. I can image this looking fly under a blazer and paired with a pointed toe heel and cropped ankle pant. The bright pink color would be a perfect accent to white, black, navy or gray. I can see this top bringing new life to a business suit, can you? Imagine it underneath a plain suit – it'd be the perfect pop of color and the conservative cut would keep it professional!
How would you style this piece? Leave me a comment with you thoughts!