If you caught my post a couple weeks back, you know lacy details are a major trend this season. And – quite frankly, I find anything with a little lace to be timeless and classic.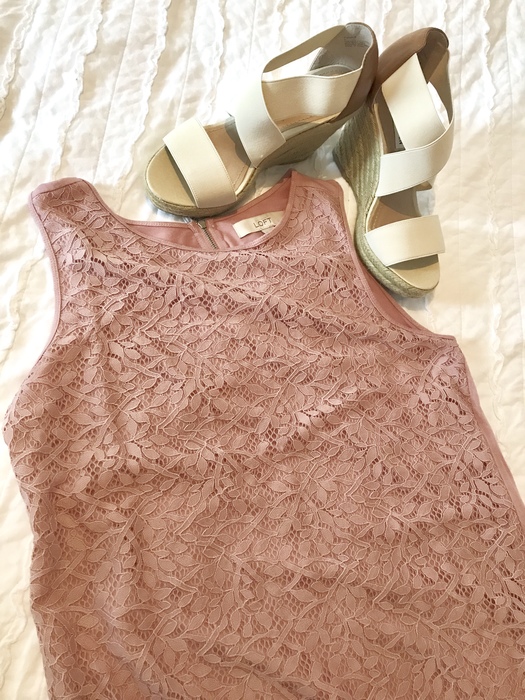 Upon my perusal of the racks at the Bowie Goodwill, I spotted this beautiful blush lace tank. With a closer look, I realized it was one of my favorite brands – LOFT! When I am shopping for clothes, I always try and find pieces that have versatility. From the boardroom to happy hour. From day to date night. I make the most of my clothes by ensuring I can come up with ways to transform pieces.
Today, I've prepped a few looks with this $5.00 LOFT tank that will take you from day to night in a flash.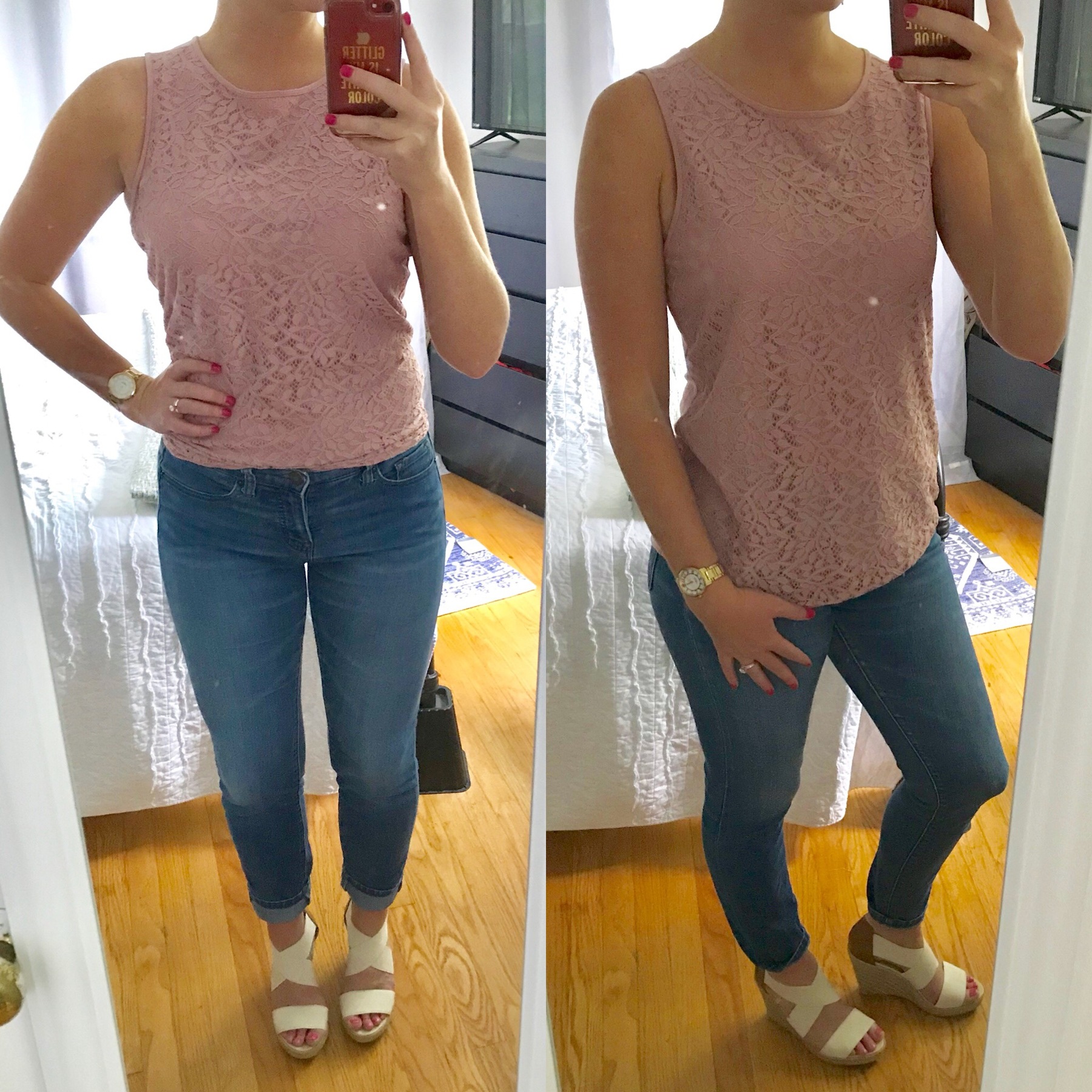 My first thought on this blush top is that it would pair perfectly with an espadrille wedge and some jeans for a casual look. Tying and knotting knit tops has become super trendy over the last few years so I played around with this one and did a small knot in the back to make the look a little more playful and shapely. I paired it with a pair of my favorite BDG Jeans (fantastic brand for gals with junk in the trunk!) that I scored from Goodwill for just $5.99 (retail $70). Then, I slipped into my new obsession – these elastic strapped wedges I purchased from Goodwill back in the winter for just $14.99 brand NEW!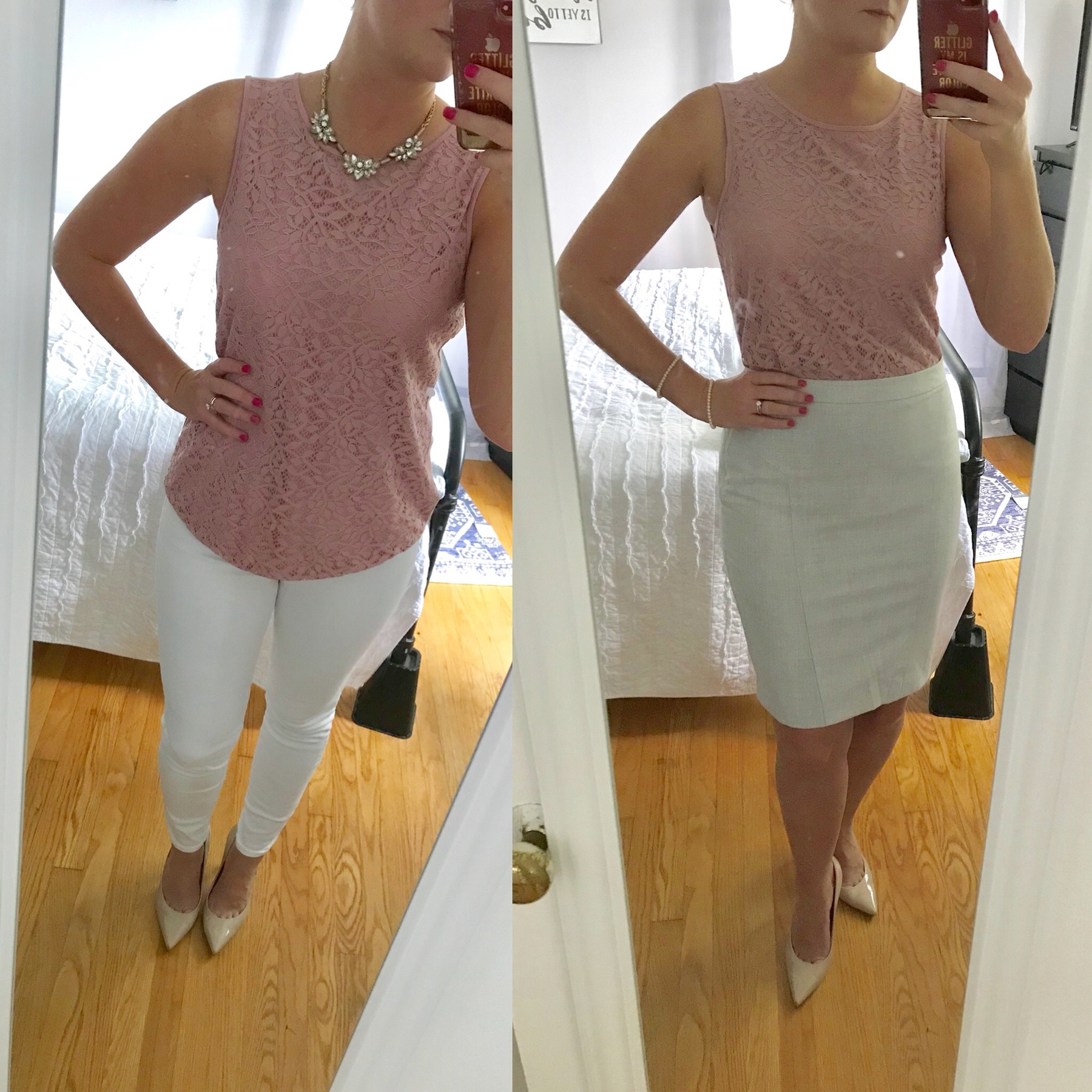 My second thoughts for the top were more dressy. The color and conservative cut makes it a great option for the office. It would look fantastic with a blazer over top of it or a light cardigan. For my dressier look, I paired the top with my favorite Goodwill J Crew High Waisted white jeans ($5.99) and a pair of Guess Patent Nude Pumps (scored for $14.99). This would be a great look for a date night or girls day out! My second look is the LOFT tank tucked neatly into a pencil skirt. I added a statement necklace and heels and boom! – perfect look for a summer office outfit!
There you have it, fashion friends! A trendy $5.00 tank from Goodwill can transform to be your go-to for both work and play.
Karen Wathen is a young professional and self-proclaimed "thriftanista." Her passion for fashion and her savvy spending habits make shopping second-hand one of her favorite hobbies. Wearing many (frugal and fashionable!) hats, Karen is a highly caffeinated Special Olympics coach, passionate community volunteer, amateur foodie, farm dweller, newlywed, and cheap wine connoisseur. When she isn't scavenging the racks at DC Goodwill stores, you can find her barefoot in her kitchen, blasting country music and cooking up locally sourced foods from her Southern Maryland community. Follow her on Instagram (@k_wattt) for a peek into her savvy life!