Hey there – Goodwill treasure-hunters and Fashionistas! I'm Amber and this is my first time on the FYG blog! It is finally feeling like Autumn and it's time to change over to your Fall and Winter wardrobe. That means heavy sweaters, corduroys, and boots.
However, my favorite weekend wear is active wear, mainly leggings. Over the past few years, active wear has become more fashionable than just functional for workouts. They come in a variety of colors, styles and even textures. Leggings can also be dressed up with chunky heels and a leather jacket or part of your trip to the farmer's market with a pair of boots and coordinating sweater.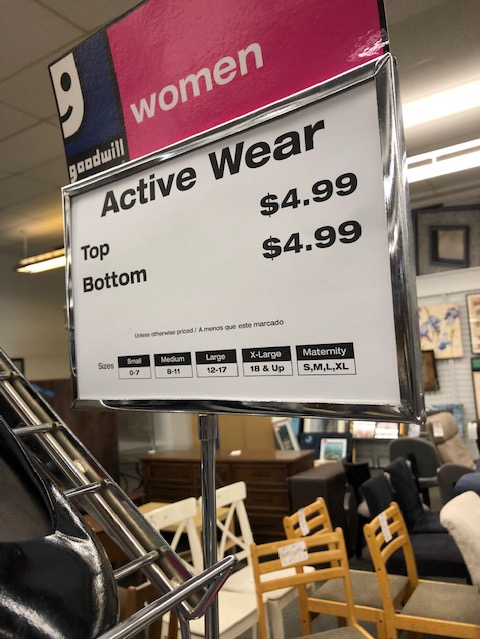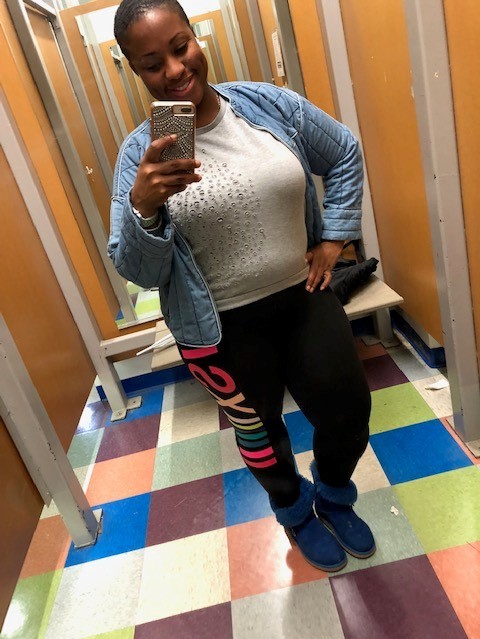 About 90% of my wardrobe is thrifted, including my leggings. As I browse the aisles at Goodwill, I like to cruise through the activewear section occasionally. Once in a while, I find hot item like these Victoria's Secret Sport leggings I found at the location in Arlington. The bright colors against a basic black legging caught my eye. The flexible Lycra fabric hugs my curves just right and keeps me warm during those brisk Saturday mornings set aside for football games. I would wear them with a bright pair of Adidas sneakers or Uggs. Also, retail priced VS Sport leggings are nearly $70 – which is 90% off in savings – meaning a happy wallet!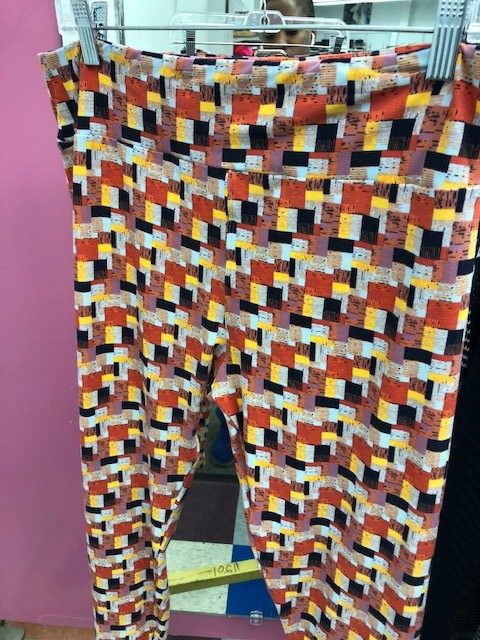 Leggings can also be dressed up for date night as well. Last night, I found a pair of Lularoe printed leggings at the South Dakota Ave location. I have heard great reviews about the brand including comfort and style and could not believe I found some at Goodwill. They generally cost about $25 per pair. Because of the bold print, I would pair them with a denim jacket or moto leather jacket for a rocker look as well as chunky statement jewelry and Jeffrey Campbell booties to step out on the town.
The best part of thrift shopping is finding unique goods at a discounted price. Each piece of activewear at Goodwill is $4.99 per item. I couldn't believe it either…$5.00 for new Victoria's Secret leggings. It doesn't get any better than that. During your next Goodwill visit, take a few minutes to peruse the activewear section!
Amber is fashion-blogging foodie and Instagram influencer with a passion for thrift store shopping. Her blog Eat N Style details her flair for cooking up not only tasty treats but inspired outfits as well. She has a passion for her community and is proud to serve others with her gifts. Follow her on Instagram (@eatnstyleblog) for more stylish tips and culinary adventures.